A day at Epcot
Sunday August 11,1996

We got to Epcot before the 9am opening I think we were some of the first people in the park and headed to the Fountainview while we all got a breakfast snack

I pointed out that we could make our dinner reservations (we had already decided on Alfredos di Roma at Italy for dinner. At first they though I meant we should walk all the way back to Italy to make our reservations . But then I explained that We could make reservations at guest relations this brought more questions so after a little explaing I just said give me a minute I'll be right back. I walked back to guest relations. It was not far it's on the North end of the inoventions east building, in other words if you were just coming in the front gate at epcot you would take thepath under the left leg of Spaceship earth and it would be on your left just past the souvenir stand. There thay have a row of tv monitors where you can get information about Epcot of make reservations for dinner and such. In just a few minutes had our reservation made and headed back to the Fountainveiw .

We saw Honey I shrunk the Audience, and Journey into Imagination, rode Horizons and Body Wars, and Also experianced the Universe of Energy, for lunch we dined at the food court in the land . By the early afernoon we were ready to start on World Showcase

We took a little break on the benches at the start of the world Showcase Promanade. There were lots of wading bids in this area. While we were sitting there Michelle or George got out thier Camera and started taking pictures,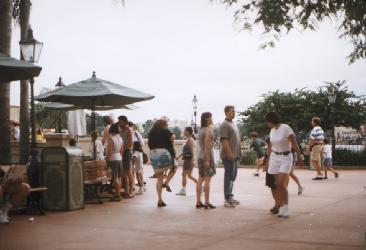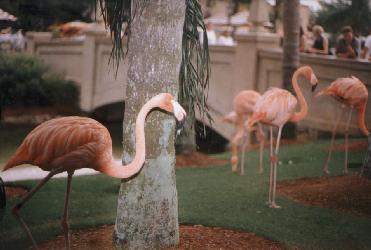 We worked our way around thru Mexico, the "outdoor" courtyard (inside the pyramid) in Mexico is one of the neatest settings in EPCOT. Norway was fun not only did we get to Ride the Maelstrom but we also got to see some walk-around trolls (I didn't recognize any from the newsgroup though *snicker*).
On both this trip and a subsequent one there were problems when there were pictures of trolls taken. I am begining to think trolls don't like thier pictures taken. Next time I will have to ask the trolls really nicely first.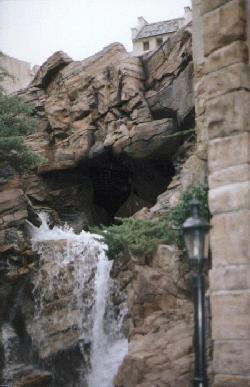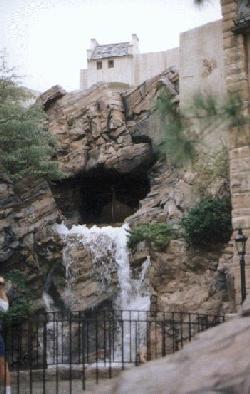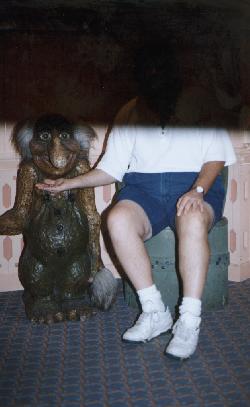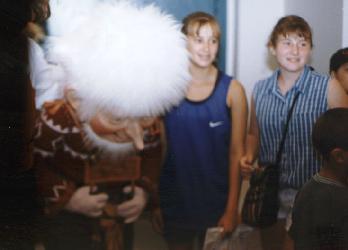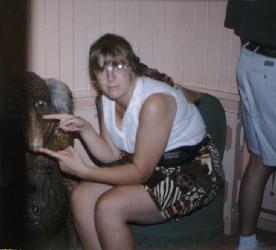 In China we got to see a bit of the acrobatics show before seeing the 360° circlevision movie Wonders of China. By this time it was getting close to our dinner reservation so we didn't do much in Germany other than take a few pictures of the train layout. I also bought my first postcard of my new oollection here. I had had a Disneyland postcard collection as a kid but I got rid of them shortly after moving to WV. Those cards had suffered somewhat on our trip across the country from CA to WV. and I had my mom and sister sick of hearing me talk about Disneyland they did not want to hear about it any more. When the first friend I had made after moving to WV basically made fun of me for keeping them it was too much. I tend to justify it to myself now by playing up how many of the cards were in rough condition. But really I was pretty close to heartbroken at the time if you can be that way about a place.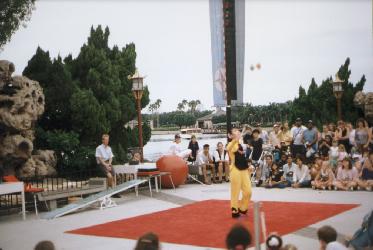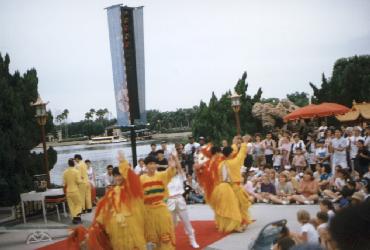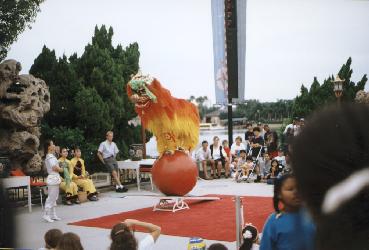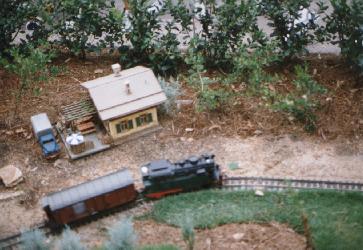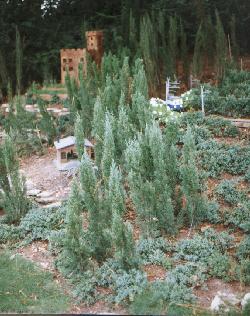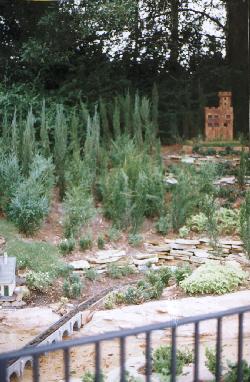 In Italy we had an absolutly wonderful meal. At one point while we were eating there was a performer singing with an accordian and the staff all started spinning napkins in the air and got all of the patrons to do the same. As we finished there was an Italian music quartet performing in full powdered wigs and matching 17th century attire in the august heat no less!
The big band group was playing again by America and we caught a bit of thier show before heading back to find a spot for Illuminations In think we were near the outdoor counter service Mexican restaurant for the show this night.
After we gpt back to our hotel I went to the gift shop across the street where I found some nice t-shirts for my wife. I would have liked to have bought her some on site with Walt Disney World on them but for reason I won't go into right here I could not do that. On another subject does Disney not realize that many of thier customers are larger size people? I saw quite a few folks walking around who looked like they would relly appreciate it if Disney came out with shirts in sizes such as say 3X (in some cases maybe even more). Many of these larger sizes people are in part larger sized because they can afford a comfortable lifestyle in other words they make the bucks to be able to afford to buy the stuff if Disney would only provide it for them to buy.