First Encouter Magic Kingdom and EPCOT
Friday August 9, 1996
my first day in any Disney theme park in almost 15 years

We arose bright and early Friday morning We ate at either at the Shoneys across from our hotel, or the Mc Donalds across from the entrance road to Disney property (I think it was Mc Donalds this day). Much of this day is a bit of a daze to me, I don't even remember weather we took the ferry or the monorail (I think it was the ferry).
It is almost easier to list the things we did not ride than the things we did we did ride Peter Pan, Alien Encouter , Splash Mountain all due to long lines also, we did not do anything in Mickeys Starland, or ride the Autopia cars, Dumbo, The Lion King, Cinderellas Golden Carousel, Keel Boats, or the Skyway. We also did not board the Sternwheeler in Liberty Square. It was closed for refurbishment at that time. That may have been when they changed the name of the ship from the Richard F Irvine to the Liberty Belle.
I did for the first time in my life ride Space Mountain. Even though we had Space Mountain in Disneyland when I was a kid I had never ridden it I had actually queued up for it one time (I think I was 12 or 13) but chickened out when I got to the lit warning sign I was glad to find that I could ride these kinds of rides now! I think my sister was a bit amazed at me too :-) . she has never been afraid of coasters and between her figuring me for a coaster chicken and with her husband having a bad back (he likes coasters but they don't like him) I think she thought she would not get to ride any.
After riding Space Mountain we decided to cross the park to hit some of the more poular rides on that side of the park as well before the lines got to long. On the way out of Tomorrowland we caught the Timekeeper movie. This was a really enjoyable show. It's such a wonderful use of the already existing circlevision theatre and the addition of the audio animatronic character, along with the voices and humor of Robin Williams and Rhea Pearlman make this one of my don't miss items on every return trip.
On the other side of the park I got to re-aquaint myself with some old favorites. The Jungle Cruise, where we had a skipper who reminded me of Doogie Howsers annoying friend, mostly because of his nasal accent and lanky phisique. As we neared the docks the boats were a bit backed up. So we asked him why they were painting the castle pink (my first thought had been some kind of primer or protective coating). He said somthing about the special plans for the 25th anniversary. I don't remember how much of the details he knew for sure. I think he (or one of the other cms we asked) did say somthing about the worlds biggest Birthday Cake for WDWs 25th birthday. I think I said somthing like As long as they put it back to normal when it's over it might be a neat idea (this still sums up how I feel about the cake-sle nice idea but I'm glad it's back to normal) . Then he said the Jungle Cruise Skipper joke going around was that it was going to be Barbies Dream Castle, and that next they would replace the Autopia cars with Barbies pink Corvettes. Another old favorite was Pirates of the Carribean. In Disneyland Pirates OTC was my favorite attraction and the Haunted Mansion second favorite. Both attractions in Florida share quite a bit in common with thier Southern California counterparts, but the differances in Pirates are enough for me to rank Floridas POTC behind the Haunted Mansion whereas, In Califonia I would rank them the opposite way. Of course at this point I had yet to ride Splash Mountain. I also discovered a new attraction ( new for me anways) Big Thunder Mountain Railroad. Actually, I had ridden it two or three times as a kid (at Disneyland) but was never relaxed enough to take in the details (or enjoy it).
After Big Thunder on the Way back to Adventureland we got caught behind a parade at first I was a bit disapointed but I ended up really enjoying this parade with it's catchy tune and large brightly colered floats it was the Mickeymania parade and it turned out this was the only time I ever saw it.
After the parade ended we made it over to Adventureland where we saw the Tiki room (actually at that time it was still called Tropical Serenade), Swiss Family Tree House , and the Country Bear Jamboree. All three of thes were pretty much as I remembered them, of course the CBJ in CA is different now but the show I remember is the same as the one at WDW. The wait for the next show at the Hall of Presidents was enough to give us time to see the Haunted Mansion so we did .
One thing new to me on this side of the park was the Hall of Presidents and I enjoyed the show it is deffinatly on a much larger scale than Mr. Lincoln. but the Mr Lincoln show has it's own appeal as well.
After that we worked our way across Fantasyland I think we only rode four things here, It's a Small World, Snow White, Mr. Toads Wild Ride, and the tea cups. I know we didn't see the Lion King show this day this day was the first time for me on the Carousel of Progress Now CoP is one of my favorite rides after all these great rides Dreamflight seemed like a bit of a letdown but it was air-conditioned, and the August heat was starting to build. And the crowds had started to grow from the very begining , That was the main reason for us not seeing Alien Encounter and Splash Mountain they both had 90 min wiats
I was surprised at how much of the park we were able to cover by the afternoon. It was a combination of planning and luck we hit four popular rides that sometimes have long queues early: Space Mountain, Jungle Cruise, Big Thunder, and Pirates. We were just plain lucky at the Haunted Mansion it was late enough in the morning that it could have very easily had a long line. A lot of the theatre shows we seemed to have hit with perfect timing, Timekeeper, The Hall of Presidents, Country Bear Jamboree and Enchanted Tiki room we walked up to each of these just as a show was starting.
So now I was ready for my first visit to EPCOT I should mention that Michelle and George had been to WDW before on thier honeymoon the previous year. and that EPCOT was one of thier favorites. Upon arriving at Epcot we were planning on going pretty much straight thru future world back to the lake in the center of world showcase. But when we arrived the crowds were low and we ended up seeing Spachship Earth. Then we went to the land pavillion we ate dinner at the Garden Grill a slowly rotating restaurant next to and above the main attraction of the Land pavillion in a few places you can look down on the attraction. The dinner at the Garden grill is described as family-style character dining. The family style means they bring platters and bowls to the table you fill your plates from these . The Character dining means Disney characters come around to your table Chip and Dale spent a good amount of time at our table and Mickey and Minnie also made thier rounds too we took pictures unfortunatly that roll must have been one of the ones that got ruined. I have not been back to the Garden Grill but would gladly go again the country style outfits the characters wear are unique to this venue I think. they even pass out straw hats for you to wear.
Epcot was on a staggered closing with Future World closing at 8 and World Showcase closing at 10. So after dinner we went to Canada, the first country on the right in World Showcase. I remember being struck by the beauty of the gardens here. I also enjoyed the circlevision movie here quite a bit. We disn't spend much time in England we didn't skip it either we just looked and moved on. I remember that as we crossed the bridge into France George pointed out that I was still whistling British Grenadiers .The song was on the music from the parks cd from that time and being in the British section of world showcase I had either heard it or been ]reminded of it. Still we didn't want the French to think they were being invaded hehehe. The French movie was interesting there are alot of people who do not like the 360° circle vision movies due to the fact that you have to stand for them so this 180° sit down format movie seems like it could be a good alternative if too many people are turned off by those circlevision movies for Disney to do any more of them .The twisting streets of the Morroco pavillion were interesting you almost feel as if you could get lost here. We went thru the Department store in Japan and by this time the August sky was beggining to darken. I think the show we caught at the American Adventure might have been the final show of the night. There was a big band thing with a guest artist named Jack Jones going on at the America Gardens theatre when we went in. By the time we were out it was over (or nearly over) and wepicked out a spot for Illuminations near here . I enjoyed the show but would not reccomend this as a viewing area even though there were other people there too they obviously just didn't know any better either. Then again being an August night in peak season there might not have been many better spots available to us in the time we had to look.


Lights, Camera, Action! the Disney-MGM Studios
Saturday August 10,1996
This day I believe we went to Shoneys for breakfast before heading to the studios. I think we arrived a bit after opening I think we did Star tours right off the bat. Then across the park for The Twilight Zone Twoer of Terror. Michelle was able to drag mom along for this one.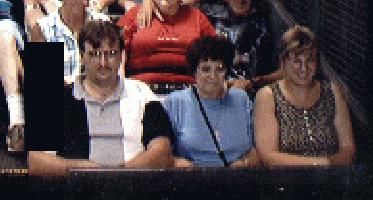 But this was another ride Georges back was not up to. I think he took some of the first photos of the trip around this time but this was one of the rolls which got double exposed at a later date.Then back across the park for Muppet Vision . On the way there is when I think we caught the Great Movie Ride. by the time we got done with that the muppets was lunch time and this was the day we ate at the Pizza Planet. I remember seeing a mock up of the machine from Toy Story in the games area like the claw machine from Toy Story but, I was disapointed to find that it was just that, a mock up. Also we caught the Great movie ride, Voyage of the Little Mermaid, The Making of the Hunchback of Notre Dame (a short film) and Animation tour. We didn't catch Indy , The Backlot tour or Superstar Television this day due to not planning for thier earlier closing times. And we had no idea what a good show we were missing at Hunchback. So we ended up leaving a bit before park closing. Michele was still eager to see some of the things we had missed at the Magic Kingdom and I still felt up to it too. So while Mom and George headed back to the hotel Michelle and I caught a bus to the Magic Kingdom. We headed to Splash Mountain it was still posted as a 90 minute wait but I Don't think we actually had to wait that long. This all out, no holds barred, audio animatronic flume-ride extravaganza instantly became my favorite ride at the Magic Kingdom. We also rode big Thunder Mountain (Yes it does *feel* faster at night just because you can't see as far though) before heading over to Alien Encounter, and also seeing Timekeeper again. I must admit after seeing Alien Encouter I thought "that was nice for a one time thing but I'm not sure how much repeat entertainment value this thing has". But, subsequent visits proved as enjoyable albeit for different reasons. The surprise factor is certainly gone but there is much more opportunity to absorb the humor and the details in all three parts (video hall, Skippy and S.I.R., and the Encounter) of the show. I think we also rode Peter Pans Flight that night. Since we were staying off property we took a bus to the Disney Village and walked the last bit of the way (I think it was about a mile and a half to two miles). A very long full fun day it was.