Honeymoon - October 29, 2002- Arrival Day
Carlenes Photos - Roll 01
Ok for anybody who missed it at the beginning of the trip report the pages with the green background are the ones with Carleens pictures, so now we jump back in time to the travel day /check in day, when she took her first pictures at downtown Disney, now although I took a picture of her aiming her camera at the World of Disney Store sign, she didn't end up snapping that, she was just scoping that out, instead her first photo was of me.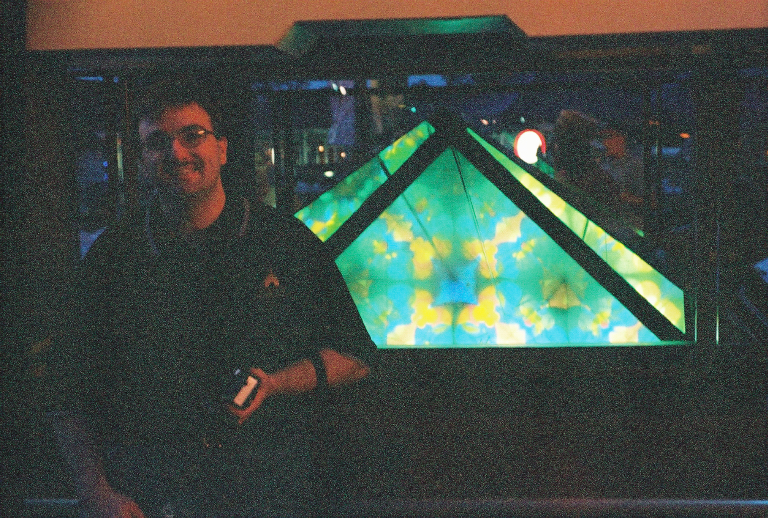 Above:Brian in front of the world's largest peri-kaleidescope,
Below: Brian, Missy, and Marlene.
Above: Some of the decor high on the wall in the Once Upon A Toy store
Below: Me eyeing all the nifty monorail set items (ours goes around the Christmas tree each year.)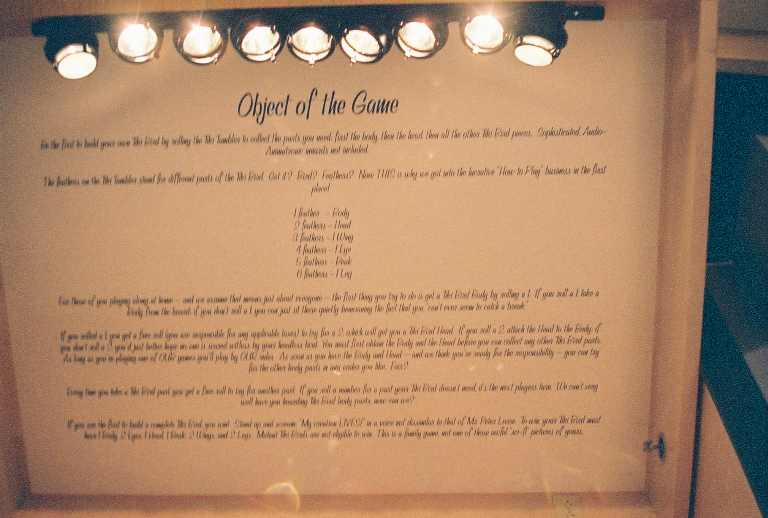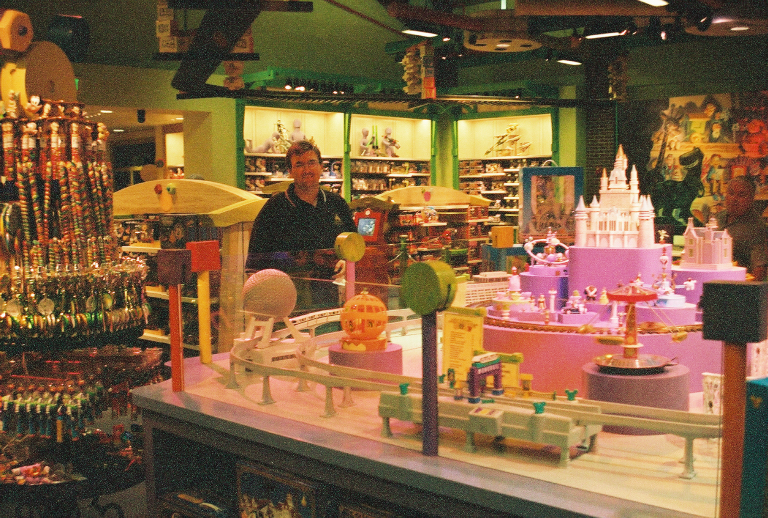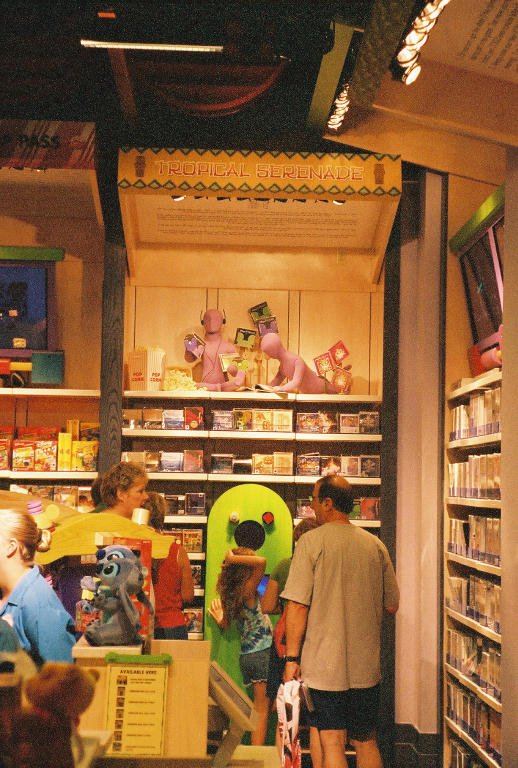 Above: You can see the side view of one of the "game box lids" above the folks in this picture.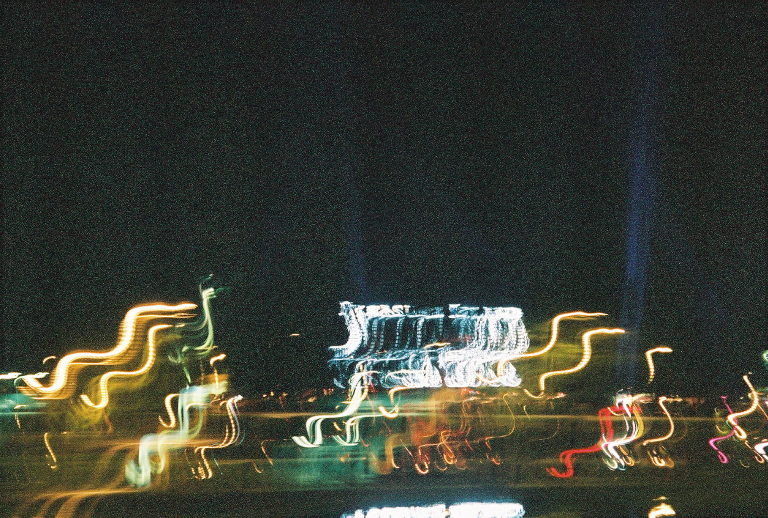 Above and Below: although these photos didn't come out the way we wanted they do make for colorful views of Disney's west side.
The other thing the two pictures above and the one below did is they reminded me that we didn't take the boat back from DTD to the resort to dinner we must have hopped in Marlenes car.
Honeymoon - October 30, 2002- Epcot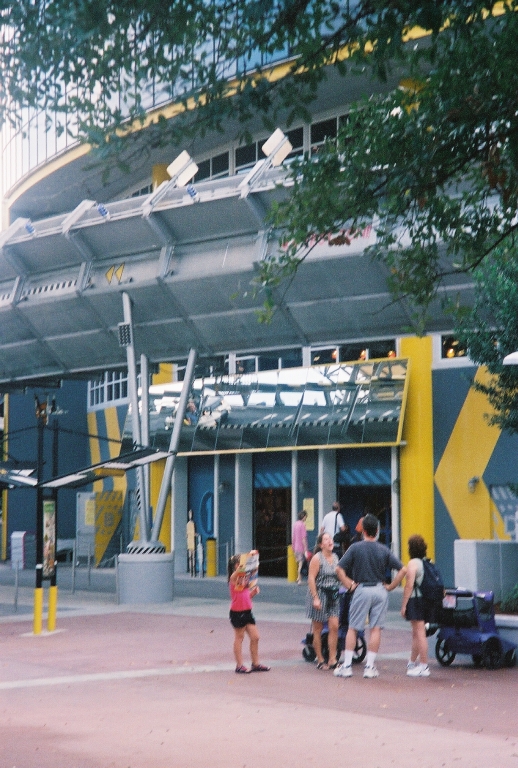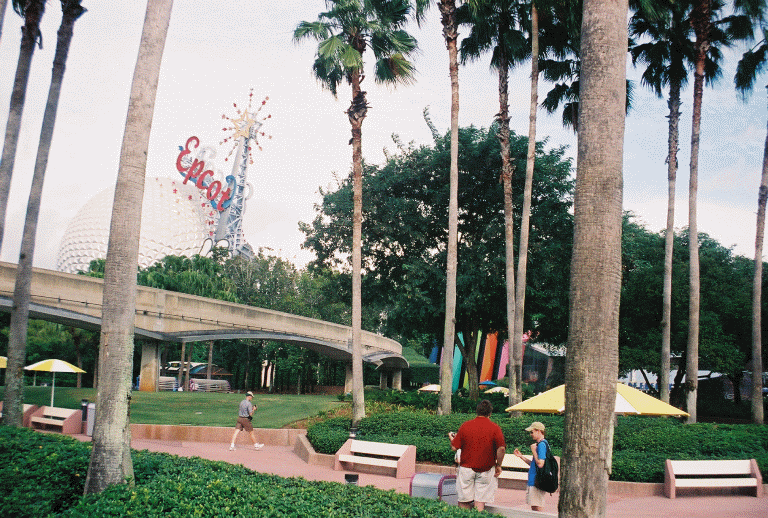 When we first got married Carlene was a smoker (she has since quit). I knew going into this trip that she would need to take quite a few smoking breaks, but I put the time to good use to take photos and record audio in this case of the first smoke break of the trip she did too setting up her camera and taking these photos between cigarettes (when she smoked she was standing closer to where I am shown in the gif above, which is in the smoking area)
Carlene used an auto winder and a tripod to take these photos of the monorail, actually when she first set it up she took a few test shots first the one where I'm giving directions to another tourist, then she had me "pose" pointing first one direction, then the other, I don't recall if I remembered to do the "Disney point" (two-fingers) or not. Anyhow it occurred to me very early on that I wanted to make these into an animated gif, but I had never done that before finally when I sat down to write this trip report, a right at four years after the trip I finally found an application to do it for me quite easily, best of all, it's free, it also lets you chose the amount of time between frames:
http://www.whitsoftdev.com/unfreez/
...if you don't want to "do it yourself" there is also a web site that will generate animated gifs of up to 10 frames for you (also free):
http://www.gickr.com/