Honeymoon - October 30, 2002- Epcot
Brians Photos - Roll 04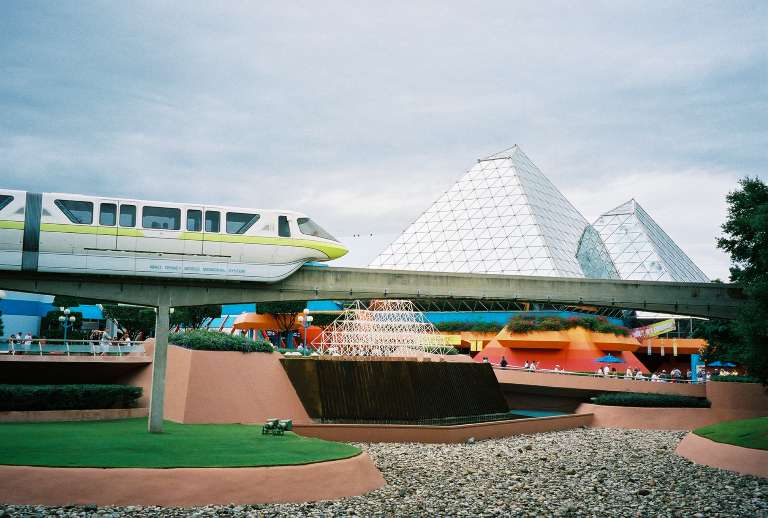 This long after the trip (four years at first writing of this report) it's hard to recall exactly all that we did where there are gaps in the photos, but I'm pretty sure we did catch the movie in Canada before heading on around World Showcase. Sometimes you can get so caught up in where you are going, and so used to the amazing sights, you can just breeze past something like this acrobat with the chairs, below, and at least I did stop to get a photo, but by this time I was really getting anxious to see two of my favorite acts The Voices of Liberty, and American Vybe, but by the time we got to Japan Carlene was ready for a smoke break, but I could sense it was going to be a quick one, so I only got a snippet of the Japan audio loop, and even that got interrupted once when I misread her movements and thought she was getting ready to go before she was. But that was nothing compared to the mistake I was about to make.
As I mentioned before this was my first trip using the mini-disc recorder my first day using it in the parks even, I also had two microphones, a simple stereo microphone with two recording buds, which I had used most of the morning because it's unobtrusive, and a bit fancier powered mic I planned to use for some performances I wanted to be sure I got the absolute best sound quality I could. I broke that one out for the Voices of Liberty and American Vybe. Here the memories are more vivid, the Food and Wine Festival was going on, there was a tent up in the plaza and garden next to the gift show whee Samuel Adams was having a beer school. I got out my "good" mic and put a battery in, I had an entertainment schedule and went in a few minutes early only to find that the Voices of Liberty had just started. I really enjoy this group, once, back in 2001 I spent most of one day just taking in all their performances, I really wanted to record them, now I also really enjoyed American Vybe, and at that time they shared this location three days a week just Vybe performed, three other days a week just the Voices of Liberty performed two days a week they alternated sets, and part of the reason I picked this day for Epcot was that both groups were performing this day. After the set of the Voices of Liberty Carlene and I both went in and she took lots of photos that first set afterwards we went back out in the plaza out front and talked I wanted this trip to be for the both of us so I hadn't planned on spending much time here, but she knew I really liked these groups and told me it would be okay if I took in a couple of sets, so we headed back in and now Vybe had just started, so right there my recordings weren't so perfect I kept missing the beginning of the sets, still I really enjoyed them and got lots of photos...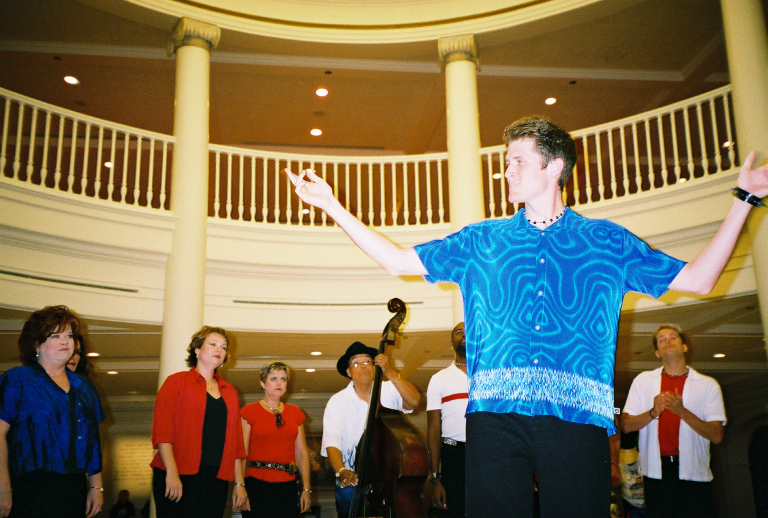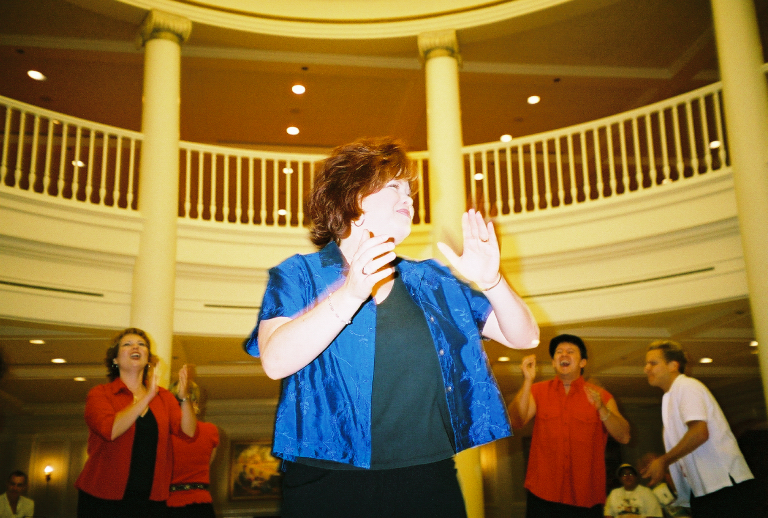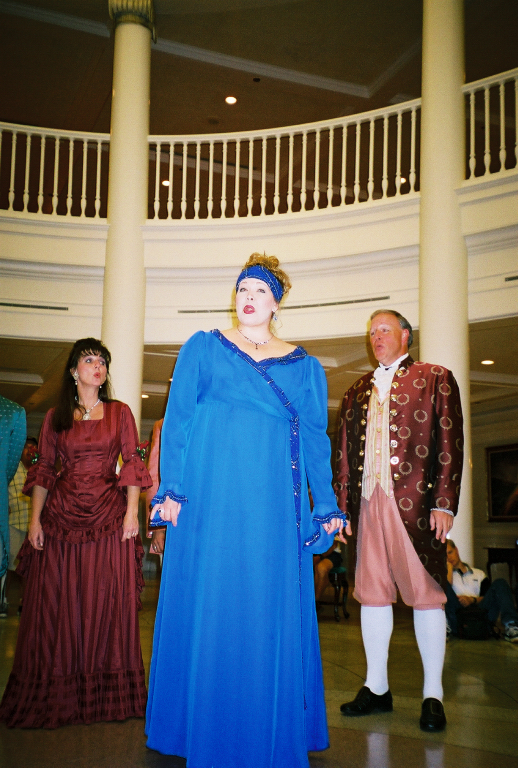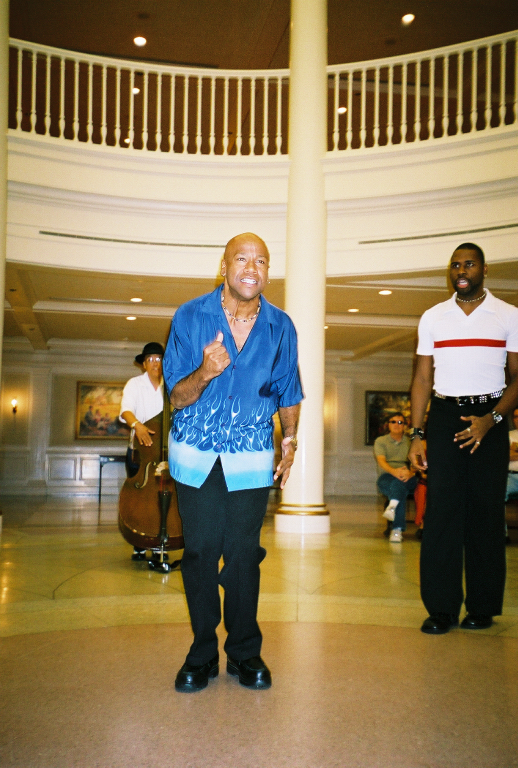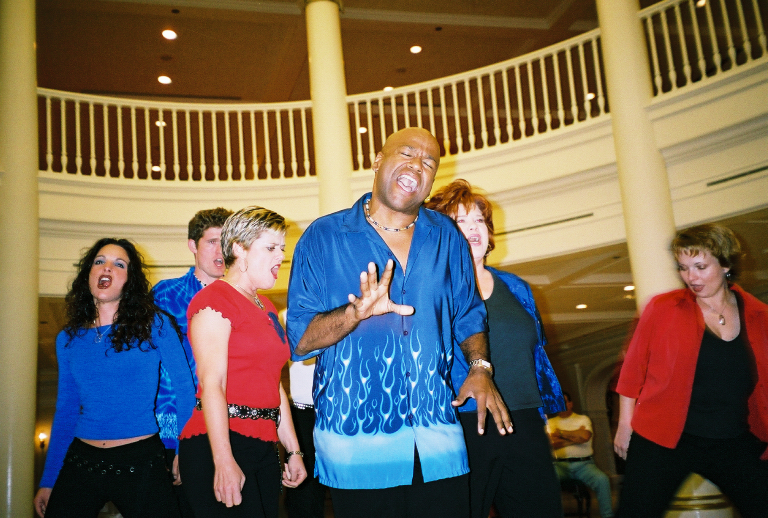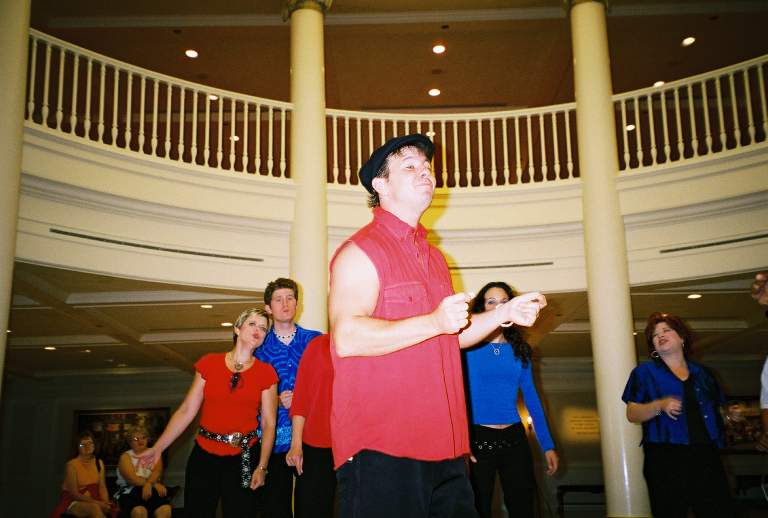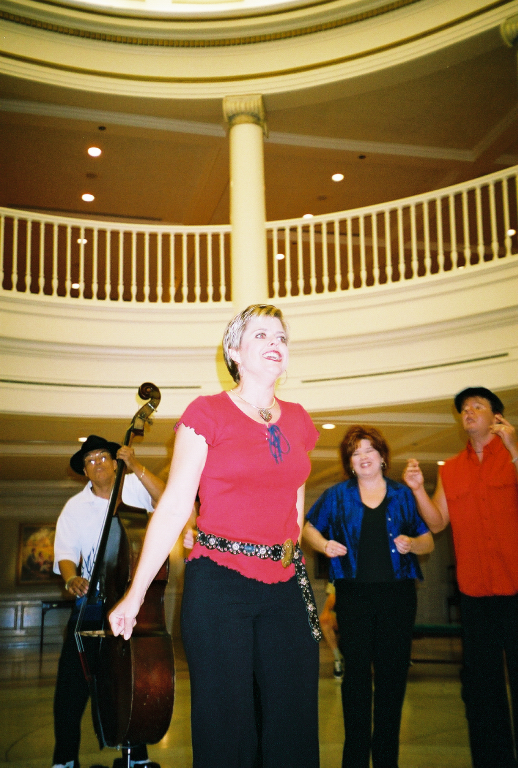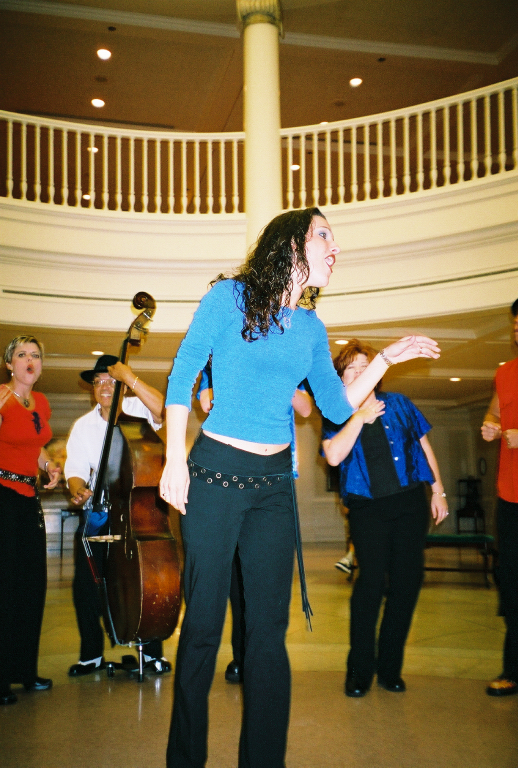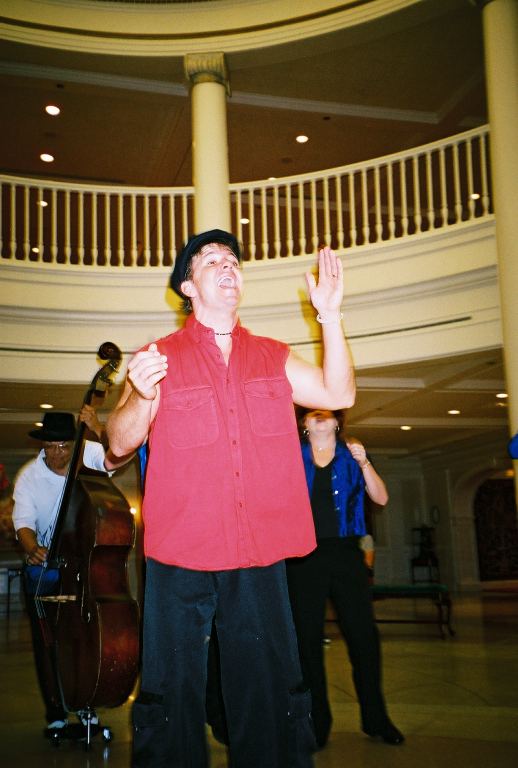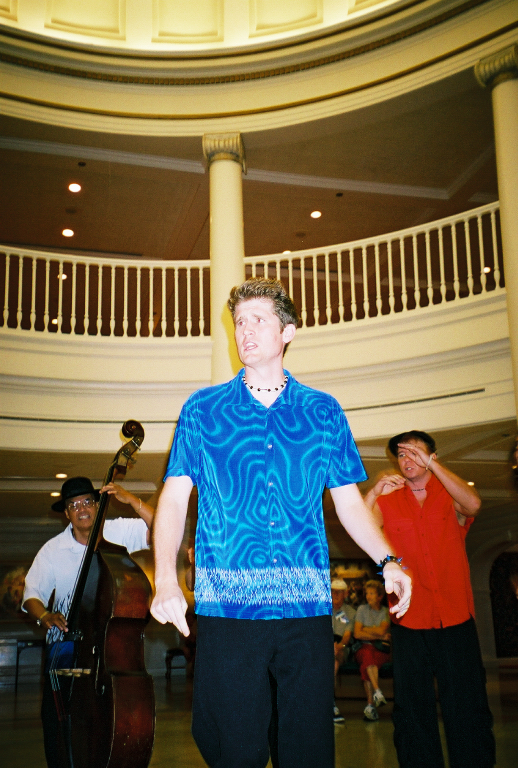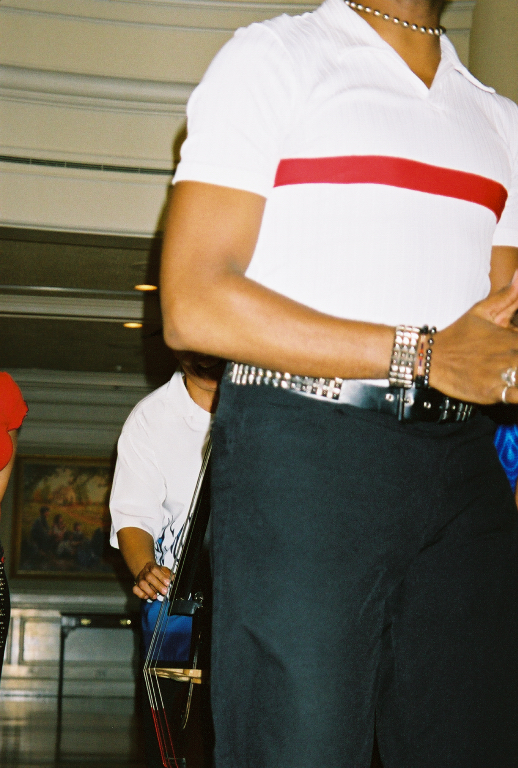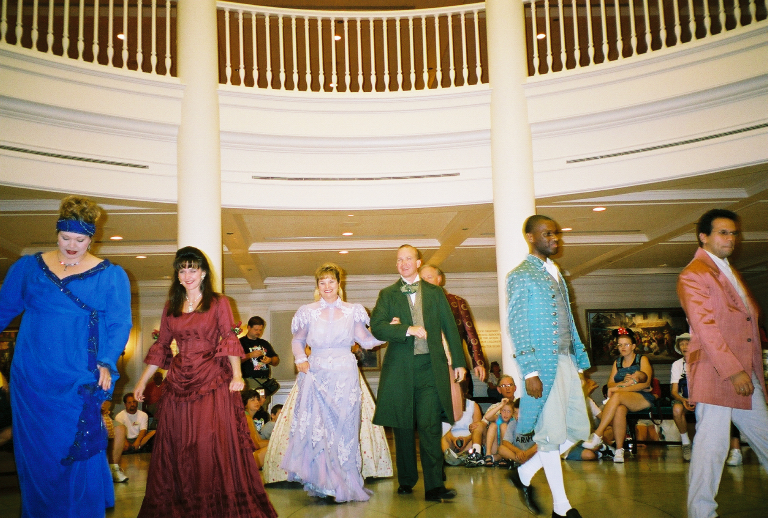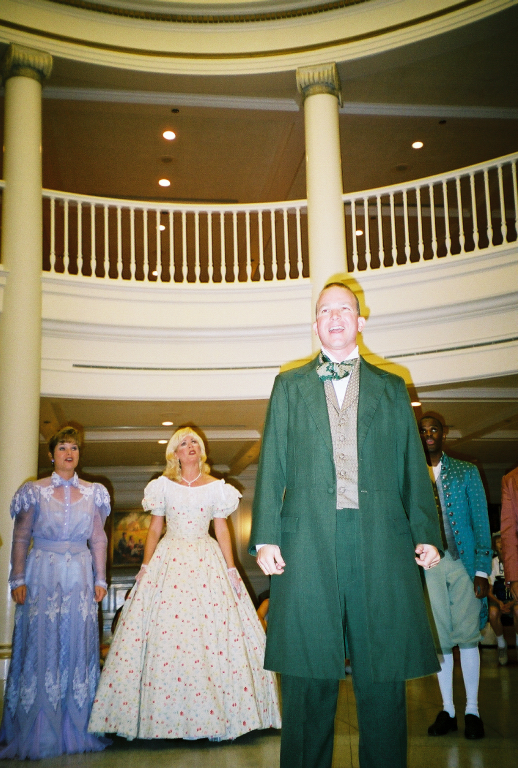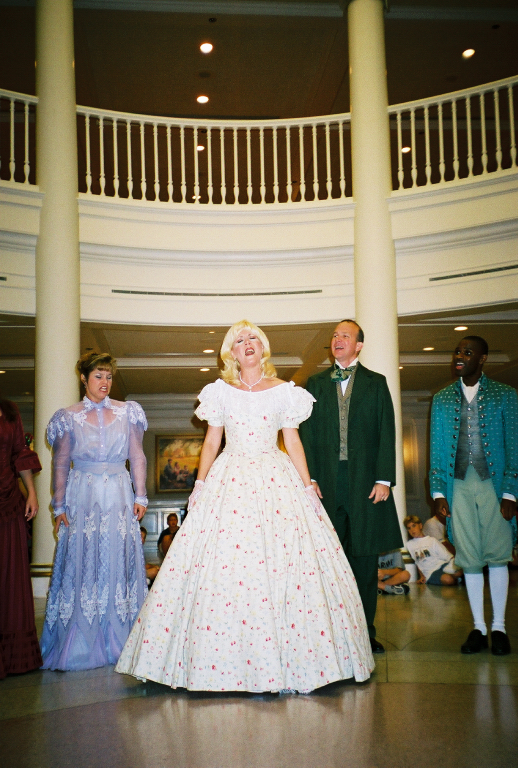 While I was doing this Carlene had headed down to Germany and back. In the end I had three sets of the Voices of Liberty and Two of American Vybe....or so I thought...It wouldn't be until we got to our room that night that I realized I put the battery into the microphone upside down (insert scream of agony here) . After the last set of the Voices of Liberty we headed into the American Adventure, which I also recorded, though here I went back to the more versatile microphone just for ease of use.
Below: I really like this photo of the Voices of Liberty conductor, these folks often spend time speaking with guests like this after their sets