Mousefest 2006 - Magic Kingdom
A Very Magical Day
By the time the Notorious Banjo Brothers finished playing it was nearing 1PM, and it was time for the first meet of Mousefest. Kim Button author of the Disney Queue Line Survival book http://www.disneysurvivalguide.com/ was sponsoring a scavenger hunt on Main Street. You can hear an interview with Kim on an episode of WDW today http://www.wdwtoday.com/article.php?story=20061103091255693&query=button. I got there before one, but when I got there the Family Fun parade was going full blast, so first we waited the show out and took in the band.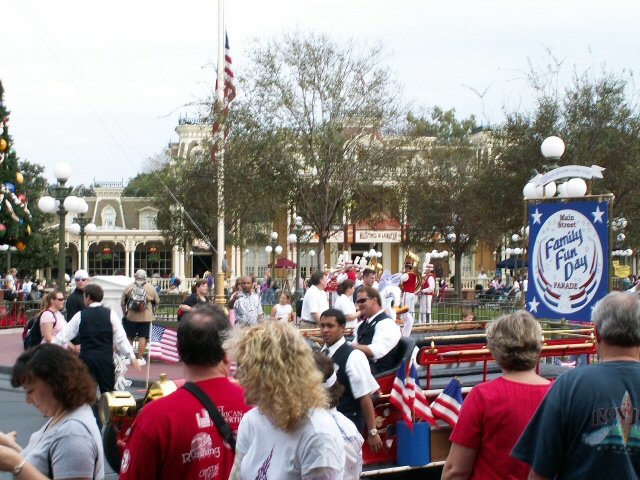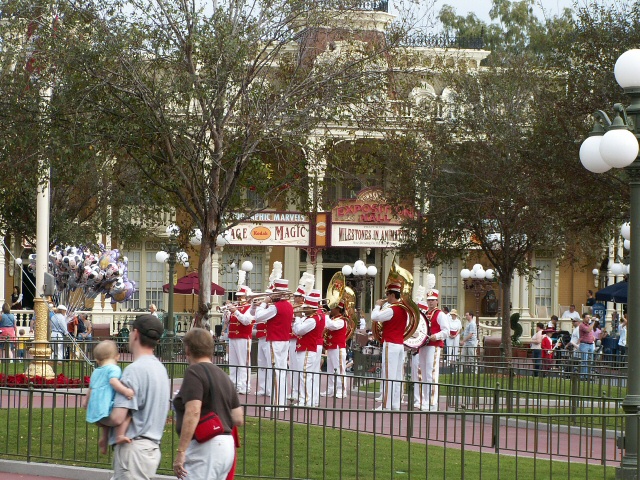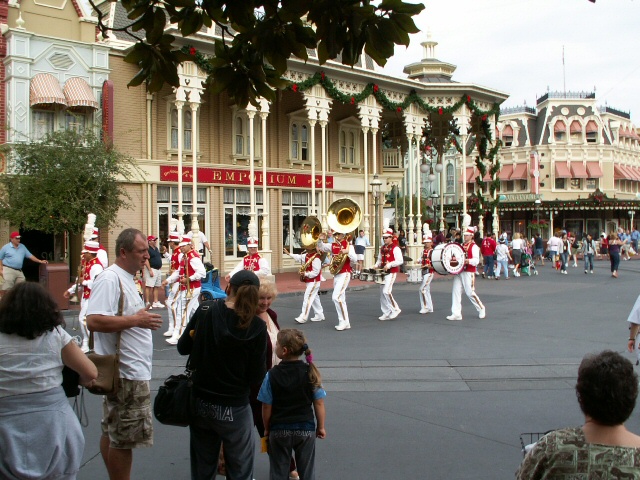 I didn't really get that much of a feel for this parade from this viewing in mostly because I was paying attention to our group while we waited as well but I did catch most of it on mini disc, but I also got a more complete recording of it later in the trip. While the Main Street Philharmonic marches down Main Street they play 76 Trombones, after they formed up in Town Square they play Strike up the Band as accompaniment to the choreography, and also a medley of Yankee Doodle Dandy/and You're a Grand Old Flag. Although the music for the parade is piped in through the speakers the band plays along as well, and after marching segment I think the piped in portion is just the vocals for the performers on the street, after the choreograph portion ends the band stuck around for a few minutes more in the center of Town Square and they played Stars and Stripes Forever before marching off stage. I was QUITE happy to see this performance by the band, and as I mentioned to several folks this trip "it's nice to see the band is back to playing something else besides just Take Me out to the Ball game".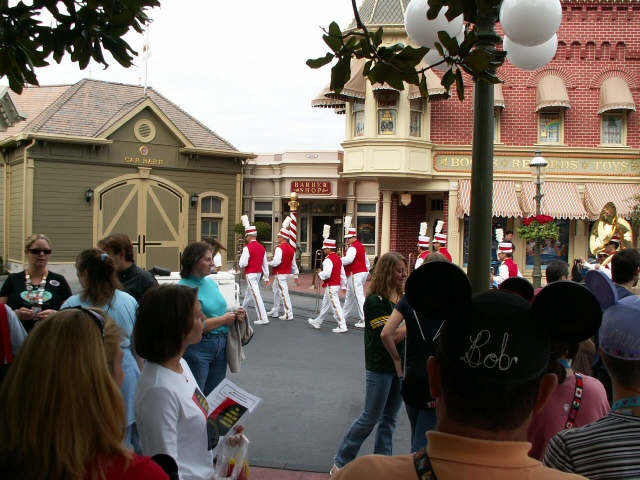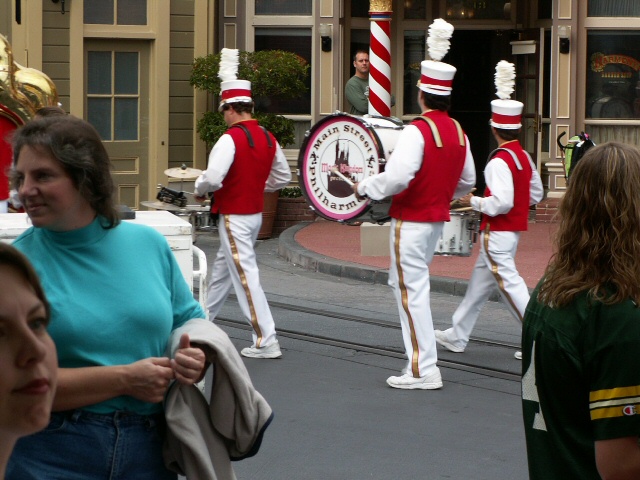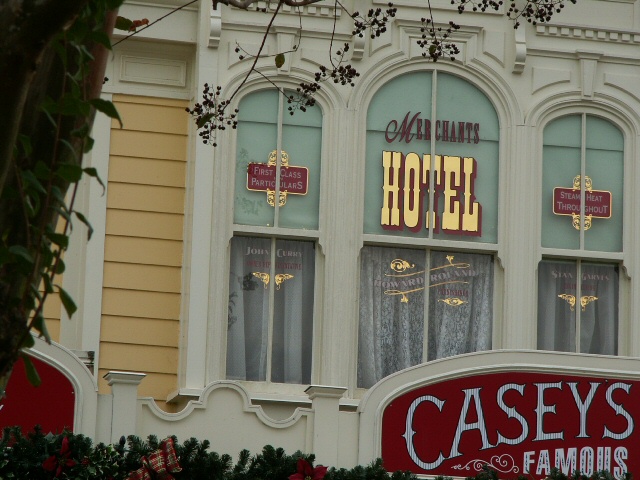 Once the band had went off stage the meet started to get organized, the meets organizers Kim Button (seated on the right in the pictures below), and another woman named Kim (seated on the left) handed out sheets of paper with questions about the windows on Main Street that give tributes to so many of the folks responsible for the creation of the park. It was a good time, as we all split up and started going up Main Street I started running into folks who were trickling into the park in preparation for the Dole Whip meet, Steve Barrett of http://www.hiddenmickeysguide.com/home.php (I let him know he is responsible for the most downloaded episode so far of my podcast), I also ran into some of the guys from WDW today and some RADPers too. As the meet progressed, those of us who realized we probably weren't going to be finishing the quiz first started helping each other with answers (prizes were a copy of the book and a couple of Mickey (held by the Kim on the left in the photo below), I think we all had a good time. Also while we were headed up and down Main Street, there was some live entertainment out I know I heard a bit of the Fantasyland Woodwind Society, (the sax quartet again, this time in their Main street outfits) playing the Entertainer Rag when I passed by them later they were playing Here Comes Santa Claus ,at the very same time just a little farther down Main Street the Dapper Dans, a bit later I heard a snippet of Frosty the Snowman, and later Rudolph the red-nosed reindeer with these two tunes being Sung by the Dapper Dans and accompanied by the Sax Quartet, very cool! They really load up Main Street with entertainment for a few hours before the parade, in fact by the time we were finished they had already put up the ropes for the afternoon parade.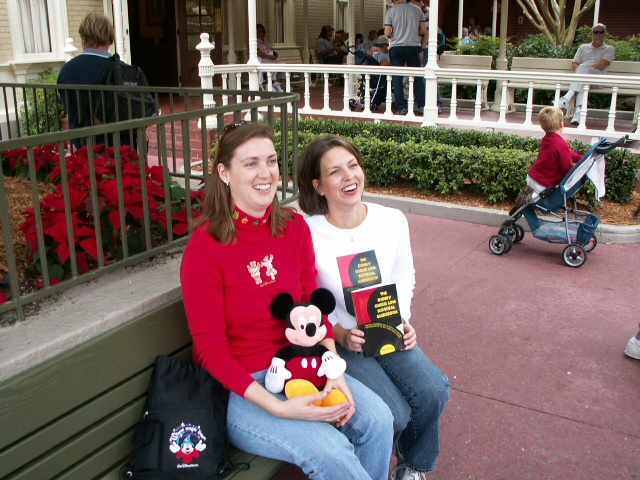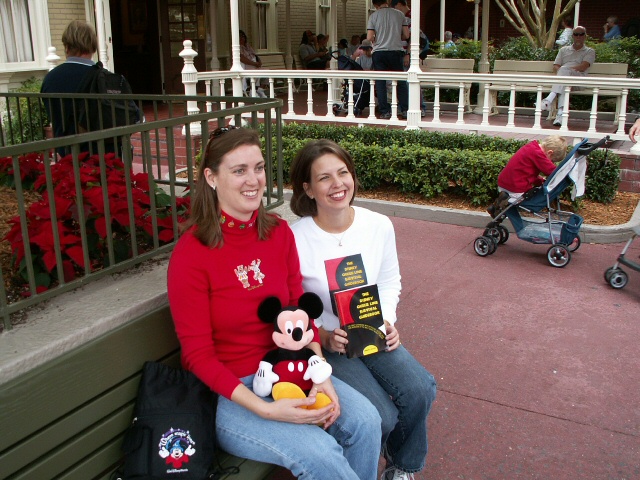 As I headed back up Main Street towards Adventureland a High School Marching band was coming down the street so I stopped and gave them a listen, they did a parade stop right at Center Street, if I had know just what kind of stop it would be I might have taken a movie, the majority of the band members put down their instruments and did a little choreograph routine around their instruments.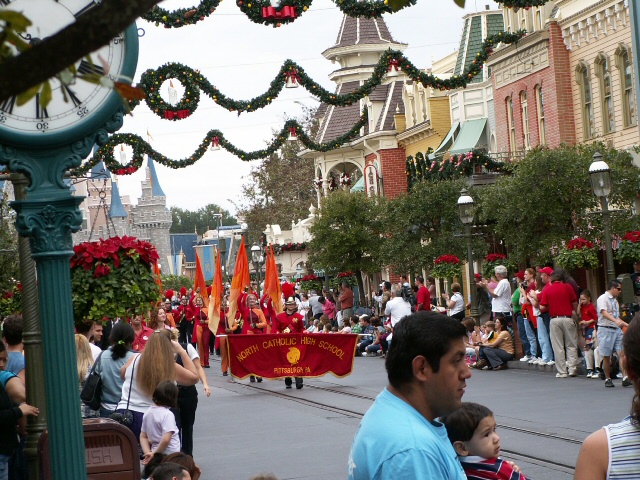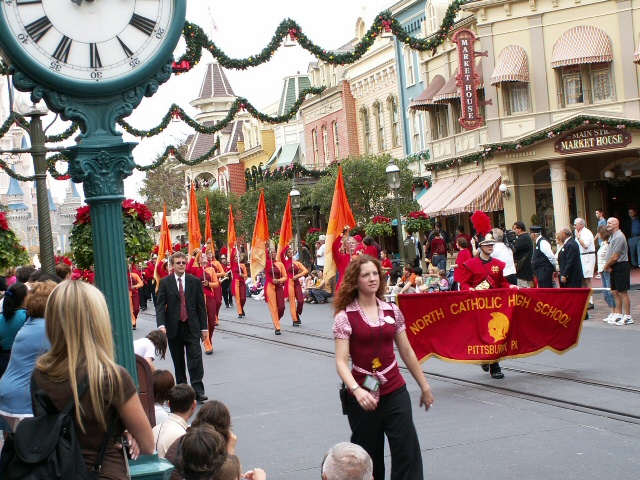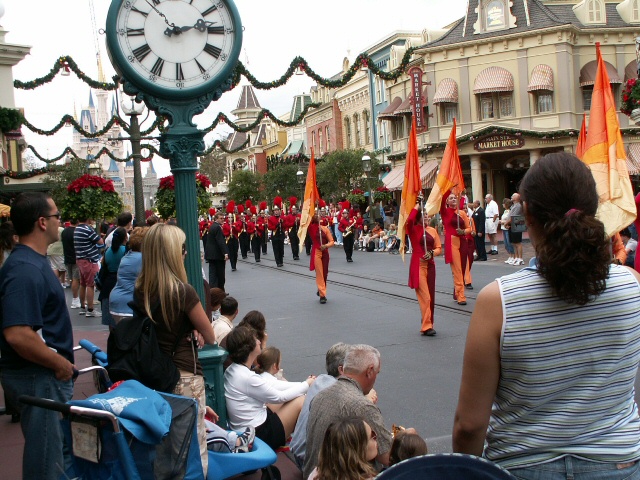 I really enjoyed the Dole Whip meet, this type of meet is a bit less organized basically everyone stands around in little clumps of people and talks while we eat and then when we're done eating we stand around and talk some more, LOTS of folks were at this meet including some of the same folks I had ran into on Main Street, and other folks that had participated in that scavenger hunt, I also ran into a lot of new people, and got too meet folks I've know a bit longer and get re-acquainted. Some of these folks I would run into again and again this trip. Amy Stoll (amymouse) introduced me to Byron (AUband pilot on the Tagrel forums) had a great binder full of neat photographs he taken of WDW and an awesome camera, I really enjoyed looking through those, it kind of reminded me of the nice binder of photos Bob Quincy brought to an NC-RADP meet many moons ago. I was having so much fun at the meet I forgot to take any photos! and when it was almost 4PM and time for me to meet my wife at the entrance to the park I had to drag myself away, on my way back to the gate I DID stop momentarily though when I got to the pianist at Caseys' Corner, Mark was playing a medley of It's a Small World and Zip-A-Dee-Doo-Dah, I also stuck around for a few more songs; Frosty the Snowman, All I Want For Christmas is My Two Front Teeth, and that awesome arrangement of Have yourself a Merry Little Christmas he does... I think that was worth running a little late for! After he finished up that song though I had to go I was late! As I rounded the corner I ran into a few RADPers coming up the street Jan and her husband (Praline on RADP-friends) I also ran into the sax quartet again! they were just finishing up Jingle Bells as I approached and started playing a nice energetic rendition of Yo, Ho, as I receded into the distance. When I got to the gate though it soon became apparent that she was running late as well after a while I gave her a ring, she had given me a cell phone prior to leaving for the trip, the same brand as she has from Virgin Mobile, a pre paid phone, we had used hers in Florida the previous year with no problems, but when I opened it up and tried to call her I got a message saying some thing like "welcome to americas roaming network for 2.99 for the first minute and 1.99 for each additional minute you can make a call" to which I reply ....Well forget that!, at the time I thought it might be some sort of problem where my phone was somehow linked to my home area code and so consider to be roaming, but again my wife's phone didn't have that problem, once I got home and tried to use it though I got the same message so I obviously have some other sort of problem. Anyhow I still had a couple of phone cards in my wallet, so I gave her a call she was in the parking lot. So I told her I'd be inside the gates, and while I waited for her continued to take pictures.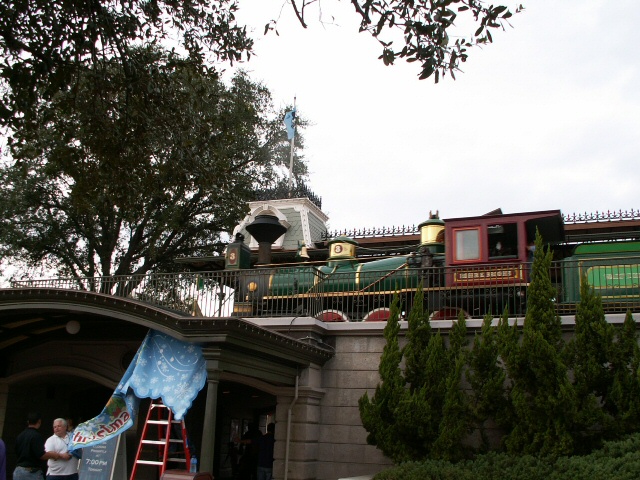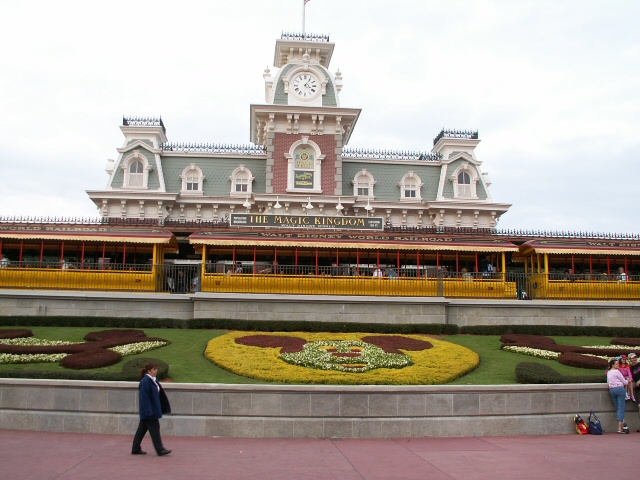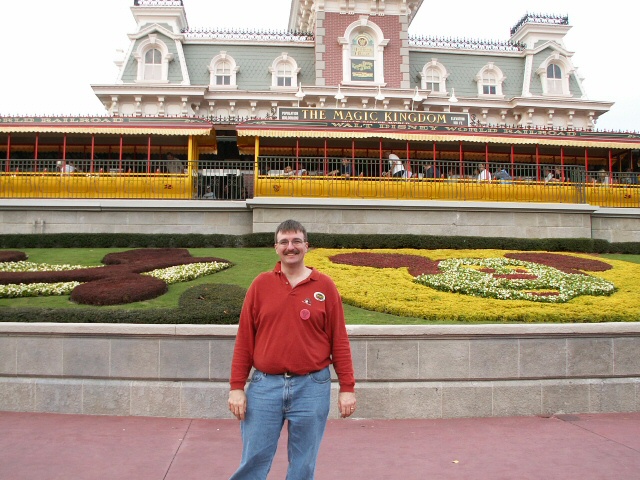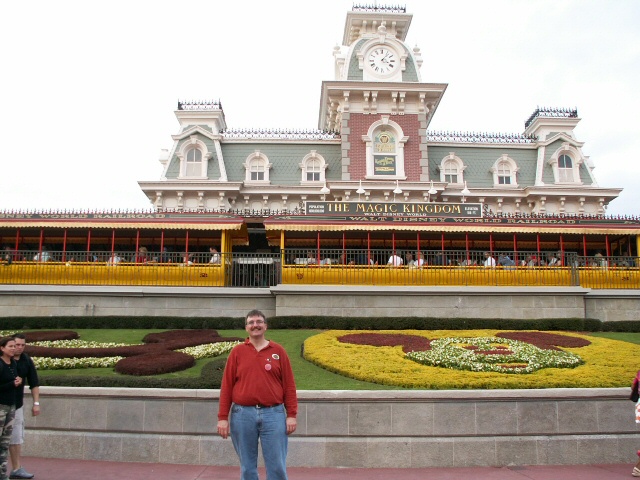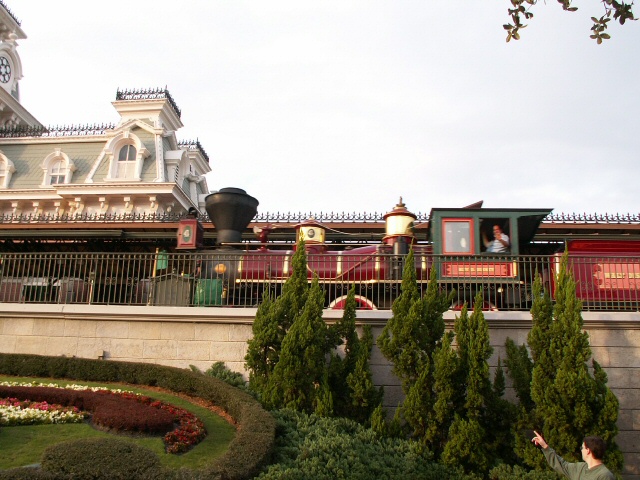 There were two trains operating that day, the #3 Roger E. Brogie is the one with the red cab pulling the yellow coaches, the #4 the Roy O. Disney is the one with the green cab that's pulling the dark blue coaches. You may also notice that in the pictures of the Brogie you can see 3 of the very large "drive wheels" whereas on the Roy you can only see 2, the Roy is a 4-4-0 meaning is has four wheels under the leading truck 4 drive wheels (two on each side, one at each end of each axle) and zero trailing wheels (some engines have wheels back under the cab), the Brogie is a 4-6-0.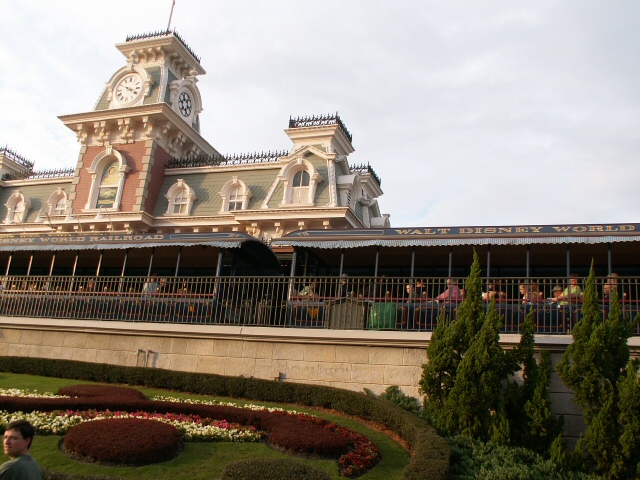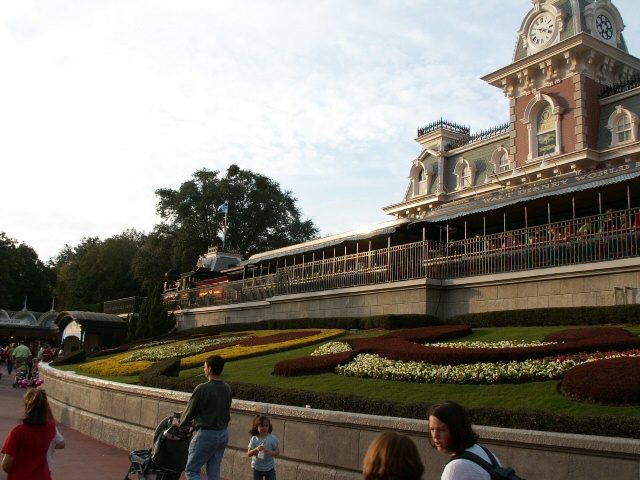 I decided to take some close-ups of the floral Mickey so you could get a better idea of just what plants make this beautiful pattern.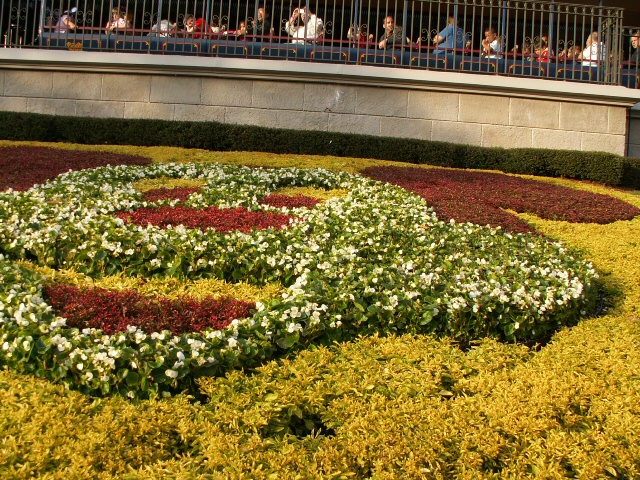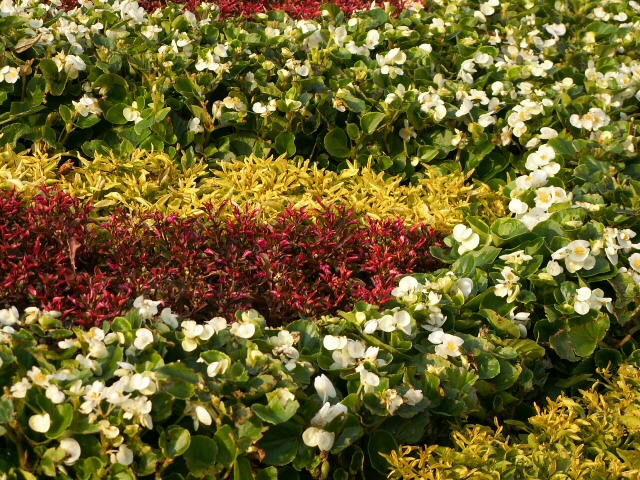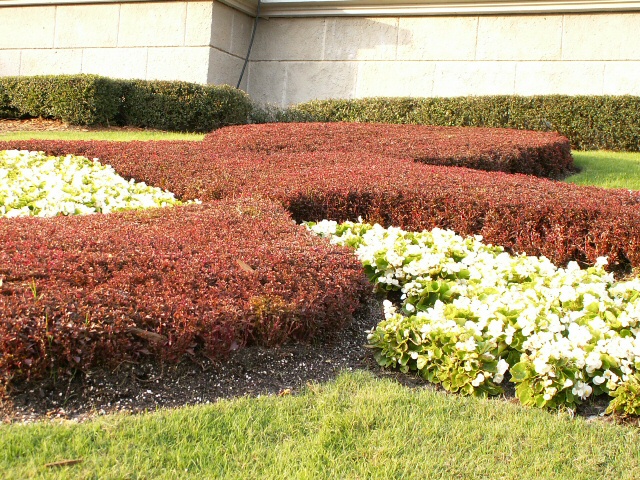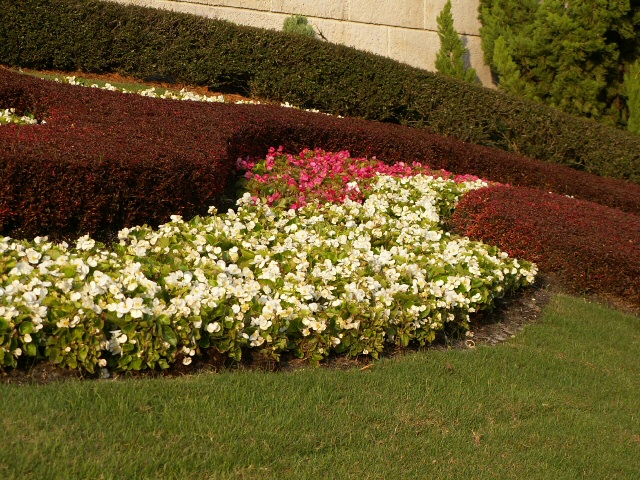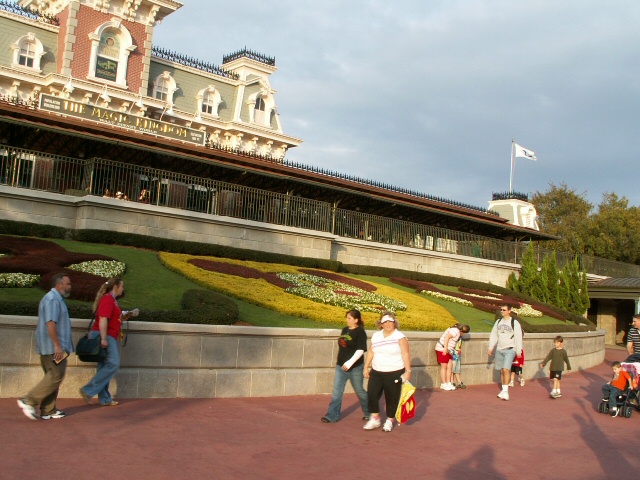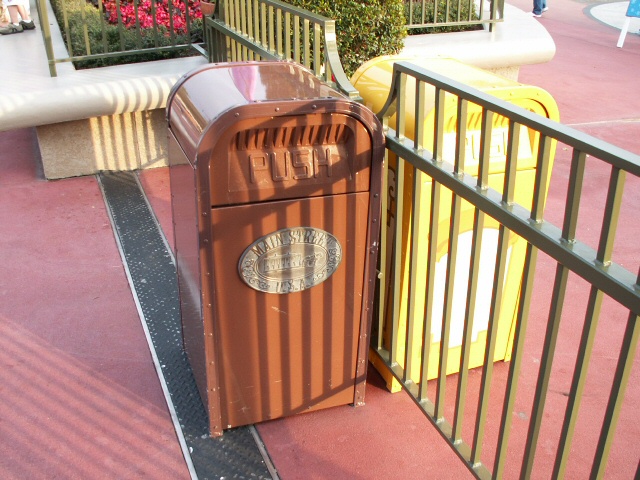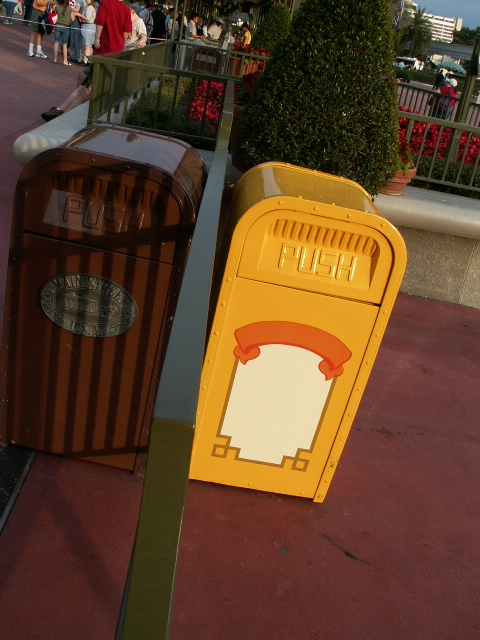 I also took not of the fact that the Trash receptacles inside the gates are of the Main Street USA variety, while those outside the gates are of a different color scheme. You may or may not know that many years ago early in the history of the intent there was a web site featuring various trash cans from around the parks, unfortunately I think it wasn't up for very long, this is another niche that someone looking to start a different Disney web site could fill, again as with the bathroom site I have pictures to contribute!