Mousefest 2006 - Magic Kingdom
Preface to a return
This trip at Mousefest is becoming/ has become a sort of tradition for me, but at the same time it's a tradition that seems founded on some disappointments of not being able to attend several years. I first attended one of these annual December fan gatherings long before it was even called Mousefest it was an R.A.D.P. meet back in December of 1997, I attended again in 1998, and planned attending these events many of the following years, but didn't actually make it back until 2004, that year, I was SO DETERMINED to go to Mousefest that I did it even under the understanding that we couldn't afford to go into the parks, we just came down for the Mega Mouse Meet, and visiting around the resort, you can read about that in my Mousefest trip report for that year MOUSEFESTIVE. At that time it was Mousefest's actual second year (and RADP's 9th or 10th I think), as we were returning from that trip my wife seemed to really understand how important it was to me to go to these things and accordingly we made better plans for it the following years. In 2005 we were going on another LONG planned trip to Disneyland for it's 50th anniversary (which was part of the reason for the tight budget of the 2004 Mousefest), in fact, I began planning to attend Disneyland for it's 50th before I even met Carlene, and made sure she knew about it within the first few weeks of getting to know me, still despite taking that trip we managed to go to Mousefest 2005 as well, and I actually spent a little time in the parks we bought tickets to Mickey's Very Merry Christmas Party, and both attended that, taking full advantage of the fact that they start letting people in for that party at 4PM on the day of the event, I also spent a day in the parks using a left over day on one of our passes from our honeymoon trip, between those two day and the triple M event( Mega Mouse Meet)it was a big improvement over the previous (park less) Mousefest, this year, 2006, was to be a continuation of that improvement, in fact I think it's fair to say that for me this trip took Mousefest to a whole new level. Still it was a bit of a budget trip, we just happened to hit a few deals that helped make a longer trip doable, first off we bought tickets at staggered times, one early in the year, then the Christmas party tickets shortly after they went on sale, then in the fall the other ticket, and lastly upgrading one of the tickets to a park hopper after we arrived, so we didn't get hit with ticket cost all at once, it was spread out over the course of the year. I got my wife to commit to an overall dollar amount we could spend on a room and then booked a week at $22 a night based on that (priceline.com), I think she thought the amount she was saying would get us two or three nights, so she was a bit surprised when I told her I booked a week, she then pointed out that there are other expenses as well (like food) and she didn't think we should stay a whole week, I'm not unreasonable so we only stayed six of the seven nights, also we made one day at each end of the trip a travel only day, on some of the past shorter trips we have taken a nap the day before and made an overnight drive (we both are the type that can sleep in the car some) so it ended up being a 6-night 5 days in the parks sort of stay rather than the "8 days 7 nights" trip I originally kidded her that we would be taking, neither of us sweated giving up the one night at the end (which was pre-paid for) it was a good compromise.
Wed. Dec. 6th travel day
Although this was a travel day we didn't leave particularly early, Carlene worked 10am to 2pm at her part time gig, before returning home and finally getting on the road sometime after 4PM setting us up to arrive late, but that was fine, we were headed to Disney and all was right with the world. Since it was going to be a late night driving and the following night was going to be an Mickey's Very Merry Christmas Party night we agreed that it just made sense to figure Carlene would drop me off at the park in the morning and spend that day at the hotel (napping) until time for the Christmas Party, we called ahead to let our hotel know we are going to be checking in late, and that worked out fine. Our hotel was the Rodeway Inn on 192 adjacent to the "Florida's Greenway" toll highway....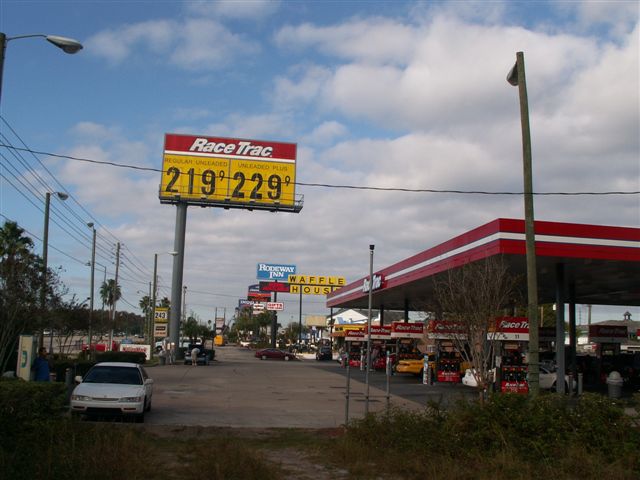 picture below is actually the neighboring hotel, taken from the door of our room.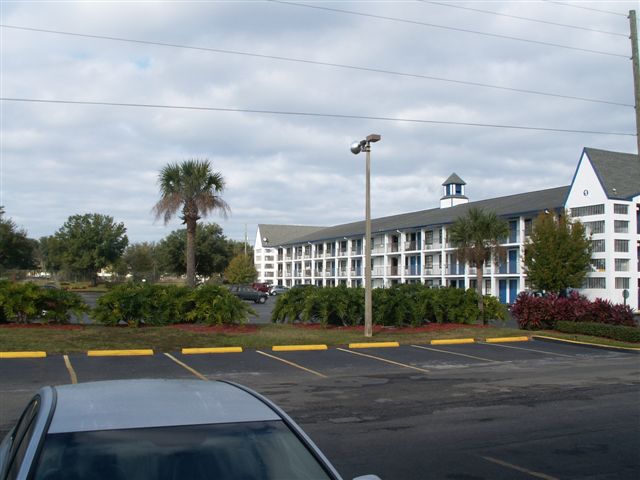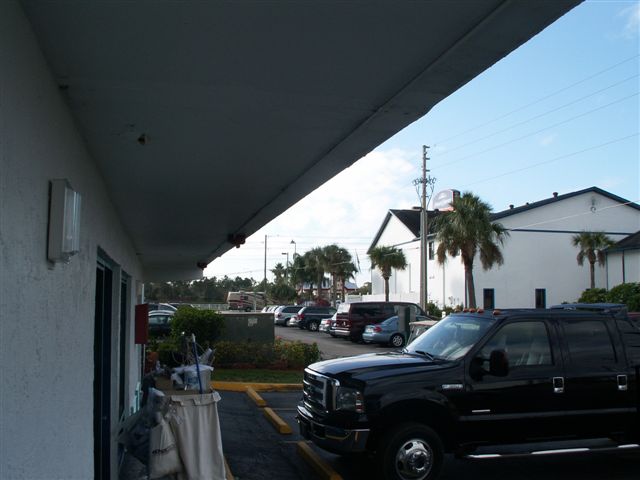 >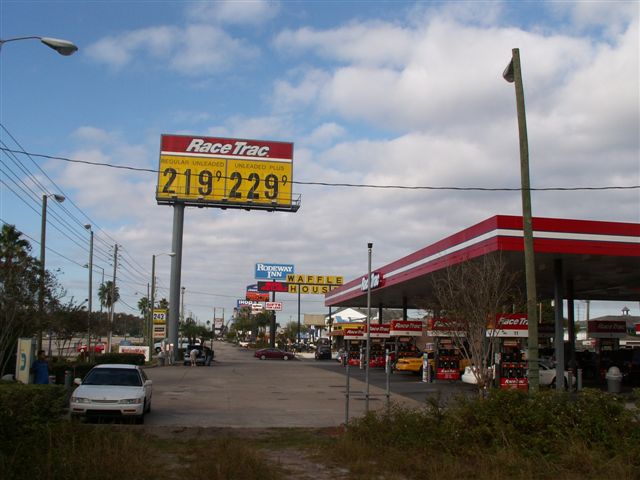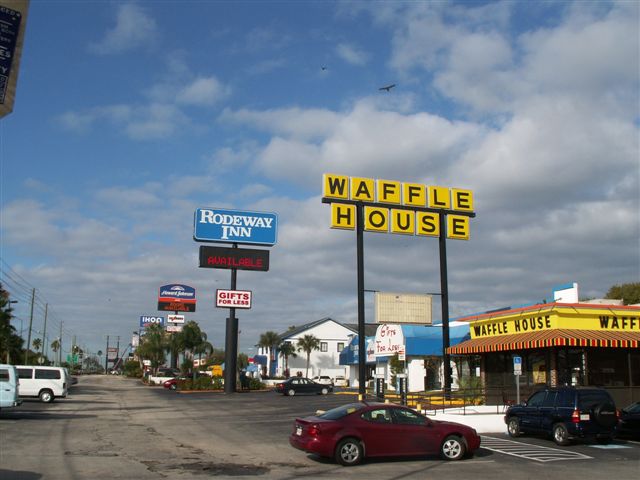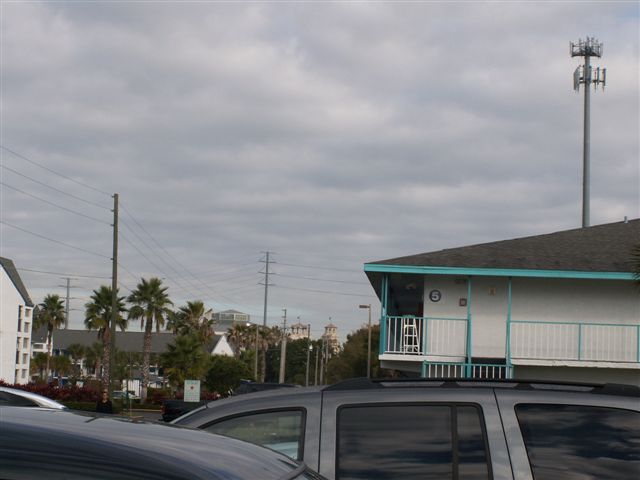 Above: the Foreground building on the right is part of our hotel, in the far distance is a pair of towers...does anyone know what this is? I thought perhaps it's the building for the Arabian Night's dinner show.
I took a few pictures to help those of you who know 192 somewhat to hone in on just where this is (I took these photos our last morning just before driving home). If I ever get my Mousefest 2005 trip report and pictures up you'd see that the previous year we were on just the OTHER side of the Greenway on 192 in one of the hotels across the street from and a bit beyond the Walgreens seen in this picture, the Walgreens itself is beyond the Greenway it has the sign with the red text on it.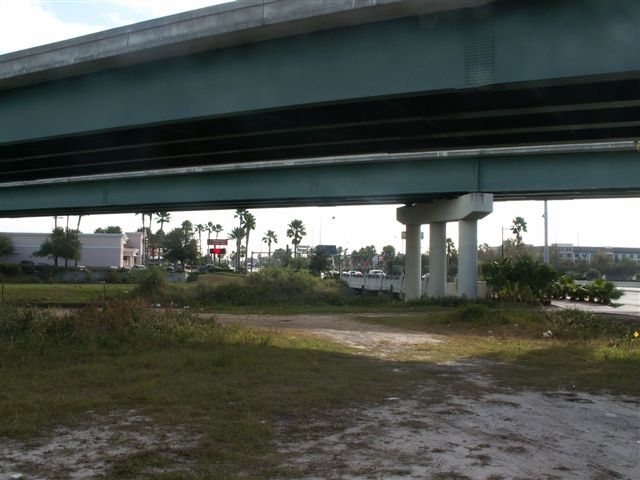 Thursday, December 7th
The next morning I arose bright and early setting the routing for the week I got up got up, got ready and went and got coffee before waking Carlene. She dropped me at the guest drop off for the Magic Kingdom which is between the TTC (Ticket and Transportation Center) and the Polynesian Resort Hotel (it is also the Taxi stand). I walked up to the ticket booth and took care of upgrading my 10 day, no expire, 6 plus options, ticket by adding park hopping, it was under 50 bucks for the upgrade. I walked up to the open TTC gate and was halfway through when I realized that the CM (cast member) there had said "resort guest", and I realized it must be an "early entry" morning, I think he had actually given up on me replying and was already beginning to focus on the next guest as I ground to a stop and said "OOOPs, nope, sorry, not trying to pull a fast one!" as I turned back around, I think if I had just kept going I'd have been fine, oh well I decided to take use of the time to poke around the Polynesian Resort Hotel, as I like to visit as many of the resorts each visit as possible to look for post cards in the gift shops and such. On my way in I saw monorail Blue stopped on the beam and took a few shots of it.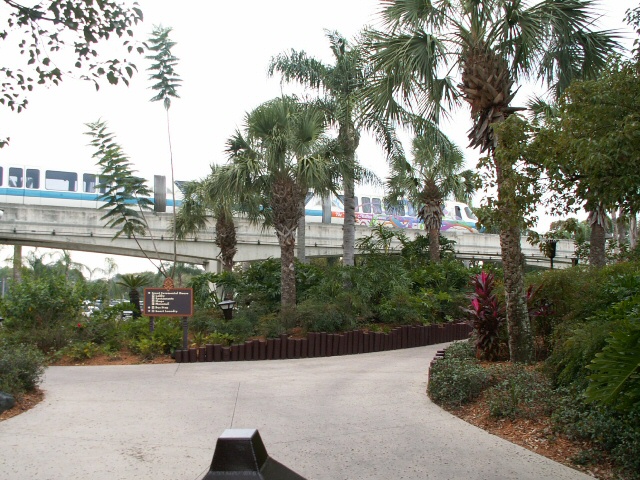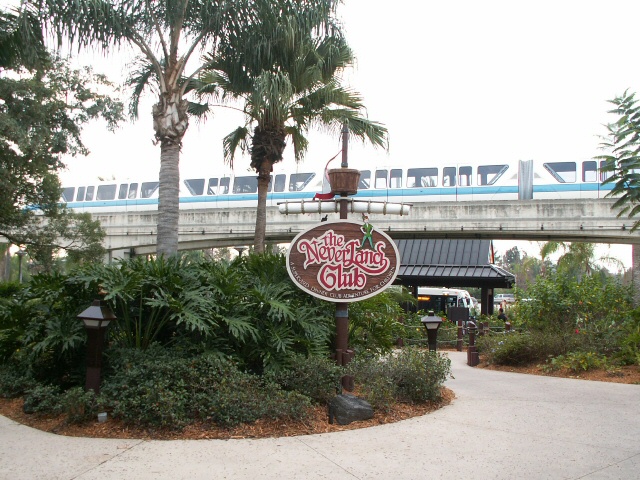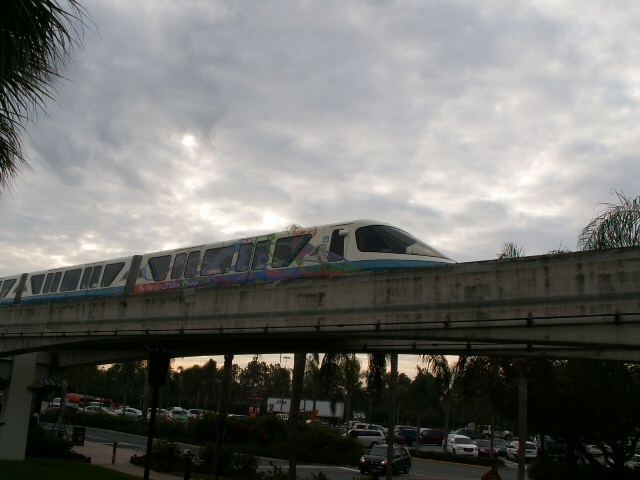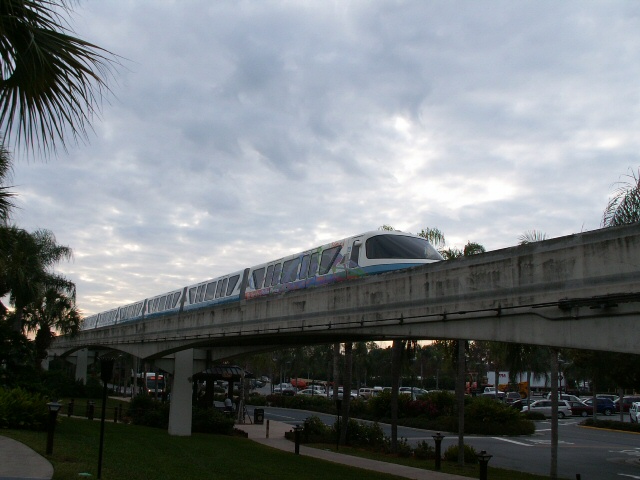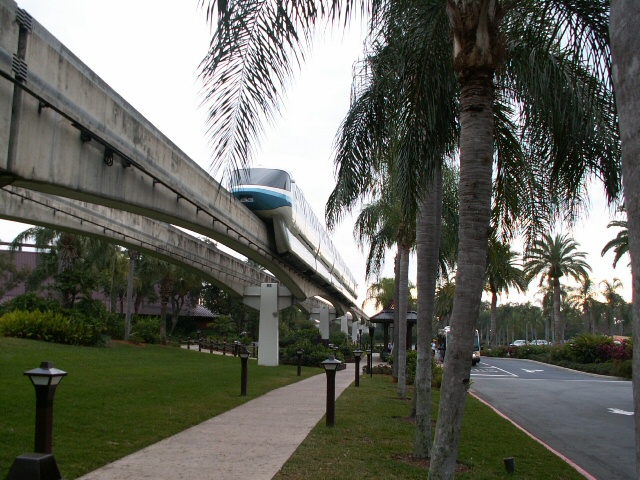 After picking up my first postcards of the trip in the gift shop I hopped on a monorail to the Magic Kingdom, by this time I was quite excited, this was my first morning trip into the Magic Kingdom since 2002.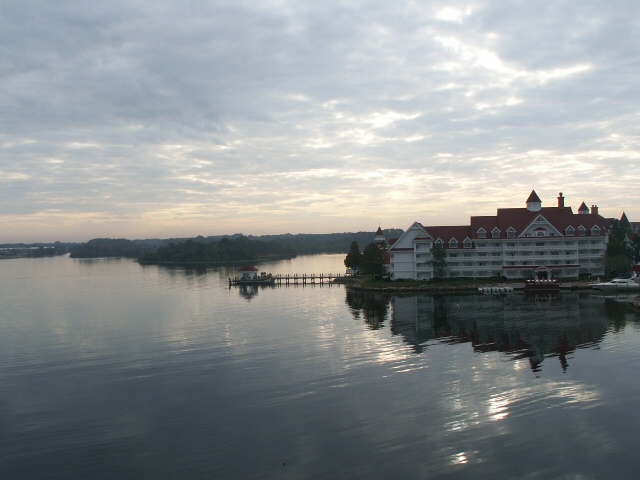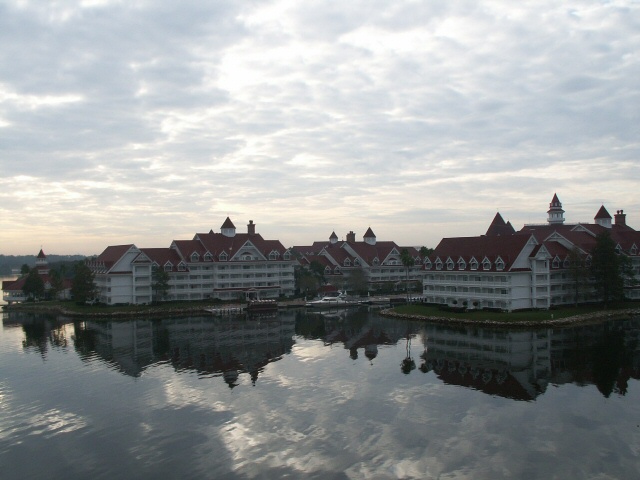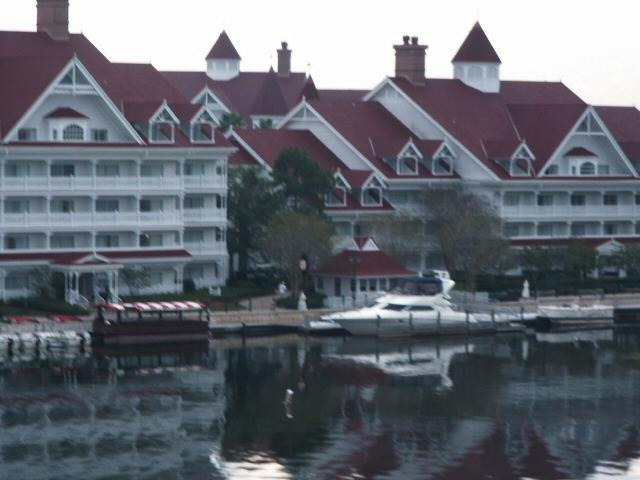 A few years ago I started a web site on the History of WDW illustrated with its' postcards almost as an afterthought I decided to do a "SideBar article" for each chapter, a piece on some lesser know aspect of WDW, my second chapters side-bar article has ended up being the thing I most frequently receive email about, more than any other thing I get email about the ships of WDW, I think part of the reason for this is that there just are not many web pages that touch upon this subject AT ALL so consequently folks looking for information on this OFTEN end up at my page, this has in turn given me a greater appreciation for the water craft of Walt Disney World and so in the images above and below much of what stands out to me are the ships such as; the Grand Floridian Yacht the Grand I (Above), the barges of the Electrical Water pageant (below)...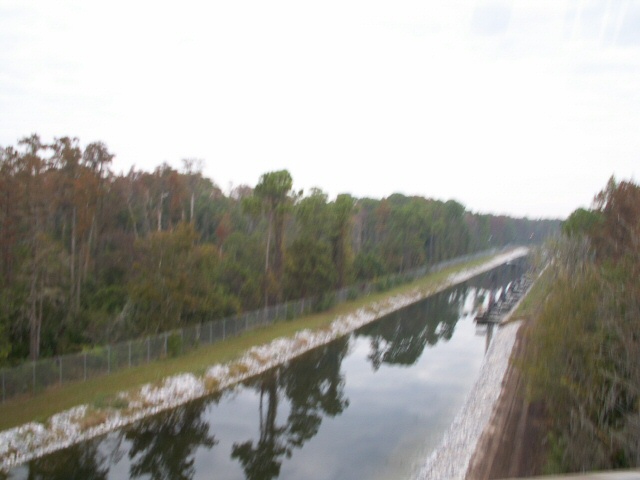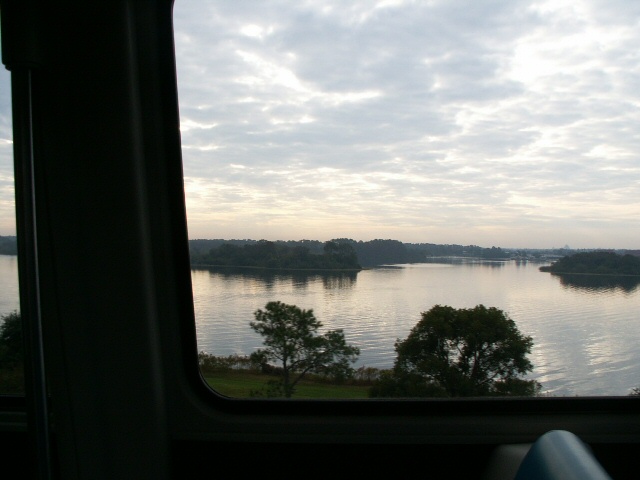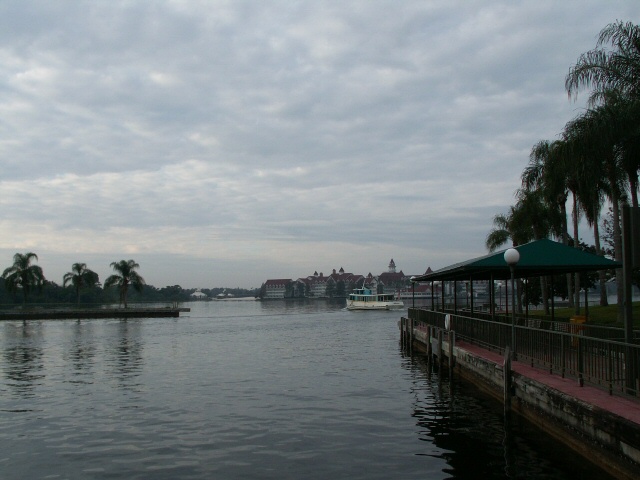 Above and Below: The Mermaid I (one of three "Cruisers")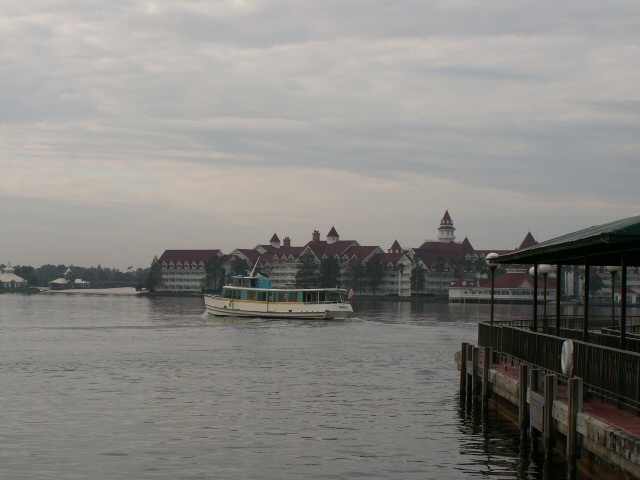 Above one of six motor Launches three have white hulls like this one, the other three have blue hulls like the one in the PICTures below, in the PICTure above you can see the letter "N" on a sign in front of the exhaust stack that's because this ship is the Navigator, the other two white hulled ships are the Adventurer and the Explorer. The Navigator is also the first of these launches I ever took a photo of (link to 1997 trip report with that photo) In many of the photos below you will see a blue hulled motor launch, the Voyager, including a photo of it's stern where the name is painted as it is normally on most ships, but in the bottom PICTure on the page, I come back to the Navigator and show you something you can see with the ships name on it if she is coming straight at you.