Mousefest 2006 - Magic Kingdom
A Very Magic morning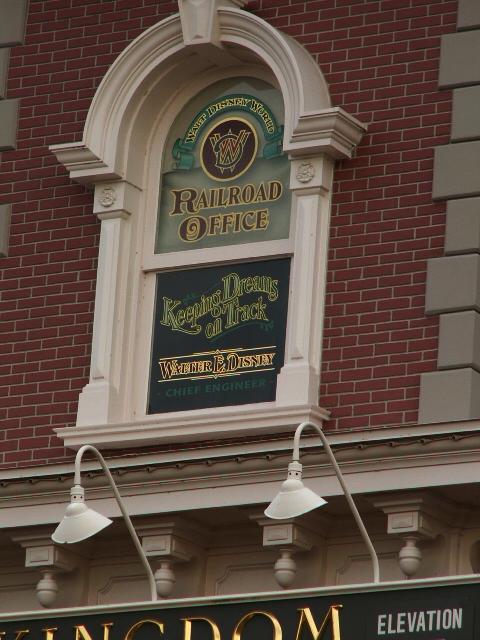 just before leaving home for Mousefest I had put out an episode of my podcast using audio I recorded in 2002 of the behind the scenes train tour, in the early part of that audio as the group is gathering in front of the station the Conductor/Tour Guide mentions the window over the train station featuring Walt's name, when I listened to that audio in preparation for that episode I realized I didn't have a good photo of it so her one is!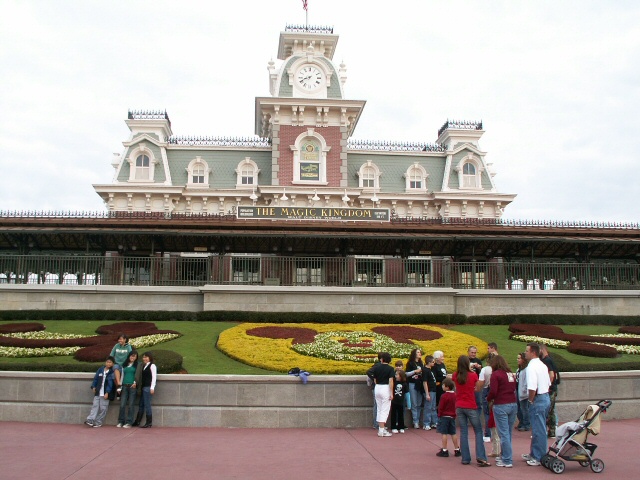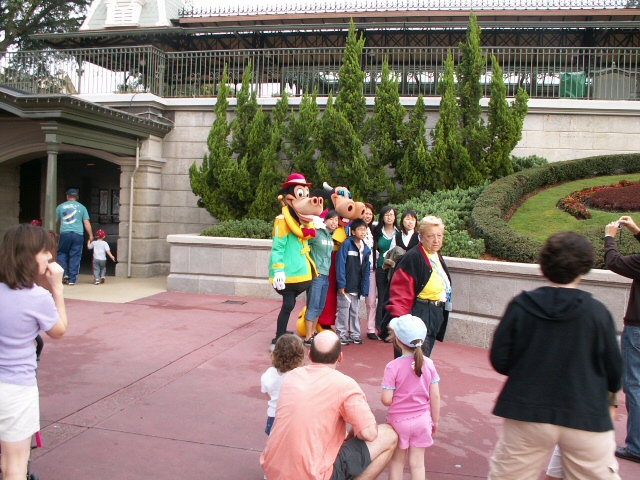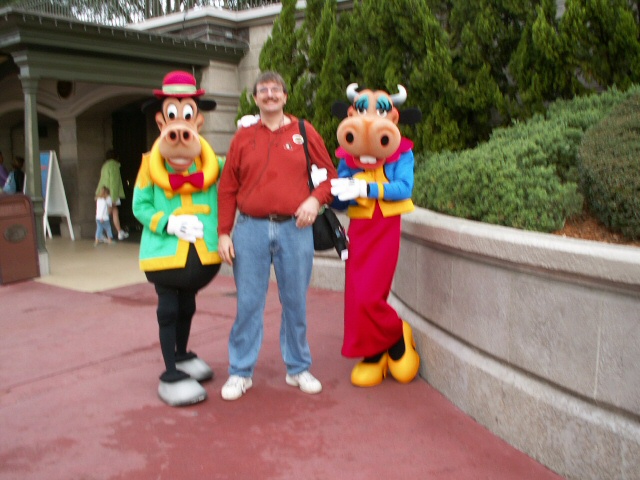 It seems that recently Horace Horsecollar and Clarabelle Cow have been making a comeback at least as walk-around characters I think these two work good here for a couple of reasons, first since they are mainly remembered for being in some of the EARLIEST Mickey Mouse cartoons that put's them a lot closer in time to the era that Main Street represents than a more modern character. But it also probably helps that they just plain are NOT "A list" characters, think about how a few very popular characters could absolutely STOP the flow of people through this area especially if poorly placed, the crowds generated if Mickey is out here first thing in the morning would be enormous.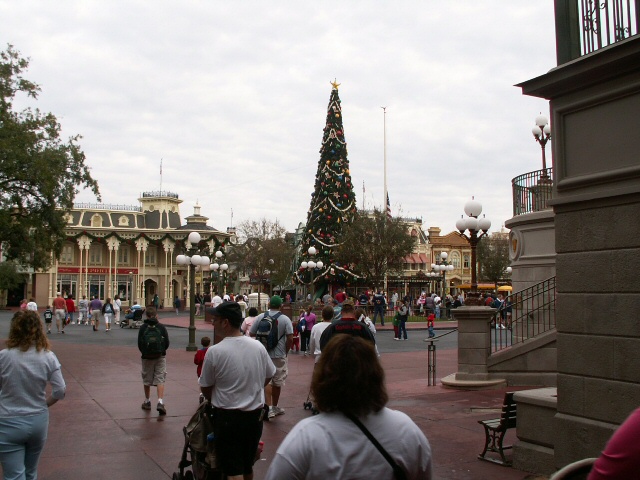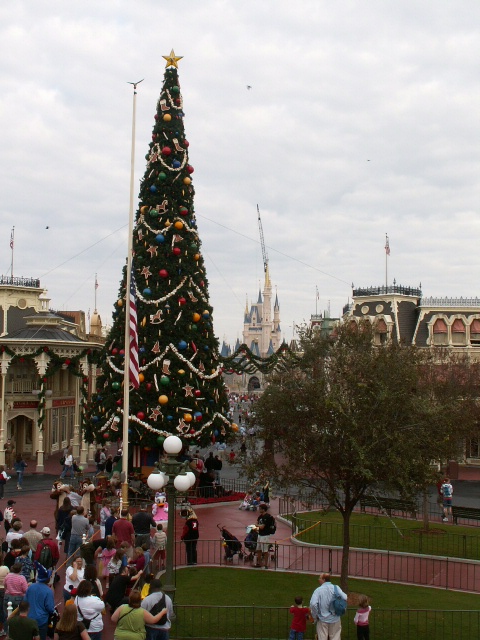 I often see details at Disney I want to take photos of, sometimes even in the bathrooms, of course though I don't want to pull my camera out in the bathroom if anyone else is around, they'd think I'm nuts! Any how in the Main Street bathrooms next to City Hall I noticed how the top piece of tile on the wall was done in the style of a fancy Victorian moulding, like the type that would typically be done in wood, of course once I had a shot of that I had to do a wider shot of the room too. I've taken so many pictures in WDW's bathrooms the past few years it has gotten me to thinking, there already is a web site about Disney lands bathrooms called the Happiest potties on Earth, which is a play on the phrase "The Happiest Place on Earth" Disney lands tag line/slogan since WDW's phrase is The Vacation Kingdom of the World, is there going to be a web site on the "thrones" of the "vacation kingdom of the world"? Does such a site already exist...if so let me know, I've got photos to contribute!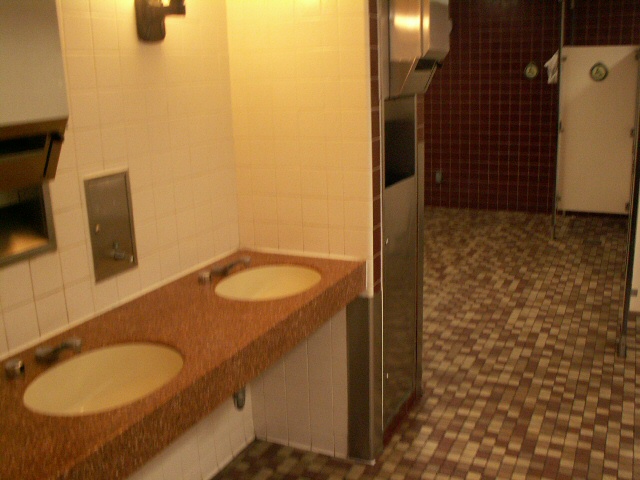 On my way up Main Street I took in the early morning sights; a tour guide starting out one of the first tours of the day, cast members waving hello to guests entering the park, and I noticed a decorative drop cloth covering up a refurbrishment of East Center Street (Or since there is no "west" center street should that just be "center street"?). that piqued my interest enough to go over and take a look, which then got me looking at some of the windows in that alley including one that was a tribute to Walt's father, Elias (pictures below).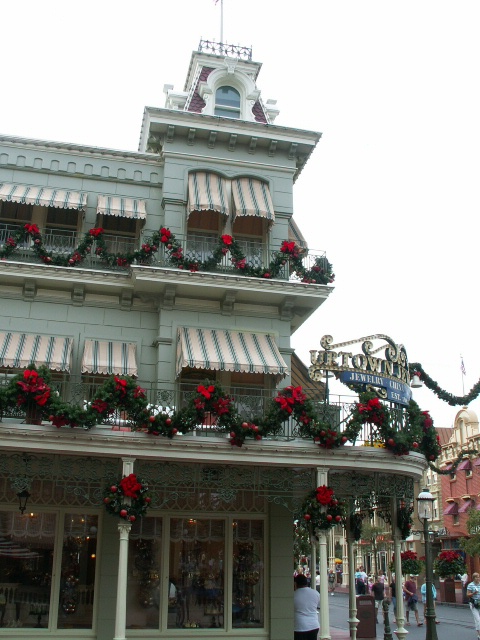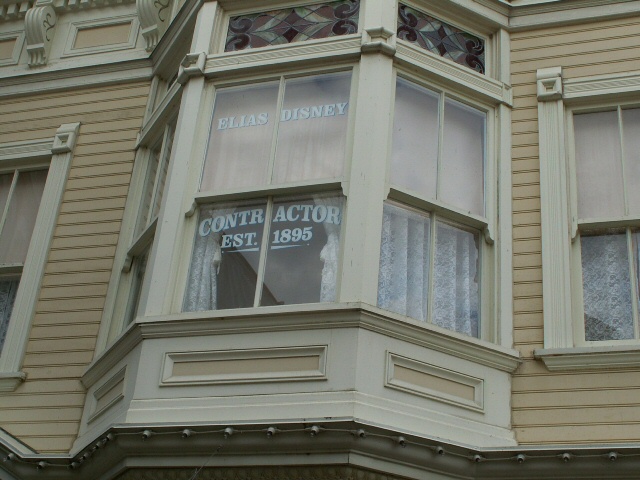 As I continued up Main Street the park opening music came up and then realized that I must have gotten in with the early entry resort guests, then again even on a regular opening they often let folks in to the Main Street area early so it was not like I was "pulling a fast one" on anybody, especially since I didn't even realize that is what had happened UNTIL I heard the announcement.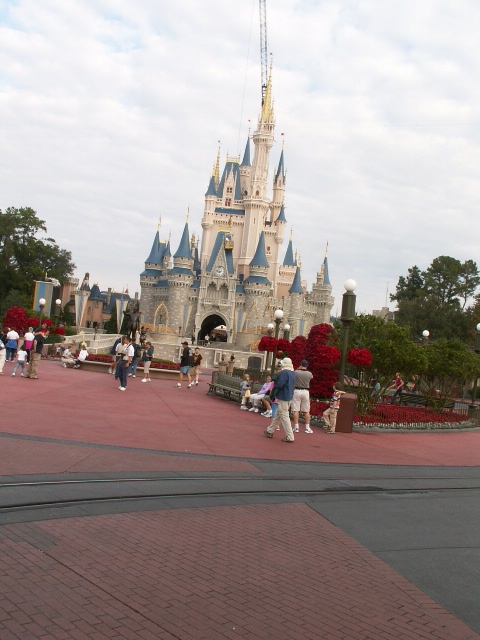 As I approached the hub I admired the work that has been done there, the curbs have been flattened out, trees removed and presumably replaces with smaller or slower growing varieties, and the planter areas have been made much smaller this reduces congestion, and increases available spots for viewing in this area, one of the most congested areas in the park what with, parade viewing, fireworks viewing, castle stage show viewing, and folks lining up to get their picture taken with the "Partners" statue I handed my camera off to one of the photo pass photographers who wasn't occupied at that moment, and had them take my picture with the "Partners" statue, it's nice of them to do this!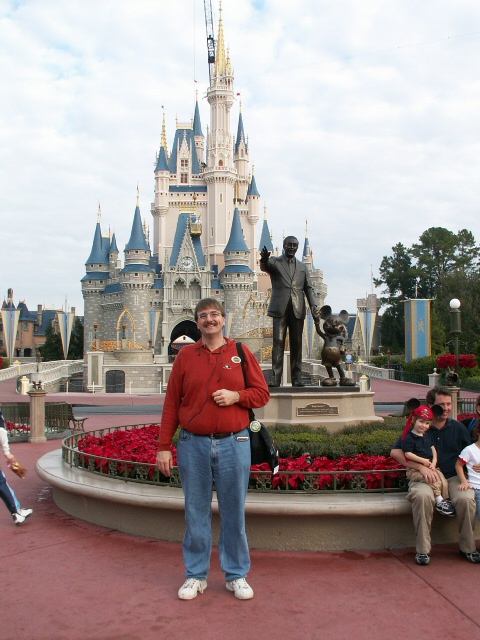 I can't say I was shocked to see them working on the castle with guests in the park I had heard that they were doing this, I guess I was still a little surprised that this refurbrishment was going on though, it seems like they've been at it a while. Later I realized, at least part of the reason, why this refurb may be taking longer than normal, they have to take down the crane every night they are doing a fireworks show, at least the Christmas party fireworks show, I'm not sure about the regular one, so there are probably shorter work days, bookended by longer than normal daily preparation work, and storage work, to get all the tools well away from the castle.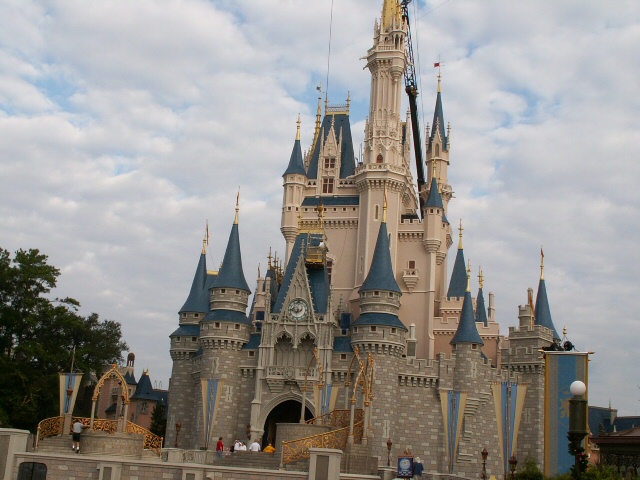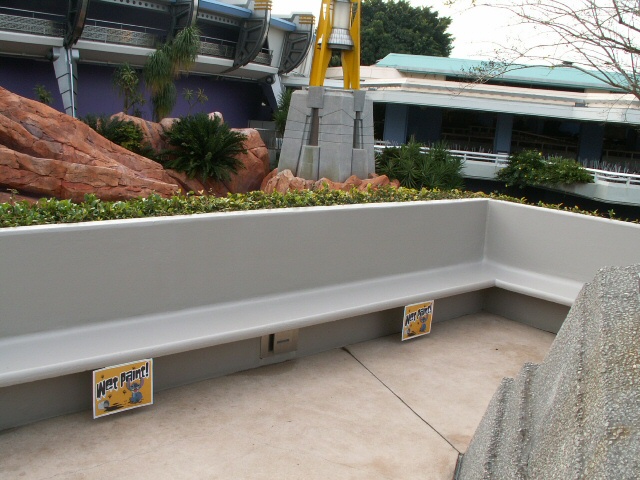 There was also a nice bit of fresh paint on the benches at the base of the Tomorrowland sign.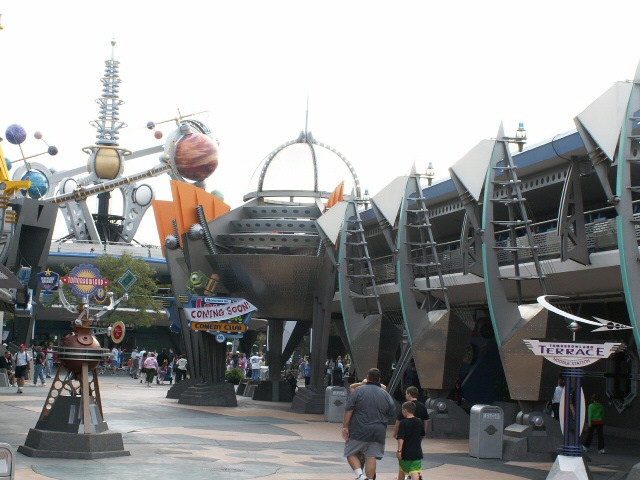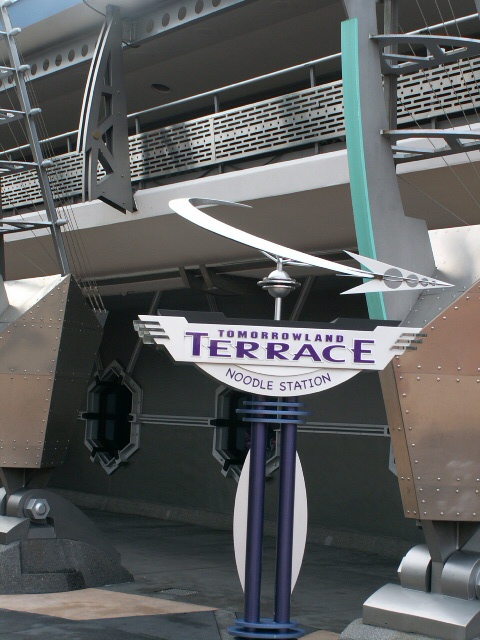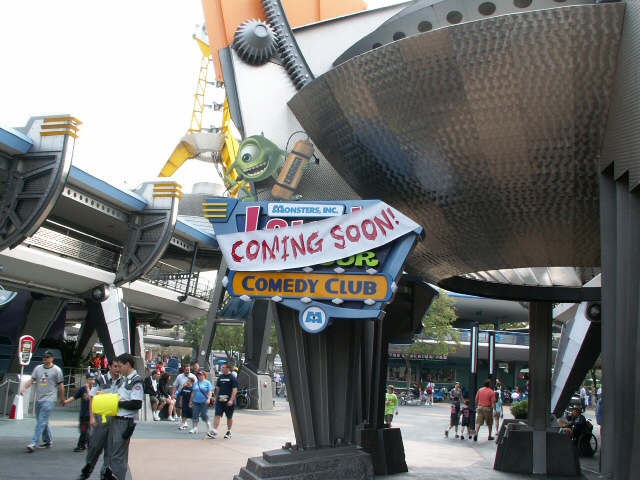 After taking a few pictures at the entrance of Tomorrowland and of some of the signs in this area I finally headed on in towards Space Mountain. After the enjoyable ride through Space on the "alpha track" I took a few pictures there, then headed over towards the exit stopping to take a few pictures of myself in front of the trains on the "Omega" side of this dual-tracked attraction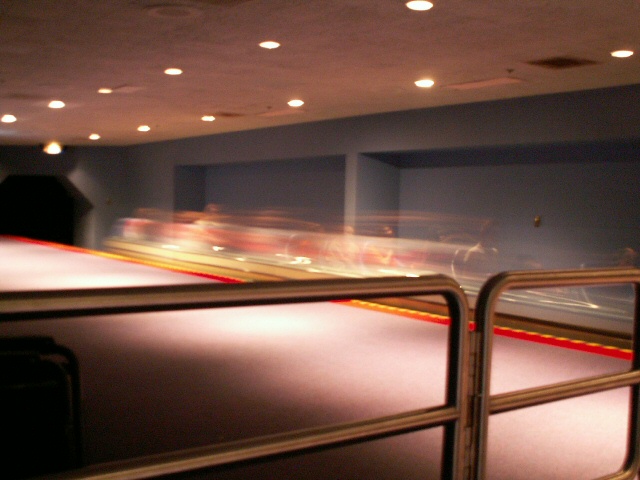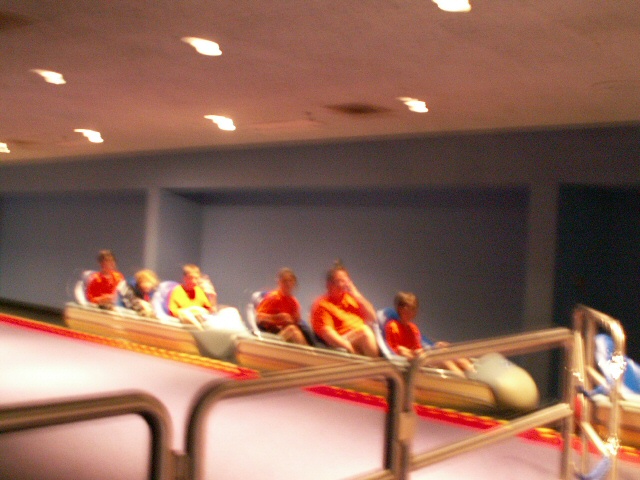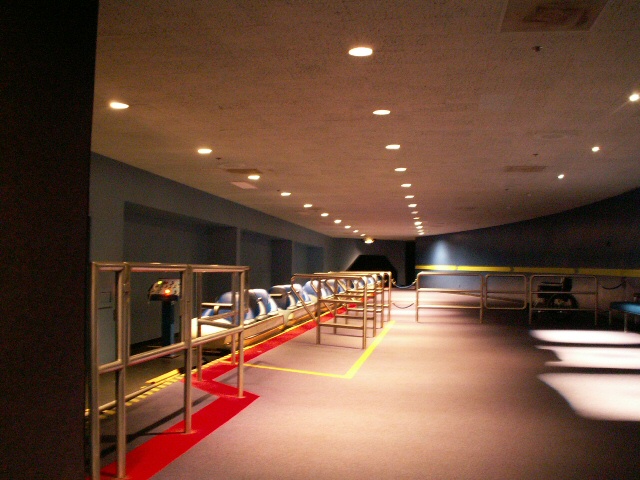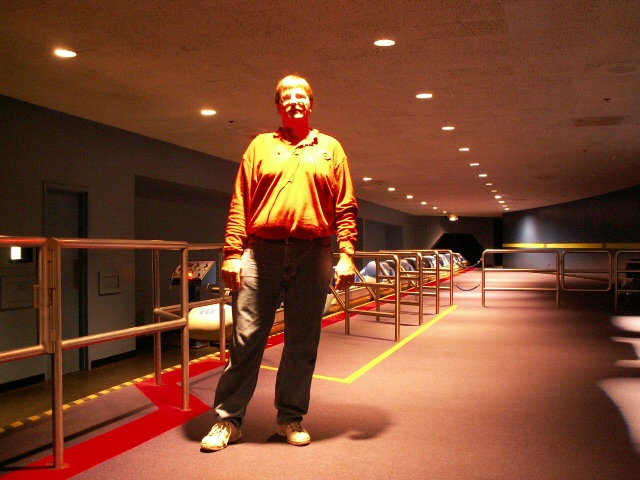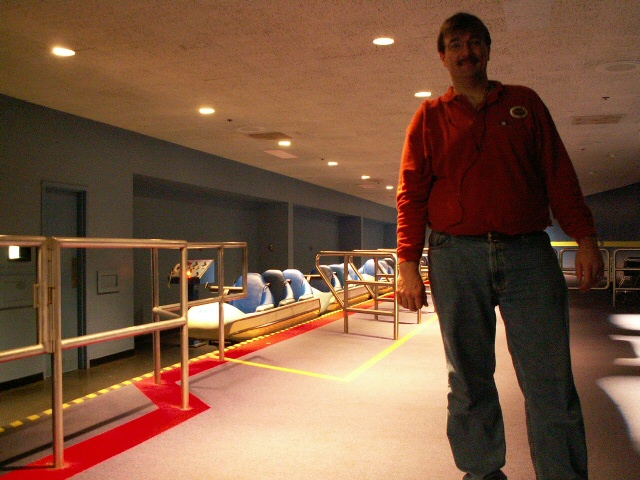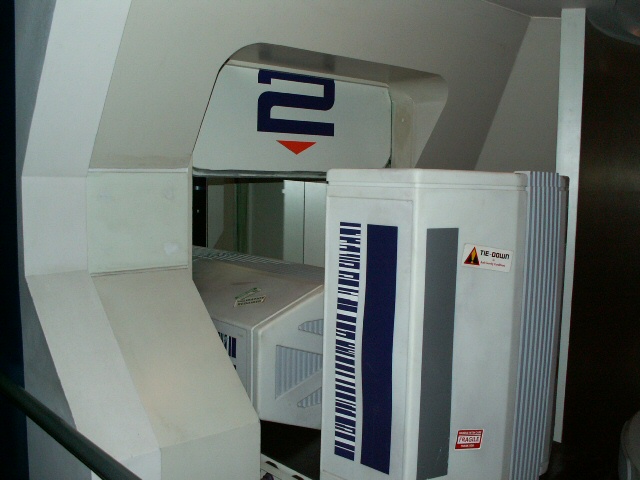 After hanging around taking pictures (and recording the unload area audio) I headed to the exit ramp taking more pictures on the way out of the mountain.