Return to Disneyland
Saturday, July 16
Friends, Disneylanders, Mouse-ka-Fans, lend me your (golden mouse) ears
We got off to a slower start today, had breakfast at the hotel, and I can't even say that I remember how our day began that well. I think we probably came into the park around 8:30. I do know that first thing once we got into the park we went and got fastpasses for Buzz Lightyear (for a meet later in the day) and that my pass didn't work and I had to get a fastpass voucher from the cast member at the fastpass machines . This is a card , same shape as a regular ticket plain blue on one side and a magnetic stripe on the other side you use it instead of your regular ticket to get fast passes if they missed scanning your ticket at the entrance. I also think this may have been the day we rode the Jungle Cruise, but that's pretty much by process of elimination. I remember riding it before the 17th so it pretty much had to be this morning. Despite not being able to remember exactly when I rode it I was impressed by the changes to the ride, the past few days before this (and the days after as well) it made me smile when near city hall on Main Street I'd hear the "pop, pop" of the cap guns at the hippopotamus pool.
We were planning on meeting Laura Gilbreath and Lee Zimmerman long-time fellow radp -friends, who despite being big fans of (and frequent visitors to) Walt Disney World, live in San Diego CA. I had called them from my dads in Poway and Laura mentioned that she didn't think they'd be going to the park on the 17th but might come up on Saturday. We confirmed that the night before, and they met us within a few minutes of the time we set at the "partners" statue (The statue of Mickey and Walt) in the Hub. We had decided to ride Big Thunder Mountain Railroad together, on the way there Laura spied one of the Mickey shaped "50" emblems on the Wooden Indian by the Shooting Gallery in Frontierland and Carlene helped Tigger find his pose. Despite her experience with Space Mountain the prior evening Carlene seemed to not feel any trepidation about Big Thunder, and indeed it seemed we all had a good time, Upon leaving Big Thunder we started off in the general direction of Pirates , when we got to the Golden Horseshoe Revue Saloon, Laura stopped to take a picture for one of the All ears editors who had had one of their photos included in the photo mosaic. I think when that happened that Carlene thought it was going to be quite some time (in fact I really think she did not understand quite what was going on at all at that point, perhaps the headaches she had been waking up with overnight left her a bit sleep deprived) and that's why she started to head off for a smoking break. So seeing that and the fact that it wasn't all that long until our other scheduled meet of the morning I told Laura and Lee how nice it had been visiting with them and bid Tigger a TTFN (Ta-Ta For Now). Even after the smoke break, this actually left us with a little extra time before our next meet and I spent some of it taking a few photos. First I took this shot of the castle with the Matterhorn in the background, which is yet another photo reminiscent of a postcard, though from a different angle since I didn't have a crane to get the shot the Disneyland photographer got. Then I took a few landscaping photos, of the Rancho Del Zocalo where Carlene had enjoyed the plants so much, and then one of some of the beautiful flowers between the Plaza Gardens Stage and the moat to the Castle.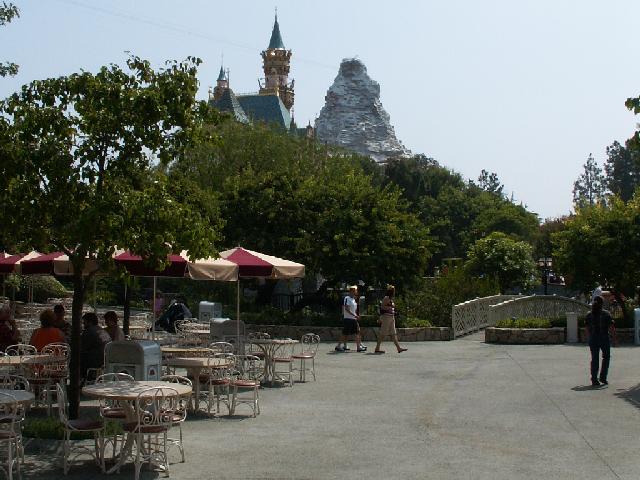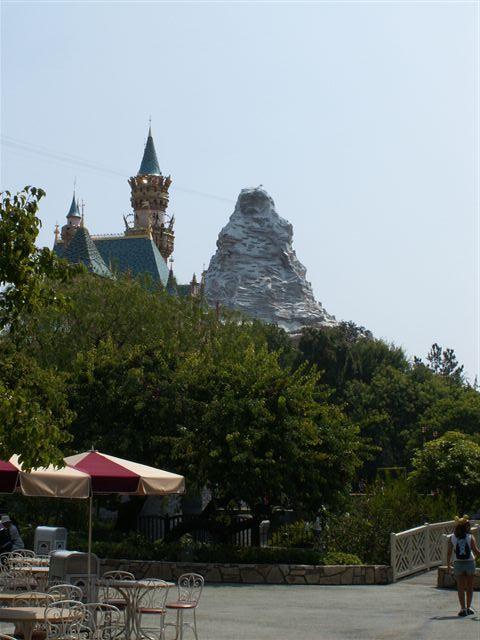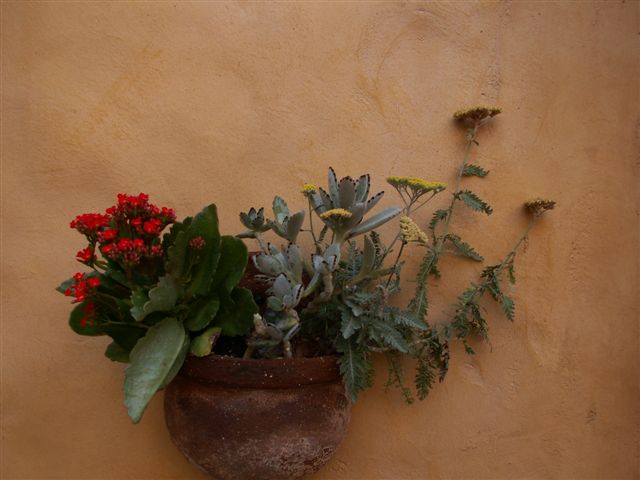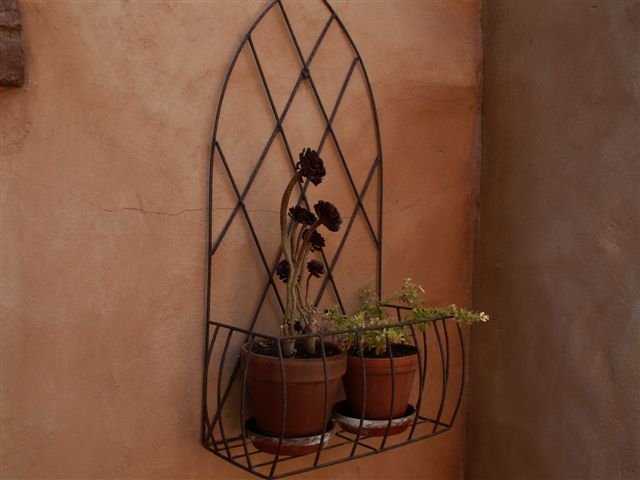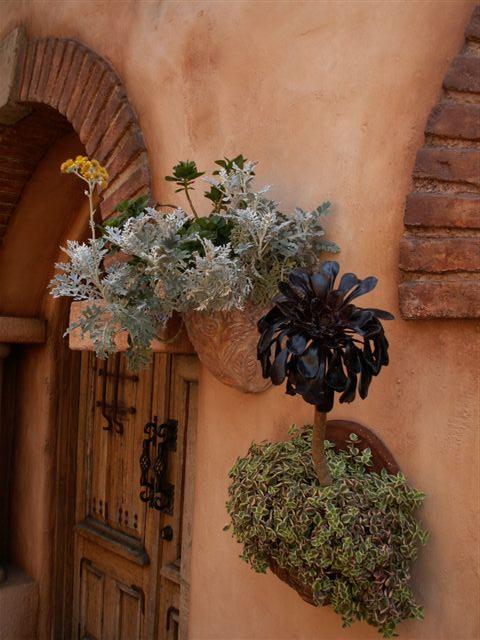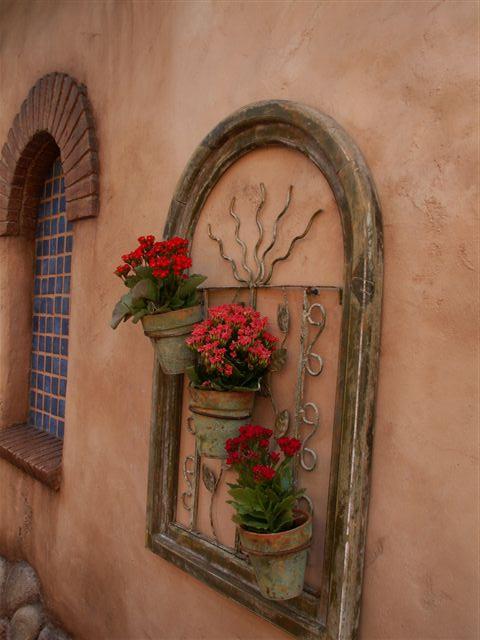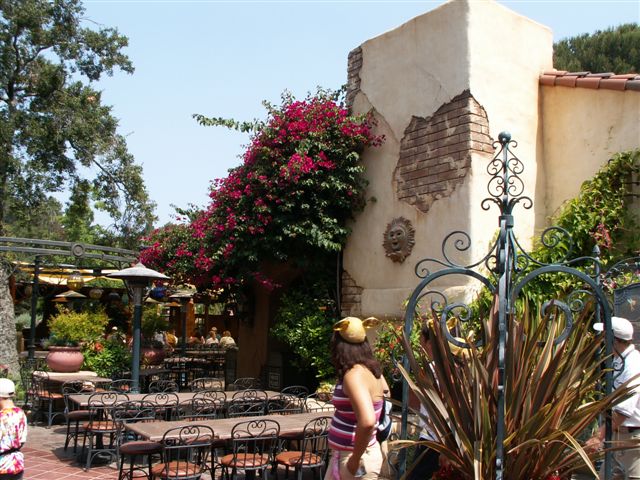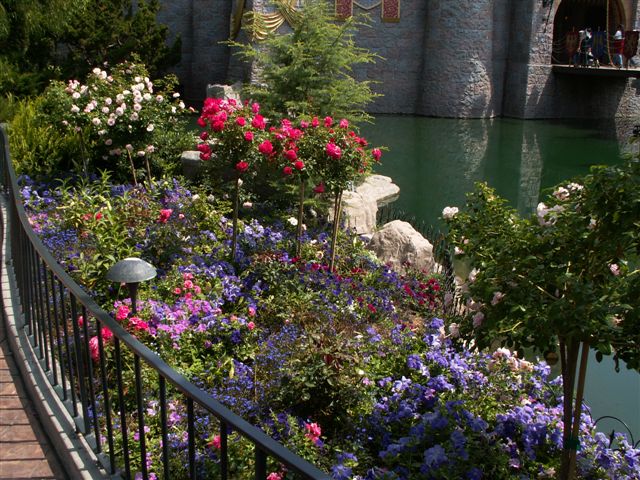 Our other meet this morning was with Judimouse of the dlresortinfo.com web site(and its affiliated yahoo group. This had originally been envisioned as a meet of all the yahoo group members who planned to be at Disneyland at this anniversary weekend, but that turned out to be Judi, and us. We met up with judimouse at the Snow White Grotto wishing well, she was wearing a really nifty shirt that featured art reproduced from all those old vintage art corner postcards, I should've got a picture, come to think of it I didn't get a photo of either meet group, what was I thinking ? Isn't there an old cast member saying along the lines of " when people go on vacation they leave their brains at home, I guess that explains it. As we talked with Judimouse, the Mickey Climbing the Matterhorn show began, we took it in and took a few photos before heading over to ride Buzz Lightyear with her.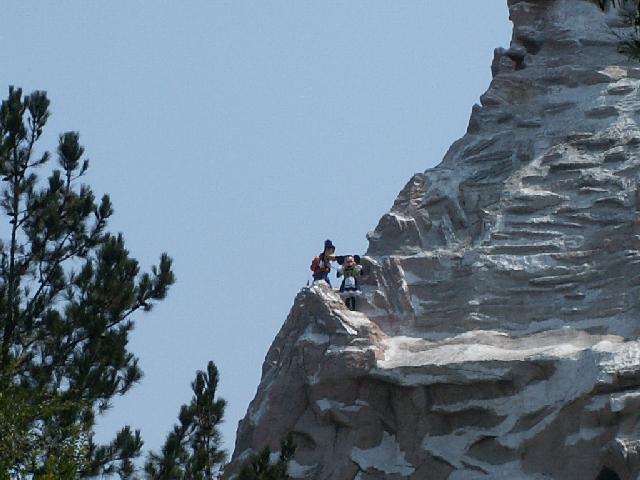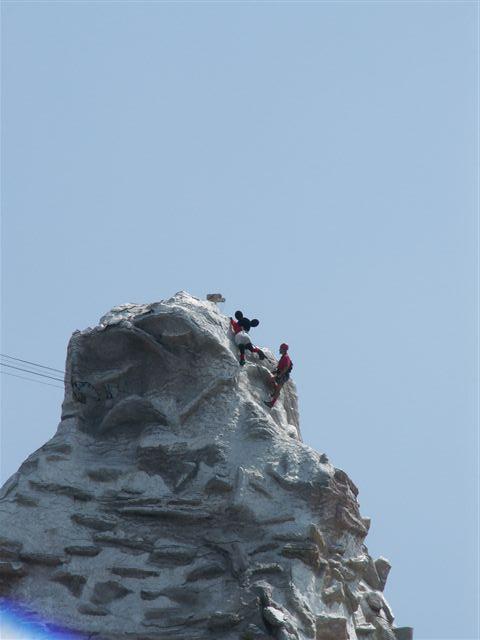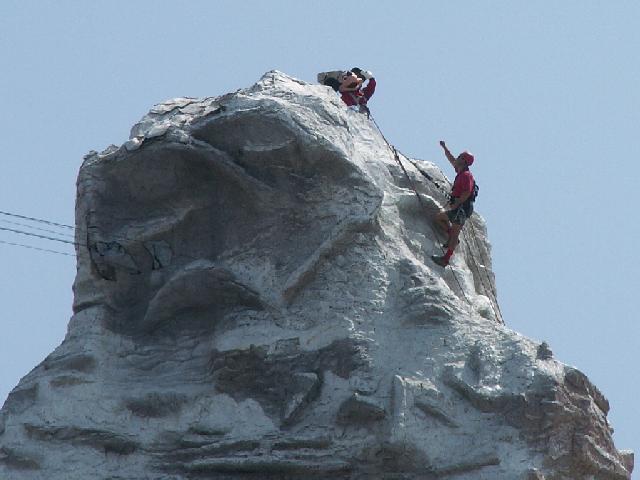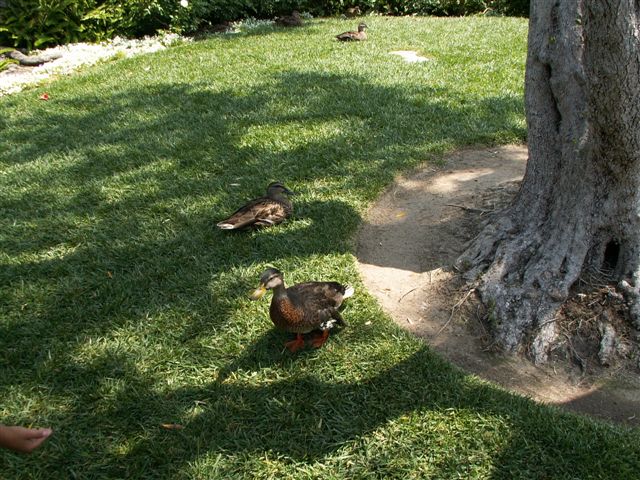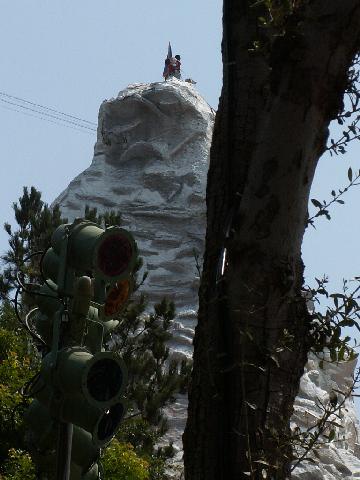 Judi is a real Buzz Lightyear enthusiast, and that kind of enjoyment is contagious in the spreading of joy, we all had fun on this ride (I also find myself really liking the track on this year official album for this attraction), and when it was over Judi showed us to the terminals where you can email your picture, and so we did!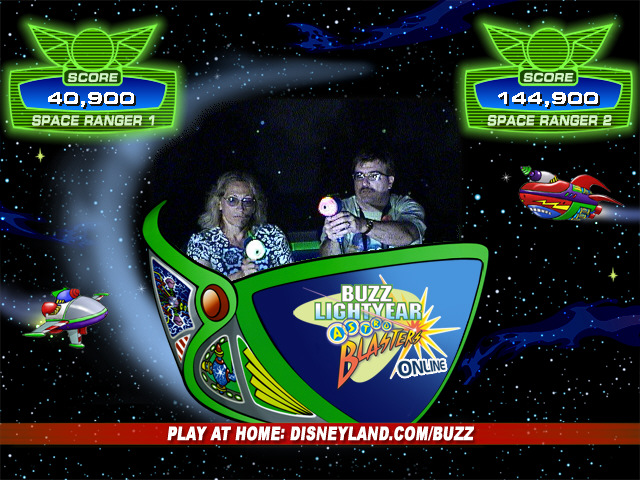 After riding Buzz we headed back over towards Snow Whites Grotto and ran into a few of Judi's more frequent touring companions (including David and Lisa) before heading off our own way. It wasn't long after this that Carlene mentioned going back to the room for a nap. I think she was a bit shocked that I decided to go with her. But I knew that we had a dinner this night, and was not sure how late it would run, and also, I knew that the next day, July 17, I was not going to want to leave the park at all, so a nice nap today seemed prudent.
I like the Laughing Place web site, and its message boards but have never been a close follower of their forums, I've posted on a few rare occasions, especially when I have questions, and have always enjoyed the knowledgeable friendly answers I get, but it just turns out that there are only so many hours in the day, which is the same reason that it's even rarer for me to actually read radp posts. Still, I've gotten to know enough LPers through the years, through the few posts I've made, and even more by getting in touch with other fans through other common interests (like postcards) and then finding out those fans were LPers as well, Judimouse and Riverted both fall into this category, I think I knew Judi before there was a Laughingplace.com. I had even emailed the sites web master a few times over the years (usually with a minor question about an article or reporting a broken link or photo) and always got a friendly courteous reply. So it seemed attending the annual LP "Golden Doobie" awards (named for the sites founder "Doobie" Mosely) dinner might be a good idea. Judi had mentioned when we met her for the Buzz Lightyear meet that some of the folks she knew who would be attending the Laughing Place dinner would be at the lost bar (near the Disneyland Hotels pool) before the dinner but by the time we started to get close to the hotel it was close enough to time for the dinner to begin that we headed on to that dinner. This turned out to be especially prudent since the first location we headed to (the one stated on the tickets) had a sign saying the dinner had been moved. The new location was in the hotels convention center (not far from goofy's kitchen). I didn't know recognize anyone in my first glances around, but still managed to strike up a conversation as we registered, after all these people all have something in common with me being crazy about Disneyland and such. Still, after just a minute or two of wandering the dining room someone we knew found us it was Judimouse of course and she took us to her/our table where David (Darkbeer)and Lisa also were seated. The dinner served with the beautiful china and presensation was quite well worth the $25.00 price of the dinner. I think a few of us at our table got plate envy when we saw the vegetarian selection that one of our table mates requested a lovely, and quite large, pasta dish in an sauce, that you could just tell from the smell, had to be quite good. Luckily, we all had the same desert to console us.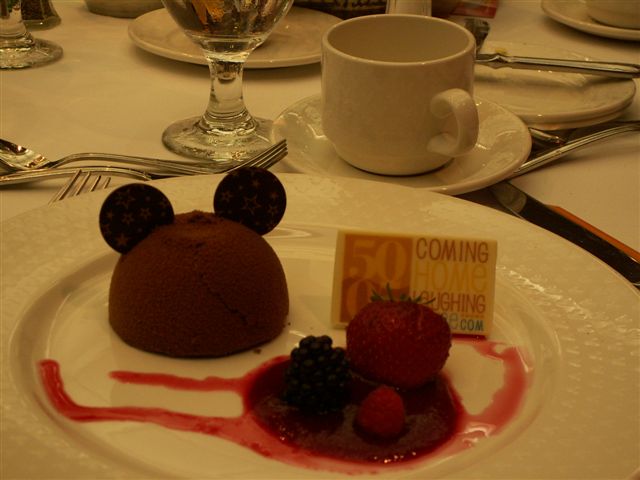 Yes, the card with the LP dinners logo on it was white chocolate! Of course the company was great too, with everyone at the table being Disneyland Fans it was only natural that we'd have plenty to talk about. Also, on a practical note we got the details on how the morning would progress from David. Disney's California Adventures gates would start processing guests for Disney lands opening around 2AM , around 6AM the esplanade would close, allowing Disney to set up the barricades across the Esplanade to funnel all the DCA pre-processed guests into Disneyland starting around 7 to 7:30. Once we had this information we knew we wanted to come over about 5-5:30 am that way we'd get some sleep but still be in the initial batch of guests to enter the park for the day. After dinner the group moved upstairs to another room for the featured speakers and awards presentation, the featured speakers were, The voice of Pinocchio Dickie Jones , Margaret Kerry - Tinkerbell model, Bill Farmer - voice of Goofy, Imagineer and puppeteer/comedian Terri Hardin with Al E Cat (puppet). It was quite an enjoyable show, but it ran fairly late, by the time we headed back to our room, close to midnight, more people were coming back across Harbor to the park to begin lining up for the morning than were going across Harbor to get to their hotel rooms from the closing park!
E-mail Me martsolf@mindspring.com
next page
trip reports index page
Back to bigBrians Disney page