Return to Disneyland
Sundays, July 17 2005
Fifty years for them... A Well-Orchestrated Adventure for all of us
We got up about 4:30 AM and were across the street in line sometime before 5:30 AM, I'm not sure by how much. As you cross harbor there is a walking zone between the Lion King tram load/unload area and the bus load/unload area as you near the end of that walkway the bag check entry's to the esplanade are usually about 30 yards away, well the bag check tables/entry was in the same place, but, the line for it snaked around the tram area in a giant "U" formation. Once through bag check they used the roped queues usually used for the ticket areas to break us into sub groups. Despite the early hour, we had been conversing with some of the folks around us in line just a bit even before the bag check, but as we got into our subgroup queue by the ticket booths we ended up with a young guest beside us who apparently enjoyed the little bits of Disneyland trivia and minutiae he was hearing mentioned in our conversation, he even stuck near to us once we headed through the gates into DCA. We got to talking and at some point he asked if he could join us, it turns out he was touring by himself, I was really enjoying talking with him and Carlene seemed to enjoy the additional company too so we said sure, no problem. Once through the gates we received a set of golden mouse ears with the date July, 17 2005 on the back embroidered in blue, a wristband to show which group we were in (I think they changed colors every 1000 guests) and a set of park maps for Disneyland and Disney's California Adventure. When opened completely up the Disneyland map had a special surprise on the inside, a reproduction of a July 17, 1955 guide map.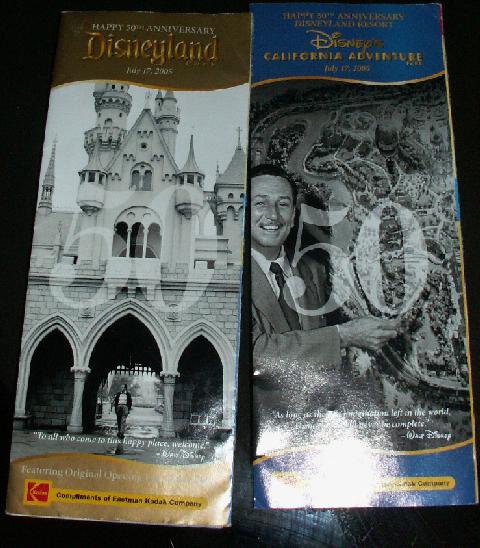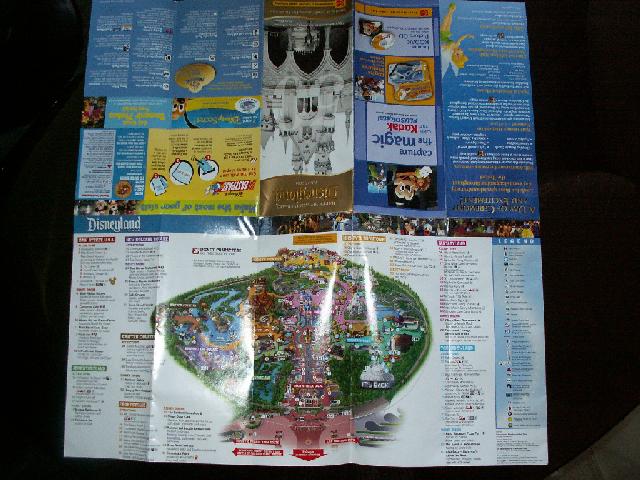 We had some time to study it but we spent more time getting to know Kyle , since it seems he's a big fan of the Haunted Mansion, I later started calling him our Hitchhiking guest. He'd had been a somewhat regular visitor to the park but it seemed most of his visits concentrated on just a few rides, Indiana Jones, The Pirates of the Caribbean, Splash Mountain, and of course the Haunted Mansion, he seems to genuinely like the park and to be just at the point where he really wanted to get to know it in much better detail. I later learned that he is into the new Virtual Magic Kingdom game and perhaps that is one of the things that has opened up some new vistas at the park for him. Having fellow Disney fans to converse with the time didn't seem to go by too slowly, besides by the time they marched us all the way back through the Golden State area then back past Grizzly River run and we finally stopped in front of Soarin' over California it was probably after 6AM anyway .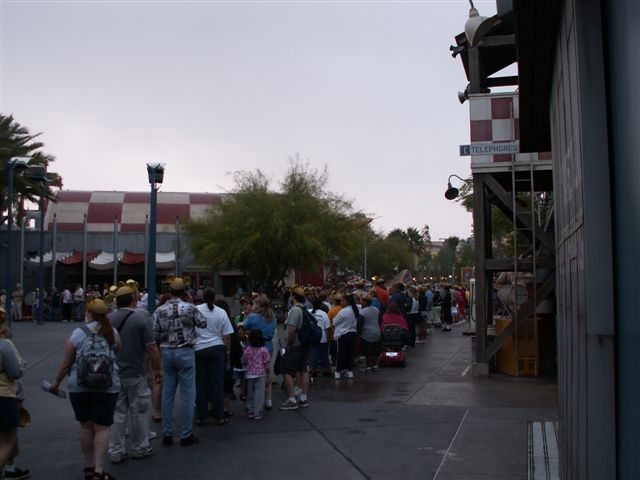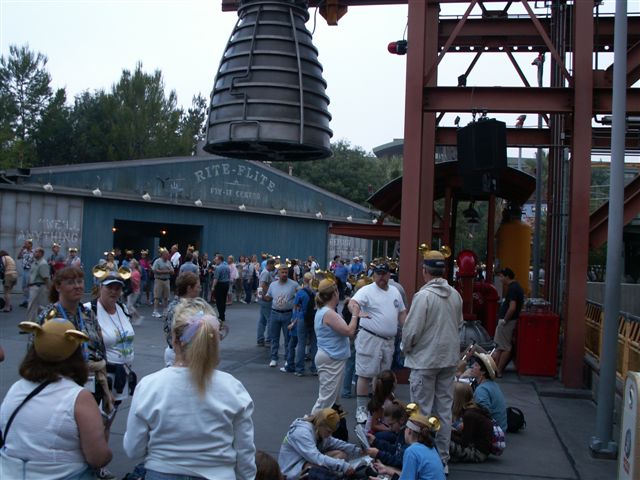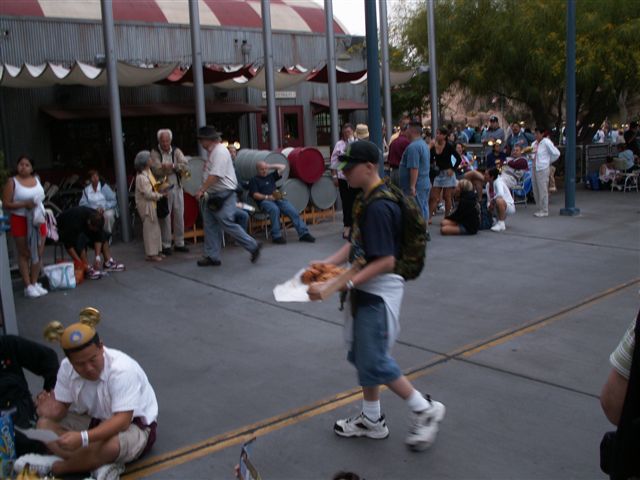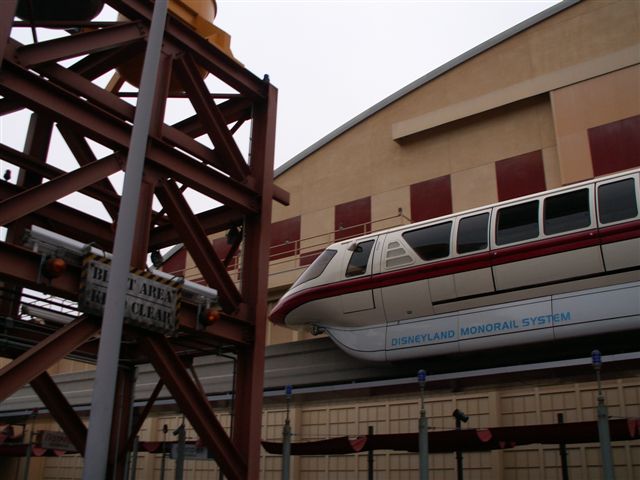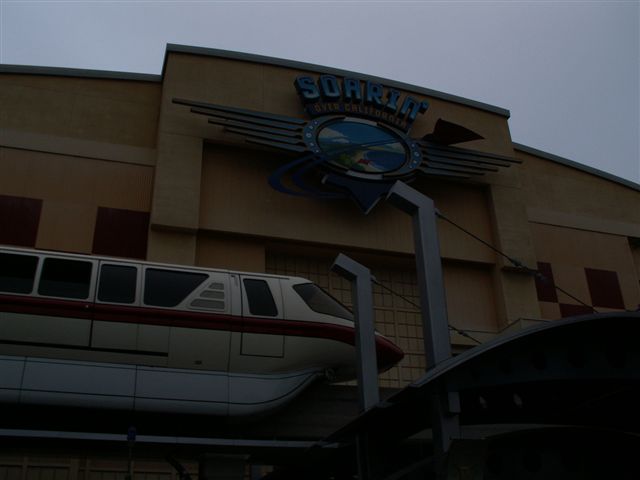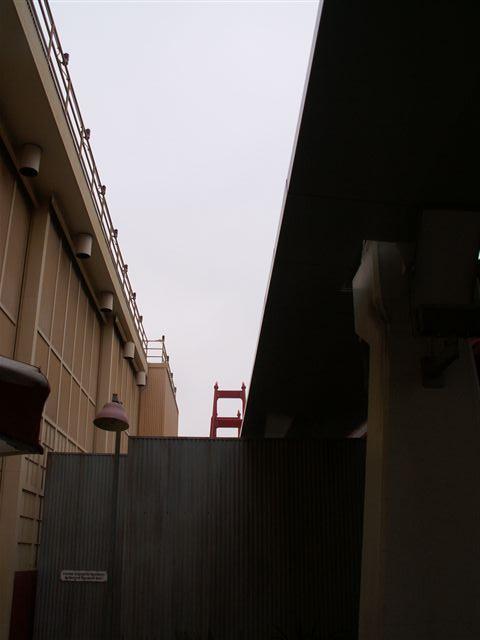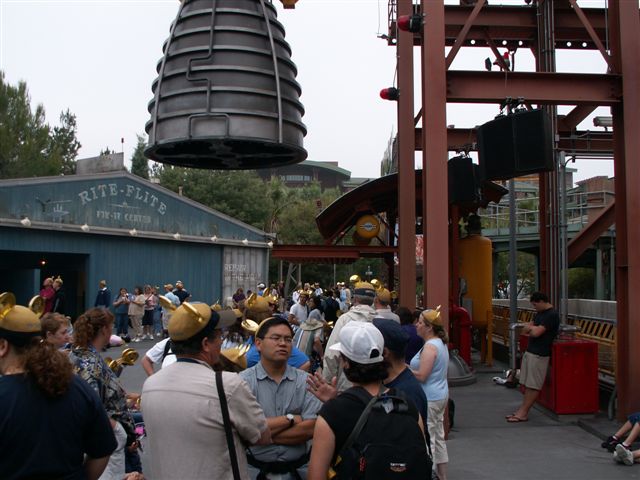 Back to those wrist bands I mentioned they changed colors every thousand and the first few colors of wrist bands were all one solid color our group was black and white checkerboard the group behind us (which I think was the last group) was red, white, and blue puzzle. I took a few pictures thinking I might take photos of them all eventually but that idea sort of died out after a while.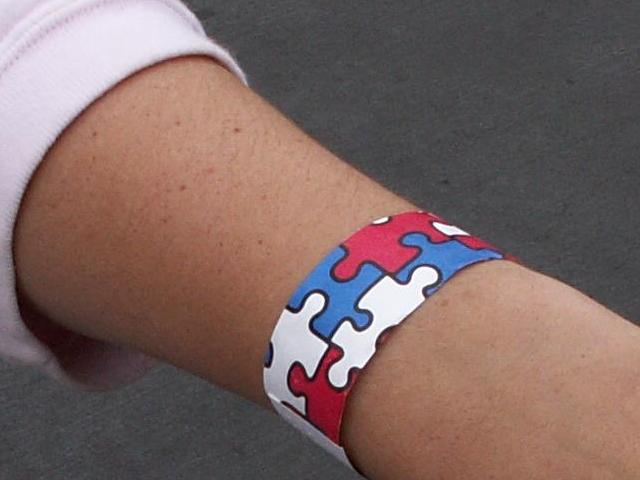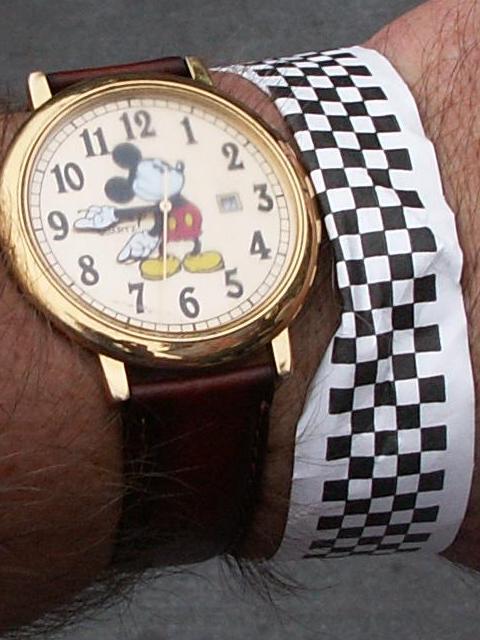 At some point it dawned on me that 6:30 am on the west coast was more like 9:30 back east so I used my wife's cell and gave my mom and sister calls. Sometime after 7 (before 7:30 though I think) they started sending groups over to Disneyland. By the time or group made it to the Sunshine Plaza it was nearing 8 o'clock .
The Esplanade seemed to be filled on either side of the barricades that marked our path over to Disneyland with other folks waiting for us to get in so that their entry could begin. There were a couple of men on top of the train station, in the large version of this shot it looks to me as if the Camera has a long grey lens attached to it.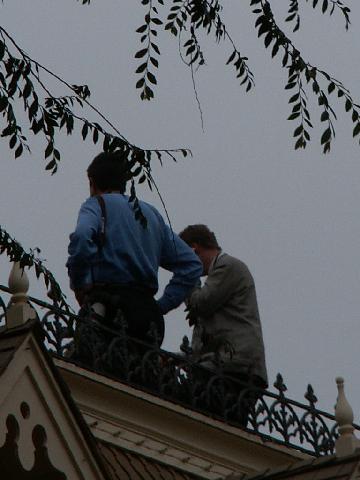 Once we got on to Main Street we got to see another odd sight the parade ropes were up, only we were the parade and the cast members were applauding us.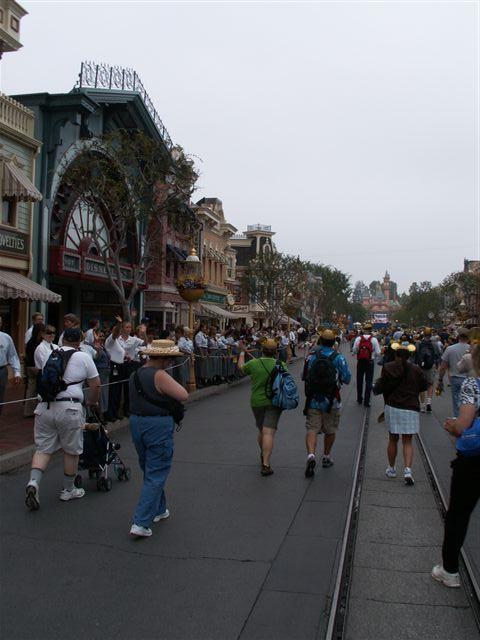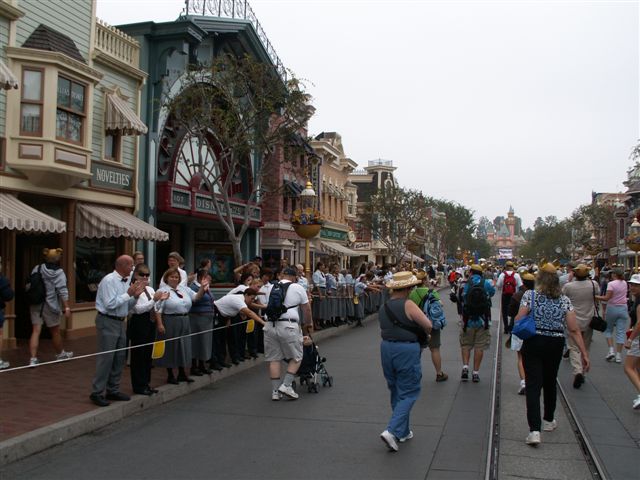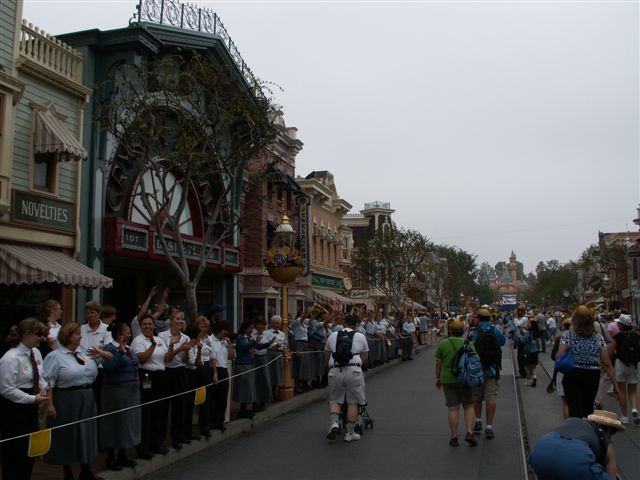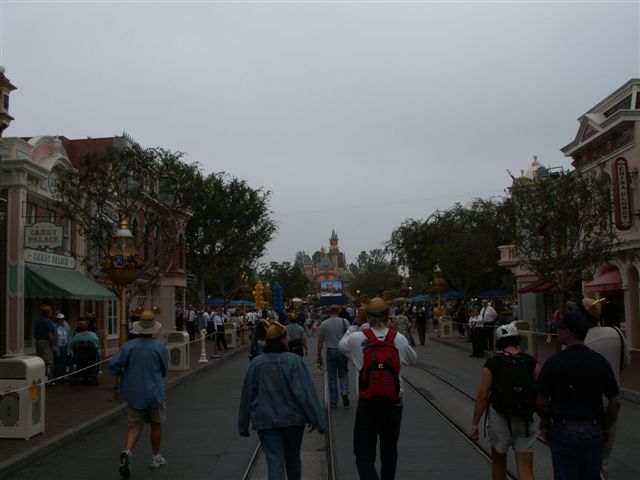 As we neared the hub there was a gateway to either side to head out to the lands of the park or you could stake out a spot in the hub to watch the ceremony at ten AM. With a near empty park and Jumbotrons set up at various places around it to watch the ceremony.
E-mail Me martsolf@mindspring.com
next page
trip reports index page
Back to bigBrians Disney page