Return to Disneyland
Friday, July 15th
When The Full Moon Is Bright
Leaving Disney's California adventure we headed over to Disneyland.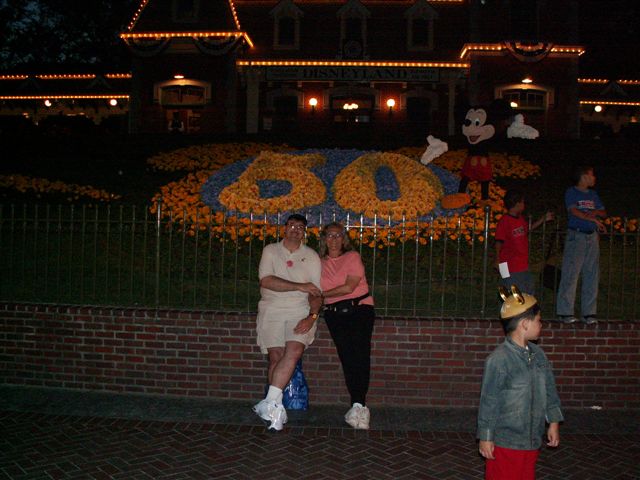 We were still just strolling along enjoying our, now cooling, evening. I may have mentioned it before but the weather on this trip was wonderful, and that extended to the nights as well with the setting sun the temperature dipped just enough to be absolutely perfect. Arriving at the The Rancho Del Zocalo in Frontierland, there was a line out into the uncovered patio between the dining area and the breeze way where the restrooms are located. There are some really nice plantings here that Carlene enjoyed seeing, Bouganvillia across the front of the building, and some small desert plants in sconces along the wall.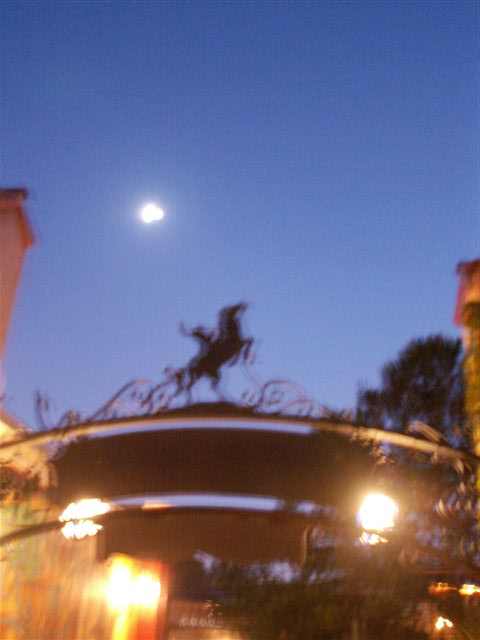 While waiting in line I saw this cutout above the gateway with the moon behind it and thought the same thought any long time Disney fans (especially if they are ones who enjoyed the old Vault Disney programming from the Disney Channel) would think in this situation.
out of the night
when the full moon is bright
comes the force that's know as Zorro
That gay ren-a-gade
strikes a "Z" with his blade
the Zee that stands for Zorro
Zorro (Zorro, Zorro) the fox so cunning and free
Zorro (Zorro, Zorro) who makes the sign of the Zee
Zorro (Zorro, Zorro, Zorro)
One thing I have to say about Disneyland their counter service restaurants are well decorated to their theme and beautifully decorated the rancho is probably one of the best examples of this, and the food was to my liking as well, though I'll have to admit I'm not a picky eater, and Disney's attempt to keep customers happy with their higher than average food prices by giving you large portions, is a strategy that works absolutely perfectly for a guy like me, I feel like this strategy was designed with me in mind. While we eating dinner the first showing of Fantasmic began, we could not see it, but it did remind me that our fast passes were now valid (I think they were marked 8:55 to 9:55 and Fantasmic started at 9PM), so after finishing dinner we hit the Big Thunder Mountain Trail Smoking area (first time this trip), then proceeded to cross Fantasyland and Tomorrowland during the fireworks show (started at 9:25) arriving at Space Mountain before they were done.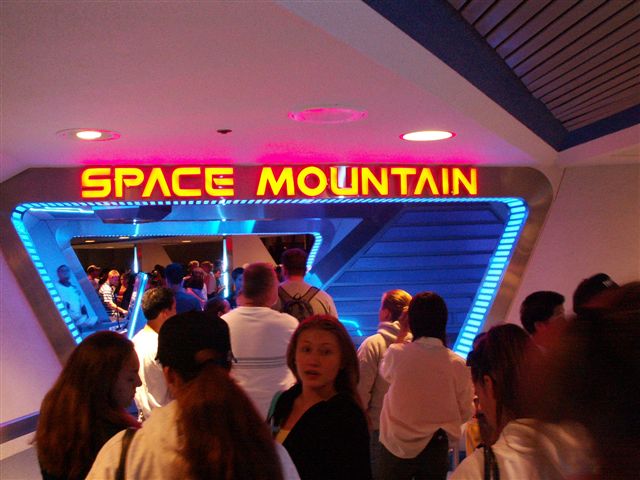 Carlene surprised me a little in being willing to ride this with me, though I know she regretted it. during our trip she had been awakened almost every night with a headache which she attributed in part to being out of some allergy medicine she had hoped to receive a refill of before the trip started. After we got back we found our she had a bad infection under one of her teeth which ended up requiring a root canal, I tell you all of this only because it seems to be the most likely explanation to her severe reaction to Space Mountain, there is a visual effect in the ascent tunnel at the beginning of the ride that makes you feel like you are spinning, I enjoyed it and thought it was cool Carlene almost immediately had to grab my arm and bow her head onto my shoulder and she maintained that position for the rest of the ride, I know it was not a fun ride for her. Worse still it did not dissipate much upon exiting, there is a set of stairs you have to ascend as you leave the attraction. she climbed these stairs bent over almost double arms out in front of her looking like a severely drunk person suffering from the "spins".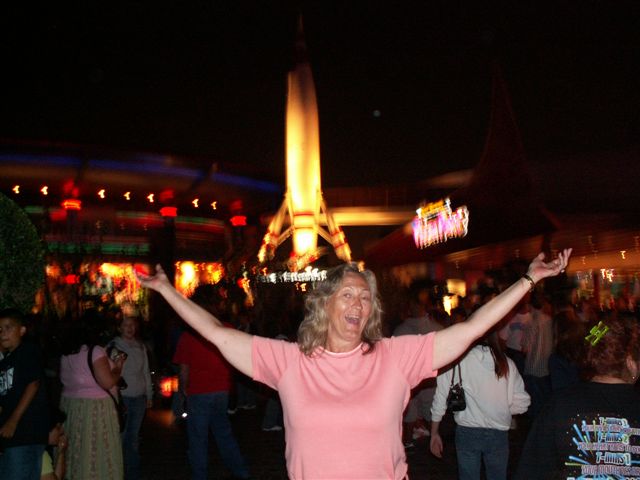 She did manage to pose for a nice "I survived " photo a few minutes later, but admitted later that she still felt a little funny all the way up until bed time, which was after all not that much later, We left the park after this and were probably in bed asleep less than an hour after riding Space Mountain.
E-mail Me martsolf@mindspring.com
next page
trip reports index page
Back to bigBrians Disney page