PLEASED TO MEET YOU
Tom, my friend from NJ wanted to go to the meet, unfortunately the meet sold out far in advance, and he wound up without a ticket. Still, he drove me to the event since there was a post card show in Allentown that same day.
When I arrived it was not yet 9:00 am, the first Disney fan I recognized was Dave Marx who I stopped and said hi to, though I must admit this is more of a I know who he is than the other way around, well after the times he saw me at this meet perhaps he'll sort or remember me too now. still a few folks had already lined up. Registration was scheduled to begin at 9:30 A.M. but (if I remember correctly)it was at least 9:45 or perhaps a bit later when they finally got started (I think there may have been a computer problem). Still it was easy to pass the time in line talking to others about Disney, or just listening to the other Disney related conversations going on, also as it got later more of the folks setting up tables in the ballroom were seen, and some of these folks did know me as much as me knowing them. Although I later realized I addressed one Disney fan I know by the wrong name (DOH!) but he didn't correct me so either he didn't notice, or since I got him confused with another very knowledgeable Disney fan he didn't mind.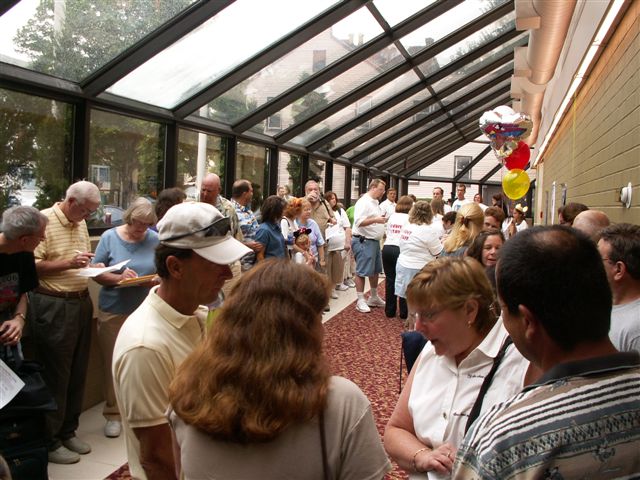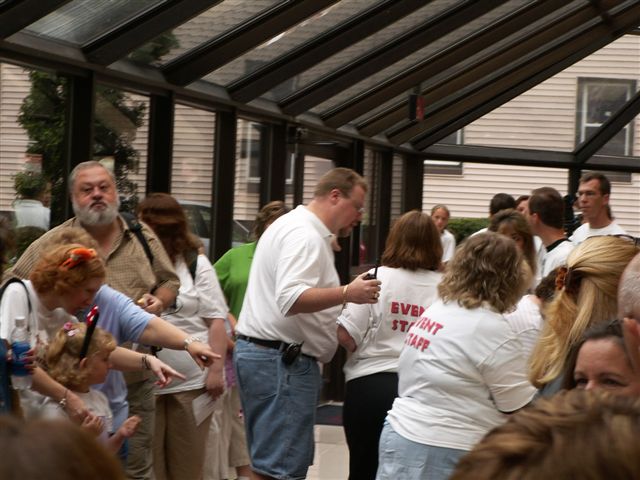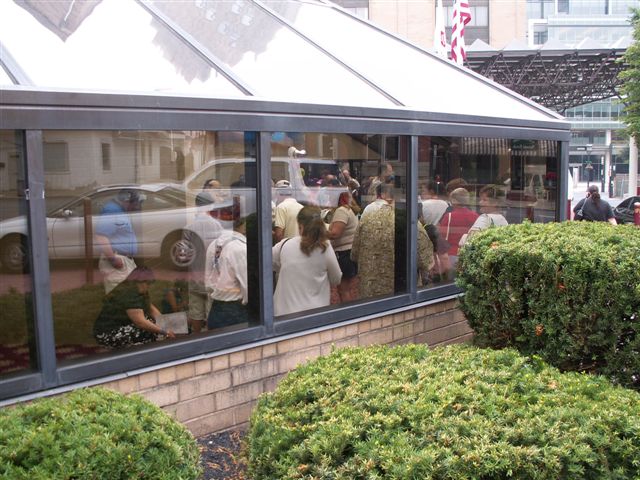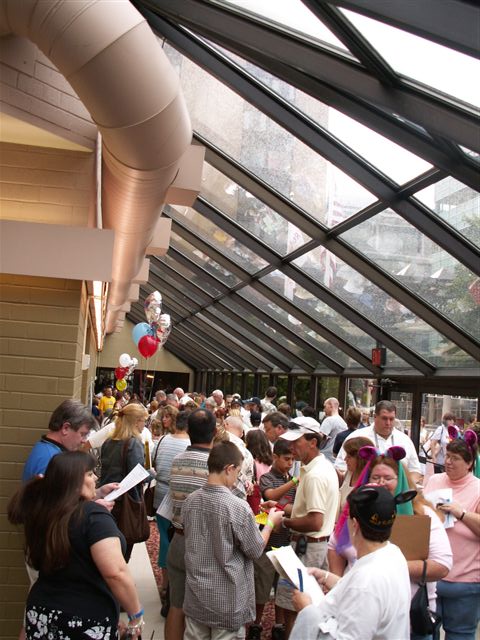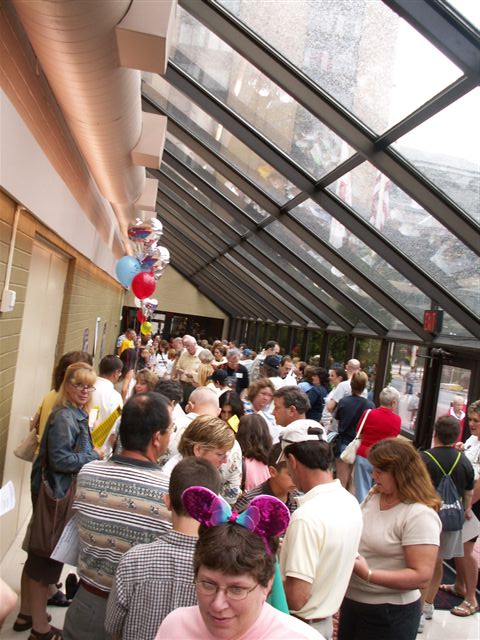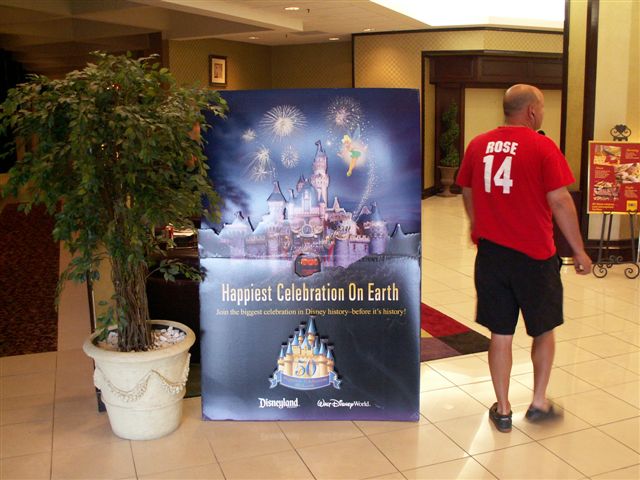 PRETTY GOOD, SURE AS YOUR BORN
Soon enough we were in the Ballroom, I had my AllEarsNet.com team shirt on and after giving a quick once over of the room and saying hi to a few folks, ended up sitting back in the corner of the room closest to the All Ears Net table. At each table there were 10 chairs, draped over each chair was a nice new yellow t-shirt given out by DVC by resale. There was a name card for each table, ours table was the Carousel of Progress, there was also a Mickey statuette in the center of each table, and a brown paper bag that said "pixie dust - do not open" on a tag attached to the bag.



Schedule of Events for the 
2006 DisMeets.com Fans Gathering
July 15th, 2006 - 11am to 6pm
Allentown, PA


9:30AM - Meet Check In Begins!
11:00AM: Official Start of the Meet!
11:05AM: Fred Block's Opening Message


11:30AM: (Main Ballroom) Mike Scopa!
Mike will discuss the mystique of "The Disney Zone", 
the hold that the Disney culture has on those of us who 
just seem to feel a bit special when experiencing the 
Walt Disney World Resort. 


12:30PM: (Kids Room) Face Painting and Temporary Tattoos!


12:40PM: (Kensington Conference Room) Deb Wills!
Wining and Dining at the Epcot Food and Wine Festival


12:40PM: (St. James Conference Room) John Rick!
Pin Trading, At the Parks and Beyond - AM Session


12:40PM: (Buckingham Conference Room) Chris Carlson!
The top 5 ways to save on your next trip to Disney


1:30PM: (Main Ballroom) Lunch
2:30PM: (Main Ballroom) Coffee and Desert


2:50PM: (Kids Room) Kids Pin Trading


2:55PM: (Kensington Conference Room) Sharla Whalen!
Photographing and Scrapbooking your Walt Disney World Trip


2:55PM: (St. James Conference Room) Mike Scopa!
Party Touring at Walt Disney World


2:55PM: (Buckingham Conference Room) Dave Marx!
Yo Ho, Yo Ho, a Disney Cruise for Me!


3:45PM: (Main Ballroom) Steve Barrett!
Steve's talk will focus on some of his favorite Hidden Mickeys. 
He'll also show some questionable Hidden Mickeys and ask the 
audience to vote as to whether the Hidden Mickey is legitimate 
or not.


4:40PM: (Kids Room) Arts and Crafts


4:50PM: (Kensington Conference Room) Dave Marx!
Disneyland - "The Other White Meat"


4:50PM: (St. James Conference Room) John Rick!
Pin Trading, At the Parks and Beyond - PM Session


4:50PM: (Buckingham Conference Room) Amy Stoll!
Some Tips & Quips to get a Grip on Your Trip! 


5:40PM: Fred Block's Closing Message

Although we had table mates for the whole day with all the in and out for the events in the breakout rooms, going around to visit with folks at other tables, viewing items in the silent auction, visiting the meets sponsors at their various tables, at the end of the day the one thing I might like to have done a bit more of was talking to the folks at my own table. But I may have spent a bit more time traveling around than room than most ...actually I think the day was laid out pretty well, they could tweak it a little if there are some problems but I basically would like to attend the same format of meet in the future.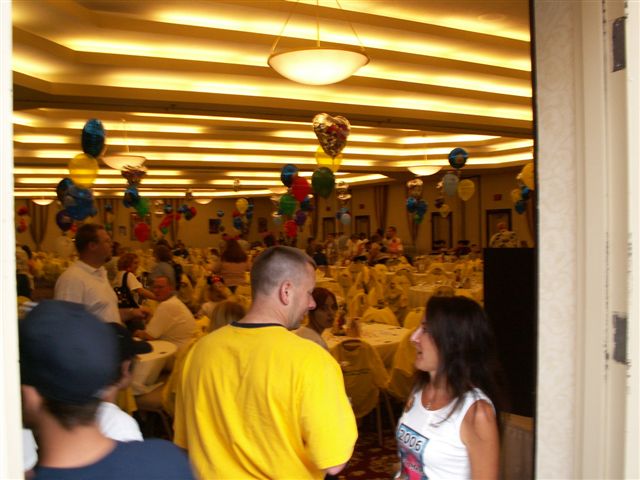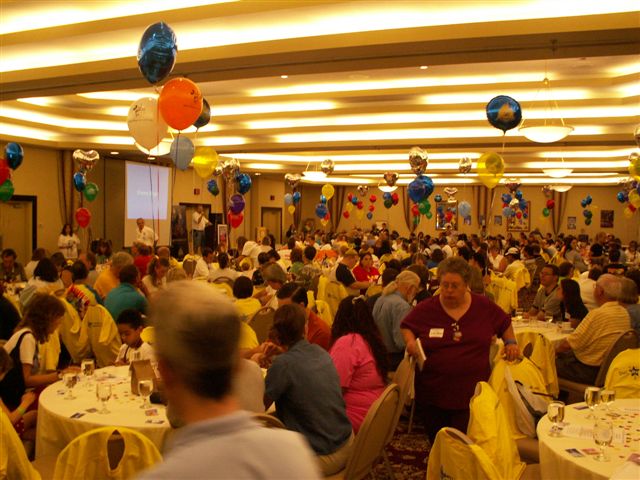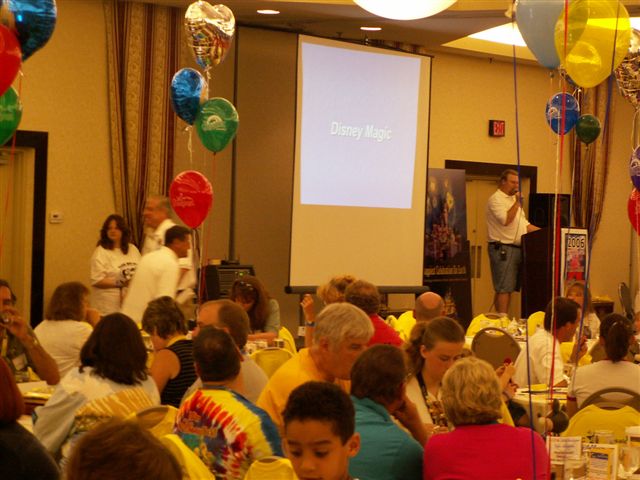 next page
feedback? Questions? Please.... E-mail Me martsolf@mindspring.com
Back to Big Brians Disney meets page (meets index)
Back to bigBrians Disney page (main web site index)
Last modified by Brian K Martsolf at 20-Jul-2006 05:49 PM