October 11, 2007
RADP 12
I was getting a bit hungry by this point (it was about 3:50) so I dropped in at Cosmic Rays Starlight Cafe where I had the Chicken Caesar Salad, Large Coke, and a brownie $12.75 although I enjoy Sonny Eclipse I was more attracted to the almost empty dining area overlooking the castle, it was a nice meal and I even got to talk a bit with the cast member who was cleaning the area. I took my time eating and by the time I got done it was getting close to 4:30 and I headed towards town square to catch the flag retreat ceremony, I had attempted to record it in June, but it was some of the audio from that first day of the trip that I lost and this time once again I seem to have messed up in attempting to record it go figure. Still it's hard to be to awfully upset about it with all the rest of the stuff I recorded this day.
After flag retreat I believe I went and caught Jims last set, as I remember being over there by the piano after folks had started coming in for the party and hearing him play a bit of Following the Leader when we saw a whole family dressed as the characters from Peter Pan, the Dad was dressed as Smee, the son as Peter, Mom as Wendy daughter as Tigerlilly and a little baby as Tinkerbell. (but unfortunately that was part of the audio I lost from this evening too.) I decided to hit a few more attractions Monsters Inc. Laugh Floor was a new attraction for me so I wanted to make sure and catch it, I enjoyed it, but for some reason I missed recording it too, I have a few minutes in the queue recorded but I think perhaps at this point, missing the flag retreat and the Laugh floor, perhaps my battery was going dead and I was just a bit slow to catch on as my own personal battery was wearing down a bit as well, by this point in the day. I enjoyed the Laugh Floor and followed it up with a "spin" on the Buzz Lightyear attraction. By this time it was closing in rapidly on 7PM I walked through cosmic Rays to get a glimpse of the party in there, there was a a DJ and a throng of people around the stage I contented myself with getting a few quick shots of the Characters in costume from a distance (Elvis Stitch, Aviator Pluto, and Pumpkin Donald) before heading on my way.
One of the frustrations of this party in recent years for me has been the lack of availability of a live entertainment schedule, the party has changed over the years, when I had last attended it, in 2002, there was s how at the Diamond Horseshoe that featured some of the Horseshoes normal performers and the "Cadaver Dans", an undead, Frontierland version of the Dapper Dans. There was also a Riverboat Cruise that featured a storyteller named Auntie Bellum, and the Lone Strangers Trio (who bear a striking resemblance to the Notorious Banjo Brothers and Bob). I belive the Lone strangers still perform a set early in the night at the front of the park as folks are coming in, but the Riverboat no longer cruises during the party, and with no "regular show" in the Horseshoe the Dans are relegated to strolling Liberty Square to perform their sets. Still I had some hopes for this party as there were also some new entertainments I had heard would be performing this year, there was a performer on the lawn of the Haunted Mansion named Madame Carlotta, a Pirate Band in Caribbean Plaza, and a ghostly apparition on the riverboat. Well with the riverboat parked I pretty much guessed that the apparition was one of those things I would not worry too much about catching as it was probably just a matter of "there's something moving around over there" kind of thing. I knew I wanted to try to catch the Pirate Band and the Dans though, I ran into the Dans on my first trip round through Liberty Square, just in time to catch the last song of a set Ghost Riders in the Sky and got to ask them about the rest of their sets and if they knew anything about the live entertainment, they mentioned the acts I listed above and the fact that the previous year there had also been a Merlin (played by the guy who used to play Professor Terrance at the Horseshoe, and who currently plays Blackjack Dupree at the Pirate and Princess Parties, and Jack Diamond at the Disney's Hollywood Studios) but they weren't sure if he was still doing that this year (I found out later he was not). I headed over to Caribbean Plaza to see if the pirate band was out they were not, so, passing through the hub where a castle stage show of some sort was going on I headed over to see if the Merlin fellow was out at the stage where Belle normally has her story time session, but this year it appears they were using it as a meet and greet location for Cinderella's Step sisters. I circled around towards the Mansion stopping to get some candy in a short line in Liberty Square. I wasn't exactly sure where to look for Madame Carlotta but seeing nothing obvious on this pass headed around again to Adventureland to see if the pirate band was out. on my next trip back to the Mansion I saw a Cast member out front and found out that she performs on the lawn, and I had just missed her. I went and got a bit more candy this time at the station at the riverboat the line was a bit longer but it moved really fast. Coming out of there I heard the Cadaver Dans entertaining the folks gathering along the parade route since they were doing their pre-parade routine of doing a song or two and moving a bit father up the route to entertain some more folks I didn't try to get too close but instead hung back where it was easier to move as they moved.
Happy birthday
Boo To You (Cadaver Dans strolling Music
)
Ghost Riders
Boo To You (Cadaver Dans strolling Music)
Headless Horseman Song
After getting a bit more candy it was getting on towards time for folks to watch the first parade I decided that since the RADP meet for just after the parade was over at the Rose Garden would just head over there I was getting pretty tired (after all we had drove down overnight the previous night, so I really hadn't had all that much sleep). Still once folks started rolling in for the meet that revived me some (probably having a chance to sit for a bit was helpful too)
Above: the flag in this photo is not the one from the center of town square, it's a the 45 star pennant that is on top of one of the nearby Main street buildings.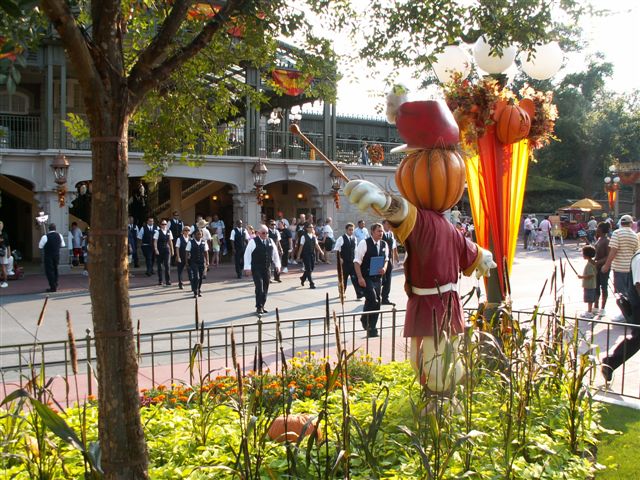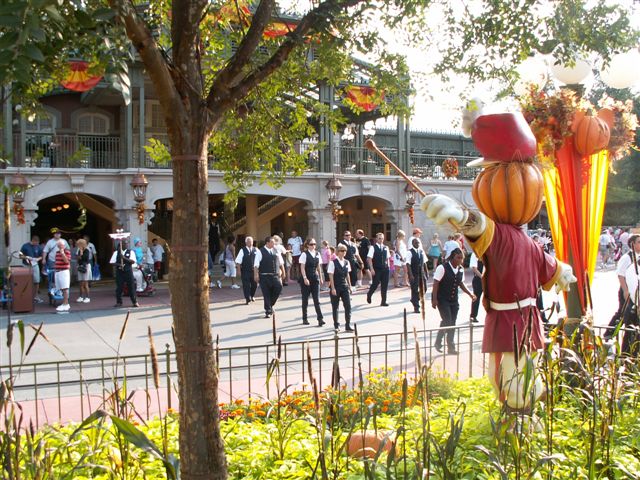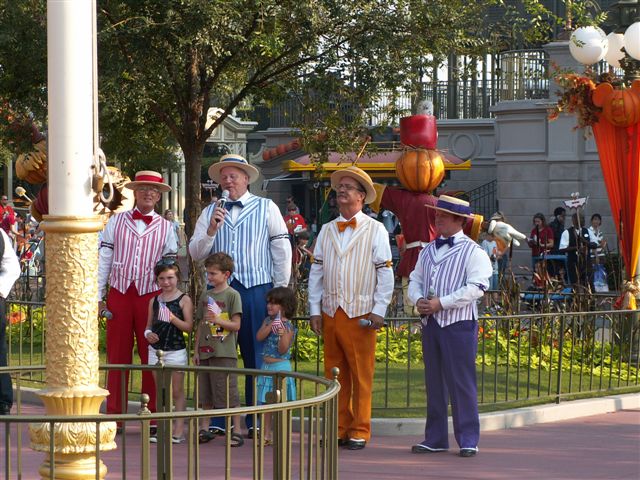 above: Neel, Kevin, Dan, and Ken at the flag retreat ceremony, backed by the Main Street Philharmonic.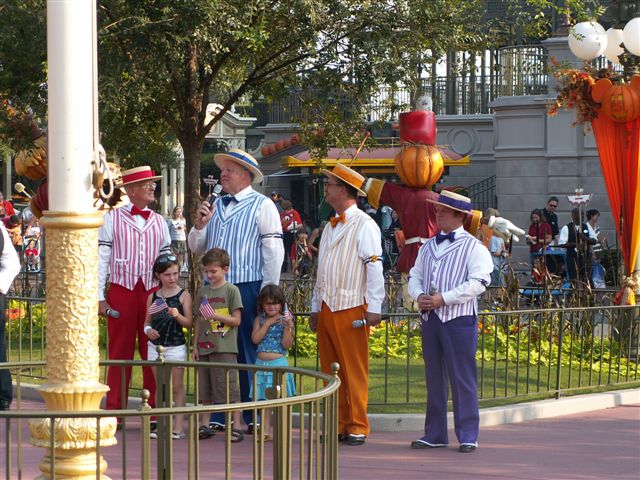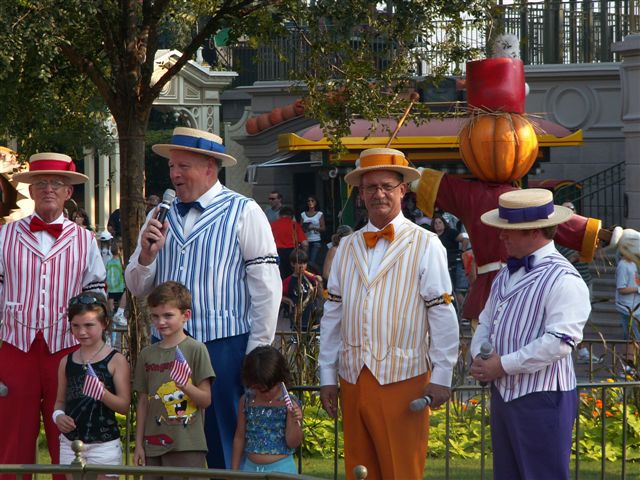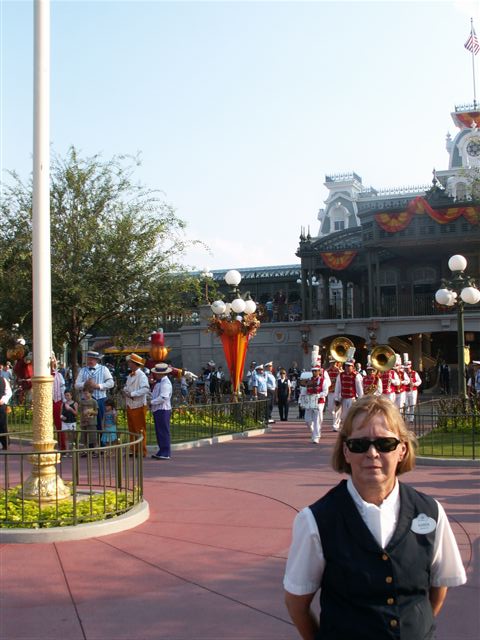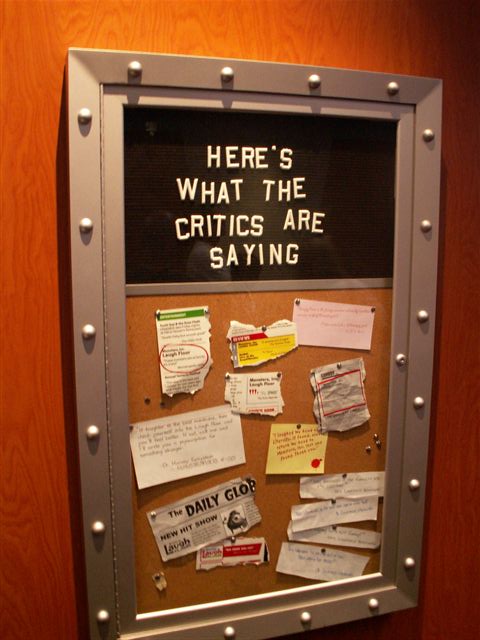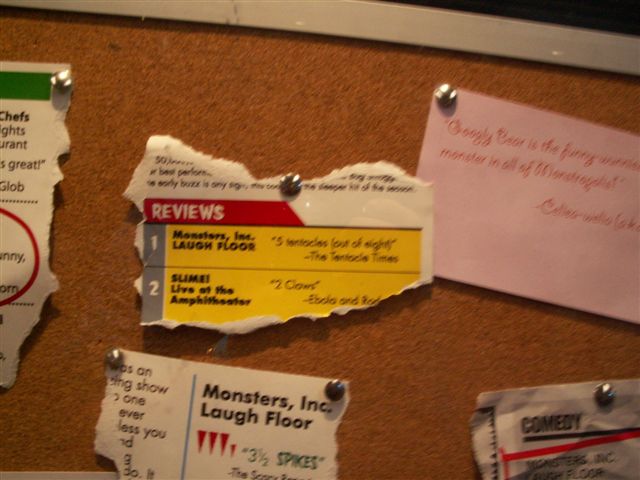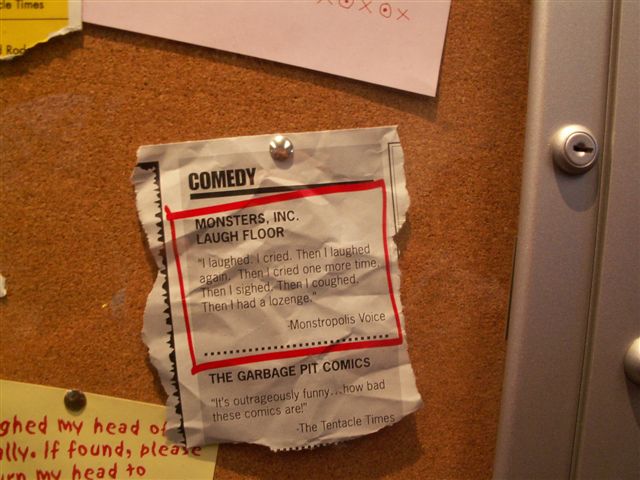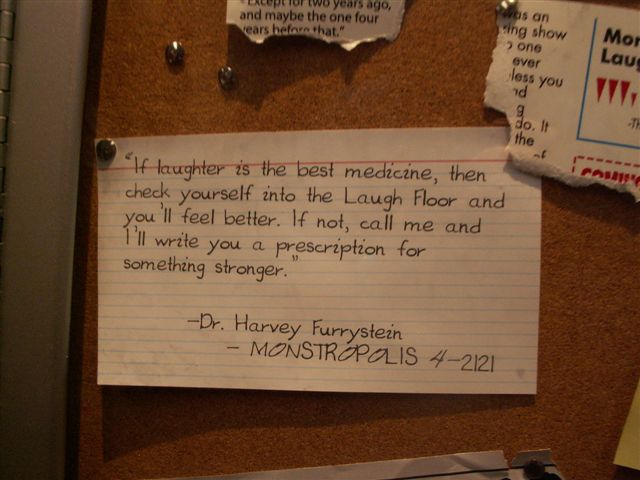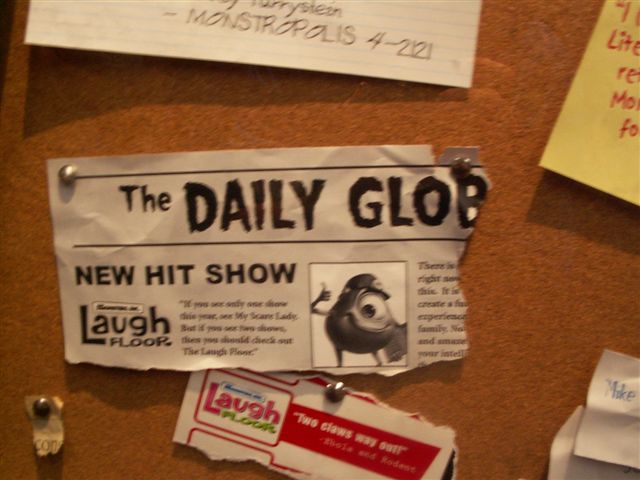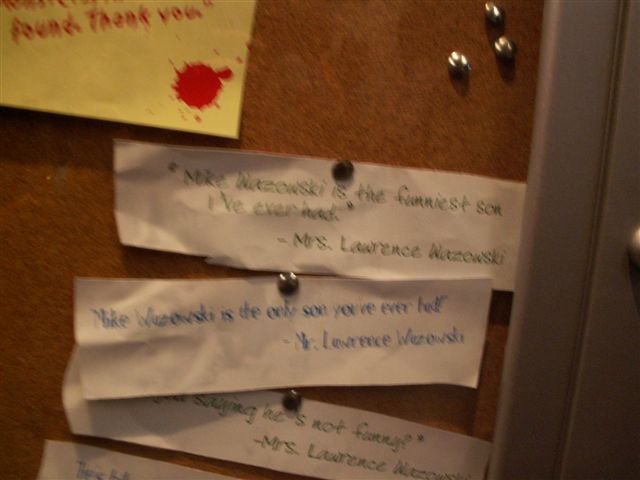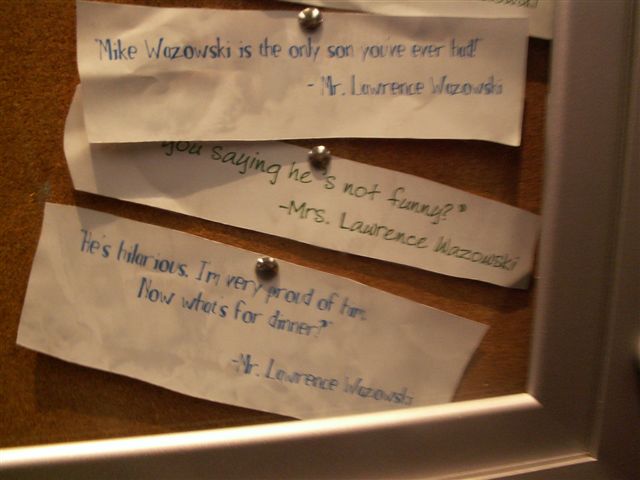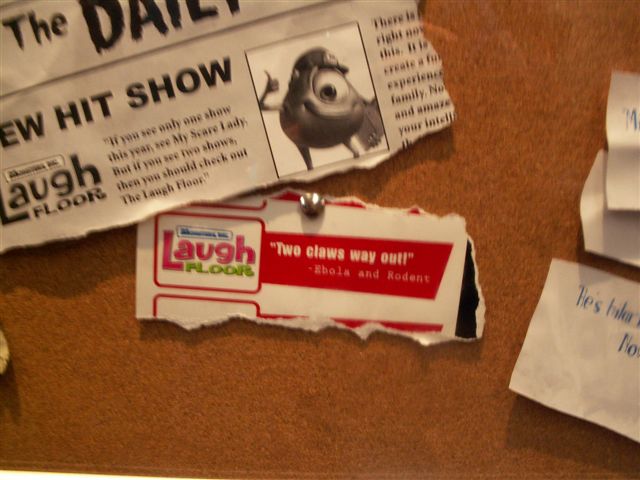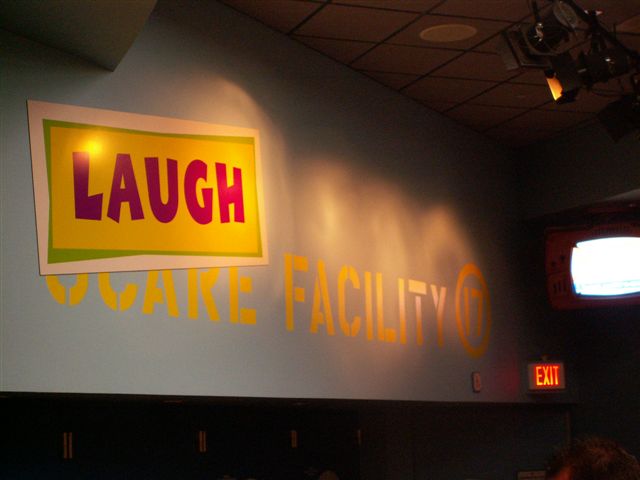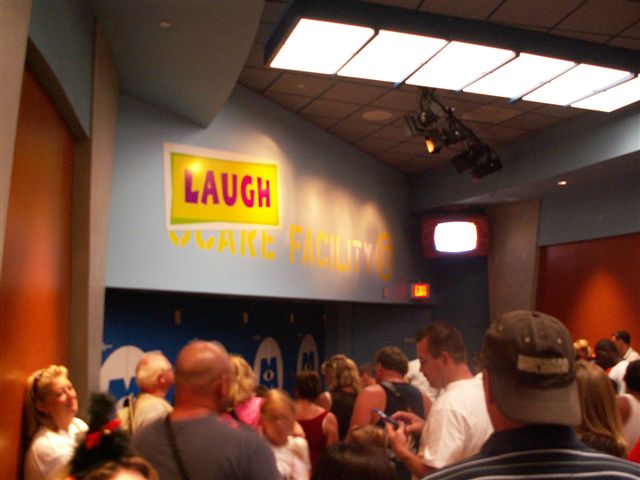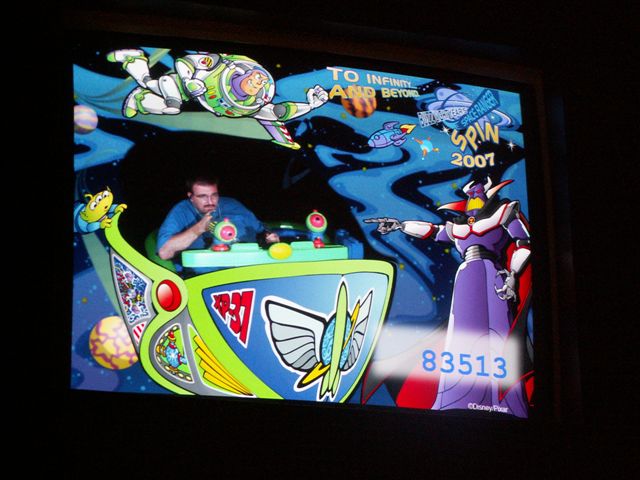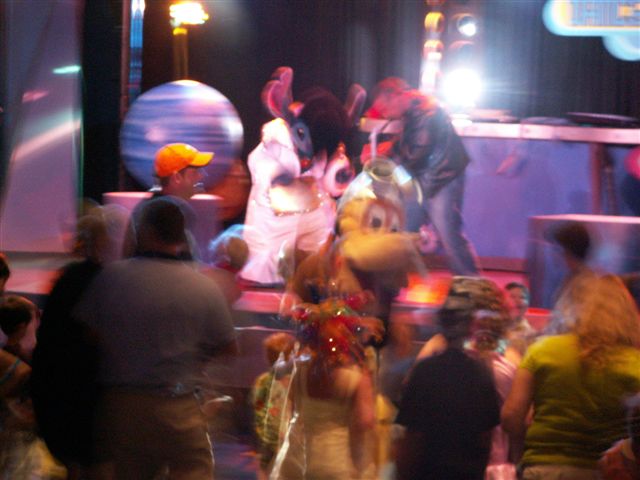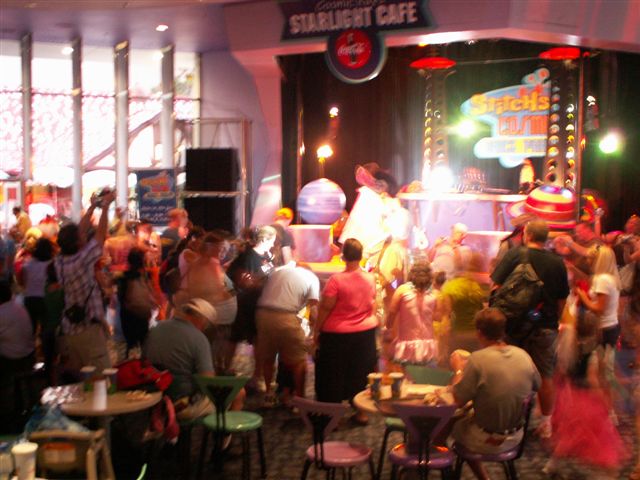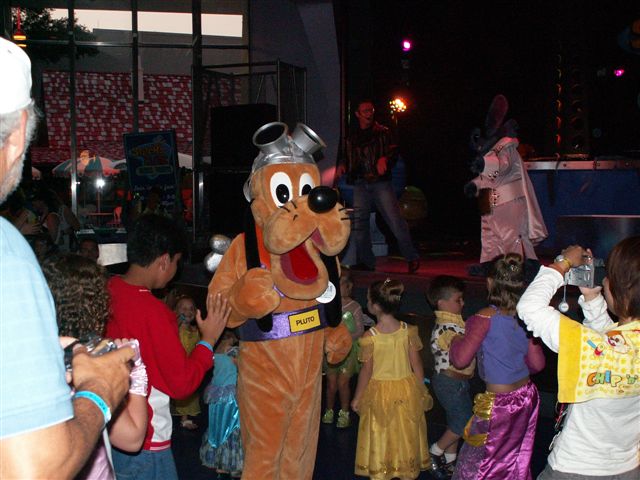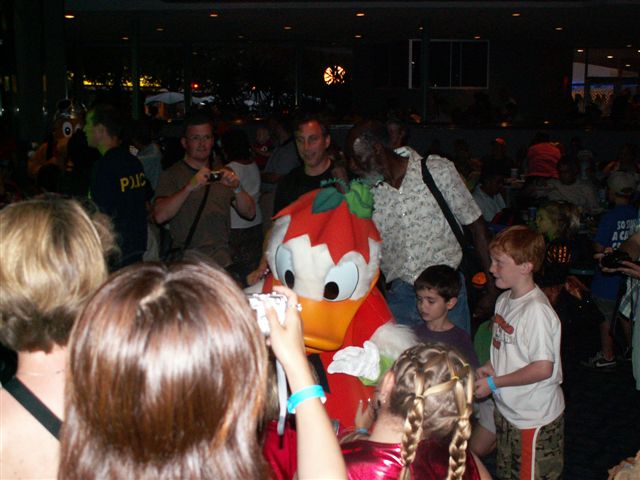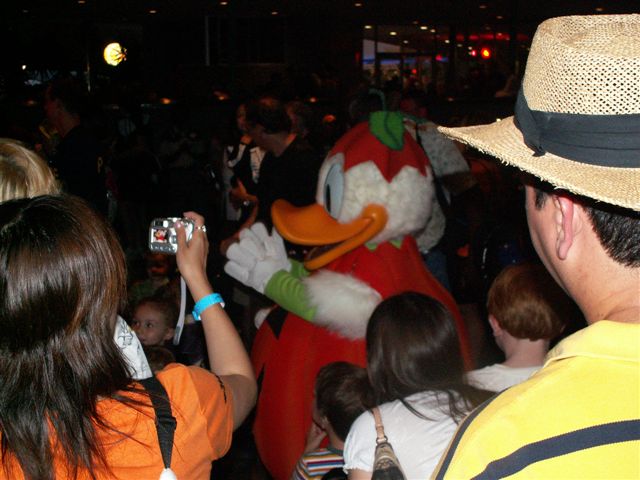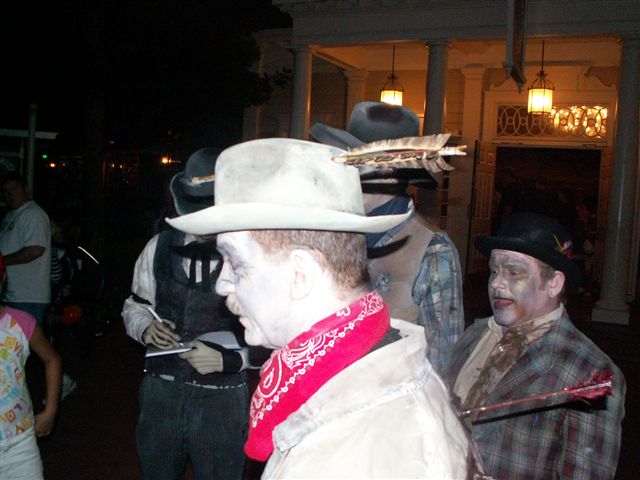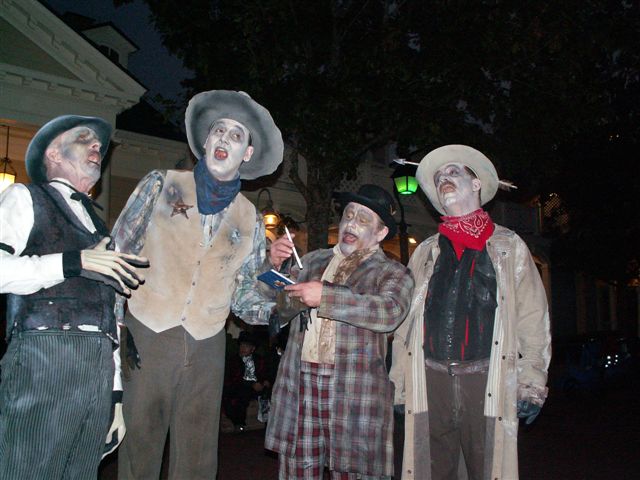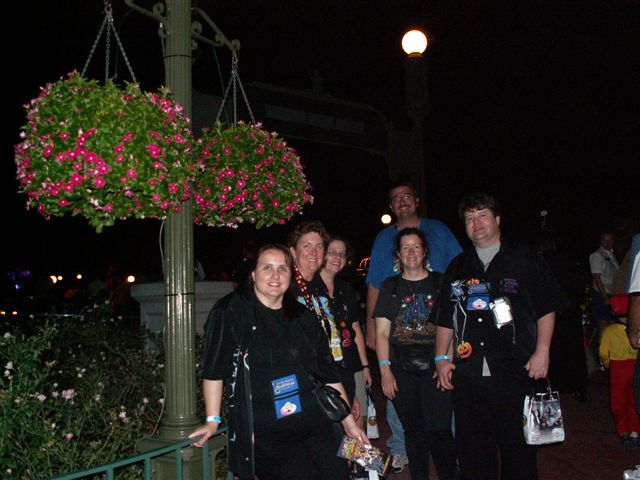 Next Page

E-mail the webmaster Brian Martsolf martsolf@mindspring.com

Trip Reports Index Page

Big Brian's Disney Page - Main index

last updated 26-May-2008 04:47 PM