June 2007
MO-ROCK-IN
Music from the set of Morockin mentioned on this page is in episode 22 of the podcast, To open the sound file now, click on the following link OR right-click on the link and choose SAVE TARGET AS to save the file to your hard drive. http://media.libsyn.com/media/bbdp/bbdp2007-22.mp3
...or follow this link to the SHOW NOTES Episode 22 Mo-Rockin
When Morockin began to play (6:30 PM set) I realized that their first song was the same opener as the set I had caught early in the afternoon, when the second song was the same I figured they might be playing the same set, but I didn't mind too much, because as I had mentioned I had missed the beginning of that first set. When the set ended the guy who plays the electronic drum thing, Keith (whose name I got from the Morockin web site) came up and said something nice along the lines of "nice to see someone keeping mini-disc alive", I took the opportunity to ask him about the next set's material and he assured me that it would be different songs. I'm thinking they probably don't ever do the same set twice in a row or even separated by one set, but usually they probably DON'T have someone who is at one of their first sets of the day also show up at the next to last set, so that was just somewhat of a fluke that I caught the same set. Then I looked down at my MD player and saw the dreaded phrase "disk full", HOLY COW, I've never filled up a disc in one day before! So shortly I reviewed the last track and found that it had not cut out until during the last song what this ended up meaning is that I have the first part of this set from this recording and the last part of this same group of songs from that early afternoon set and I'll be able to edit the two together, so it all worked out in the end. I called Carlene and firmed up our dinner plans then waited for one last set of Morockin. While I was waiting I struck up a conversation with an interesting guy who's an electrician over at AKL he was just hanging out in the park with some friends, it's neat to see folks who are sort of "living the dream" of working in the place they love, but I think they may have been going somewhere and just stopped to rest for a bit because they didn't end up waiting for the band to come out.
6:30 PM
A. Je Pa
B. Overture
C. Habibi (partial - MD disk Full)
7:30 PM
A. Je Pa
B. Harim
C. Nari Nareen (Habibi Da)
D. Bee Bee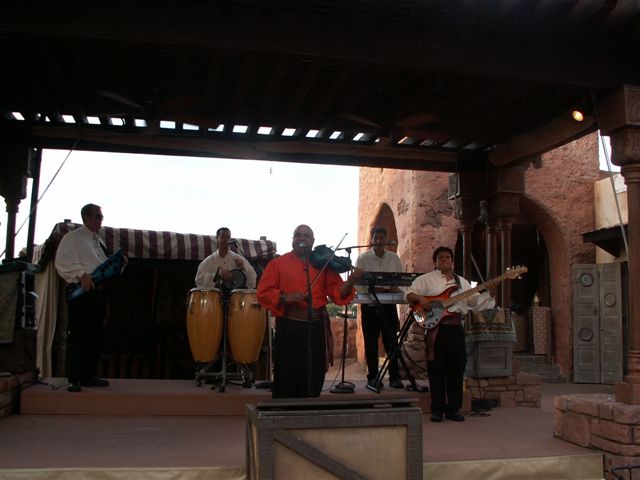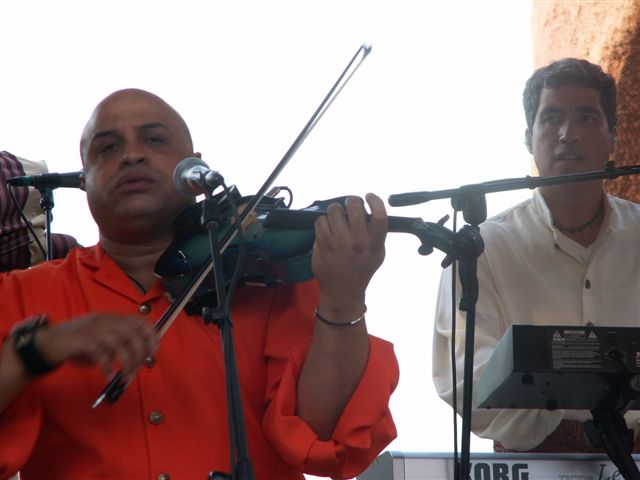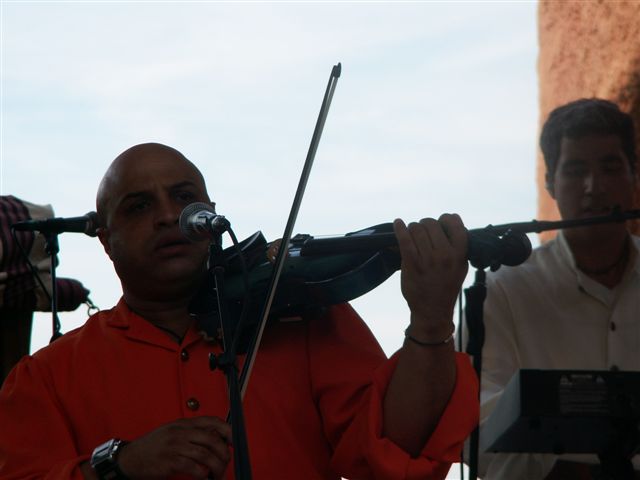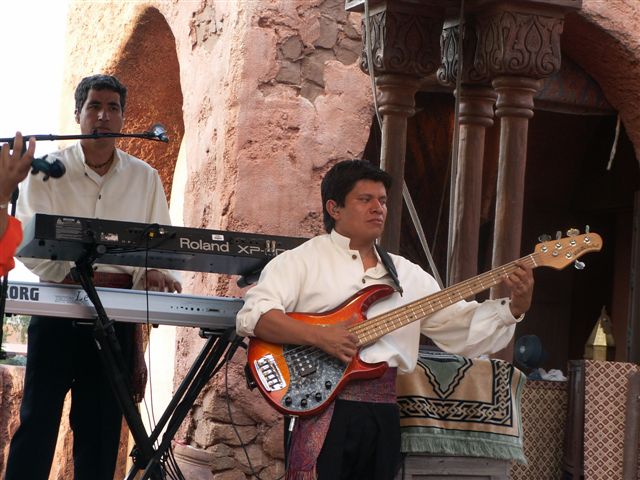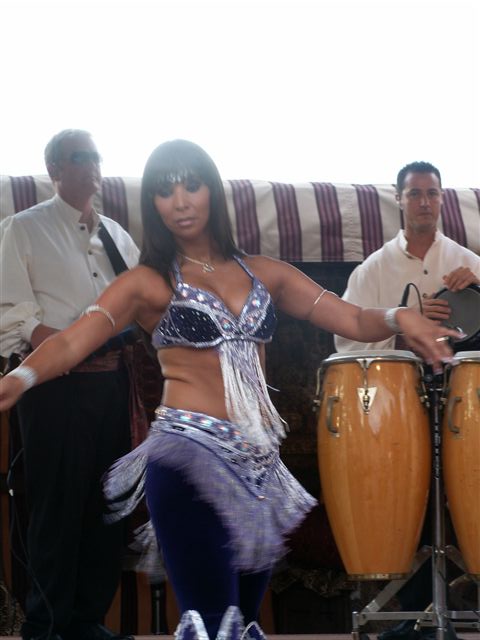 Below: some time just before the last set began these light poles arose from the behind the Moroccan facades (compare to the earlier photos), I like the lighting much better on this last set, and it's really neat how this stuff just appears, Disney Magic Indeed! And all pictures after this point are from the second (7:30 PM) set.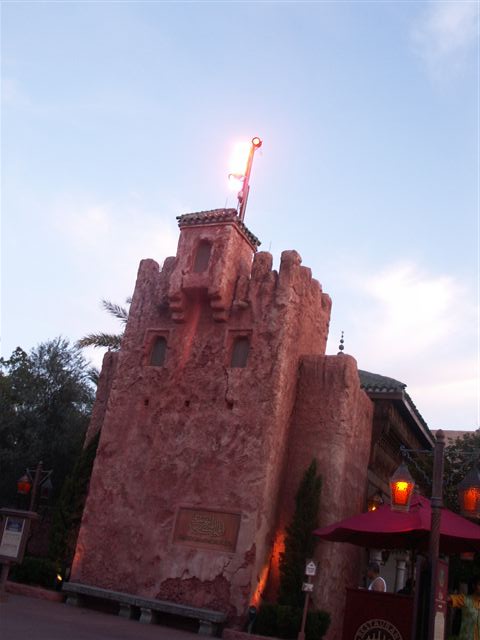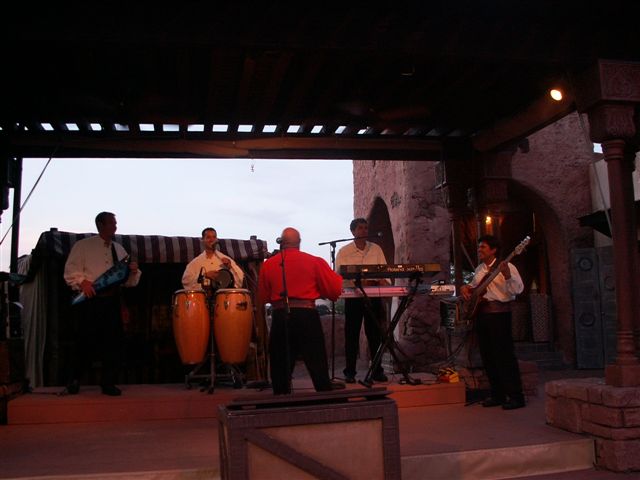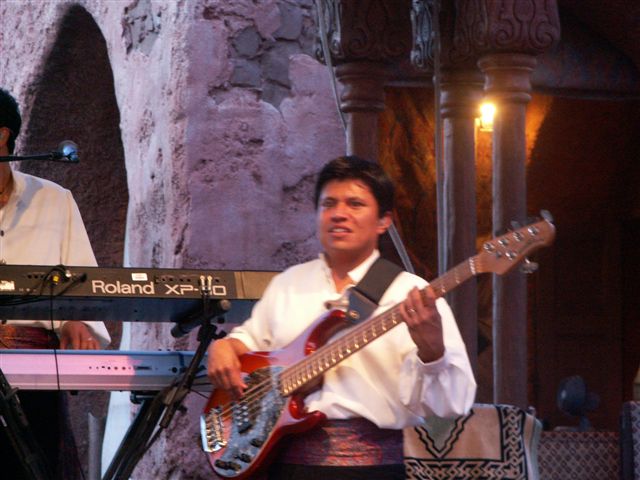 Above: This must have been a substitute bass player as he's not the one listed on Mo-rockin's Web Site.
Above: Keyboard player Rene Zayas is the fellow who does the Spanish Language rap, originally I had assumed that his name was Ramone, as one of the few lines I could make out in that rap was "me yames Ramone"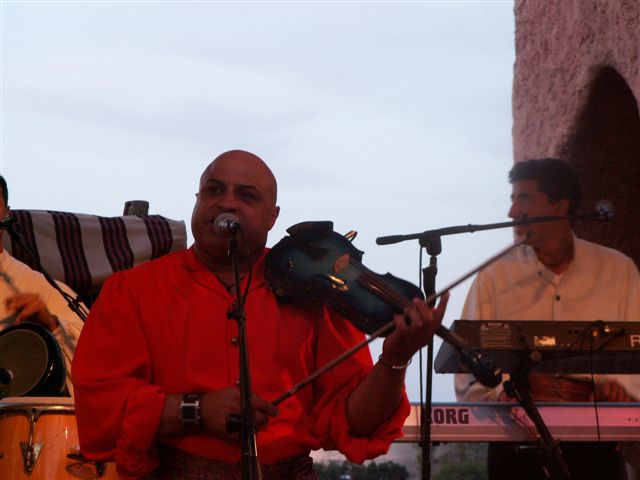 Above: Ali Ajraoui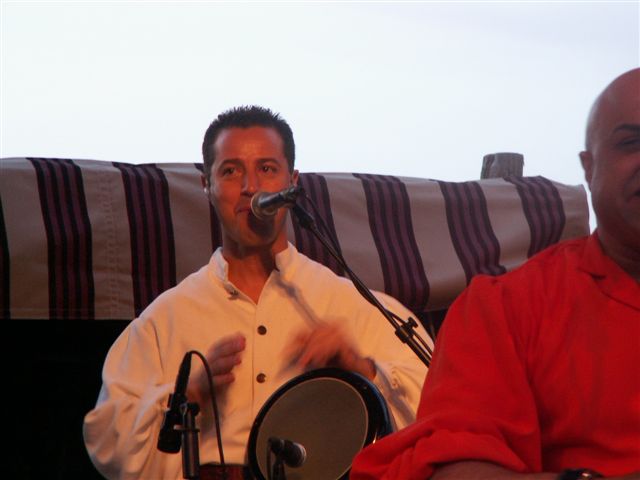 Above: this may be the drummer, Fouad Azzir, seen on the web site but if so, his hair is cut differently enough that it threw me for a minute.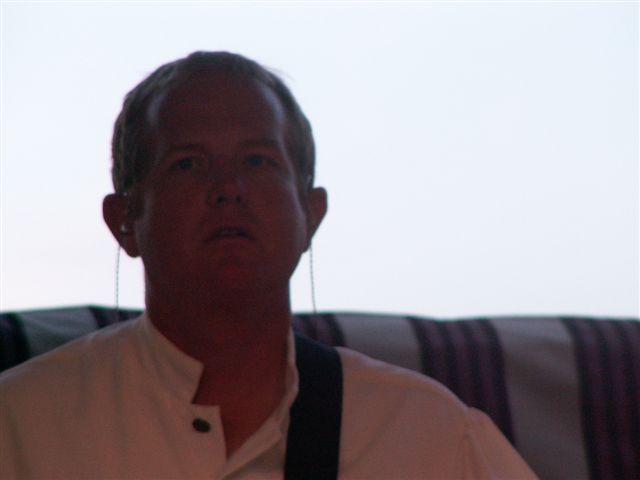 Above: Keith Wilson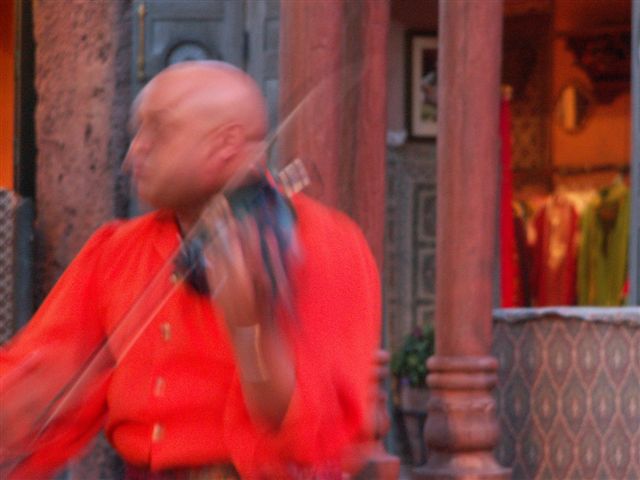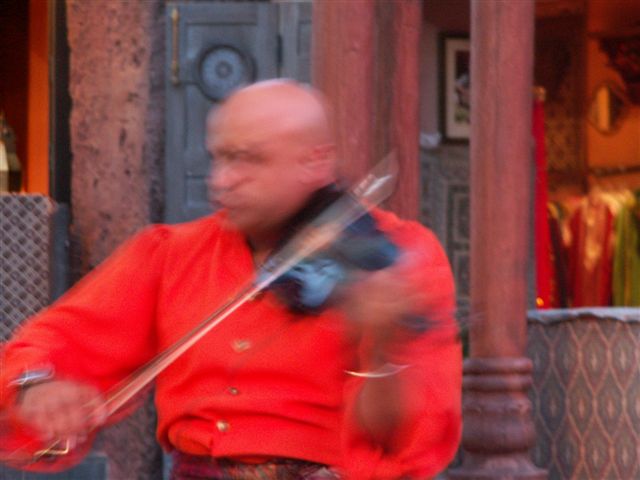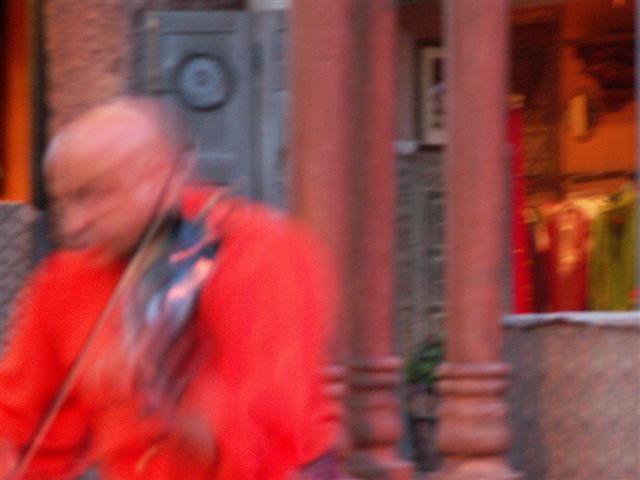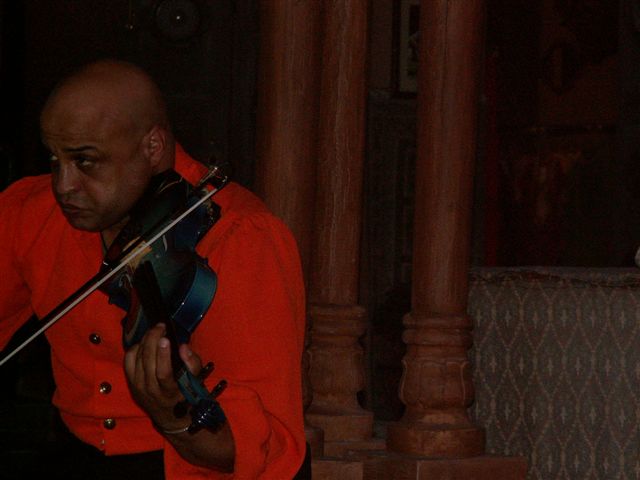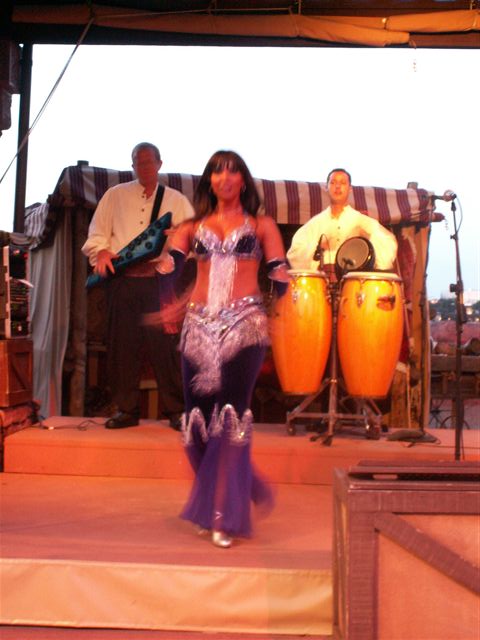 Above and below: Ilham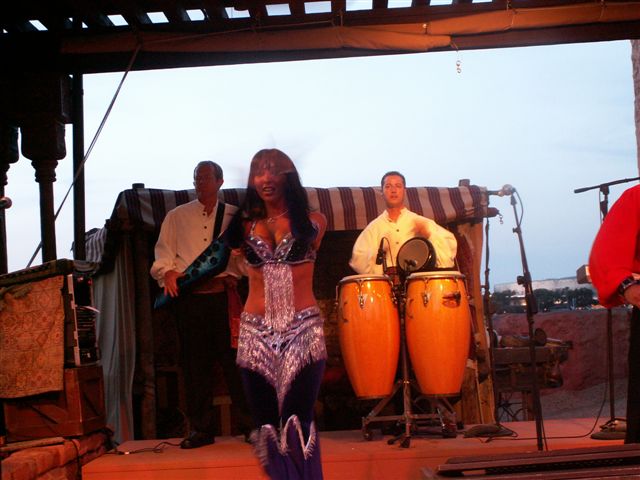 Above: video of a full song WOO HOO!
After the end of the set it was a bit odd to be leaving the park as folks were lining up for Illuminations and the pre illuminations music was playing, but really neat too!


Next Page

E-mail the webmaster Brian Martsolf martsolf@mindspring.com

Trip Reports Index Page

Big Brian's Disney Page - Main index

last updated 04-Aug-2007 09:23 AM