August 2001 Walt Disney World trip report
Day one: Travel and Disney-MGM Studios
In the years 2000 and 2001 I made several trips to WDW, I probably went to WDW more than I (financially) should have during that period and, upon my return from a nice tour of several roller coaster parks with a couple of good friends of mine, had decided by the time cut back for a while until I could get things paid down a bit, but then I had the opportunity to go with my sister, whom I had been trying to get to go with me for some time, she didn't have a lot of time, so it would be a short trip. So I took this trip with her, and I'm quite glad I did it ended up being the best Disney trip of 2001.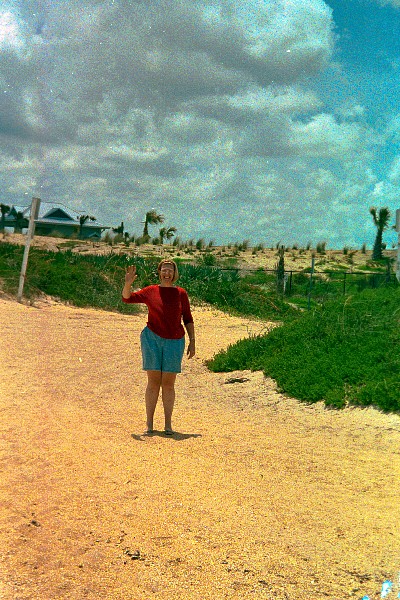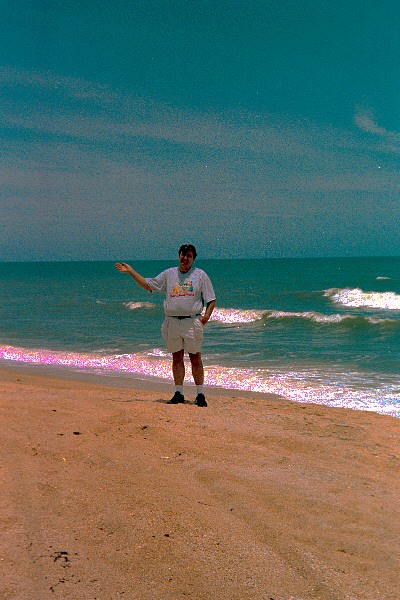 On the way down Michelle wanted to stop and see the ocean I seem to remember that she was worried that in my desire to get to WDW I wouldn't want to stop. I actually welcomed the opportunity to get off the interstate for a few minutes and see something a bit different. I think we were near Palm coast when she though of this and I got off there as it seemed to me just from looking at the map that this had to be one of the places where I-95 was nearest to the coast, and it seemed to be so I doubt we lost more than 45 minutes or an hour in this little brief stop. Though in her eagerness to put her feet in the ocean Michelle lost one of her new shoes that she was rather in love with at that point, that's what the shot next to the sign is about.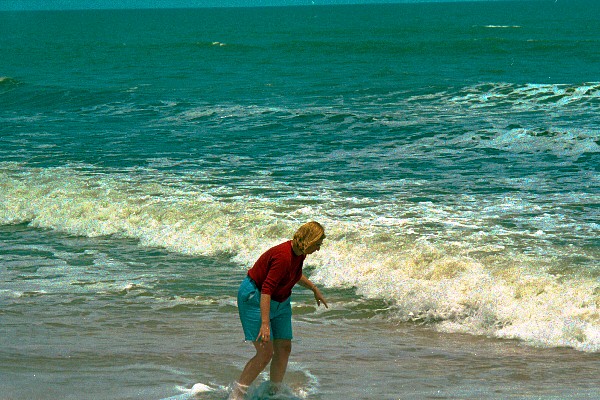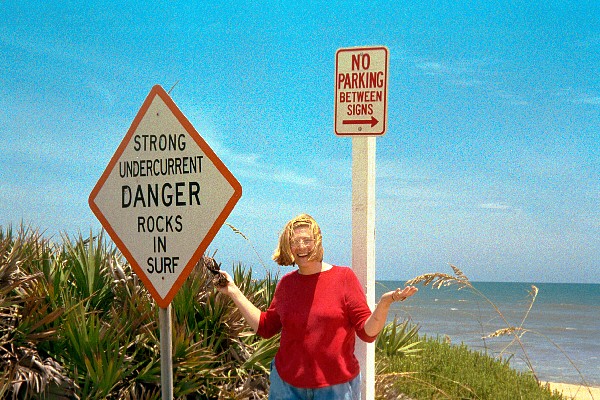 By the time we got to Walt Disney World it was raining, but by the time we got into the Disney MGM studios park it was slowing down to a drizzle we headed back to Mickey Avenue it had slowed even more, Michelle noticed Pooh had almost no line at his trailer so we snapped this shot before heading into Millionaire.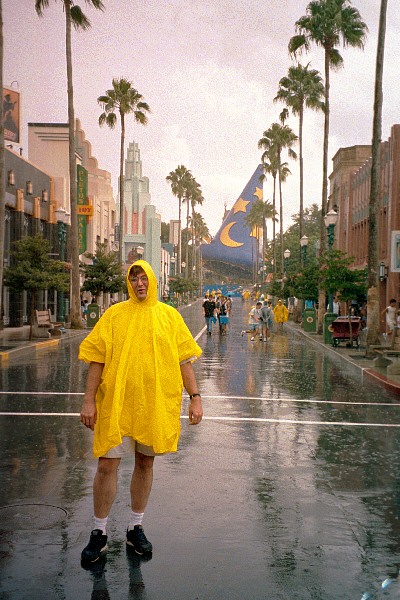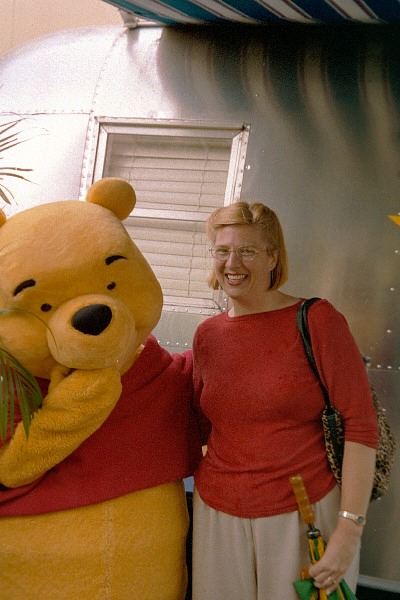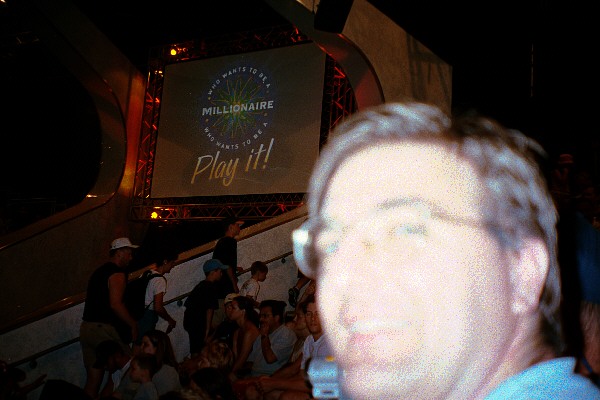 That time in Millionaire worked out well as by the time that was over it had stopped raining completely and the skies were quickly clearing up. We headed over to get in line for the Rock n' Roller coaster. Since this was Michelles first trip back to WDW since 1996 she hadn't gotten to try it yet.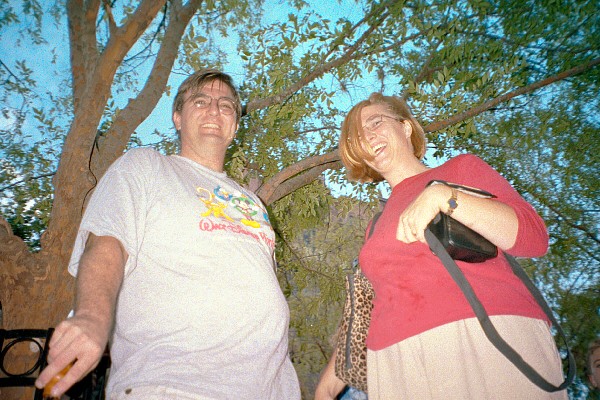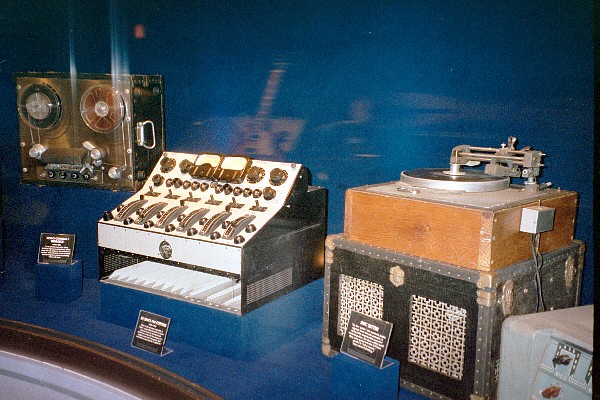 My sister and her husband both work in radio, so the displays in the queue really interested her, she took a few shots with the camera, and in one of them you can see my reflection in the glass.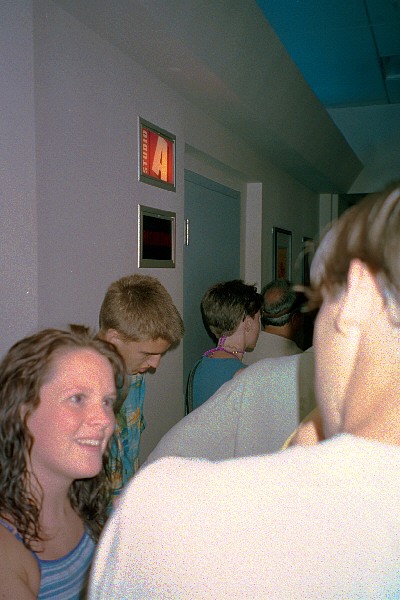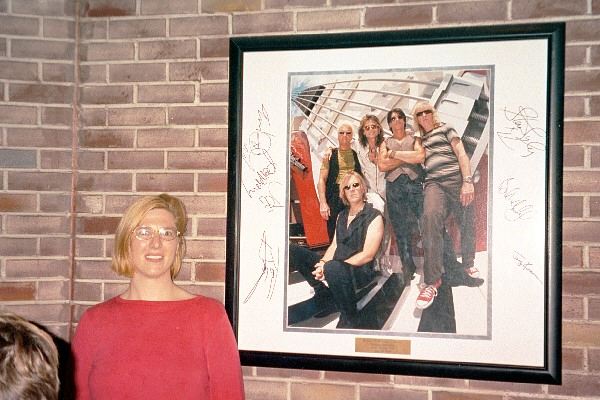 I hadn't noticed the photo of Aerosmith at the exit before, and so I got a photo of Michelle next to it, and when we got outside she took one of me in front of the giant guitar. This whole strategy of every time we saw a detail we wanted a photo of also including one of us in the photo strikes me now as being a pre-digital camera era strategy for cutting down on film usage.