Walt Disney World Spring Getaway/Birthday Treat
Epcot, the Flower and Garden Show (continued)

I skipped Mexico and went straight to Norway (with quite a few others) upon the opening of World Showcase. The cast members there were standing out on the World Showcase promenade ringing cowbells. I enjoyed Maelstrom but at the end I noticed they now make you wait for the theater to open so before you can exit (then again the last time I was here it was right at closing, Illuminations was going on even, so Maybe that's why they let me bypass the theater that time) Then on around the World, I bought my wife a carousel horse music box in China (not only does it spin but the horses move up and down and spin too). There was a really nice grouping of Lion King Topiaries in the "outpost" area between China and Germany. Also, a seven dwarfs mine at Germany Although the mine looked nice the dwarves lack much detail, I got the impression they are still "training" these topiaries (getting them to grow the way they want to)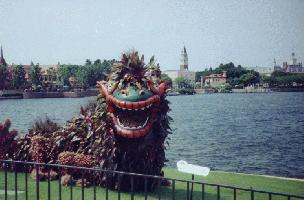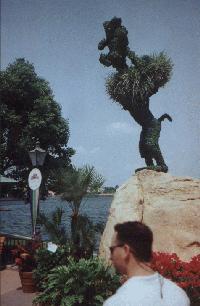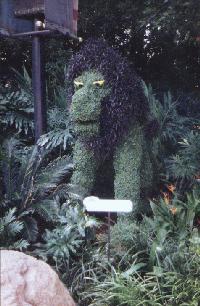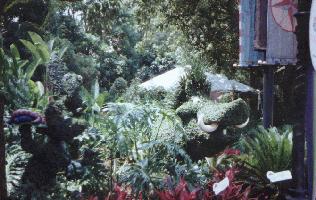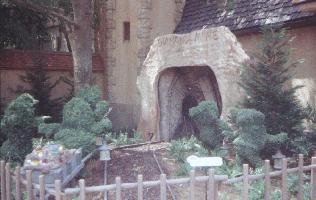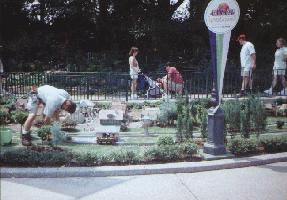 One of the things I wanted to do more of on this trip was catch more of the live entertainment. Tops on the list of live entertainment I wanted to see was the Voices of Liberty, an acappella singing group, that performs in the lobby of the American Adventure, On my way into the American Pavilion I got an added live entertainment bonus as I stopped at the mailbox there to deposit my postcards. A drum and fife group played. All dressed up in colonial era uniforms. The voices of Liberty were wonderful I will definitely try to catch them again. The American Adventure is one of the best shows in Disney World as well of course. A definite must see.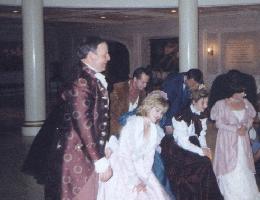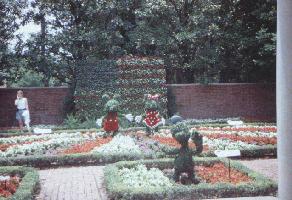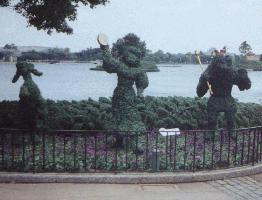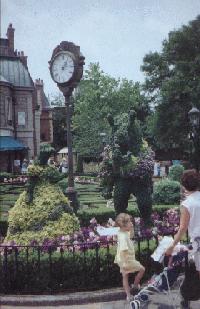 I kept snapping pictures of Topiaries in an unhurried manner, stopping only for the occasional French eclair (this on top of my Coral Isle Cafe breakfast and Fountainveiw snack!). . While I was at the Beauty and the Beast topiary a Cast Member was replacing the beasts flower (I believe he is handing it to belle)
When I got to the International Gateway at the back end of Epcot I decided to go out that way and check out the resort areas back there. Admittedly I was also curious to see the Wedding pavilion my RADP friends would be at that coming evening.
I walked all the way around the Boardwalk are over to near the Swan and Dolphin (where I took the pictures). Then back around past the Yacht and Beach clubs (where the wedding was I believe) and back into Epcot.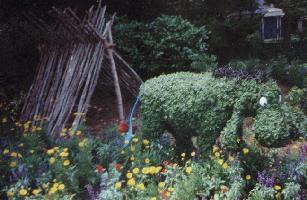 Part of the reason for my restlessness was just the fact of touring alone. I had meets planned for this trip but I wasn't even really planning on attending the Friday Pleasure Island meet for sure, until this day, when I decided I just wanted to have somebody to talk to. Another thing that was bothering me was the fact that I would have to due a full renewal on my Ap to visit AK or buy a one day ticket I didn't want to renew (and had told my wife I wouldn't) and I did not want to buy a one day ticket when I may be coming back with my wife and will have to buy myself one then. However, on the way into Epcot this morning (and at the MK yesterday) I noticed signs at the ticket booths that said "does your ticket look like one of these" (picture of new ticket media). Well After getting quoted a price for a Pleasure Island AP the previous evening it had occurred to me that I might be able to upgrade to a premium AP for less. This would have the additional advantage of allowing me Water Paks Admissions. And I hoped, being printed on the new ticket stock might get me into AK. So as I headed back in I looked to see if there was a guest services office by this International Gateway entrance to Epcot. Someone told me there was one but, I must have passed it. I went into the little souvenir shop and asked and the fella there( wanting to be helpful I am sure) asked what I needed to do. I told him the situation and he said he sometimes worked in Guest Services and that yes I would be able to go to AK once I had upgraded my pass to a premium one of the new ticket stock. I would like to say I took this with a grain of salt, but really it was just what I wanted to hear. And not the first time I had heard it I had gotten someone on the phone before I came down t o tell me the same thing (no I didn't get their name, or this fellas). On the way up to guest services I snapped a shot of a pooh-related topiary near England and caught the last few minutes of one of the live performances I was looking for (Romeo and Edna in this case). Then I proceeded directly to guest services anxious to take a shot at Animal kingdom. Since I needed the ap upgrade for Pleasure Island anyway. Since the upgrade was prorated for the remainder of the time until my current pass' expiration date. It only cost me 30 something, as opposed to the $54 a PI AP alone would have cost, and this gets me into the waterparks too, I did not even bother to ask if it would get me into Animal Kingdom I had gotten so many conflicting stories by now I *really* didn't want to hear someone tell me again that I could or could not go to AK. But, when I upgraded the fella who was taking care of me Said "and with this new ticket you will be admitted to Animal Kingdom." Wow I thought this is a guest services guy telling me this Then I noticed, The girl who was working with him just about turned pale as she rushed over to correct him that I would *not* be able to get into AK. Oh well I figured I'll just have to do as I had planned go there and see for myself. I didn't unload my frustrations on them they just wanted to help. Besides I figured there might be a gift shop outside the AK gates where I could at least pick up a few postcards or such.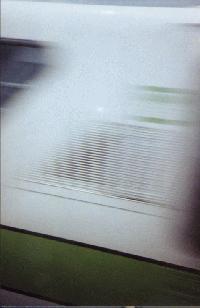 So I headed out the gates and took the monorail to the TTC. And from there the bus to AK. On the way there I got my biggest surprise of the trip. There were roller coaster tracks sticking up from the studios. Wow, I knew they were planning the Rock & Roll roller coaster but this was the first I knew of it actually being under construction! I got my first good looks at Coronado, Blizzard Beach, and Animal Kingdom . . . at least the parking lot . . . sigh. As you may have guessed from that last sentence, I did not get in. I put my ticket thru it came buzzed or showed a red x or whatever. Then the ticket taker looked at the back of it and sent me to the guest services window. I knew the score now so instead of wasting their time I told them I just wanted to know "what it would cost to do what I had to do to use my ticket to get in." They started to explain the whole thing over to me, and I came as close as I ever did this whole trip to showing my frustration (but I did not, I am proud to say). Maybe if I had though they would have given me a comp. ticket like they have so many others but I don't feel like I should have to act like a jerk just to get in, So I did not. I got my quote, said no thanks, got my postcards at the outside the gates gift shop ( a few anyway), and got on the bus. I was so bummed I again forgot about taking a picture of the R&R coaster construction sigh. I was not in the mood to go back to Epcot in the heat of the afternoon by myself. So I headed to my campsite thinking about how I could get use out of my newly upgraded to premium Ap. In the heat of the day a water park sounded like just the ticket I needed. I wanted to go to one of the big ones, sort of, but all that bus time did not appeal to me and, my campsite was within walking distance of River Country. This was the best thing I could have done I had a blast sliding the relatively uncrowded slides, swinging out over the water on those cable glider thingees, and floating around on a big inner tube a time or two also. It really cooled me off (in more ways than one maybe) and got me back into the spirit. When the waterpark closed I still had a bit of time before the PI meet. So I headed back to Epcot for a bit.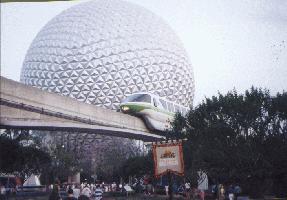 I remember riding Spaceship earth. And later trying to take a picture of the monorail going past the upward waterfall in front of the imagination pavilion. I waited for a while for the monorail to come by but apparently the shot did not come out. When I realized the Fireworks were about to start I figure I better beat it quick if I wanted to make it to PI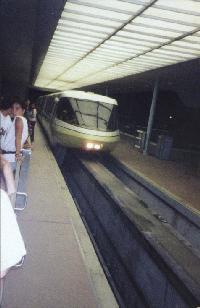 The busses for PI and Downtown Disney were absolutely packed I was in the aisle and noticed a husband asking his wife to back all the way into the back space she said she couldn't. Immediately realized she was probably a little claustrophobic and offered to switch spots with her (all three of us, her husband her and I were standing but my spot had a more unobstructed view). It seemed to help her but they really do need some more busses. When our bus got full there were still enough people to fill at least another bus or two in line it was a mess. Until they could get more busses maybe they could stagger their closing times more so not everybody is at the TTC at one time.
I got to PI found the Adventures Club and the Mask room. I was late, no sign of Amy Then I sat down. And up walked TDC /FDC Elliot we talked for a good while before Amy showed then they took me to see the presentation of the Adventurer of the year award. It was pretty cool I'll have to come back here sometime and see all the various shows they do. After the show we went back to the mask room to discover one more RADPer had arrived Bill Matson. We all chatted for a good while and enjoyed ourselves before going outside at midnight to catch the countdown. Not long after that we left. I felt much better having got to talk to some other folks who were just as much Disney nuts As I am :-). I got in bed a bit earlier say 1:30 or 2:00 a.m. this night (I think). One other note although I had my camera around my neck all evening I forgot to take a picture of the folks at meet DOH!