Walt Disney World Spring Getaway/Birthday Treat
PROLOGUE/ MAKING AN ENTRANCE
Last fall I made a weekend trip to WDW during that trip I bought an annual pass as I knew I would be going back with my wife in Dec. As much as I enjoyed my weekend jaunt in Sept., it seemed a rather short stay considering the long Drive required to get to Orlando from Charlotte. The factory I work at only closes down for Christmas week and, is open the rest of the year, seven days a week year round. So since we don't shut down for holidays my weekends are always the same length as the weekend I went in Sept. The only changes in my schedule are for my vacation. Except, My job allows me to take a day off for my birthday anytime in that month. So I took the day of my birthday off so I could extend my weekend further. My trip then lasted from Thursday to Monday the weekend of May 7 to the 10.
Since I was heading for Florida, I started planning my getaway. I knew other RADPers, would be there as well since Laura (IRC nickname LDG from sandnets #RADP-Friends) was to get married that weekend. I also knew Laura Gilbreath (tigger), her husband Lee (Pegasus), Jeff Spencer, his wife Susan, and their children Brian and Katie would be there as well.
I soon found out later that Amy (Improvgal) would be there as well. Since she had enjoyed a meet at
Pleasure Island on her previous trips. We planned a meet there Friday night. Then we remembered LDGs wedding was Friday so we added Saturday night for a second meet When we found that some of the folks from the wedding did want to attend. Jeff being there with his family wasn't up for Pleasure Island So (AT either tiggers or Jeffs suggestion I forget which) we added a Tower of Terror meet for Saturday as well Tigger (lauraG) wrote up this unique meet announcement that was posted on the news group as Well as Deb Wills' Walt Disney World Information Guide web site.



.This is no ordinary RADP Meet...We invite you, if you dare, to join us as we ascend into our very own episode of "The Twilight Zone"... Our story begins Saturday, May 9, at 5:00 p.m. A group has gathered at Disney/MGM Studios at the end of Sunset Blvd, right in front of the Hollywood Tower Hotel. But this is no ordinary group of Walt Disney World tourists...you see many of them wearing red buttons with a curious tri-circle logo and the mysterious word "RADP" on it... To find out what happens next, we hope you will join us on our trip to the fifth dimension....The Twilight Zone. Please contact me if you're interested or have any questions. (Sorry, but I don't know what the dress code is like in the fifth dimension. :-) ) Laura Gilbreath

Two weeks to go


Amy had mentioned she was doing the E-Ticket Express this trip. I had gone to the Mickeys Very Merry Christmas Party my last trip back in December and loved it. It's similar to E ride nights in that a limited number of admissions are sold and there are very short lines for some of the most popular attractions(of course there are differences too, at the Christmas party there are many special events and more rides are open than on e-ride nights). There was just one drawback I came across.... E-Ticket is for resort guests only. I had considered staying at one of the resorts, but due to our budget I didn't think it would be possible for me to do that I had seen a few posts on the news groups that had mentioned camping at Ft Wilderness as a way of staying on-site inexpensively. So I went to the web site of Jeff Spencer, keeper of the Ft Wilderness FAQ (frequently asked questions). The first thing I saw on the site was a special Fantastic Fort 26.50 a night. So, I called Disney the first Cast Member I talked to couldn't find any specials left for those days. As soon as I hung up, I realized I had not asked about getting an AP (annual Passholder) rate so, I called back and they did have an AP rate (same as the special ) for those days. I got three nights at a full hookup site for $96 not bad huh? So, I borrowed a tent and air mattress from a guy I work with.




The week before the trip I had noticed some problems with my car. The transmission leak had gotten worse I didn't realize just how bad until the day before I left. I bought several bottles of extra fluid. I left Charlotte directly after work at 6:00 A.M. I stopped at every rest area between Charlotte and Orlando and added transmission fluid. I finally made it into Orlando by about 3:30 P.M.. My first stop in Orlando was the Character Warehouse, they sell Disney theme park merchandise mostly clothing but a few other items as well. One of the best buys I saw on a non clothing items were Sleeping Beauty music box Snow globes (that sell for $55 in the parks I think ) for 20 some dollars. Too bad it was the same one I bought one of for my wife (at full price) on my 1996 trip (sigh). Anyhow, I did get some really good buys here a 25th anniversary knit polo shirt with embroidered emblem for $9.99 (marked down from $14.99). A long sleeve polo shirt ( with Mickey and WDW est 1971 embroidered on it) marked down to 14.99 (from $42 ). A couple hats for $5.99. and a few postcards at a whopping 9 and pin back buttons for 19 and 29 So you can see there are some real deals there
I arrived shortly after to Ft Wilderness and pulled up to check in. I was assigned a site in the 300 loop (340 ). Then I set up my tent, blew up the air mattress, changed clothes and showered at the comfort station and headed to the car care center, but it was closed since I didn't get there until six p.m.. I decided that I wouldn't worry about fixing it until I got home.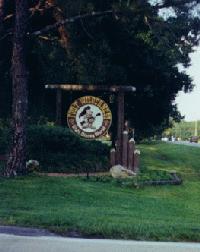 I then returned to the campsite and headed out on the bus stop nearest to my campsite and rode it to the settlement trading post stop at this stop there is a store, restaurant, guest services office, pony rides, a petting farm, The River Country water park, and boat launches to Discovery Island and the Magic Kingdom. Walking thru this area seeing all the vacationing families and as I walked past the dinner hall and River country I started to feel like I was on vacation too. I continued on to the boats.
Ft Wilderness is located by the shores of a lake that has Discovery Island in the middle of it with Wilderness lodge to the west and the Contemporary resort on the far western shore. The Contemporary also sits on the eastern shore of the lake that the Magic Kingdom, Grand Floridian, Polynesian and TTC (Ticket and Transportation Center) are all on. There is a connecting bit of water between the two lakes (that the road to the contemporary passes under ) So once I got on the launch to the Magic Kingdom I got my first looks ever at Discovery Island, and the Wilderness lodge en route to The Magic Kingdom.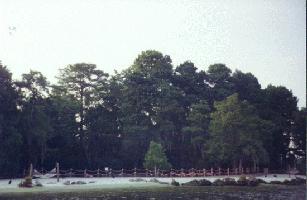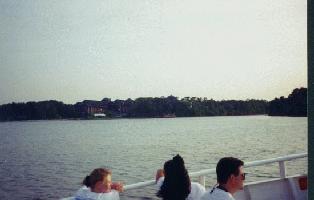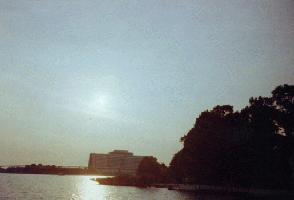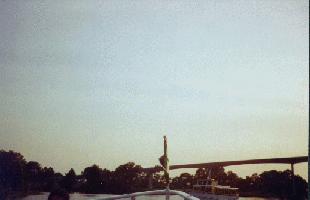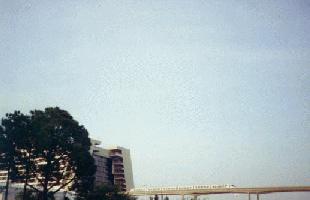 There were three things I needed to do upon arriving at the Magic Kingdom.
get my E-ticket express admission
see if I could upgrade my ap (annual pass) to include AK (Animal Kingdom)
see what a PI (Pleasure Island ) annual pass would cost
I purchased my E-Ticket express admission, It was late so instead of a voucher I received a wrist band to enter. As for my AP since it was bought Sept. 12 ( three days before the Sept 15 price increase ) I would not be allowed to just add on AK to it as the folks who bought their passes after Sept 15th could. No, I would have to do a full year renewal, which was way more than I was wanting to do. As for PI I got quoted a price of $54.01 for, I believe it was a PI annual pass. So I just bought the E ticket admission right then and was on my way.
From there I started up Main Street, I thought to myself looking around "It's so nice to see the castle back to normal again." The decorated castle as a huge birthday cake was a nice idea for the 25th anniversary, but the sight of a freshly painted castle with the gold paint glistening in the sun was quite a welcome sight.