A short note about the cameras we used on this trip. As on my previous trips many of the photos were taken with simple disposable cameras, on this trip that would be the clear crisp pictures mainly. The other pics were taken with a cheap camera I was given that had a hotshoe for a flash (I borrowed a flash) the pics on that camera did not come out well at all and as the rolls went along the teeth that turn the film actually slipped off the film so a lot of pictures we took either didn't come out at all or came out very poorly
prologue
Thursday, December 4, 1997
My wife Carmella and I recently spent a week in Orlando, this was her first trip to Walt Disney World and my third. We drove down on Thursday and met my wife's friend, Stephanie who we stayed with for the first part of the trip. We were nervous meeting her friend but relieved at finding out she is as nice IRL (In real life ) as she is on irc :-). We had a very nice dinner at a Restaurant called Don Pablos that first night, before heading back to her apt. to get some sleep before the big day.
Friday, December 5, 1997
The plan for the trip was not to push my wife since she's not a Disney nut like me so we didn't set the alarm clocks. Despite this, we still all had awoken fairly early (7:30 or so). So we got on our way. When we arrived at the parking lot I showed my AP and they waved us thru ( It's neat not have to stop). After my wife's friend purchased her Florida resident passport we headed onto the ferry at about 10AM. Once in the gates I rented a locker, put our sweaters in it and put the key in my backpack.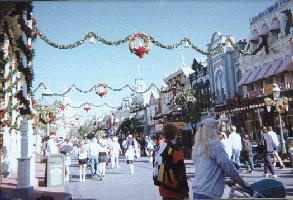 As we headed out from under the train station we could see the beautiful Christmas decorations. When we stopped briefly at the restrooms next to Guest Services I looked to see if there was much of a line in Guest Services (with an eye to making our dinner reservations). There was a bit of a line so I decided to just stop by the restaurant instead since we were about to go past it anyway.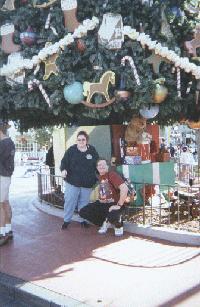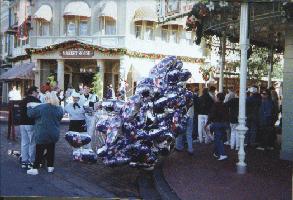 We took a few pictures and headed up Main Street. As we walked, I heard the sound of the Dans (the barbershop quartet) behind us, actually . . . catching up to us. So, we turned to look and there they were riding the horse drawn trolley up main street and singing, neat huh.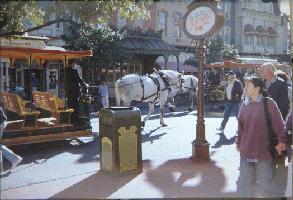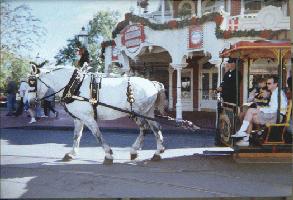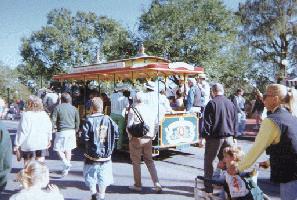 We arrived at the Crystal Palace and there was only one couple ahead of us making reservations and they were about done when we got there so in short order r our dinner reservation (actually I think they call it "priority seating") was made.Carmella was enjoying taking pictures and while her friend and I made the reservation she had wandered off a bit to get a good shot of the castle. Upon finding Carmella her friend ( who actually had said something about not wandering off earlier) kidded her "what did I tell you about wandering off young lady".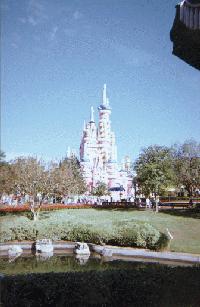 I was so happy to see my wife enjoying herself as I think I had turned her off on Disney by mentioning how much I wanted to take her so many times over the years.
Being at the entrance to Adventureland we headed that way The Swiss Family Tree House is under rehab so there was a big wall on our left (with bare "branches" beyond) Adventureland was still pretty empty and the Jungle Cruise only had a 10 min wait so we rode it. Carmella seemed to enjoy the corny puns more than I had thought she would (The fact that her friend was enjoying herself probably helped).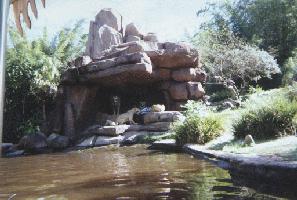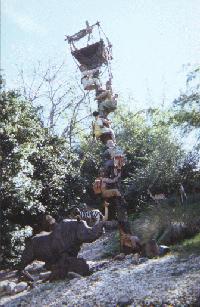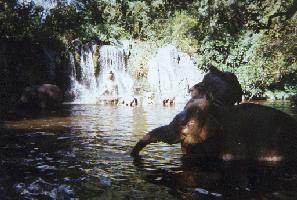 Upon exiting, we noticed that Adventureland was still pretty empty and took some more pictures before heading for Pirates of the Carribean.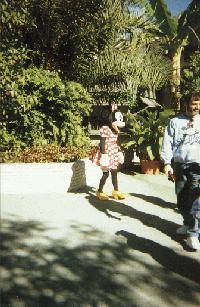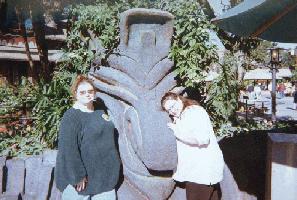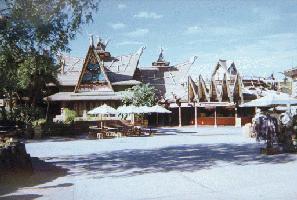 We took the left queue as that was the least crowded on my last trip and sure enough we walked right on while the people on the other side were waiting in line. Afterwards we browsed the Adventureland shops on our Way to the CBJ.