Saturday, September the 13th
I awoke feeling well rested, Showered, shaved, ECT . . . and I soon headed out for the parks. My parking lot voucher reads 8:34 A.M. When I got to the gates, they were letting people in. I walked right in. Figuring that they wouldn't start letting people on rides until 9:00 a.m. (like at the Magic Kingdom), I started looking at the shops. I picked up some more postcards, and eight packs of WDW 25th anniversary cards. As I came out of the shop, I realized I could hear the screams of people from the Twilight Zone Tower of Terror. So, I headed down Sunset Boulevard. I really like the cool misting effect outside the TZTOT, it really adds to the atmosphere. I took the right side of the queue on the outside, and the left queue in the service basement area. Many people mistake that side for an emergency exit due to the big exit sign on that side ( that's what I thought the first time I rode it anyhow). After the ride I bought the picture and one of the "I suggest you take the stairs" shirts. My tower photo receipt reads 8:59 A.M.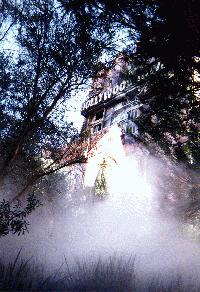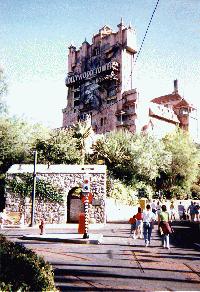 Then I went to Star Tours. I have a buddy at work who is a big Star Wars fan so I made sure to take lots of pictures here. Our flight had a malfunction about 30 seconds into it but we hadn't taken off yet and the door in the front of the ship closed right off the bat. So the magic wasn't broken really. Especially since the problem was a real spaceship type problem the exit gangway hadn't pulled away from the ship properly. We did have to wait for the film to recycle though so we did have to wait a few minutes.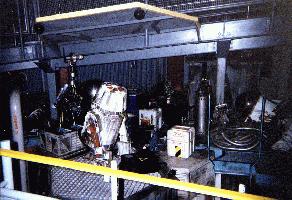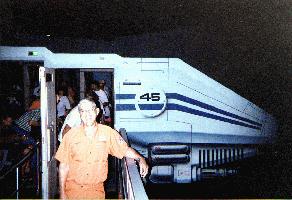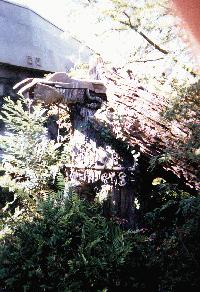 Since I hadn't caught the Beauty and the Beast, or Hunchback of Notre Dame shows when I was here last summer and had heard good things about them (particullarly Hunchback), these two were high on my to do list so I headed back across the park to catch the 10:15 BatB show. I got there early enough so that I still had to wait a few minutes after I got there before they started letting the crowd in. there were quite a few people ahead of me and the best seats on the right side where they let us in and in the center were pretty much gone or going fast by the time I walked in. so I headed straight to the oppisite side of the theatre, and from there down to the lowest open row. and then to the center. I got a much better seat this way then if I had just followed everyone else.I liked this show. I wish I had known when they were going to release the birds I would've gotten a shot of them if I had known.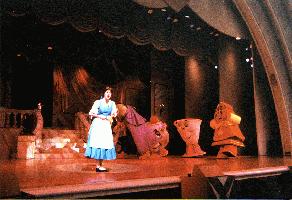 After leaving the theatre I picked up another camera as I came up towards Hollywood Boulevard I noticed there was a line at the little booth there where you can make dining reservations . So I went to Mama Melroses and there was no line there so I made my reservation in nothing flat. I asked the attendant at Muppet Vision how long the Show would be (keeping an eye to making the11:45 Hunchback show) and she was able to tell me exactally how long it would be till the show I would go in for would exit without even missing a beat, pretty cool. So, seeing that I had enough time I caught the muppets right then. I sat front row center which was different but ok.
From the Muppet Vision exit it wasn't far to the HoND theatre so in I went this time the crowd had been let in before I got there but the same strategy of going to the opposite side of the theater that worked at BatB helped here too. The juggler warmed up the crowd. His juggling was pretty good, but what I really liked was his jokes. This show is a must see it mixes acrobatics, puppetry, singing , dancing and is really just wonderful. The stage extends thru the middle of the theater and the performers come right out to you just about. At the end of the show when they come out the last time Esmeralda knelt down at the end of my aisle because the little girl there was dressed in an Esmeralda costume, so I got a really good shot of her.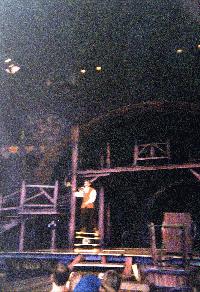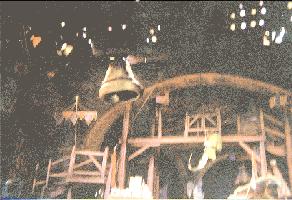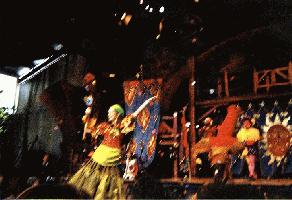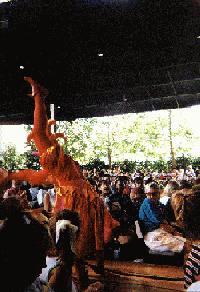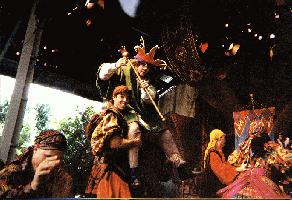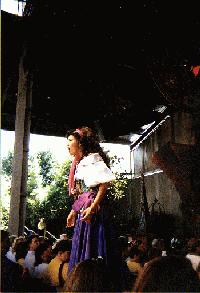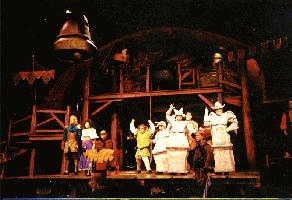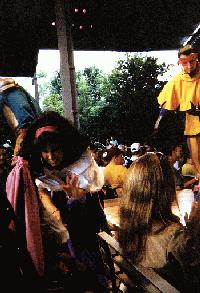 I then went and dropped off my first two cameras at the Darkroom to be developed. The Voyage of the Little Mermaid was my next stop. I was one of the last seated and the theater was pretty full. So I was at the far end of an aisle I couldn't really feel the misters. But it was still really nice though. I think enjoying this show so much last trip was what made me so sure I wanted to catch the other stage shows this trip.
Then I headed to guest services, to hopefully refill my 4-day park hopper so I would have days on it for my dec. trip. I had heard that they were no longer selling the four day park hoppers though, and it turned out to be true. I would have to have upgraded it to a world hopper. So, with the trade in from my 4-day park hopper and not too much more than I would have had to pay to go with the world hopper upgrade I got my Annual Pass!
Next, I headed to Mama Melroses for my 1:30 reservation. I got there a few minutes early and while I was waiting I saw the little girl who was dressed like Esmeralda at the hunchback show. I mentioned to her mom that I remembered them from the show, and that I had gotten a good picture of Esmeralda when she knelt down to say hi to her little girl. She said they had been too close to get a picture, so I got her address to send it to her. a copy of the picture While I was dining Miss Piggy was coming thru the restaurant stopping at tables on the way thru with a cm helping her. I raised my hand for a moment with my camera but they already had passed out the doorway from the dining area I was in, and I had given up (it wasn't really a big deal to me) when another cm who had seen me directed them back my way. That really gave me that special Disney magic feeling. They could've just kept going, or the restaurant CM could have not said anything to them (after all guiding characters around wasn't his job) but they cared enough to go out of their way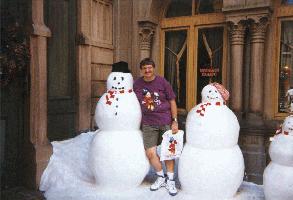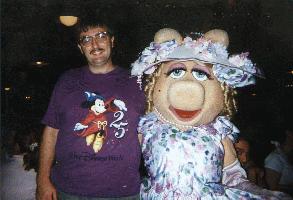 I headed tho the 2-hour photo shop (the darkroom) on Hollywood Boulevard.To get there I had to go around the back end of the Hercules parade, which gave me the opportunity to snap a couple pictures of it.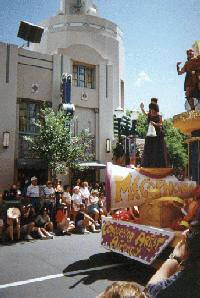 But when I got there I realized I had misread my watch it was 2:30 not 3:30, so I headed to the Great Movie Ride. There was a bit of a line (the parade had just ended after all) but the wait probably wasn't more than 20 min. (2nd longest wait of the trip I think). By that time my photos were done so I got them and headed out of the studios.
I made the brief drive back to the Magic Kingdom, rode the monorail from the TTC, and was in the Magic Kingdom by 3:10.
I hadn't ridden anything in Fantasyland this trip so I headed straight for It's a Small World. This was just what I needed so I headed for the Country Bear Jamboree for more classic Disney theme park fun. I considered stopping at the Haunted Mansion but there was quite a line there. The waiting area at CBJ was full but I figured a full waiting area meant less time to the show. So, I went to a less crowded part of the room where there was a pressed penny machine I started looking at the machine to see what designs it had (there were three choices). I soon noticed that 3 children standing nearby were watching me looking at the machine. So, when I put my money in I asked the closest one (a little girl about sevenish) if she wanted to push the button. She immediately backed off towards her mom but still stared at the machine. Her mom smiled an isn't she cute smile (she was) the boys still looked interested. So I asked the closest one (who looked to be 4 or 5), if he wanted to push the button, which he immediately and forcefully did (to the chuckles of his parents and me). About that time a cast member came out and mentioned that the show had been down for five hours that morning and that was the reason for the full house When she got to the part about move all the way down to the end of the aisle she held the word all for about 30 seconds ( as in please move aaaaaaaaaaaaaaaaaaaaaaaaaaaaaaaaaaaaaaa aaaaaaaaaaaaaaaaaaaaaaaaaaaaaaaaaaaaaaaaaaaaaaaaa aaaaaaaaaaa aaaaaaaaaaaaaaaaaaaaaaaaaaaaaaaaaaaaaaaaaaa aaaaaaaaaaaaaaaaaaaaaaaaaaaaaaaaaaaaaaaaa aaaaaaaaaaaaallllllllllllllllllllllll the way down to the end of the aisle. Seeing CBJ with a big crowd is great theres much more clapping and singing along (again just the sort of thing I wanted).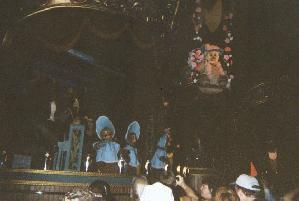 It's a good thing I had such a good time at the CBJ or I would've missed the Tiki birds more. But, since Tropical Serenade is being renovated I headed for the Jungle Cruise as I started down the steps to the JC there was a Cm standing by the time to wait sign. As I came into view of him he acted like he was trying to change the sign from a ten minute wait to a 60 minute wait before I noticed. I burst out laughing, this just made my day. And so I had him pose for this shot. The cruise skipper was pretty good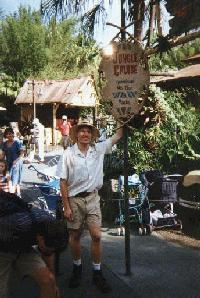 I then headed for Tomorrowland because, I wanted to hit the Carousel of Progress, and the Tomorrowland Transit authority before I went to EPCOT. I really like the Carousel of Progress and noticed that some people were singing along with the song "There's a Great Big Beautiful Tomorrow" so I did too :-). While I rode the TTA I noticed the Space Mtn. queue wasn't that long so I decided to hit it before I left also. It ended up being about a 25 min wait which was the longest of the trip. But a trip with only one 25 min wait is pretty good, I think. On my way out of Tomorrowland I got a fellow to take this corny shot of me in one of the Photo op rockets by the tta loading area. The monorail was packed so I hit the ferry about 6:45 P.M.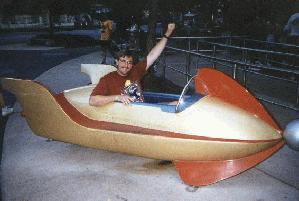 Once in EPCOT I headed straight back to World Showcase I had read in an old trip report that they had some Disneyland Paris souvenirs in the France section of EPCOT. The helpful, nice CM there said that they didn't have any right now and that really she would like it if they did. She suggested I ask guest relations for the DLP merchandise number. I thanked her for her good suggestion. And headed for one of the two things I just had to hit in world showcase The American Adventure. On my way there a couple asked me to take a picture of them with their camera so I had them take one of me using mine too.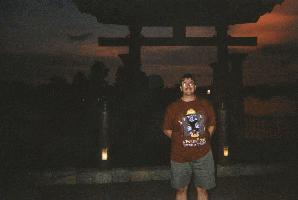 It was about 7:30 when I got to the American Adventure and the next show was not until 8:15. So I called my wife then went back in about 8:05 and checked out the lobby while waiting.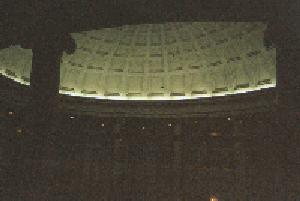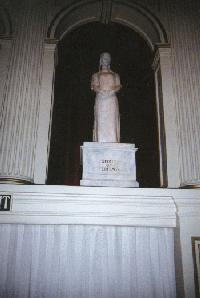 When the show ended it was about 8:50 so since the sidewalks were clear, because most people were lined up along the railing for 9:00 Illuminations, I trotted on down to Norway to hit Maelstrom before it closed. There was no line and I think I made it onto the last boat. It was just me and a couple. Illuminations was going on when I came out and I saw some of it as I walked out. Next trip I'll get a good spot. Also on the way out I stopped in the Centorium and I saw some nifty Test Track merchandise, including a shirt I would have gotten except they were out of it in 2x.
One last note I noticed both days I never had trouble picking out my car in the lot. So I guess there is some advantage to having an old (and admittedly ugly) car. Everyone else's cars were so nice mine really stood out.