Since the pictures on this page are mixed in with the text I have used small pictures. Click on them to see the larger versions.

Tired But Happy

Thursday, September 12,1997

Upon arriving at the park I headed onto Main Street and since there was still awhile before 9:00 A.M., I proceeded to check out some of the 25th anniversary merchandise. After checking that out I went up the steps to the train station and got on the train. While I was waiting for it to leave, I took a few pictures.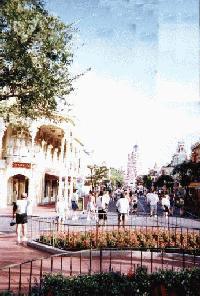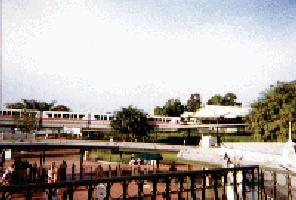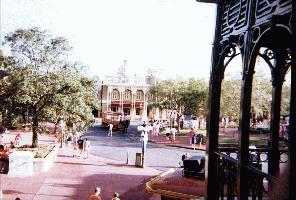 When I disembarked at Frontierland and got in line at Splash there were a few people ahead of those of us who rode the train but not enough to cause a wait. Splash Mountain is probably my favorite ride and I had a blast. I think everyone in our boat did as you can see in the picture everyone in the boat but me has both hands in the air at the drop (I had my camera in my other hand). I think I was on the 4th or 5th boat because there were still several screens with pictures of empty boats when I got to the picture previewing area (the tv monitors) and when our picture came up it was the 4th or 5th one.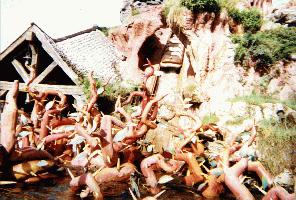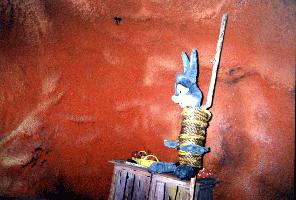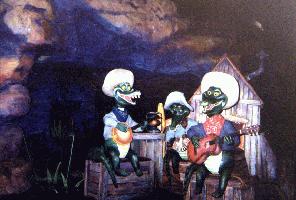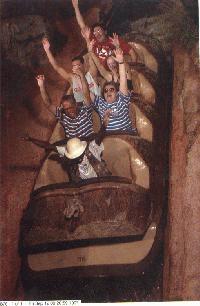 After getting my photo, and stopping at the Splash Mtn. cart by the RR trestle to pick up a few postcards, I got in line for Big Thunder Mountain RR. The line actually came to a stop for about 30 seconds.;-)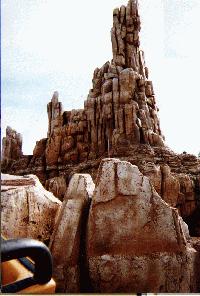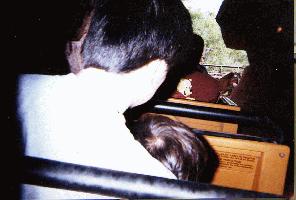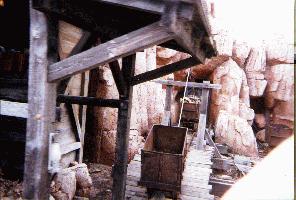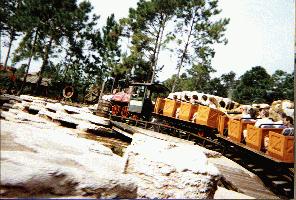 After that I walked down to the new river dock pathways that you can use to get around parade crowds. This was the first time I had seen them and they really seem to fit in pretty well.
After stopping at a cart to buy a 25th anniversary button I headed on across the park (at a leisurely pace) to Space Mtn. There was still only about a 5 min wait despite the fact that it was about ten-o-clock.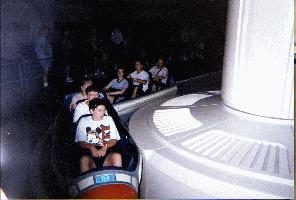 Then on to alien encounter. I had remembered seeing the plush skippys (a character from the Alien Encounter ride) last trip. And thought I would buy one this trip but when it came down to spending the $27 or not I chose not (but I still might get one next time).hmmmm maybe I should've taken a picture of one it would have been almost as good and much cheaper.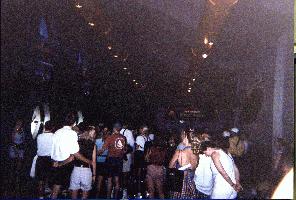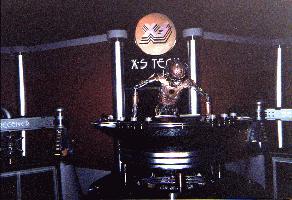 Next I went to Liberty Square. This was the first time I had ever been thru the entrance from the hub to Liberty Square and so I took some more pictures. As I snapped my last picture on the roll (a picture of part of the park behind the Liberty Square shops) I saw a band coming out of one of the buildings. So, I popped into Ye Olde Christmas Shoppe and grabbed another camera. Then I rode the Haunted Mansion which was really good as always.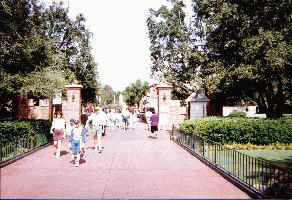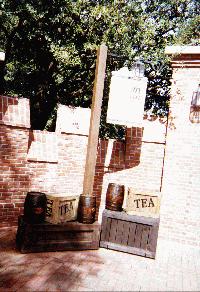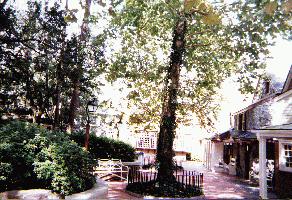 I was pretty wasteful of film this trip. I took a lot of pictures I figured might not come out and didn't take my time with some easy shots I ended up messing up. I think it was partly due to my being tired. Also, I missed my wife and I think I took lots of pics as a substitute for having someone to talk to.
I wanted to spend part of my day at EPCOT and so I thought to myself is there anything else I just have to ride before I go over there. Of course, I headed for Pirates of the Caribbean. On the way there I picked up a few more postcards and got a root beer float at the Sunshine Tree. When I got to POTC I noticed both queues were open but almost everyone was going in the right side so I went in the left and had no wait. In fact there weren't enough people to fill the boat on my side up but there was a line on the other side!
I wish I had taken a picture of the sign outside the Tiki Room, or the walls around the ** construction on the Jungle Cruise queue, or the work on the tree house but I didn't. It just didn't occur to me until after the trip was over how cool these things would be for my web page, oh well live and learn.
Any ways, I figured it was time to head over to EPCOT. I almost weakened and bought a skippy but after I took a picture of this squirrel on the "rocks" in front of Tomorrowland changed my mind (hey its cute and fuzzy too ;-).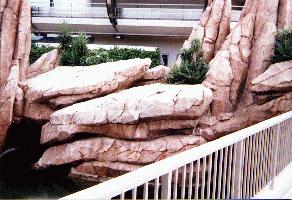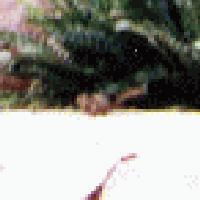 .
On my way out of the park I stopped in at the welcome center. There was a Cast Member there showing some younger CMs the model of Animal Kingdom and going over the plans for it with them. It will be interesting but I don't see it being my favorite park or anything like that. After I got my free 25th anniversary poster (lithograph maybe?), I bought a cakesle postcard. There was some Animal Kingdom merchandise as well but nothing I wanted right then so after snapping a few pictures here I headed out the gate.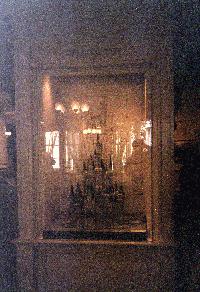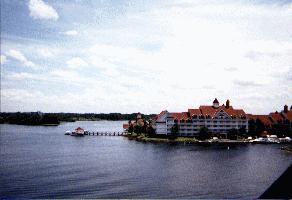 This time I took the monorail over to the TTC then after a quick drive from chip and dale eight to create fourty-seven (parking lot designations) I was in Epcot. Right off the bat I rode Spaceship Earth, Ellens' Energy Adventure (this was my first ride since it was changed. and I Liked it), and Horizons. I like Horizons but if they are going to change it some thats fine with me, especially if they are going to do a space pavilion, that could be cool. I had a late lunch/early dinner at pasta piazza ristorante (pizza, coke and a hot apple desert pizza) in innovations west side.
Then I hit the two shows at the land I had not yet seen, the Circle of Life, and Food Rocks. They were ok but definitely not on my must see list. What is on my must see list is what was next, Honey, I Shrunk the Audience I really like this show it's hard to top. And so since it is hard to top and I was quite tired having been up for 43 hours I finally gave up and left to go get some shut eye. Upon leaving Disney property I headed east on 192 and soon saw a sign for a likely cheap motel, it was a motel 6 and when I enquired I found it was just 33.59 with tax and all for the night (I love off season rates).