Big Brians Disney Podcast
Episode 53 - Getting into the Rhythm of the Holidays with the Village Beatniks
If you want to download the show manually (instead of using a podcast aggregater such as Itunes) then follow this link to the shows libsyn page...http://bbdp.libsyn.com/ OR right-click on this link: http://media.libsyn.com/media/bbdp/bbdp53.mp3 and choose SAVE TARGET AS to save the file to your hard drive.
This Episode was recorded early in my December 2008 trip to Walt Disney World, this was the "split day" of Mousefest, in fact this was the last thing I did before leaving Disney's Animal Kingdom for Disney's Hollywood Studios.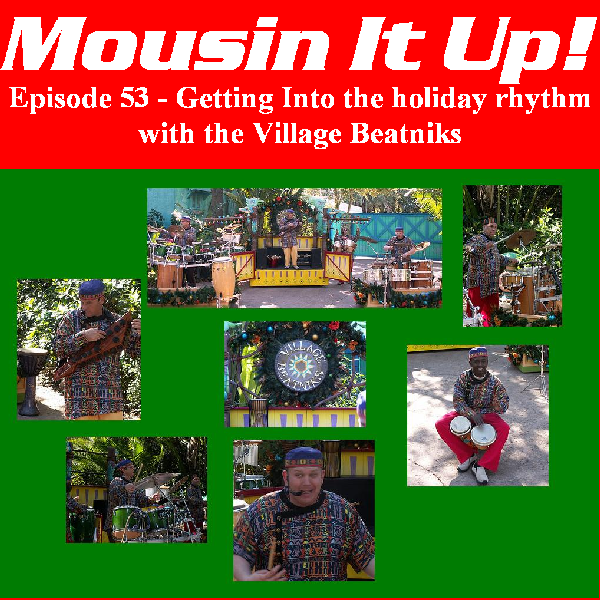 links
Note: since they did not turn off the speakers of the nearby Background Music, you can hear it a bit (in the background) of this set, but most of the time the Percussion overwhelms it.
The Village Beatniks
Deck the Halls
Feliz Navidad
What child is this?
Jesu, Joy Of Man's Desiring (tiny snippit)
Little Drummer Boy
Jingle Bells
Oh Christmas Tree (tiny snippit)
Rockin Around The Christmas Tree
Carol of the Bells
SELECTED PHOTOS
feedback? Questions? Please.... E-mail Me martsolf@mindspring.com
Back to Big Brians Disney Podcast main page (podcast index)
Back to bigBrians Disney page (main web site index)
Last modified by Brian K Martsolf at 29-Nov-2009 06:29 PM