Honeymoon - October 31, 2002 - Magic Kingdom
Brians Photos - Roll 09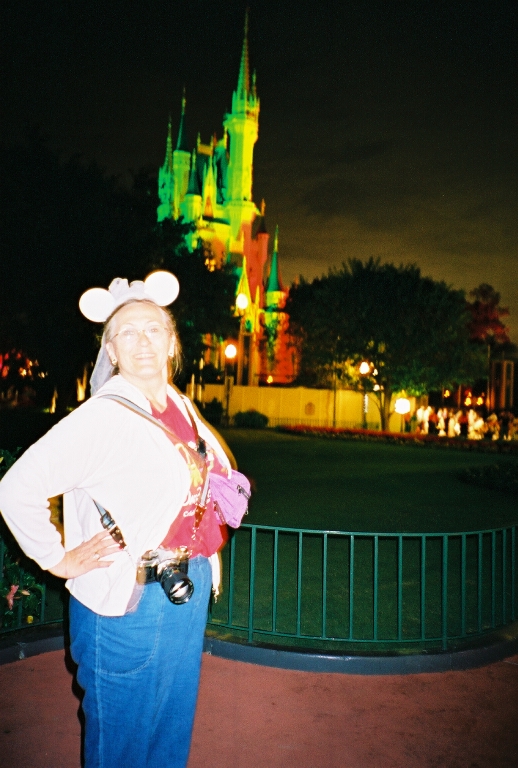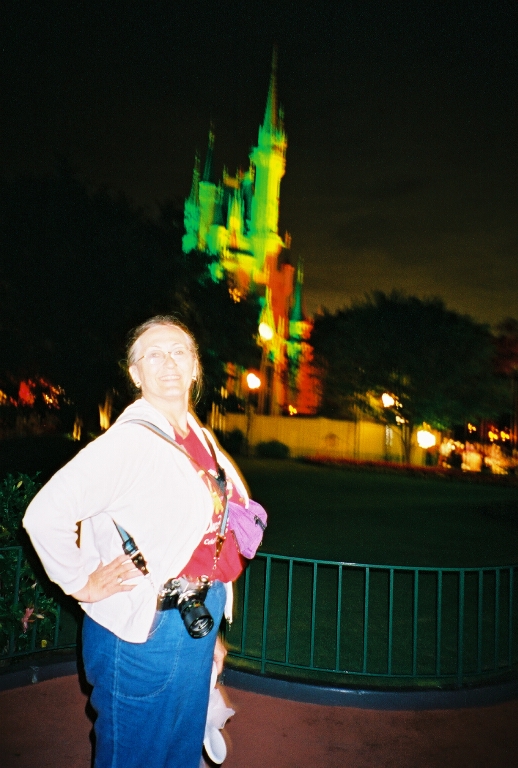 While I can't recall all of the things we rode I do remember that we had a really good time at the party, I certainly took a lot of pictures, especially considering the fact that we're talking about a film camera here rather than a digital.
Below: although Carlene had her eyes closed in this photo I had the photographer use my camera to take, the official picture that Disney took came out better. I'll post it here later when I turn it up.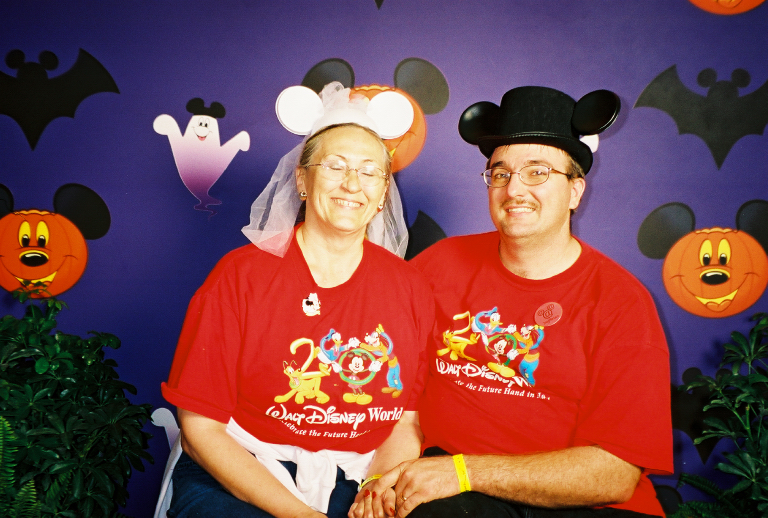 This picture was taken at the photo location over near Pirates of the Caribbean, early in the night many of the free photo locations (you got a free photo with admission to the party) had really long lines, but by the time we got off of Pirates the line was incredibly short, less than 10 minutes even with the paperwork and actual taking of the photo. Another thing we saw over in this area,in Caribbean Plaza quite near the stage where the steel Drum Band used to play, as we were headed to Pirates was a story teller surrounded by children, another neat event of this party, lots was going on this night. It was getting late and I realized that we had done just about everything I had wanted to do, so I ran an idea past Carlene that I had been kicking around in my head since around the time of the Halloween Show at the Horseshoe. At least if I remember it correctly this is how it went... either just before we entered, or just after we left the Horseshoe I heard a band playing on the Riverboat, so I knew that the Lone Strangers had only missed the first set, therefore if we did all the other things we wanted to do, and weren't too awfully tired, we might perhaps we could hop on a second cruise, she was cool with that, so that is exactly what we did. I recorded the portion with the Lone Strangers, and then we went aft when Auntie Bellum came back out, to make room for others, really I wouldn't recommend this, I guess everyone had settled in for the cruise, and no one ended up taking that space and so at the end of the cruise when the Strangers came back out I ended up going back to the exact same spot. Consequently, when we got home I had two great pieces of audio from the Riverboat, one of Auntie Bellum, and a later audio piece of the lone strangers, what I didn't have was a full cruise with both segments...but as I thought about it the idea really kept growing on me of joining these two separate pieces of audio into one and with a little trial and error I quite soon had a piece of audio I'm quite happy with and proud of.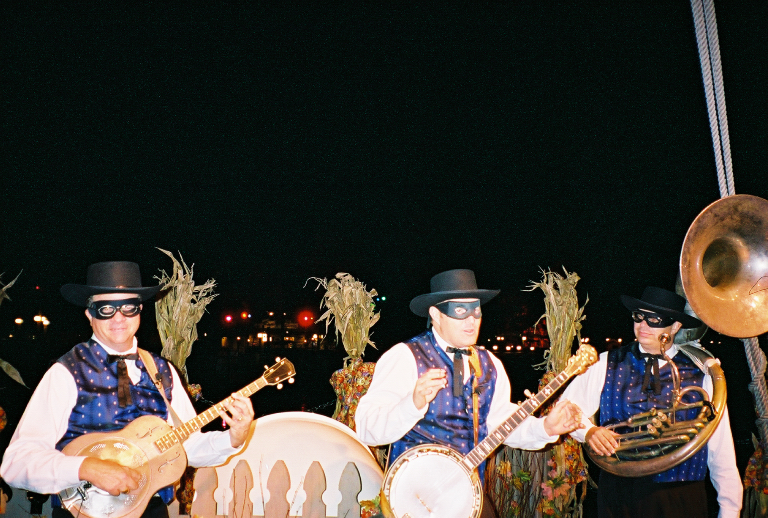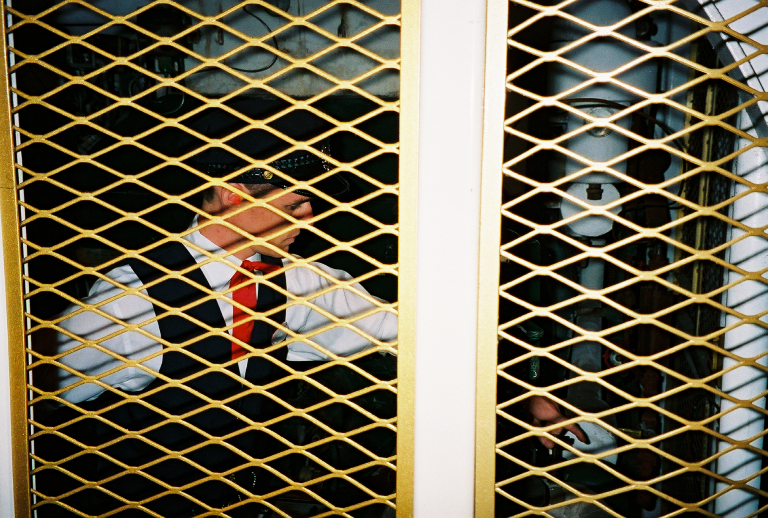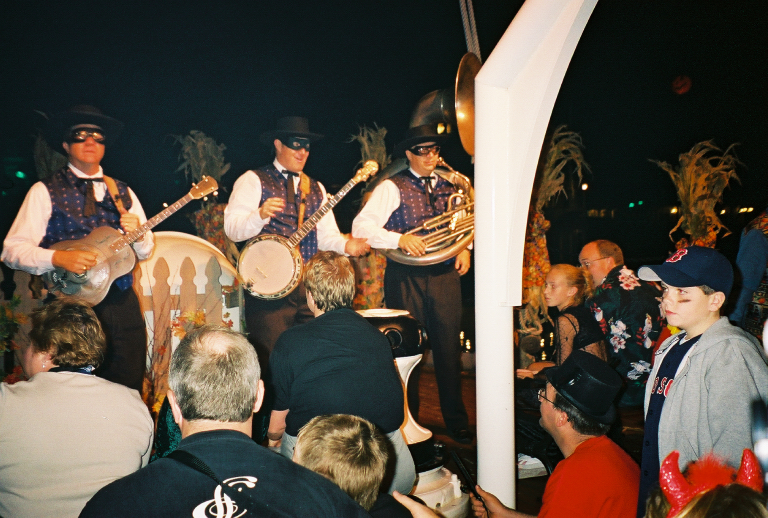 Above: In the background you can see one of those giant balloons floating over Frontierland and Adventureland.
As we disembark from the Liberty Belle Riverboat, I looked at my watch and saw it was still ten minutes or so before midnight (which was the end of the party), it occurred to me to try something that had worked well for me a few years back when the Magic Kingdom still had E-Ride nights, E-ride nights were a special event that you could purchase admission to if you were a resort guest, now they sometimes have extra magic hours after the park closes now , but they don't charge for it, consequently resort guests from all the parks that are closing funnel into whichever park is having extra magic hours and that park becomes relatively crowded, especially considering the fact that fastpass is not offered during those hours, now the E-Ride nights only had a few select headliner attractions open, hence the E Ride name which harkens back to the days when Ticket books were used for Magic Kingdom attractions and the Top Rides were E-Ticket attractions. Since you had to pay for admission to E Ride nights many guests opted not to take advantage of it and so often there were quite low crowds. One other general tip along these lines all of these really late parties and nights tend to thin out for the last two hours, after getting up early in the AM and spending the whole day in the parks a lot of folks are just dead tired by 9 or 10 PM and trudge on out of the park to the attraction that is really calling their name at that point "Bedtime". If we hadn't taken a nap our day wouldn't have been nearly so enjoyable and I doubt we would have stayed as late, this was probably the day that really sold me on the advice of taking a mid-day break. But I digress...the point was that back when the offered E-Ride nights I had tried going to the Country Bear Jamboree quite late in the night and ended up getting to go into a show that STARTED at midnight, which allowed me to exit into an empty park! So that's what we tried to do this night, and it worked in fact it worked so well that we had an entire theatre to ourselves! neat!