Mousefest 2006 - Disney-MGM Studios
the Disney (Studios) Afternoon
Upon arriving at the studios I once again split off from Mike and Amy, as I went in search of a phone to call Carlene and let her know that I had indeed caught a ride to the studios. There was some refurbrishment going on at Oscars service station at the front of the park and it took me a few minutes to realize that was where the phones likely were hiding, so I headed up Hollywood Boulevard in search of a different set of phones, when I got to Sunset boulevard however I saw some streetmosphere performers, it has been far too long since I took in any streetmosphere so I stopped in hopes of catching their show however as is evident from my first photo, they were wrapping up, the ham actor (director?) however gave me a few nice poses. Once he left the stage the ladies who were packing up the car were the last characters left on stage, and they at least left me smiling, you see they were talking to a few fans who had been standing there for their whole skit, and whom were wearing some Ohio Buckeye apparel, so as they got their vehicle turned around to leave the larger of the two ladies said projecting for all to hear "I only have one more thing to say to you Ohio buckeye fans" then as she had all of our attention she began to pull out and continued to project "GO GATORS" her companion stuck her arms out the "window" of the cart and did the gator "chomp" ...this of course had all of us along the curb roaring, and got a big laugh from me!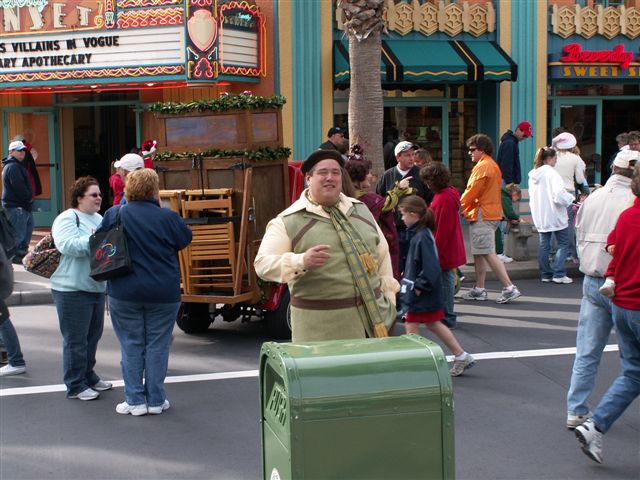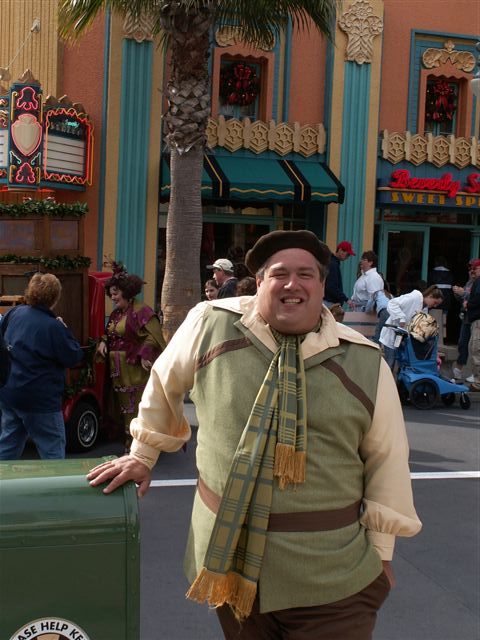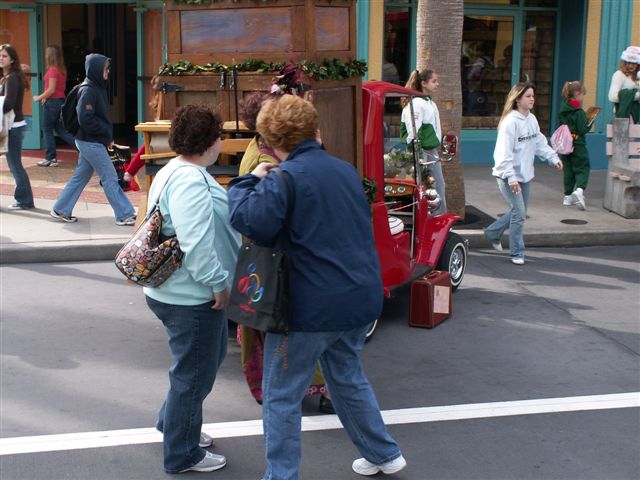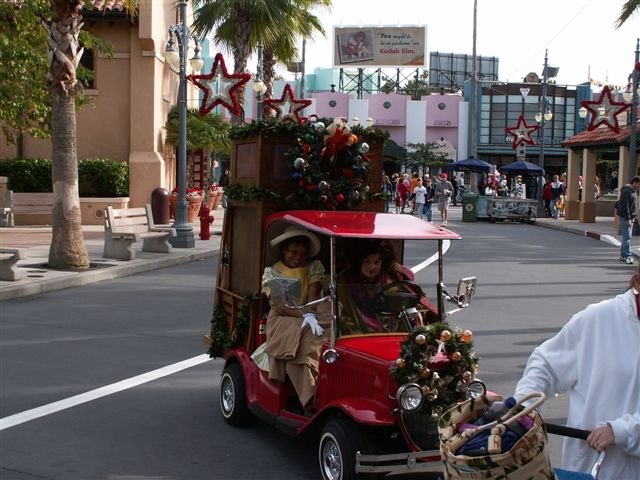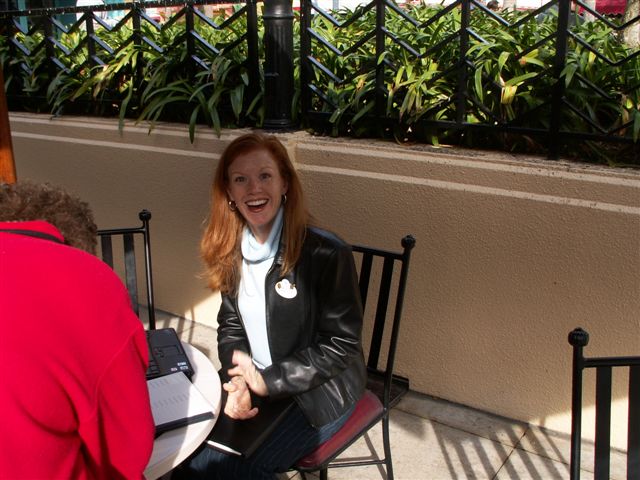 There were a lot of big meets this day not only those at Animal Kingdom (shown on the previous page) but also at the Disney-MGM studios. In particular I was looking to Podfest and the Star Tours meet that was to proceed it. but there was also a first for Mousefest his day a meet hosted by Disney and ran by a Disney castmember "the Photopass meet" Disney's photopass reached out to the Disney communities to do a sort of educational outreach as to just what photopass is and also offered one-time use discount code coupons. She also talked a bit about what is coming for fastpass, and mentioned that the addition of Photopass to Test Track has been a big success as it gets folks who have passed on photopass in the past interested in taking a look about it and finding out just what options are available through photopass, but, she also said that there are so many things that they want to add to photopass that it may be some time before other attractions get added to the photopass system.
After this meet I started to head over towards Star Tours where I know folks would be gathering for Matt MGM-studios.org Hochbergs Star Tours meet but first I finally tracked down that phone and called Carlene. When I got to the meet folks had already started to gather in front of Star Tours as I had suspected quite a few of the folks attending this meet were to be attending the podfest get together later, so I started introducing newer folks who might not know faces around to some of the longer time faces I already knew, and as is the norm for this type of event i got to meet a few new folks myself.
Below: can you see the "hidden Kermit" in this photo taken in the Star Tours queue, this shot was taken from above it in the queue, the better shot of it would be from across from it...I THINK I can see the body and legs but the head is not in frame.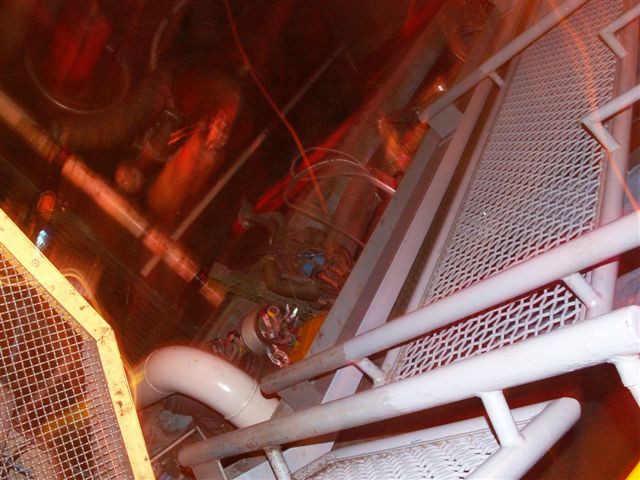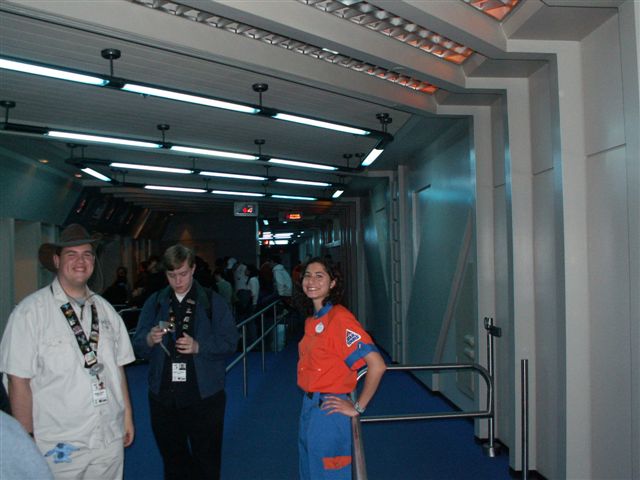 Above: When the cast member above was asked to take a group picture, she misunderstood at first and looked a bit disappointed that we weren't asking to take her picture, so I decided to remedy that.(also in the Shot Mikey Silva of the Cast Member informer podcast and his brother.)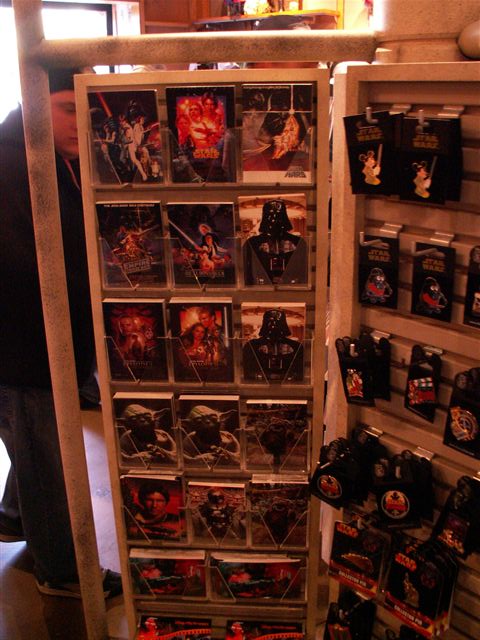 Above: Star Wars postcards...need I say more?
Below: As energizer is no longer the sponsor of this attraction it's not totally unexpected, but it still struck me as a bit funny or ironic to see this other brand of batteries at the register.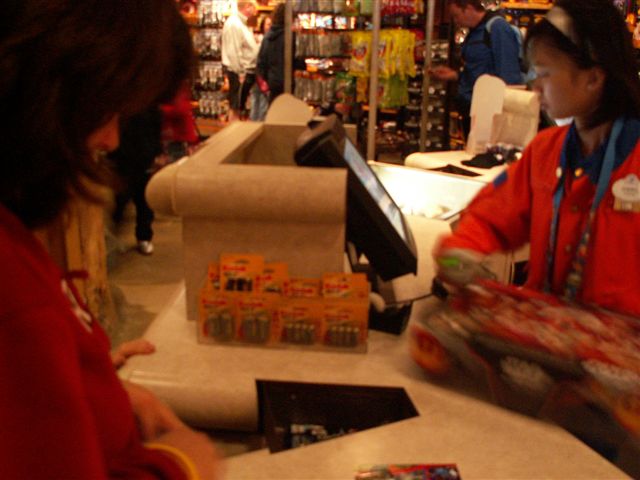 After the Star Tours meet had broken up several of us headed next door to Backlot Express where folks began to gather for podfest, I never realized just how big Backlot Express was, it was a bit cool today for Orlando (I belive the forecast was for a high of 52° or 57°) so some of us started to gather inside, but eventually those gathering outside won out. Again I tried to spend some of my time introducing people to each other asking folks which podcasters they wanted to meet and the like. Eventually we got around to what turned out to be more or less the main event, Lou and Nathan started introducing all the podcasters to the crowd, we all went up one at a time and said a few words about our shows. Complete audio of that segment played on the Mouse Tunes Podcast in the Dec. 24, 2006 episode http://www.mousetunes.com/shownotes/mousetunes_122406.php. About 17 minutes into the show they start covering Mousefest meets 22 minutes into the episode the podfest audio starts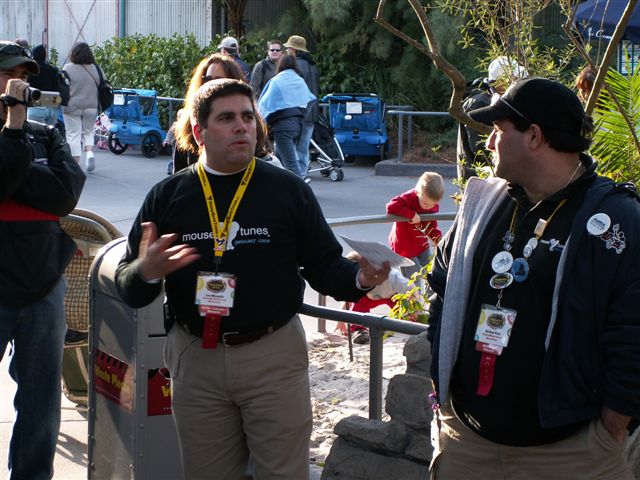 Above: Lou Mongello of the WDW Radio podcast and Nathan Rose of the Magical Definition podcast, though at the time they were the co-hosts of the Mouse Tunes Podcast.
Below: Paul Barrie of the Window to the Magic podcast, and Greg Mc Naughten of the Micecast and Imagineering My Way Podcasts .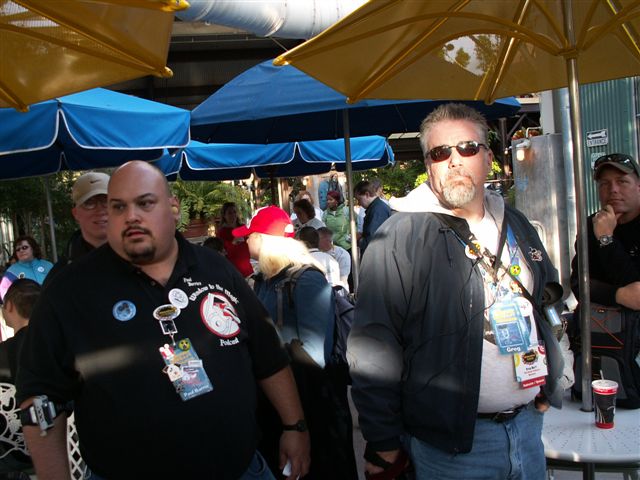 Above: Mostly podcast fans in this shot though I belive that's Mark Goldhaber of the MouseStation Podcast in the black shirt to the far right, just behind him in the background on the right are Matt from PA and ArtJaro from the Disney podcast network forums.
Below: In the Purple shirt Patrick Hurd of WTTM, behind him Byron Hall of http://byronhall.com/EE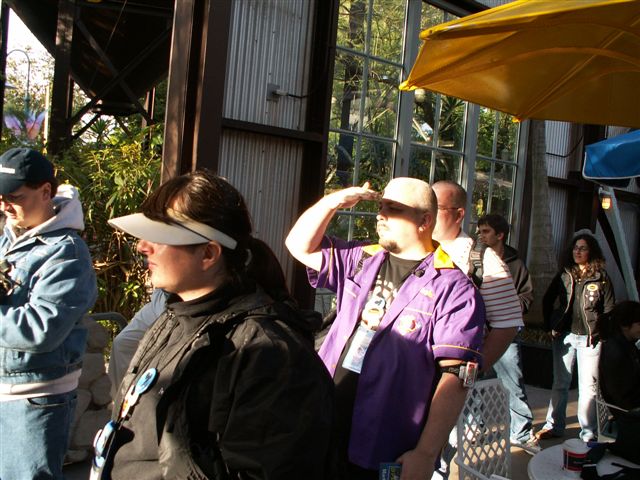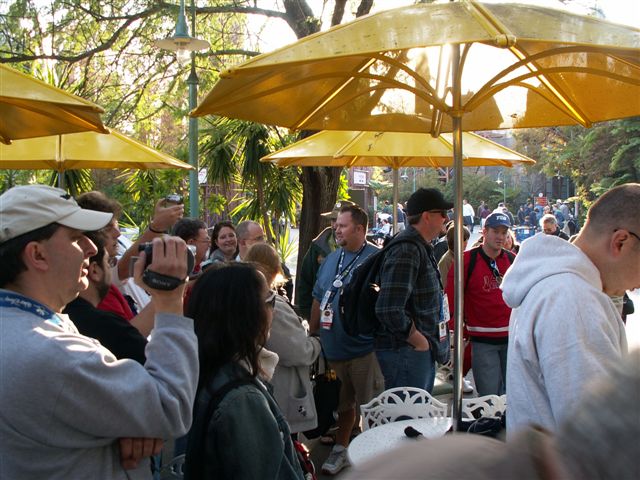 Above: I'll just name a few people in this photo the guy on the far LEFT I don't know, but out at the tip of his nose is a guy with a beard, and behind him a younger guy with curly hair, those are Mark Goldhaber (with the beard) and Mike Demoplolis (younger, curly hair) of the former Sharing Magical Moments podcast (they now host the Mouse Station over at Mouseplanet. In the center of the frame is a guy in a plaid shirt with a goatee, baseball hat, and sunglasses, that's Brad of the Bringing Disneyland Home Vidcast, just behind his back (to the left in the frame), is another goateed fellow with a lanyard on that is Chris of the Big D Video podcast, almost hidden behind Chris is Dave Marx of the passporter books and site. to the far right in the white, hooded, sweat jacket is Tim Devine of the Magic in Pixels web site. Also in this photo is Earl of the Trapped on Vacation podcast, I wasn't going to say where, but, enough of his face is covered that it seems to be ok, and the fact his face is covered up is very appropriate, since "Earl" is a cast member with a podcast, so he likes to stay anonymous. So I'll just say it looks like Chris from the Big D is talking to him.
Below: Cindy from the Bare Necessities/Let's Talk About Disney podcast shows off her, very cool, drinking around the world shirt.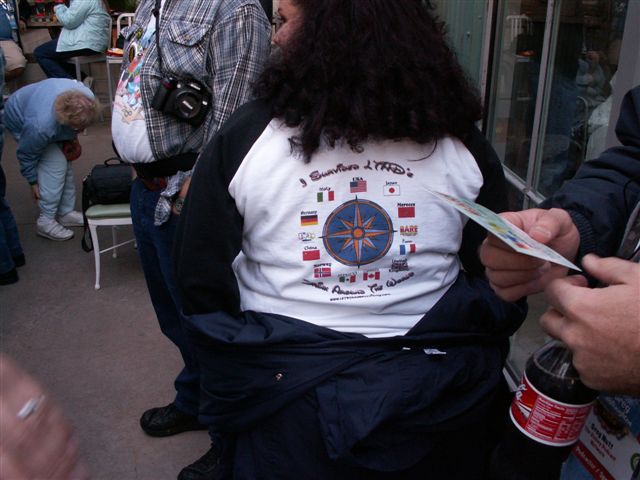 Below: James "dzneynut" of the boards at Disney World Trivia.com, Me, and Mikey Silva of the Cast Member informer podcast.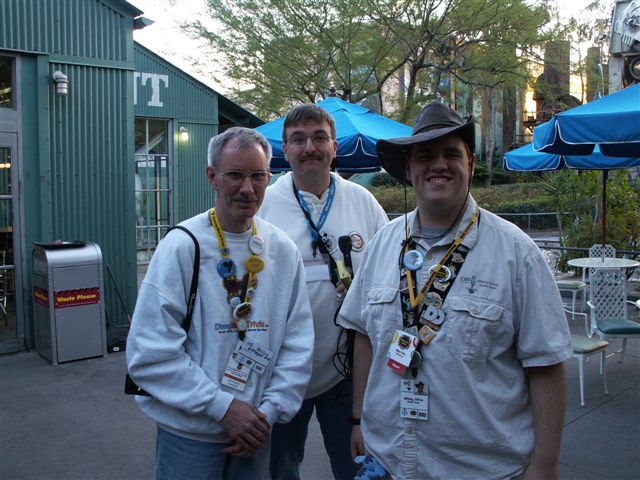 After that it was time for the A Window to the Magic "Where in the Park" group recording, we broke into three groups, one led By Paul Barrie, one led by Ricky Brigante of the Inside the Magic Podcast, and one led by Jeff from Houston of the Meandering Mouse Podcast and founder of the DPN. Audio from that meet was in episode 82 of the A Window to the Magic podcast: http://media.libsyn.com/media/pbarrie/wttm_082.mp3. I won't spoil it for you here by saying where we ended up but, when the tour reached it's final destination the group proceeded to board an attraction, I had to opt out at that point as when I had spoken to Carlene earlier I had set a time and place for us to meet.
Below: By this point in the trip he had worked out that Taxi stand equals guest drop-off in Disneyspeak so that's where I went for Carlene to pick me up, it was starting to get COLD and I was glad to get in that warm car when she got there.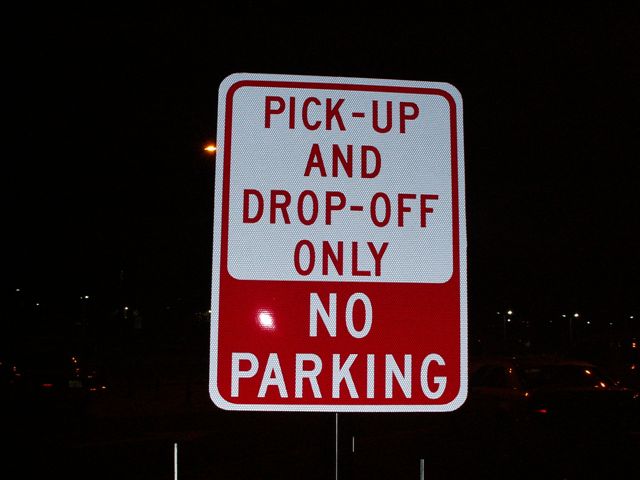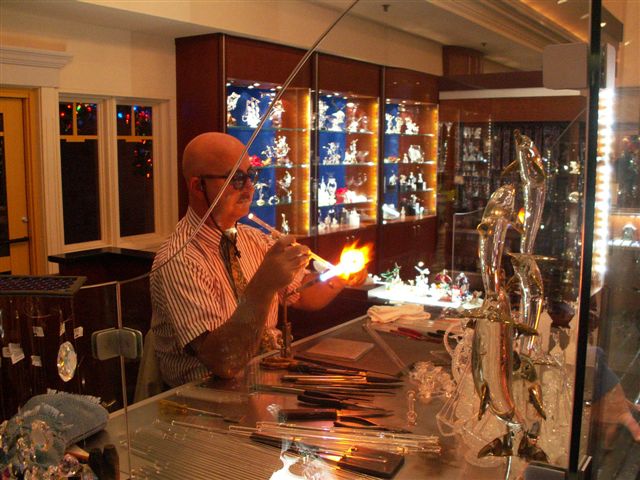 When we left the studios, we headed to Downtown Disney Marketplace Strolled through a few nice warm stores (including the Aribas Y Aribas Glass works) and grabbed a bite to eat at the Earl of Sandwich, before ending up at Raglan Road for the "Shandy" meet, I had a shandy it was ok, though a glass of wine for Carlene and a Shandy for me was something like $14, a bit steep for us.
Below: the room where we were having the shandy meet was a bit far from the stage and accordingly I should have used a tripod to get a picture, I enjoyed the sounds of the band though.