Return to Disneyland
Wednesday, July 13th
A Solution
As we headed out of the park I had mixed feeling about leaving. I saw just how light the crowds continued to be and kind of wished more of our touring time would be like this. At then same time I realized that we had seen three of the best attractions Disneyland has to offer including two that often have the longest lines and had a genuinely nice time on a day we weren't originally planning on spending in the park at all.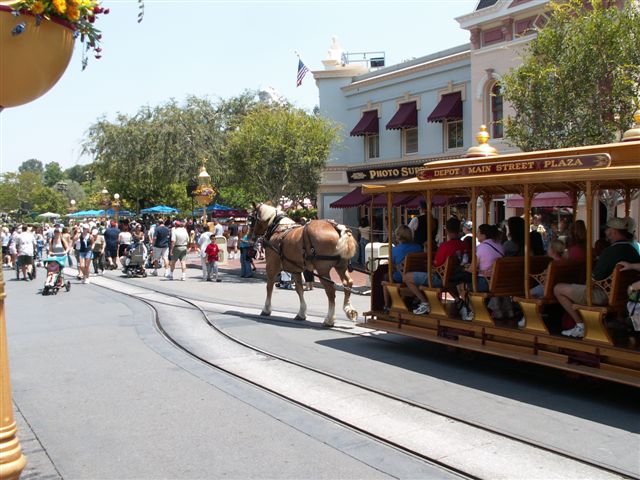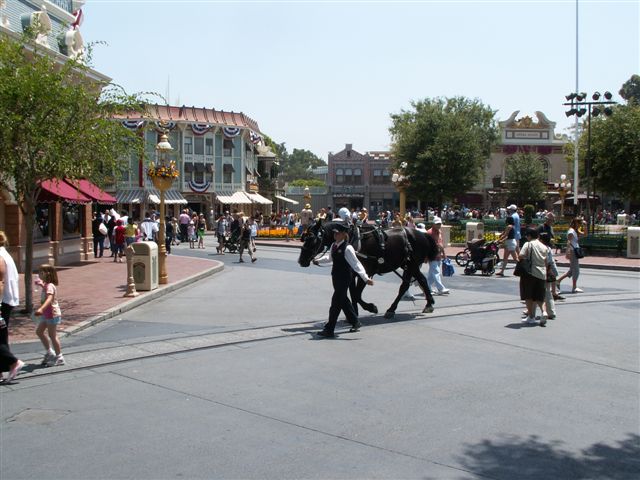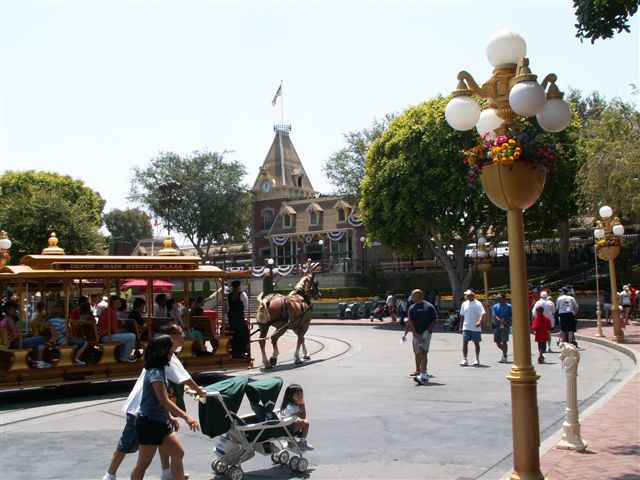 So I enjoyed snapping a few more photos, we looked into the Fire House, and for the life of me I can't tell you why I did not get a photo of the old Horse-Drawn Fire Engine there. Perhaps being this close to guest services I was a bit pre occupied with the ticket situation. So I went to guest services to check the price of an upgrade to Annual pass of course if were both going to be at the park on the 17th it had to be a premium pass (as some July days, including the 17th, were blackout days on the other levels of pass) and if Carlene was not going on the 17th (if that for instance was going to be a shopping day) then I could just use the one day one park ticket my dad had given me on that day, but Carlene had not really made any firm plans at to what if any days would be a shopping day, just mentioned the possibility. So I emerged from guest services more or less still confused. I told Carlene the situation and that I would prefer for her to have the option to come with me on the 17th is she was unsure if she wanted to or not. she seemed ok with that but I was still worried about money, when she realized that that was what had been bothering me off and on for a while now, she re-assured me that the reason we had been pinching pennies a bit at home was so we would not have to worry quite so much while we were on vacation, and then went on to say that " besides if we get the annual pass, maybe we can come back again next year and do a few more things for your dad as well as visit the park " Most of those reading this page are probably long time Disney theme parks fans, those who aren't probably are friends of mine...does anyone reading this really have to have me tell them that this quite solidly made up my mind which way to go here! So we then proceeded across town Square to the Annual Pass processing center where we converted our four-day park hoppers to Premium annual passes.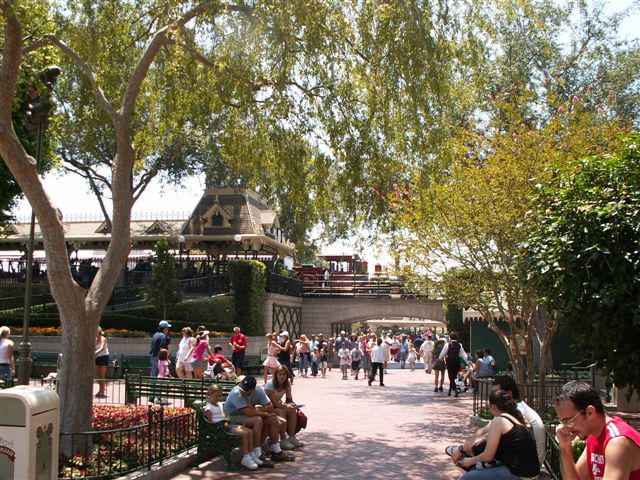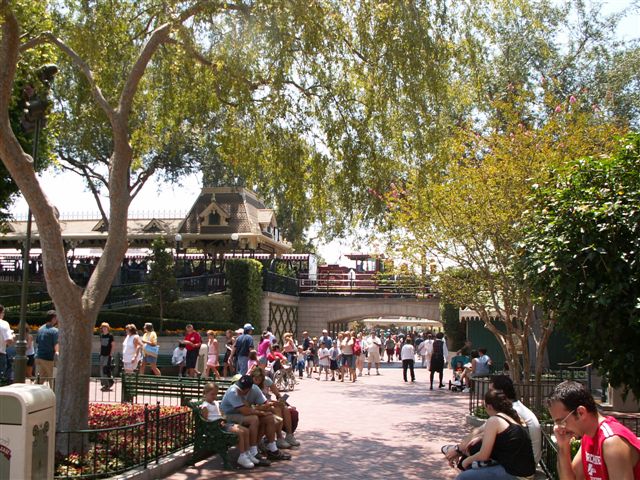 The day had started to warm up a good bit as we left the park, and upon exiting the gates Carlene began to look for a shaded spot to sit and smoke, this suited me fine as it gave me a chance to take a few more pictures. I also took a few minutes to use my wife's cell to call my mom and my sister, since they were the ones with whom I had spent the most time at Disneyland with, I felt really good and wanted to share it with them.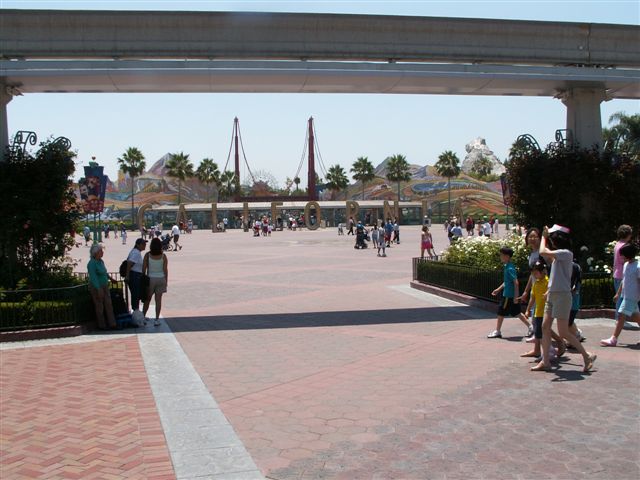 The links on the next three pictures lead to cropped close up versions on these photos.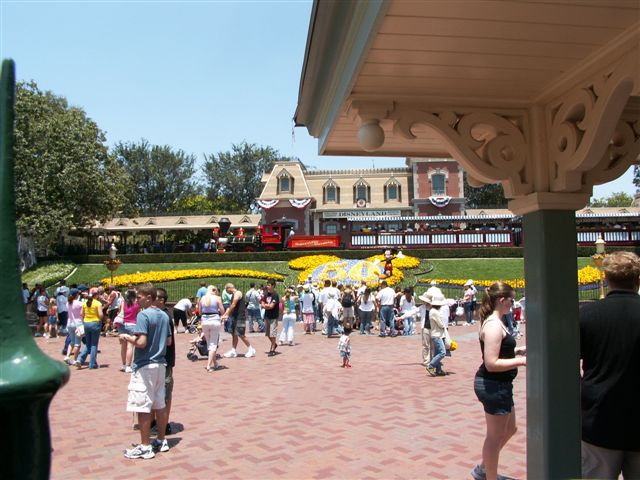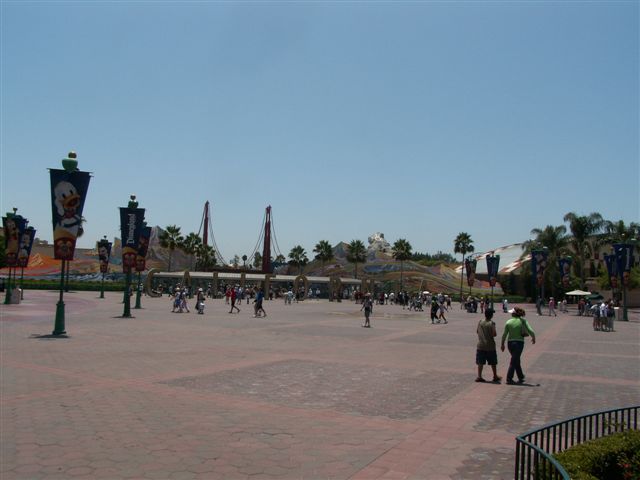 On our way back to the parking deck I took a few more pictures of the trams and the escalators to the various levels of the parking deck.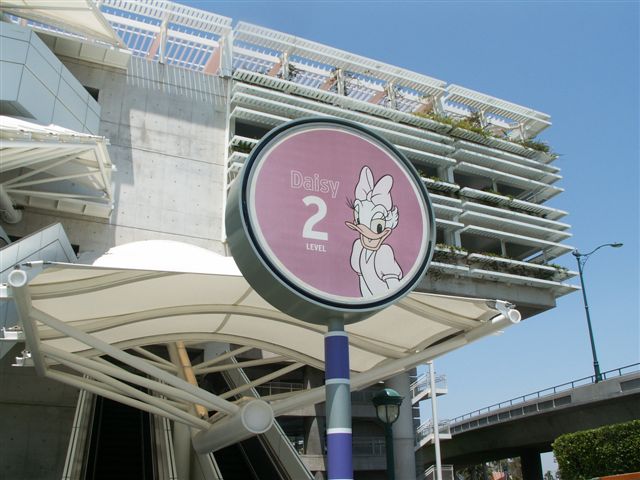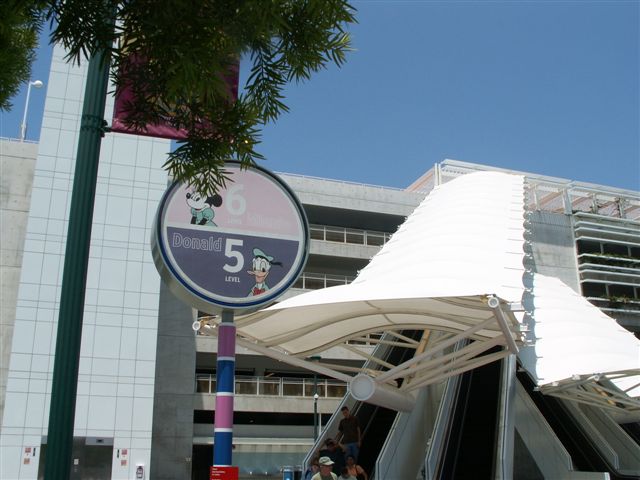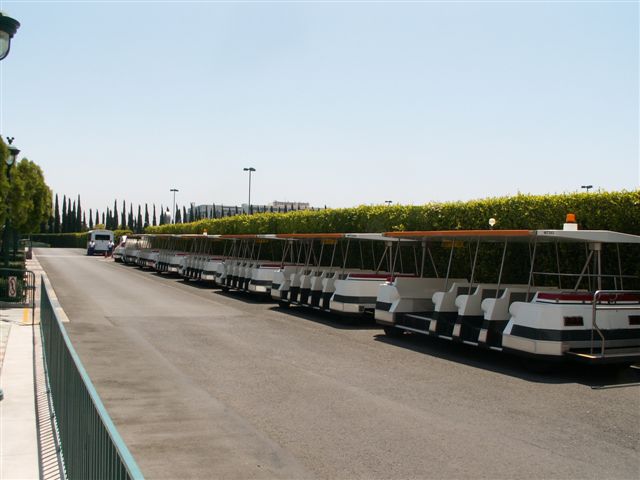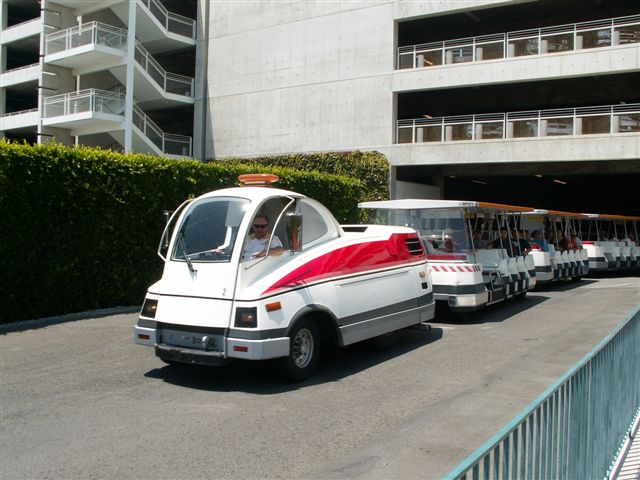 We left going past our hotel we'd be checking into the next day to see if it was as close to Disneyland as we thought (it is!), and then headed North up Harbor to Fullerton where we shopped for some souvenir at AMS character Warehouse (they sell Disneyland's over stock merchandise). I had bought most of the more bulky or expensive souvenir items I wanted before leaving home through Disney lands mail order service, so most of this shopping was for presents some to give to friends soon after returning others may wait until Christmas. We then headed to Buena Park where we had a nice dinner and visit with our friends. We had also taken them up on the offer of a place to stay for this first Orange County night, unfortunately since the night we stayed with them was street sweeping night we could not park on the street, and unfortunately for Sandy she forgot we had parked in close to their garage, she felt so bad about denting the rental car when she backed out her vehicle. I know how she felt, I'm afraid I've had a few accidents that were my fault over the years. Anyways we called the rental car office and they said we needed a police report and to visit an office in the next 48 hours. Since it was just a minor ding the police did not even want to make out a report at first but we eventually got some kind of document from them. Carlene seemed willing to take care of the rental car company (it was rented in her name) so I didn't worry too much about it.
E-mail Me martsolf@mindspring.com
next page
trip reports index page
Back to bigBrians Disney page