Return to Disneyland
Wednesday, July 13th
Splashdown...and Breakfast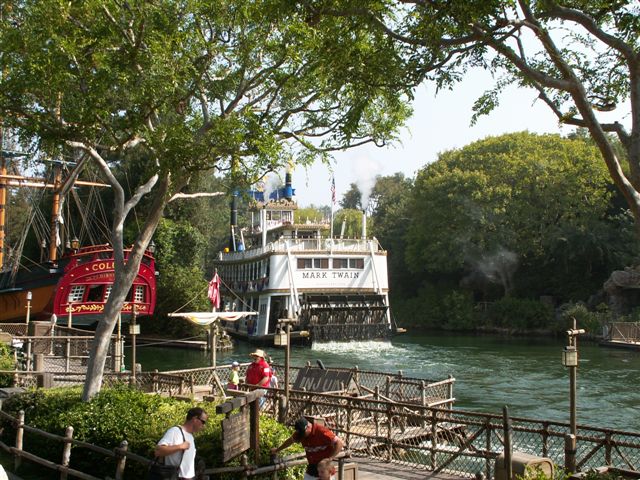 After a reasonably short smoke break (about 10 minutes), Carlene was ready to journey on and, being already back towards Critter Country, we decided to check out Splash Mountain and see if we needed a fastpass or if the standby line was still short, the standby line was quite reasonable, though since I kept seeing stuff I wanted to photograph (Like the freshly put into service #5 Steam Engine, the Ward Kinball pulling the Frieght consist, and a few plants my wife wanted a shot or two of) it took us a few minutes to get in it. I had come to expect, from things I had read and questions I had asked folks about how the two versions of Splash Mountain compare, that the Splash Mountain at Disneyland might be slightly inferior to it's Florida version, but for me it did not seem so, though I realize perhaps that part of that was nostalgia for the old America Sings attraction my sister and I enjoyed as kids, as the ties between this California version of Splash Mountain and that attraction are a bit tighter than those of it's second generation clone in the Mountain Range of central Florida.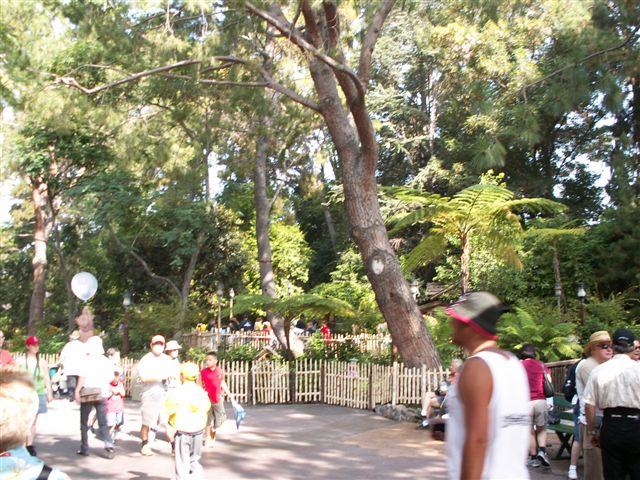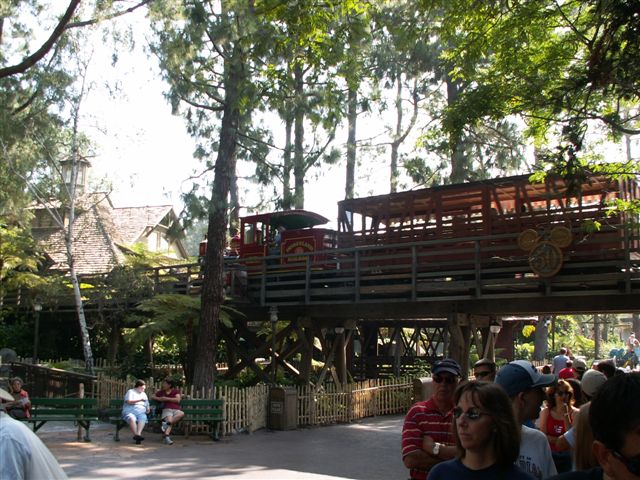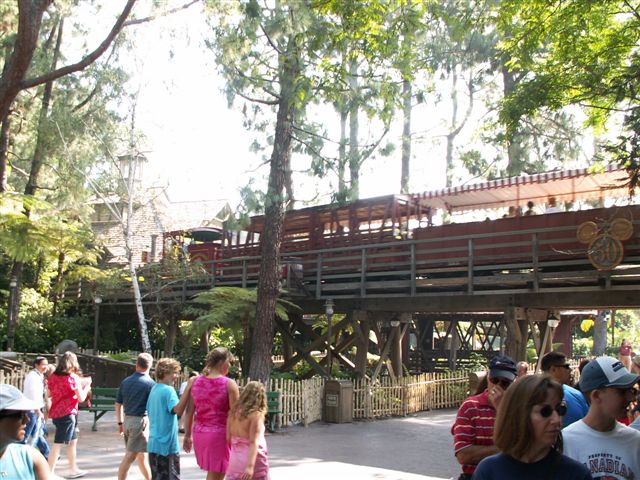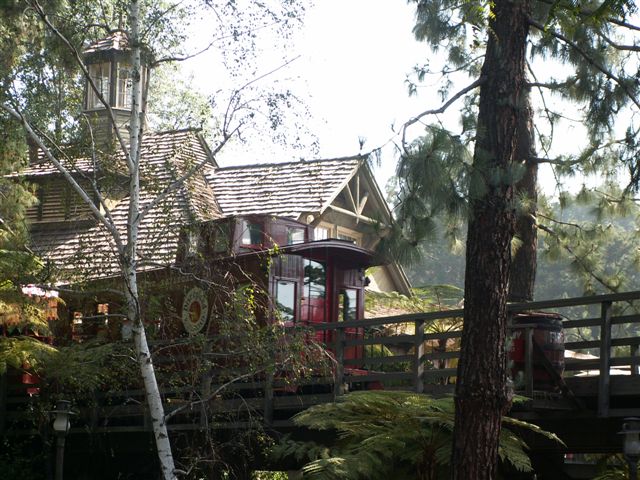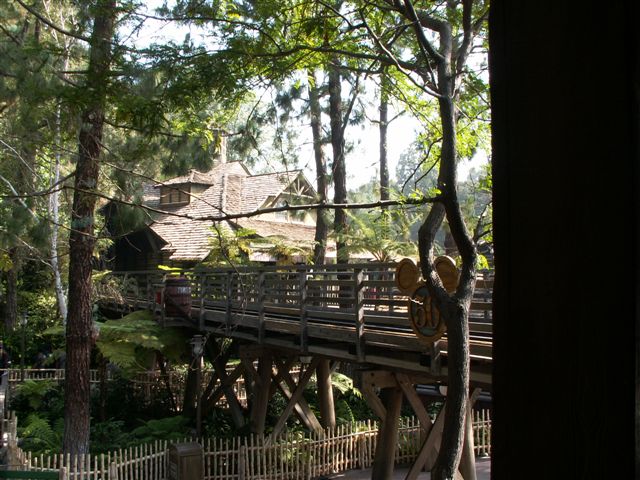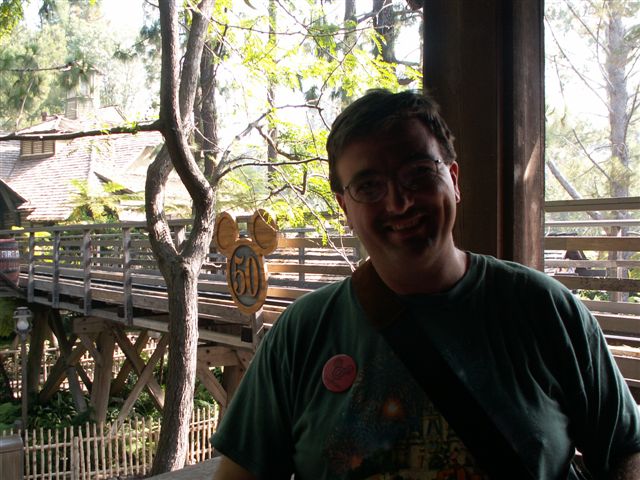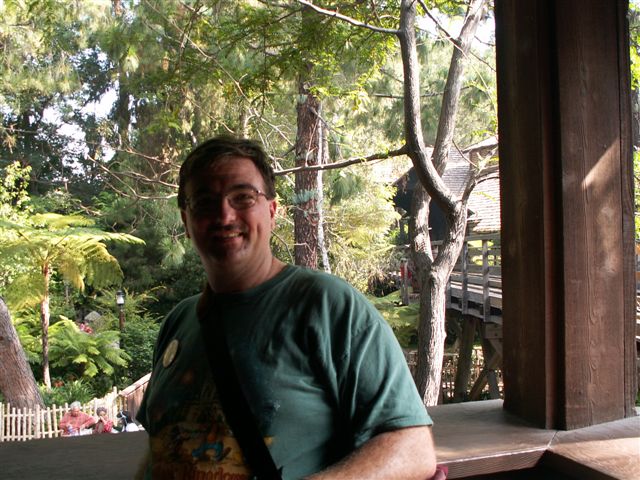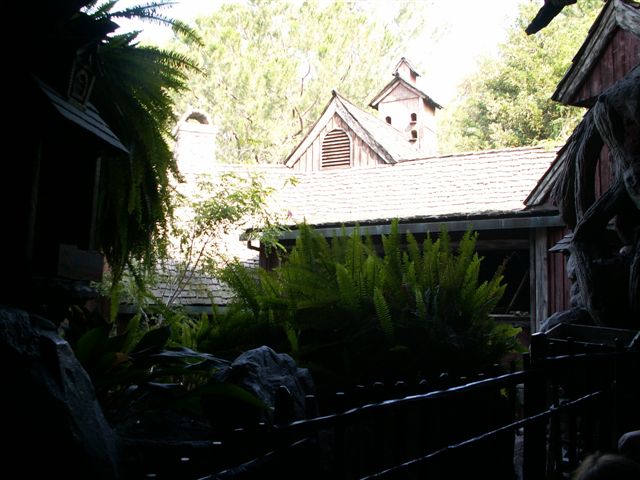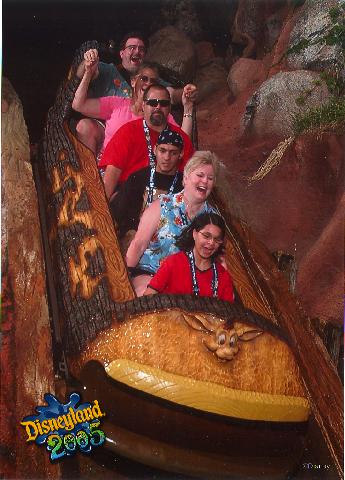 We both enjoyed this attraction and it shows in our ride photo. Once we had picked up our photo Carlene headed to the smoking area while I waited at the trestle for a few minutes to capture another photo of a train this time from the sun lit side of the trestle. Reconvened at the smoking area I took a few more pictures of " river traffic ", a Tom Sawyers Island raft and a duckling, before deciding to head for breakfast at the River Belle Terrace, Carlene had the Mark Twain (Scrambled eggs, country style potatoes, and choice of bacon or sausage and a biscuit) and I had the Mickey Mouse pancake, I ordered this partly because Carlene mentioned she wanted to see how they got them so well proportioned I should have taken a picture or better yet a short movie of how they do this they have a big canister filled with pancake batter that has a squeeze trigger handle on the side, squeezing the trigger lets the batter out of a hole in the bottom center, this helps keep the pancakes perfectly round since the batter just spreads out from that center point and shuts off cleanly, I'm thinking it still takes some skill though as they used the same canister for both the large circle and the small ones so keeping the timing just right is probably quite important (as well as placement of course) anyways you can see the finished product below.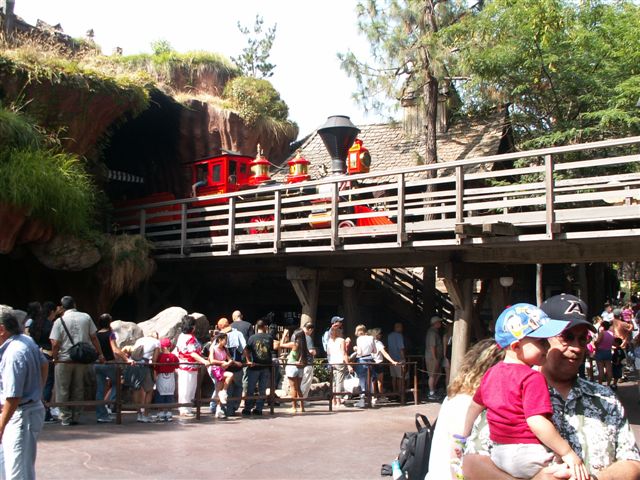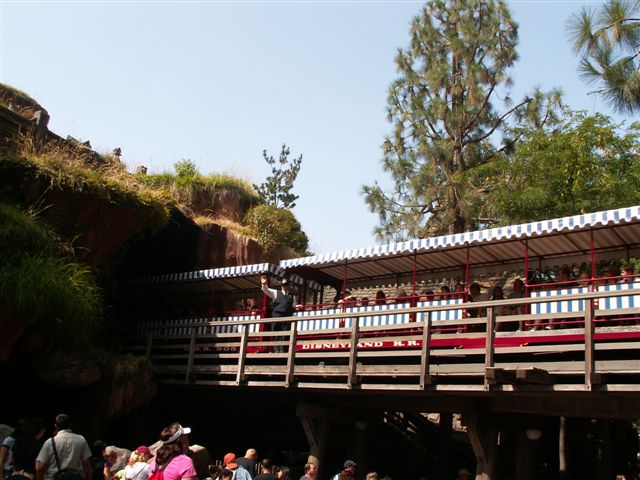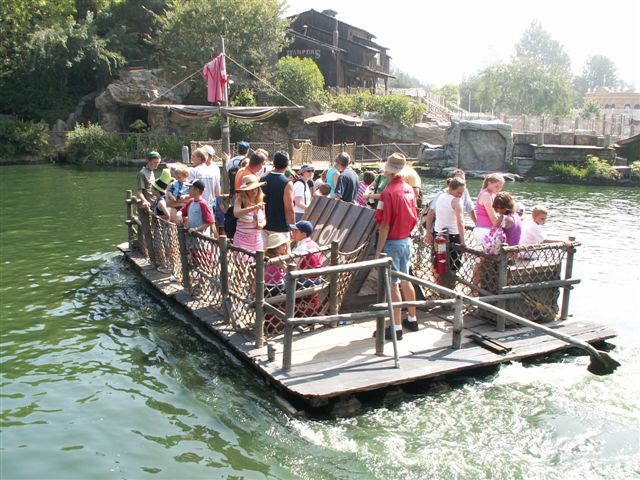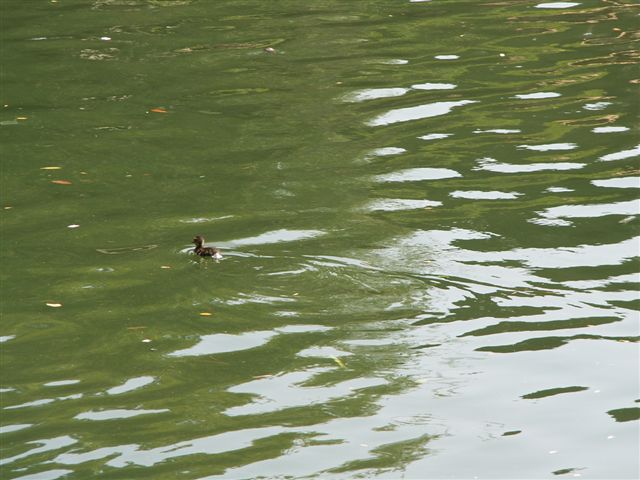 After eating I moseyd on over towards the Racho del Zocalo, hey when you're in Frontierland you have to mosey at least once, besides that's where the bathrooms were. On the way there I noticed an interestingly themed cast member acess to back stage, and I remembered reading that there are very few places where castmembers are refered to as employees on the signs leading to backstage areas, it's only done when it's an element of the "show", in other words, in places where using the term "cast member" would detract from the realisim of the themed sign, as if to prove my point the sign at the Rancho did use the term as it was a more utilitarian sign (as signs at Disneyland go anyhow), so on the way back to the River Belle I took a few photos of the well themed sign as well.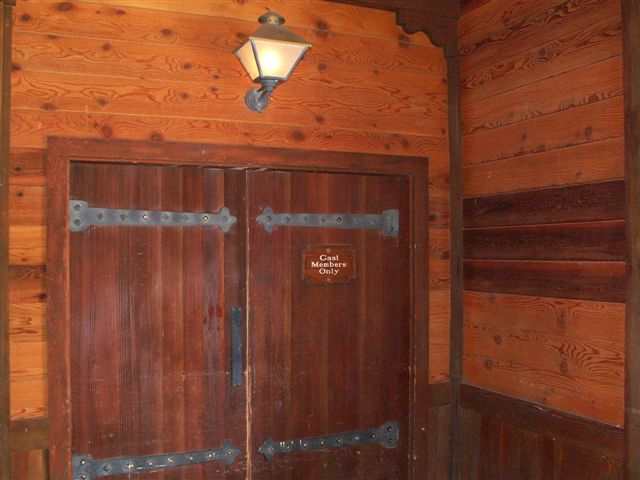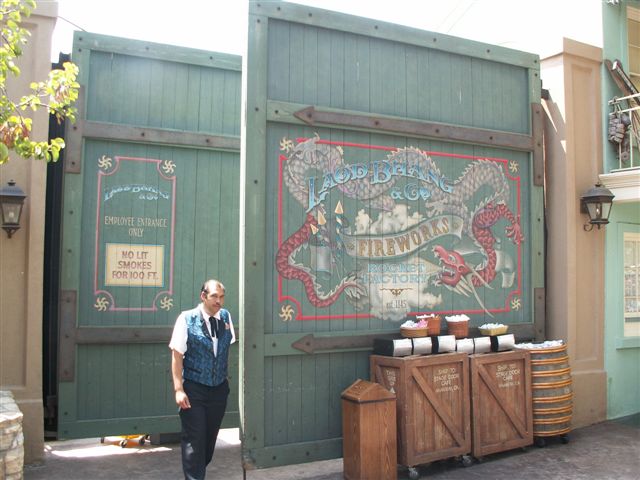 The link on the photo below has the best over all close-up of the sign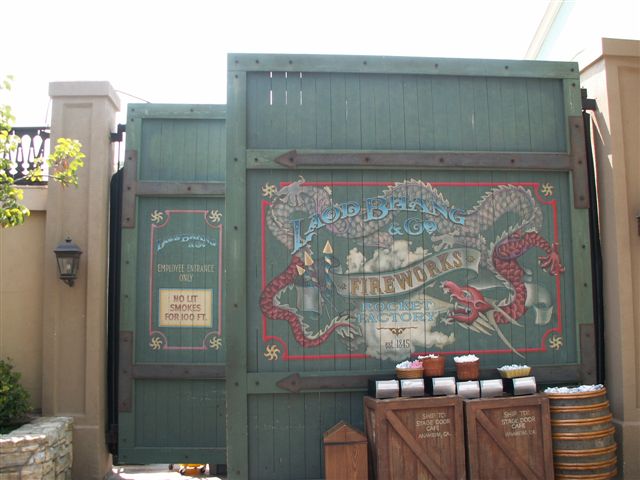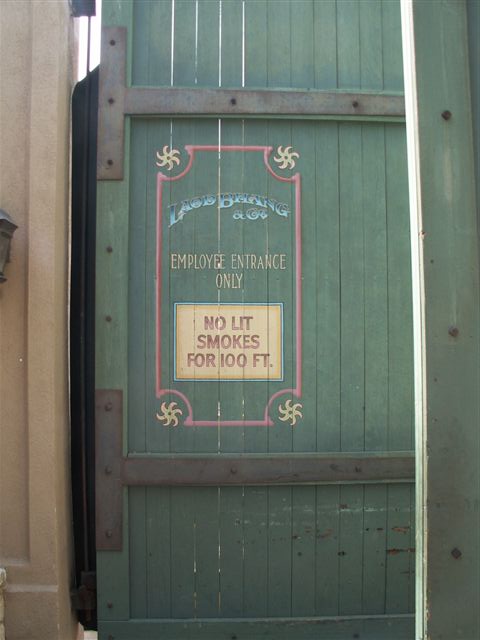 E-mail Me martsolf@mindspring.com
next page
trip reports index page
Back to bigBrians Disney page