Return to Disneyland
prologue:It's only natural
When I first discovered the internet, back in 1997 I spent much of my time looking at sites about Disneyland. My interest in Disneyland was only natural thing considering the fact that I had grew up in the towns near it, and it had always been my favorite place to visit growing up, my history with Disneyland was my reason for wanting to go to Walt Disney World in the first place. Not only that but the first web site that really caught my interest on the World Wide Web was Yesterland which had a great links page, many of those links were to Disneyland related pages, at that time I'm thinking there may have been more Disneyland pages than WDW ones (I'm especially talking about sites with a lot of pictures), and I figure that was natural too, since more folks were computer savvy out in that part of the country where so many technical jobs were at that time. Still most of the first folks I seemed to make friends with via the internet were bigger fans of the east coast parks (including a few who live on the west coast that prefer visiting WDW). Still, over the years many of them made a trip to Disneyland at one time or another, and, as they got to know me, and where my interest in Disney parks stemmed from, (as might be likely to come up when they had just returned from a Disneyland trip) it was only natural that on occasion I might get asked when I was going to make a return to Walt's first Kingdom. It took a while for me to figure out that it would not be any time soon, but it always seemed to come back to, " Well, if nothing else, I'll make it to Disneyland for their 50th in oh-five ". As time passed it seemed less likely that I would get to visit Disneyland before then, so in a sense I've probably been planning this trip since about 1998. In fact when I first met Carlene in 2001 I made sure she knew about this trip fairly early on in our relationship, and have probably reminded her about it on a fairly regular basis since then (especially when any financial decisions had to be made). Since Carlene became unemployed in 2003 we had not made any other Disney trips in order to still be able to save up for this one. I did go to Florida for Mousefest last year but that was a trip staying at an off-property hotel, and with no purchase of admissions, or entry to the parks, so thats about as budget conscious as a trip to WDW could be.
As time neared for the trip plans had to be made, at the first of the year I put in my vacation time. Carlene scheduled the airline to pretty much maximize the time out there, but also giving me a chance to have a little time off at home before I had to return to work. We scheduled it to fly out on my last day of work (a Monday), and back home on the following Wed. giving me all of Thursday and part of Friday to recuperate from travel. My father lives in Poway so I knew I'd be spending some time with him, I didn't want it to be just the travel days because I knew that would probably end up being just a few hours of those days. So we ended up planning to fly into San Diego spend all of Tuesday with dad and also the following Tuesday so he'd have at least two full days with us. I also wanted to visit a friend of mine from my years growing up out whom I had reconnected with via the internet there. In fact, since my friend Deb and her partner Sandy live in Buena Park about a 10 minute (if that) drive from the park we even considered staying with them for the park time, then I saw what the park hours were for Disneyland during our stay, 8am to midnight, that definitely called for a room near the park for afternoon siestas when the park got crowded and hot. I took some time looking through the triple A (AAA) guidebook for Southern California to finally settle on one I hoped would fit the bill. So I then figured the plan for Wednesday to be to travel north show Carlene some of the houses I grew up in, stop and visit the AMS Character warehouse store in Fullerton, and then head to Deb and Sandy's in Buena Park. The park days I stayed flexible on , though I figured Disneyland for the first day all along. In the last few days before the trip my dad mentioned that he and his friend Nina (pronounced Nine-uh) might join us for a day in the parks, this seemed like a good thing to me as that way I'd get to see my dad, his friend, and the park, all in the same day.
Over the years in which I'd thought of this trip though there were several ideas which had came up that I ended up discarding. For the past few years since Carlene became unemployed I'd figured that it would be a non Disney hotel that did not seem like such a big deal as "off-property" at Disneyland is so much closer than off-property at Walt Disney World. Probably the next two ideas to go by the way side were the possibilities of attending the Fantasmic dessert buffet, and club 33 (I have a friend who could have gotten me in). The last thing to go by the wayside was the possibility of taking the "walk in Walt's footsteps" tour. Actually, I was still undecided about this one when we left and thought I might check into the availability of it once we got out there but I never did. That's not to say that all we did was scale back plans once the planning for this trip began, there were a few places where plans grew. One that occurred in the planning stages was the purchase of a digital camera. I knew my friend Deb, the one I mentioned earlier who lives in Buena Park, was into photography, in fact she's the person who first taught me to use a camera, and so I got in touch with her. She told me about a web site that has reviews of a lot of different models of digital cameras. After some study Carlene and I decided on a camera that had features we both wanted in a digital camera the Konica/Minolta Dimagez3 We selected this a few months before the trip and familiarized ourselves with it a good bit before the trip, the following pages owe much to that purchase! Also, there were still quite a few things I wanted to do at the park that would be unimpeded by this slightly lower funding level, of course I wanted to try out the new rides that were not there when I was kid, as well as enjoying my old favorites. Also, when I was a kid we never really stopped and enjoyed the live entertainment (I think my mom would say she couldn't get my sister and I to slow down long enough), and since this is one of the things I love spending time enjoying at Walt Disney World when we go there, I figured it would be high on my list this trip as well. Also it's not like we were going on some kind of austerity plan, as another of the things we did not do much of when I was a kid was eat in the park (probably for the same reason we did not catch much in the way of live entertainment), and that was something I still planned on doing this trip.
July 11 and 12th
I worked Sunday midnight until noon Monday. There were the leftover remnants of a hurricane heading up the Mississippi valley, and I belive that was why our initial flight had so few people on it, there were approximately 30 passengers on our McDonnell Douglas MD80. I slept probably close to two hours of that leg of the flight but was awake for the next flight from Dallas Fort Worth Intl. to Lindberg Field in San Diego arriving around 11pm. Coming out of the plane into the San Diego airport (Lindberg field) there are a series of lighted advertising displays, many of which promote Southern California tourist destinations like this one for Disneyland.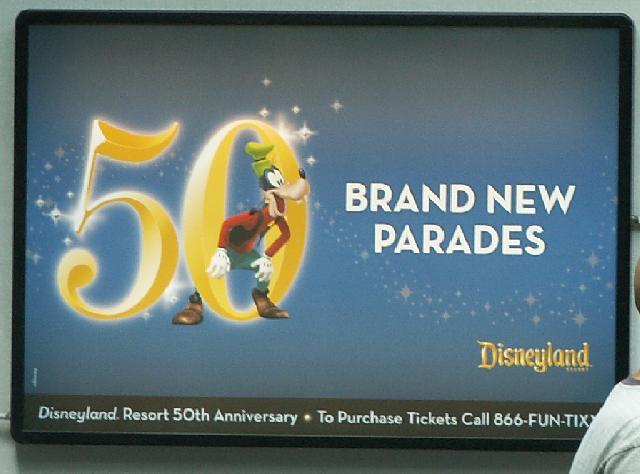 ...but that wasn't the first lighted sign that really captured my attention, there was one sign that was so "in your face" in it's message and the way it presented it, that I just had to point it out to my wife Carlene.


It made quite an impression on her as well, probably even more so on her, since I don't smoke, let's just say it was not the first thing she wanted to see after not having had a cigarette for over eight hours. After picking up our car from Hertz (airline and rental car were both booked through priceline) we headed to my dads in Poway, there were a few detours not accounted for in my mapquest directions, but we worked our way around them easily enough.The next day, as planned , was spent with my dad. We also firmed up plans with my day for him and his friend Nina to meet up with us Thursday. Over the course of the previous days Carlene had mentioned a few times that she was a bit surprised that all I had planned for Wed. was the trip to Orange County , showing her some of the places I grew up, and visiting with my friends (Deb and Sandy) in Buena Park, and by the end of this day at my dads I pretty much had decided that we would, after all, visit the park the next day. This change in plans would necessitate a change in regards to our tickets we had two four-day park hoppers we had purchased through Disney online, and I had a one day one park ticket my day had bought for me at Christmas after I had told him I would be coming out. Carlene had mentioned that she might not spend all the park time with me and I had figured that if she was going to do a shopping day that might even out the tickets,with this additional day it was clear that we would need to come up with something else, and if some sort of ticket upgrade was involved the first day we used the tickets would be the day to do it (as we would still get the full value of the tickets that day). I considered the possibility of purchasing an annual pass , but I figured that the 17th was a blackout day for most levels of the AP. Still, I did not have a firm solution in mind as we headed out for the park the next morning.

E-mail Me martsolf@mindspring.com


Wednesday, July 13, 2005

trip reports index page

Back to bigBrians Disney page