October 11, 2007
RADP 12
Sounds recorded at the same time as the pictures on this page were taken are in a COUPLE of episodes of my podcast...

For Piano Man Jims Set, to open the sound file now, you can click on the following link OR right-click on the link and choose SAVE TARGET AS to save the file to your hard drive. a href="http://media.libsyn.com/media/bbdp/bbdp38.mp3"> http://media.libsyn.com/media/bbdp/bbdp38.mp3
SHOW NOTES Episode 38 - MORE Mousin' on Main Street

For the Notorious Banjo Brothers and Bobs set, to open the sound file now, you can click on the following link OR right-click on the link and choose SAVE TARGET AS to save the file to your hard drive. a href="http://media.libsyn.com/media/bbdp/bbdp39.mp3"> http://media.libsyn.com/media/bbdp/bbdp39.mp3
SHOW NOTES Episode 39 - The Notorious Banjo Brothers and Bob
Coming out of the alley where I had visited Pluto I noticed the Tuners were back out and already playing Under the Sea, the councilman was with them, interacting with guests and as they completed that song the Mayor walked up prompting them to play a few bars of Hail To the Chief before launching into Down on old Main Street for which the mayor provided the singing, then there was yet another Happy birthday (Maya), during this set there was actually a castle stage show going on, but with the volume level the sax quartet provide, it didn't really seem to cause a problem and the Mayor and Councilmen continued (mostly the Mayor, but the councilmen chimed in for emphasis) by singing (you've got the cutest little) Baby Face after that the Toontown Tunes went into an instrumental of Belle during which the stage show at the castle finally came to its conclusion since this song has some quieter passages in it I can hear the ending of the stage show a bit in the background of my recording of it. Next up was Supercalifrgilisticexpialidocious during which assistant to the Mayor "Andy" did a verse of the singing in addition to the Mayor. Within a minute or so of that ending, and the Tuners heading in, a trolley show was coming down Main Street, Main Street really stays hopping with entertainment!
I made it up to Caseys Corner in time to catch Jims 11:15 AM set
I met a Million dollar Baby in a 5 and 10¢ store
I want to be loved by You (some things Jim talked about after the song are at this link)
Maple Leaf Rag
Coney Island washboard/ Goodbye My Coney Island Baby
Twinkle Twinkle ragtime variations/ When You Wish Upon A Star
When I take My Sugar to Tea (snippet)
As Jim left the piano it was already getting really close to time for the Notorious Banjo Brothers set, so I headed that way...
Ghost riders in the Sky
notorious shuffle (they move a bit between songs)
Bugle Call Blues
Happy Birthday (Aiden)
I'm An Old Cowhand
notorious shuffle (they move a bit between songs)
Happy Birthday (Christian)
notorious shuffle (end of set heading off-stage)

Continuing my Tour of WDW music acts, after seeing the Notorious Banjo Brothers perform, I returned to Main Street for the noon set of the Main Street Philharmonic. On the way I passed Casey's Corner and Jim, who I had just seen playing right before I went to catch the Banjo brothers, was already back out,
Heres the set list from the Main Street Philharmonic set:

Strike up the Band
Lassus Trombone
South Rampart Street Town Square Street parade
Hold That Tiger
...after the Main Street Philharmonic finished their set I went back up Main and Piano Man Jim was Still going! He played a song I recognized from hearing Alan Thompson play it on my 2005 trip to Disneyland, but I didn't know the title so I asked Jim and he told me that it is called Spanish Eyes but when he started to play again another guest started to talk to me (and talked through most of the song) and listening back to the audio now I realize that I have no idea what the name of the next song he played was, but after that he played the St. Louis bluesbefore ending his set. I hadn't planned on catching Jim again before going to see the Tuners in Fantasyland, but it just seems like perhaps he likes to play so much that he gets out to do his sets early, his set was scheduled to start at noon the same as the Main Street Philharmonic, yet he was playing several minutes before they came out. once I got into Fantasyland I had a much better idea of just how to find the tuners there then I did the first time I went to look for them there, you see back during Mousefest 2006 I tried to find them but didn't know exactly where in Fantasyland they came out this time I caught them as they were marching out playing a medley of Pinocchio Songs, they marched out to the Dumbo Queue, the same place I caught them in 2006 but in this case they were still wearing their Toontown Tuners outfits rather than being in their "Cinderella's Royal Saxaphonists garb. here's what they played:

Pinocchio Medley (marching out to I've got no strings/Hi-Didddle-dee-dee/Give a little Whistle
Friend like Me
Happy Birthday
Belle
Whistle while you work (marching off-stage)
The area near the Dumbo queue was VERY congested and is NOT a great place to record, the saxaphones sound good, but the guy introducing the songs is hard to hear.

Continuing to use my live entertainment schedule to plan my day I headed towards Liberty Square, this time I had plenty of time before the Banjo Brothers came out, so I took my time through Fantasyland and Liberty Square just enjoying the sights. In fact when I got to Frontierland a set of Woody's roundup was just starting, so I knew I had the whole time that would run at least before the Banjo brothers came out. I sat down near the show but behind most of the crowd and took care of some minor business like changing batteries in the camera (requiring resetting the time too) and touching base with my wife to see if she had been able to check in early and take a nap like I knew she wanted to she was checked in, but when I inquired about the nap I lost the call, apparently she had been trying to call me though and so I looked through the phones settings and saw the ringer had been turned off and fixed that (just to vibrate though I'd hate for it to ring while I was recording something). After the roundup I headed over to the porch of the Diamond Horseshoe which is where the Notorious Banjo Brothers and Bob typically come out. They performed the songs of this set over on the Mainland dock for the rafts that go over to Tom Sawyers Island, keeping the guests waiting for the next raft entertained.
Notorious shuffle (marching out - interrupted by Happy birthday to Nathan)
Unknown Rag
Jambalaya
Woody's Roundup
"notorious Shuffle" (marching off stage)
Just as the Banjo Brothers were marching off-stage the "in just a few minutes" announcement came over the loudspeakers for the NEXT Woody's Roundup, so even in Frontierland they keep the schedule pretty full with various live entertainment.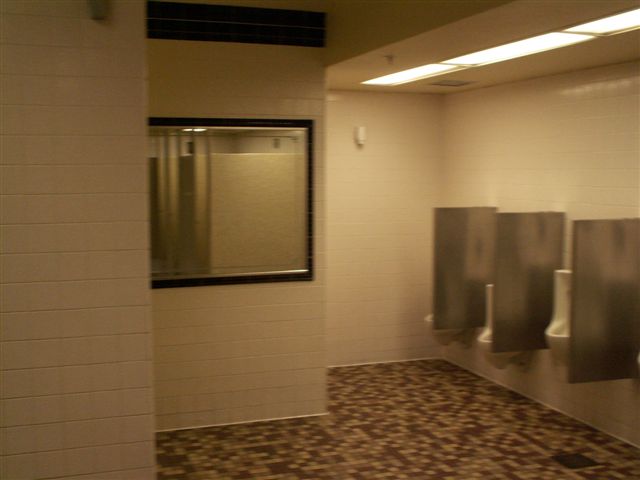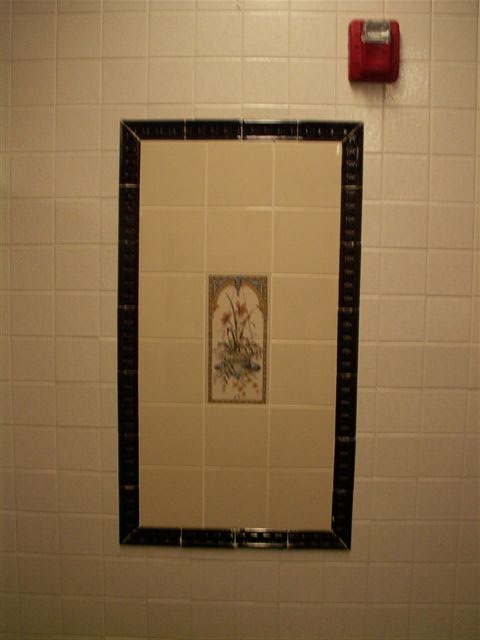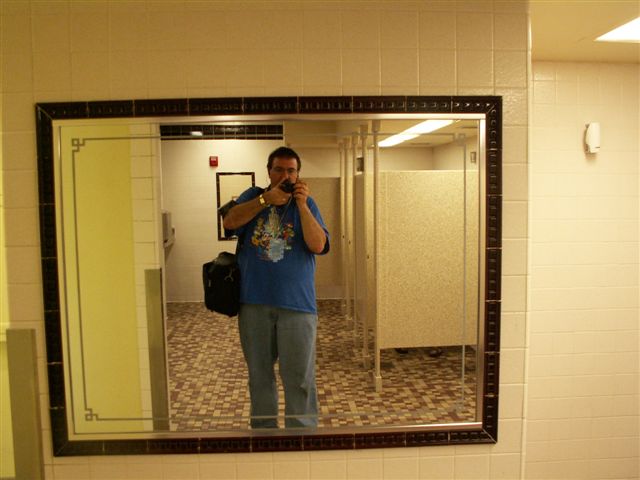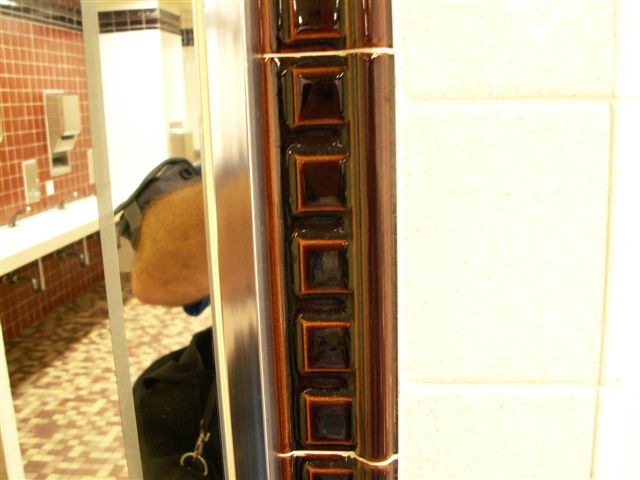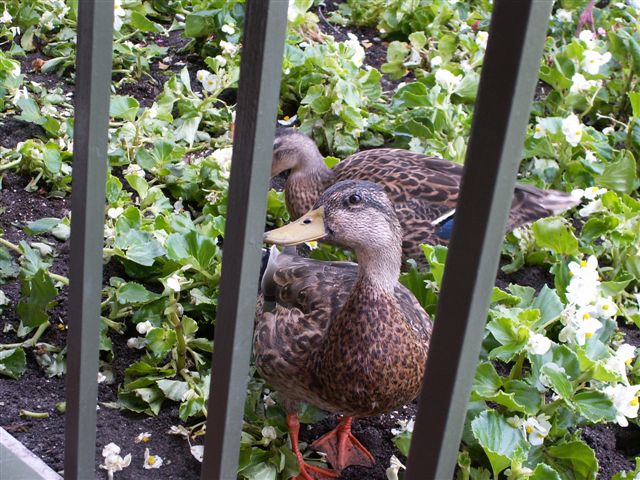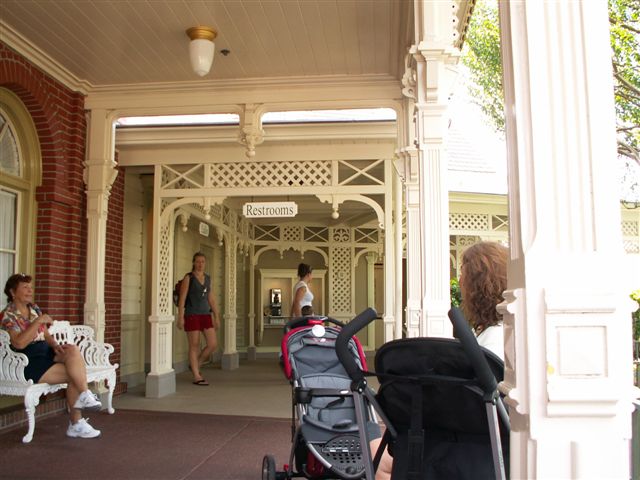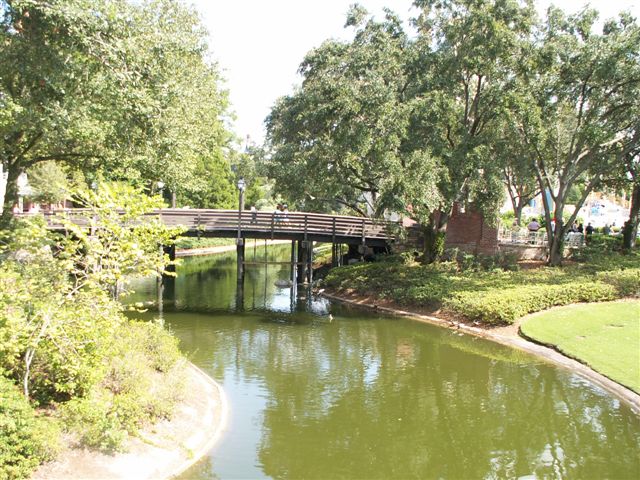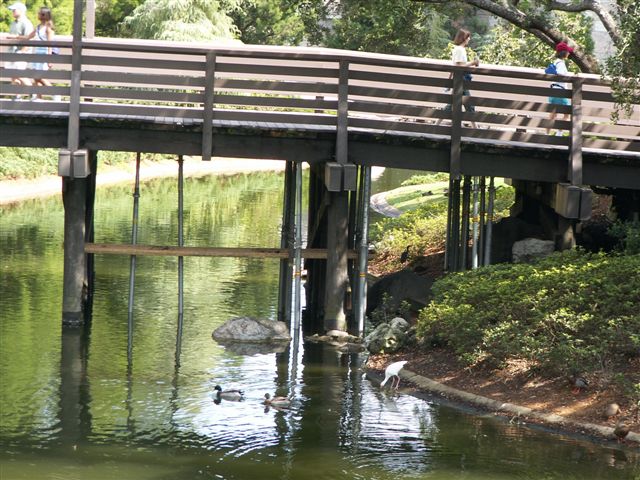 above: I took this picture in hopes that I would be later able to find out just what was up with the Liberty Square bridge, since then I've heard that years of these wooden pilings in the Florida humidity being crossed by multi-ton parade floats every day has them seriously trying to figure out how to replace it without taking the parade out of service every day.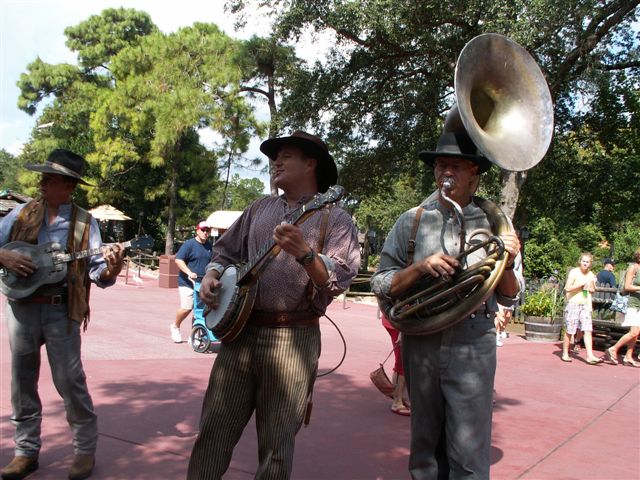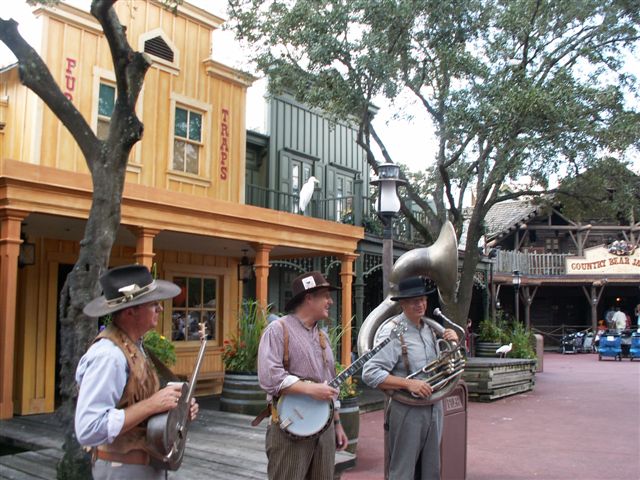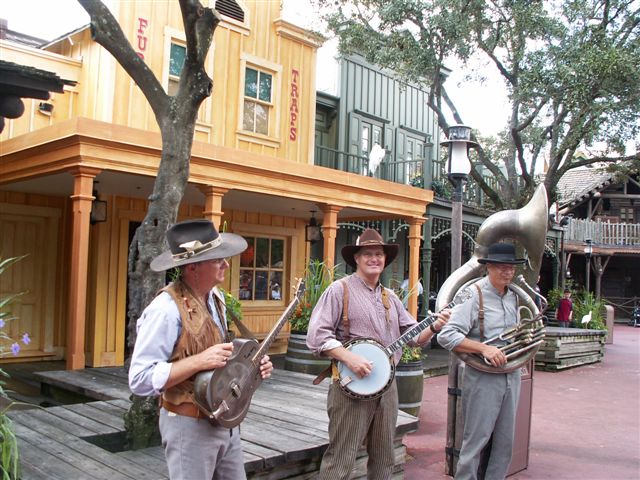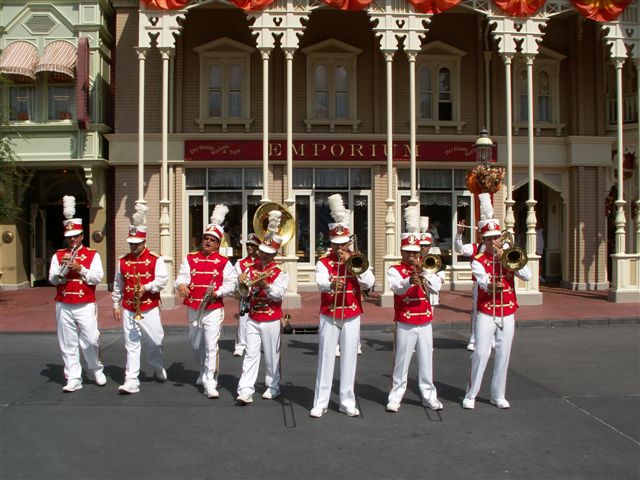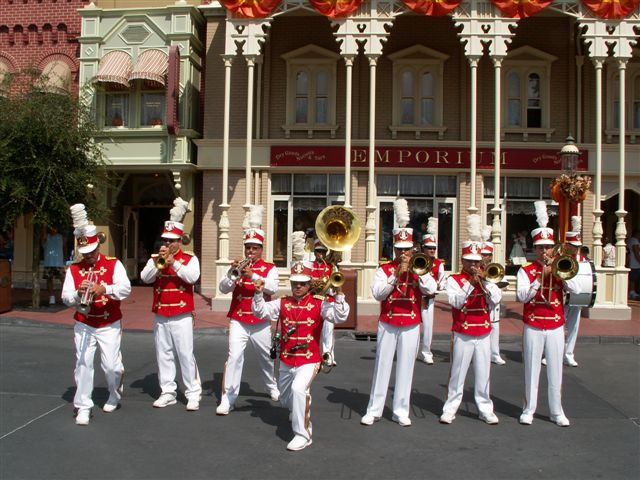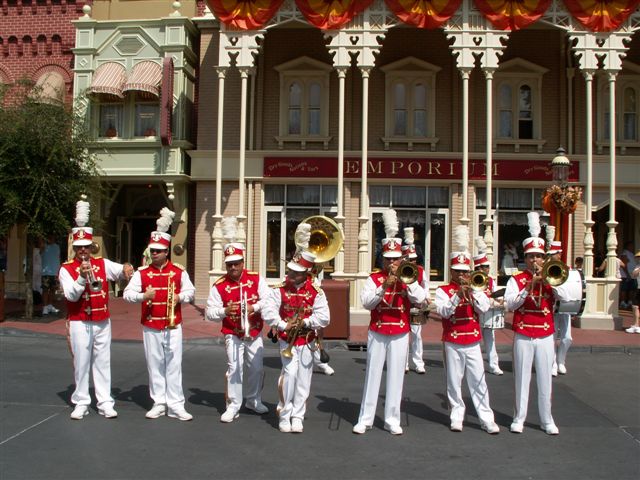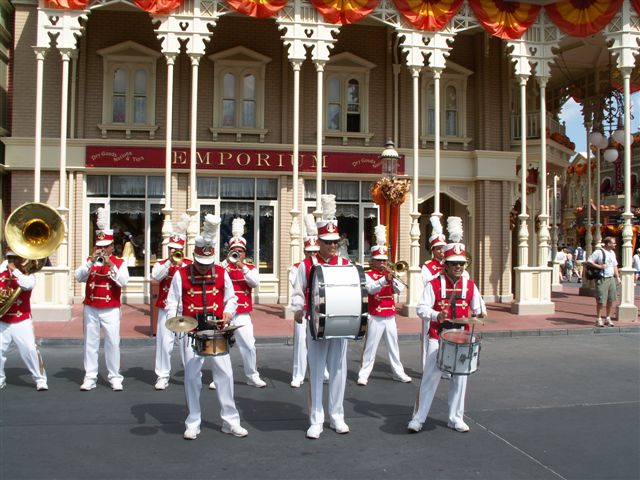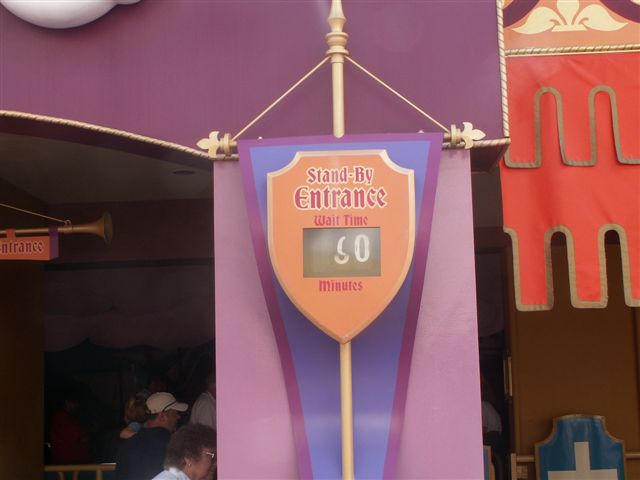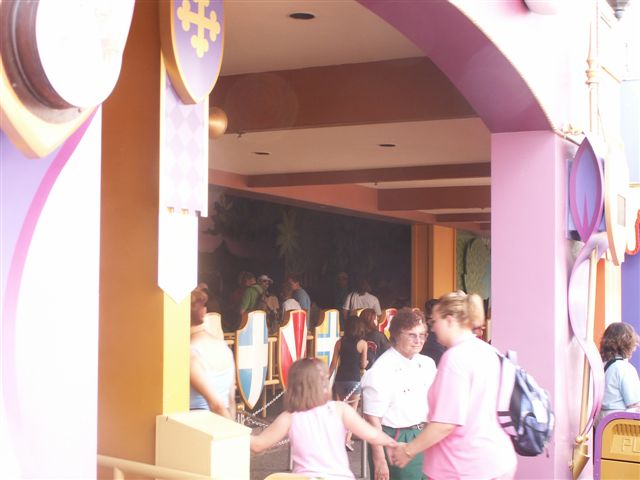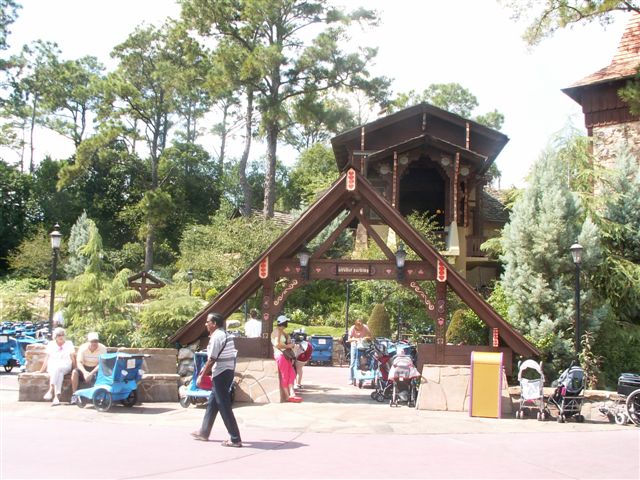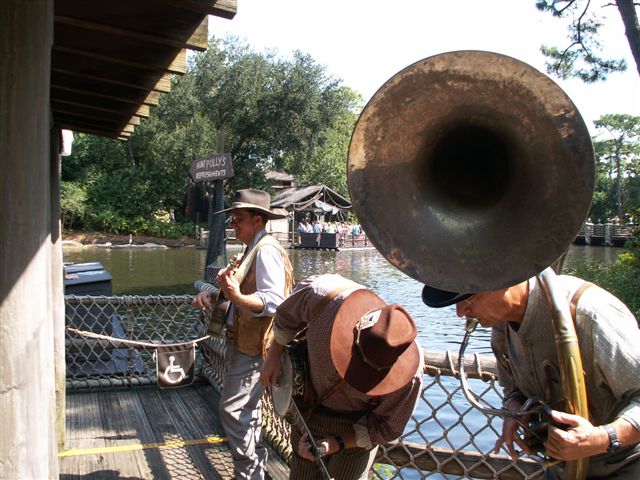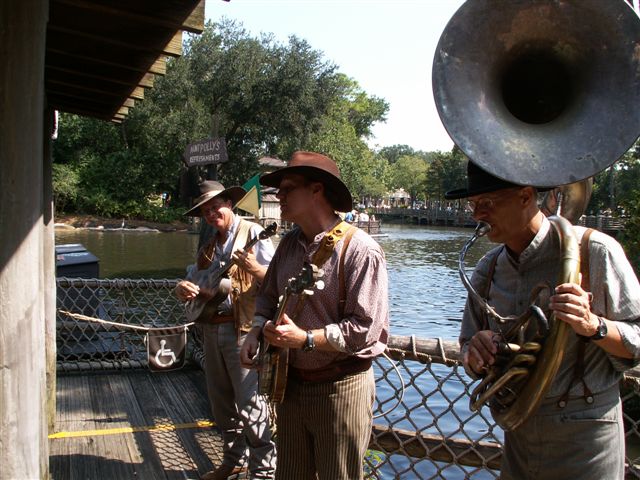 Next Page

E-mail the webmaster Brian Martsolf martsolf@mindspring.com

Trip Reports Index Page

Big Brian's Disney Page - Main index

last updated 23-May-2008 09:20 AM