June 2007
Frontier Fun
After catching the Main Street Philharmonic I was feeling pretty good I had sets of three different groups on Main Street, now since I had lost audio of the Notorious Banjo Brothers and Bob from the previous day it seemed like Frontierland was a good next stop still I had enough time that I didn't have to rush right over so I hopped a train over at the Main Street Station, since the train was pulling in right as I started up the steps I didn't even take time to take another look at the Seeburg Music Box.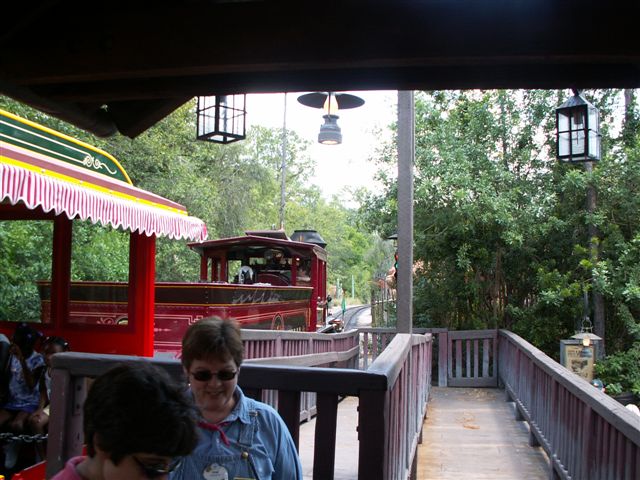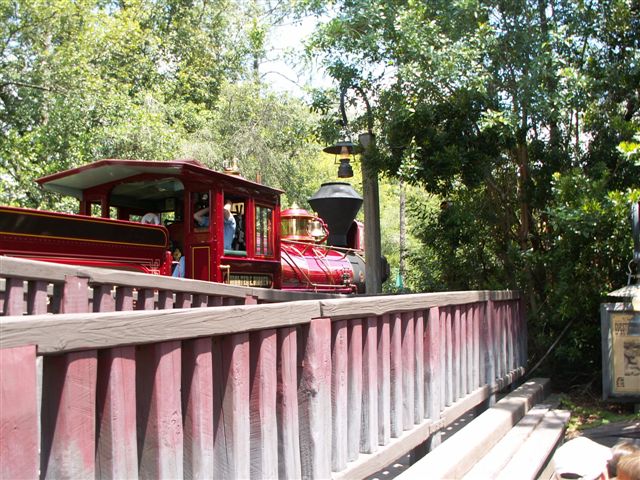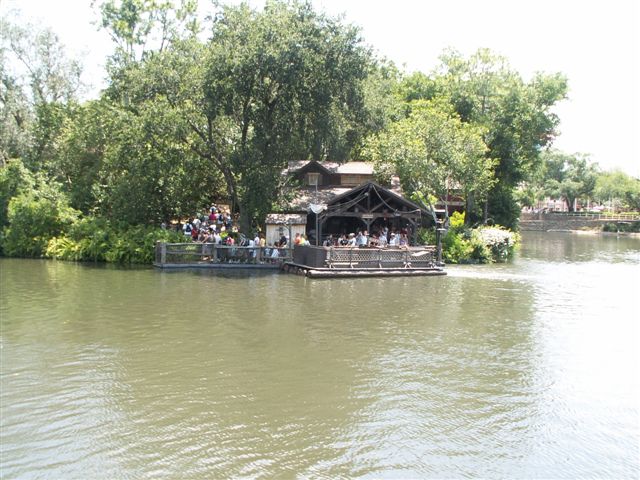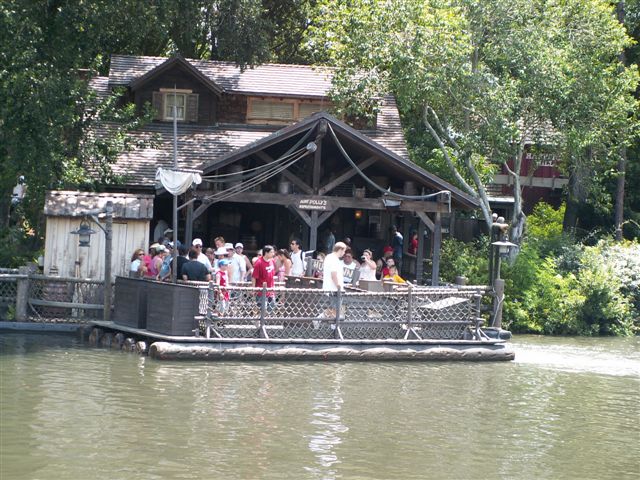 My last trip in December I took a nice series of photos of the Island, I didn't get back over there this time but there was one thing I did want to check out Kevin Yee has been pointing out that the Windmill has had a broken arm for a while, I wanted to look to see if it was still broken, also I was interested in seeing it because there is an early WDW postcard with the windmill in it, my feeling is that with the growth of the trees and the addition of the parade bypass wharves along the rive it would be a hard view to replicate today, in fact from memory I couldn't even hazard a good guess as to where to stand to try to replicate it I'll have to take a photocopy of that card in with me some time to see if there is any view like that left, or if it is more like the Castle view that no longer exists that I mentioned in my Mousefest trip report. While they shouldn't leave stuff broken you have to either be on the Island, the steam ship, or walk almost over to the Smoking area at the dead end by Big Thunder to get a good look at it, yeah they should do something about it, and it's been long enough that it should be soon, but if they really have had a great number of issues that have needed immediate care I can see why this might have been an easier one to put off, on the other hand if they are just putting it off because it's only visible from a relatively small area then perhaps they are loosing some of their attention to detail that they have been famous for maintaining in the past, so I guess you could say I see both sides of this.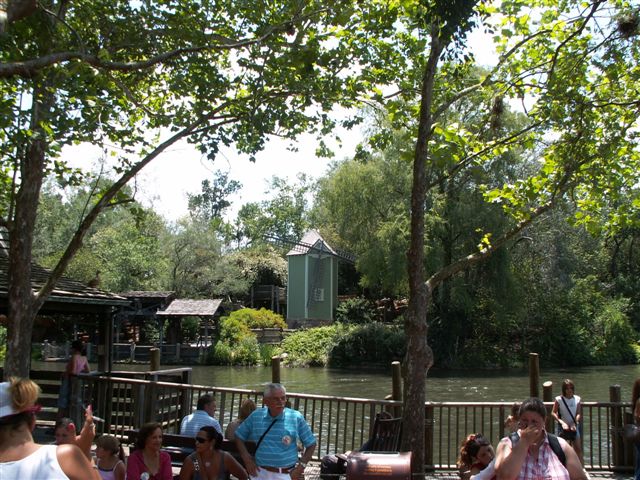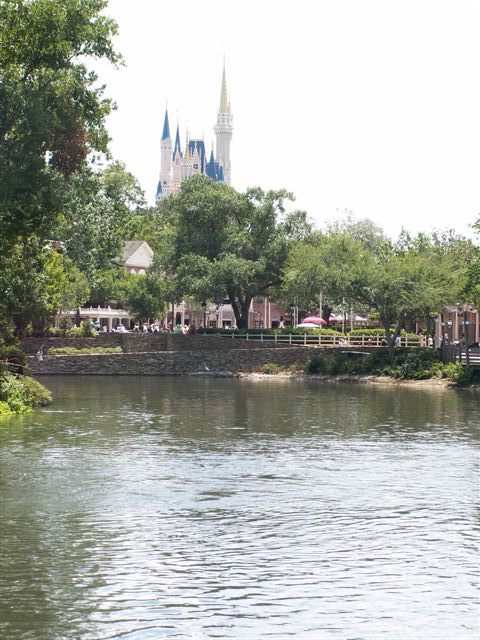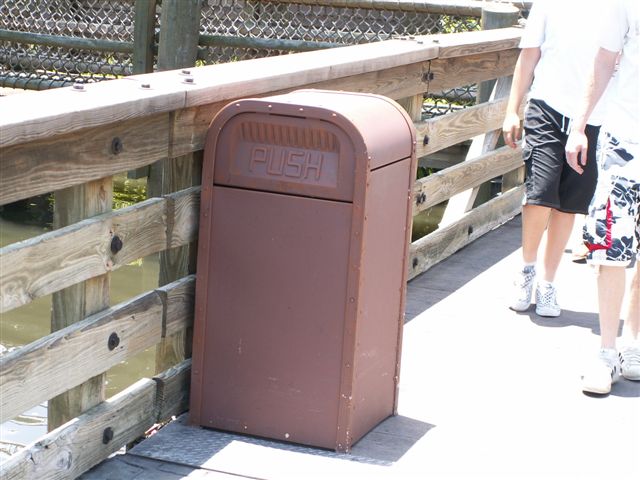 It was getting close to time for the Notorious Banjo Brothers and Bob to come out so I headed on over towards the Horseshoe where it seemed they had came out from the previous day, on the way I saw this unthemed trash can (above), and liked the "set piece" beached raft I saw next to the mill (below). As I approached the Horseshoe the NB³ had formed up out front and started a little march through Frontierland, at first I walked rather slowly to avoid jostling the microphone but they started to get way out ahead so I had to pick up the pace. We went all the way over to the Tom Sawyer Island rafts where the band played for the folks queuing up for the trip to the island (and me). Here's the list of what they played:
A. Notorious Shuffle (going to TSI rafts)
B. Old Slew Foot
C Never Smile at a Crocodile (for a joke)
D. Bugle Call Rag
E. Lover please come home
F. Notorious Shuffle (returning to off stage)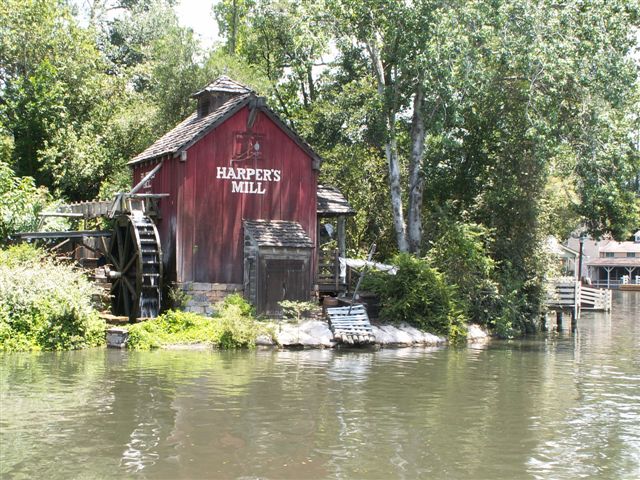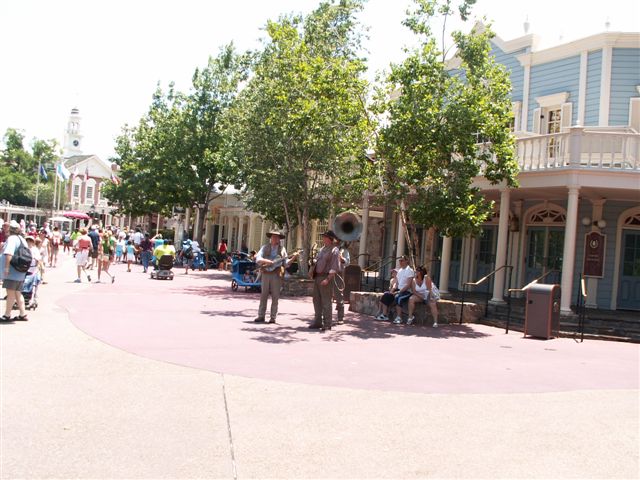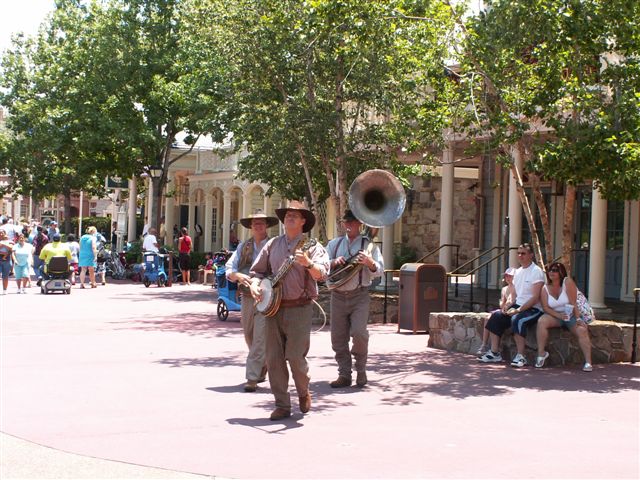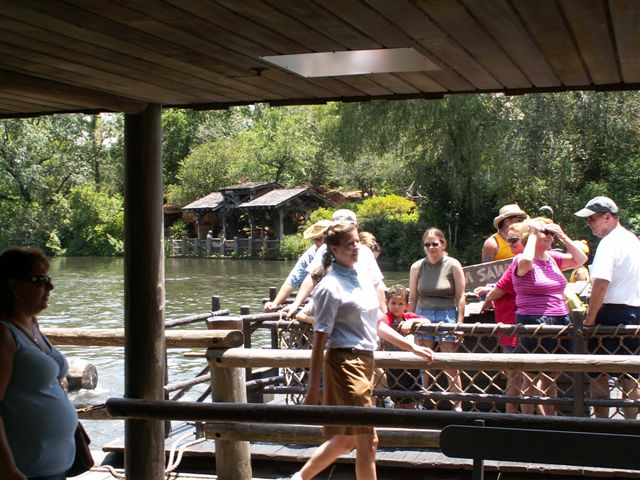 The cast member in the photo above is the one from Kentucky who requested "somthin' from the Bears Show" in episode 19 of the podcast, the fellow below is the one who laughed when they played a bit of "never smile for a crocodile" while we discussed their "visitor" (a gator whose eyes poked up from the water under the nearby wharf).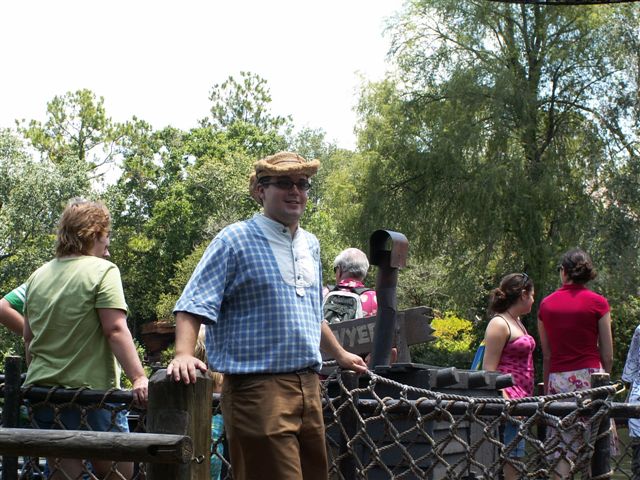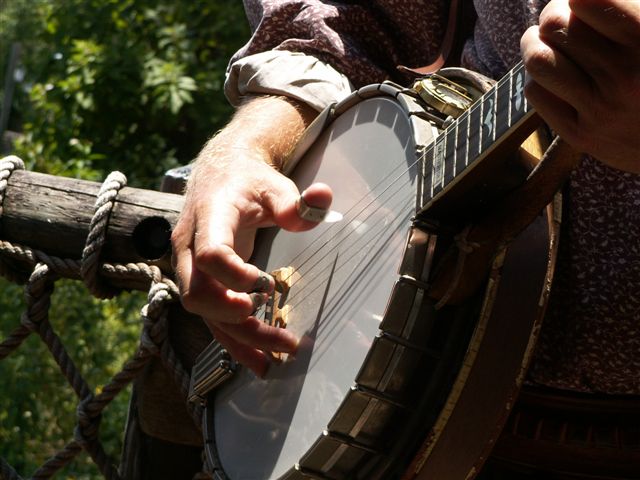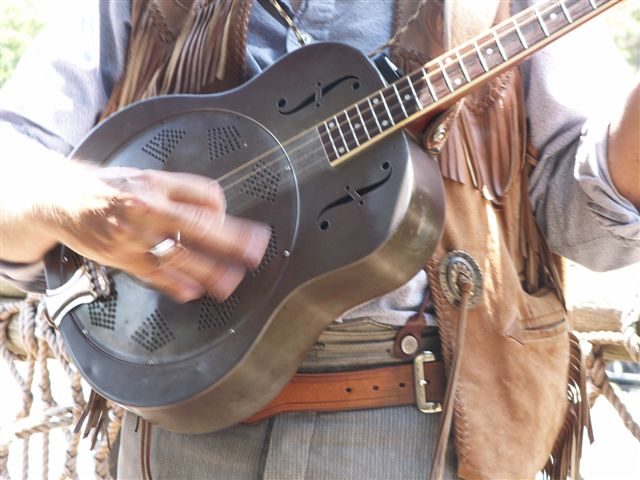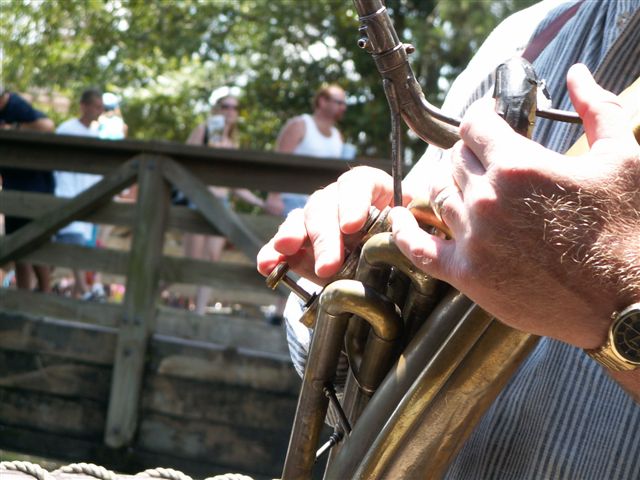 Above and Below: the images above and the video below both highlight close-ups of the fingers of the Notorious Banjo Brothers and Bob playing their instruments.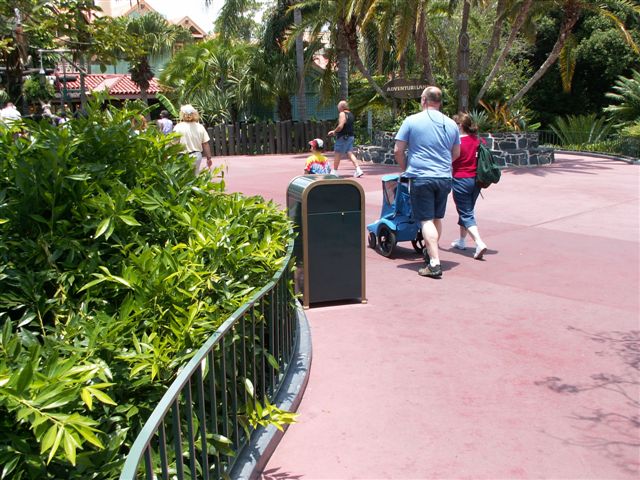 Above: another unthemed trash can, though at least this one is in a transition between lands
Below: A nice Flower bed / Monorail view.

Next Page

E-mail the webmaster Brian Martsolf martsolf@mindspring.com

Trip Reports Index Page

Big Brian's Disney Page - Main index

last updated 04-Aug-2007 09:03 AM