June 15, 2007
Research Trip?
This short trip was planned on fairly short notice, I had known all year long that the two trips I MOST wanted to make would be for Mousefest in December and RADP XII in October. As the year progressed and (due to my wife's new job) it became clear that taking those trips should not be a problem the thought that perhaps we could squeeze in one more trip before then grew. I had a couple of things in mind that I wanted to do, after my December trip I had made a list of Epcot's and Crescent lakes Friendships, and since then had looked at pictures of others on photo web sites like Flickr and Web Shots, trying to find good pictures of the few I had not taken pictures of. I also wanted to capture some more audio for my podcast. I still wanted to be somewhat budget conscious, so originally I thought of it almost like a "research trip" for my site and show (thank to Lou Mongello for making term being something you can apply to WDW), I even thought that perhaps to stay REALLY budget conscious I might even try to focus on getting audio and photos of things outside the parks like the Live entertainment at the Grand Floridian, at the Boardwalk on Crescent Lake, and YehaaBob http://www.yehaabob.com/ over at Port Orleans Riverside. As the trip got closer it was clear that I could afford to go into the parks,and decided I'd probably end up doing a bit of both I still had a loose plan, but kept in mind that I'd adjust it on the fly, especially since Carlene wasn't really committing to much of any plans in advance so I didn't know how much of my touring would be solo (where it would be more focused on recording and photo taking), and how much would be with Carlene (in which case I'd want to focus on some of the things she has still not seen). One of the first things I did to save money was look for a great deal on a room, in December we had gotten a $23 a night room at the roadway inn on 192 using Pricelines name your own price service, for that price I'm not going to complain, but we wanted to bump it up a notch on the quality of the accommodations this time. So I dropped the lowest room category (1½ star) from our bid, between that and knowing that mid June would be in higher demand than early december I figured I'd start my bidding higher, I started at $35 dollars a night thinking I might get a message like I did with my original low ball bid for the December trip (one along the lines of your bid was not accepted but for "X" number of dollars more it will likely go through). It was accepted almost immediately we got a room at the Best Western Lakeside, which is in the "West Disney" area (near the back door entrance to Animal Kingdom). I didn't know much about it in advance but there were pictures of it on the hotels web site and I liked what I saw in those photos. I worked the day before the trip, as did Carlene, but she was able to go home and take a nap before I got home from work around 1 AM, we got on the road by 1 AM but burned an hour gassing up and looking for a restaurant at that hour finally hitting a Jack-in-the-box off York road near Westinghouse. On the way down we stopped at Character Warehouse in the Prime outlets mall in St. Augustine, and I bought several WDW t-shirts there, at far less than theme park prices, Carlene picked up some items at some of the other stores there as well. The mall was open when we got there (after 9 am) and we got back on the road around 10:45AM.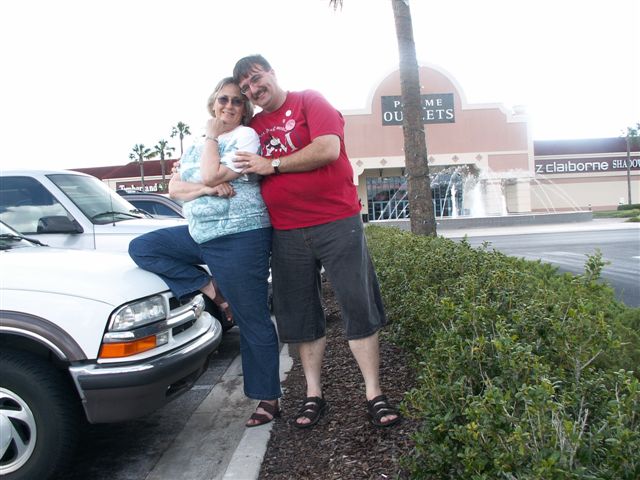 By 2 PM we were checked into the hotel Carlene decided to stay at the room and take a nap and relax and we'd meet up later for dinner. The room was great! we had a refrigerator, we were near a pool with a pool bar (but in a room facing out so not subject to pool noise if there was any) so with Carlene set up in the room I headed for the Magic Kingdom. I had printed out a schedule of live entertainment at the parks and knew that one of the live entertainers I wanted to catch only worked Monday - Friday and his last set was something like 12:45 PM, so as it got to be later in the morning I realized I'd probably not get to see him this trip, but at least thinking about this possibility on the drive down had given me a direction to go for the day (theres some of that flexibility I was talking about), as long as I was already there I'd take in what was available to me. I figured I'd at least see what kind of material I could get for my podcast this day. As an aside the guy I wanted to see was one of the Main Street "Streetmosphere" type performers the Fire Chief Smokey Miller, you see I really like the act this guy used to do, he was the emcee of the Diamond Horseshoe Revue, I just wanted to see what his Main Street act was like, perhaps I'll catch him in October.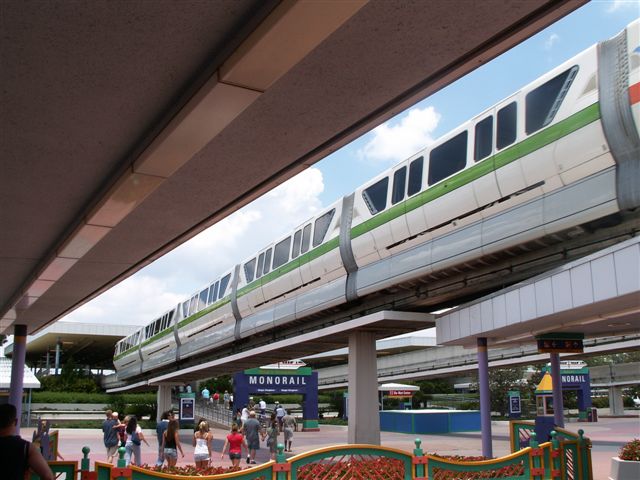 Above: note the blue construction walls between the monorail loading ramps... I'm not sure what that was about, but there was also construction at the ferry docks as well.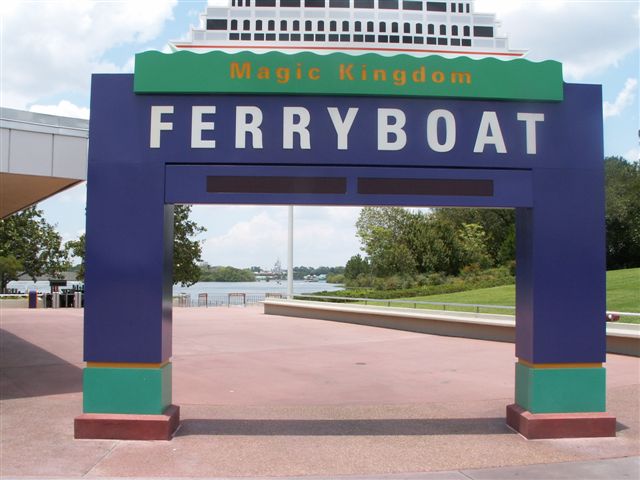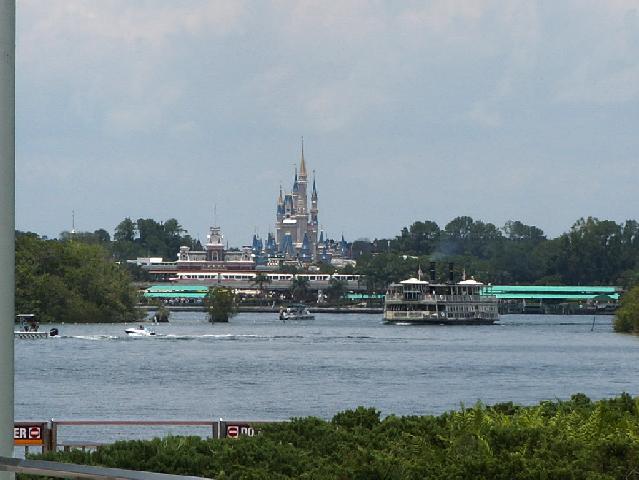 Above:Nice array of Vessels in this shot including the Blue paneled Ferryboat the General Joe Potter (the Potter and Fowler were the only ones I saw in operation this trip)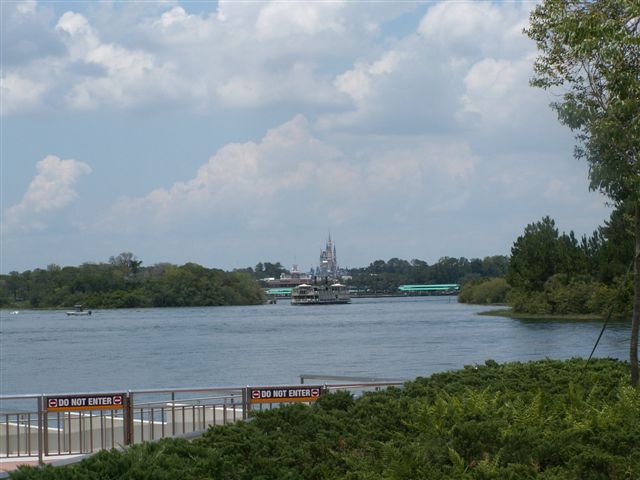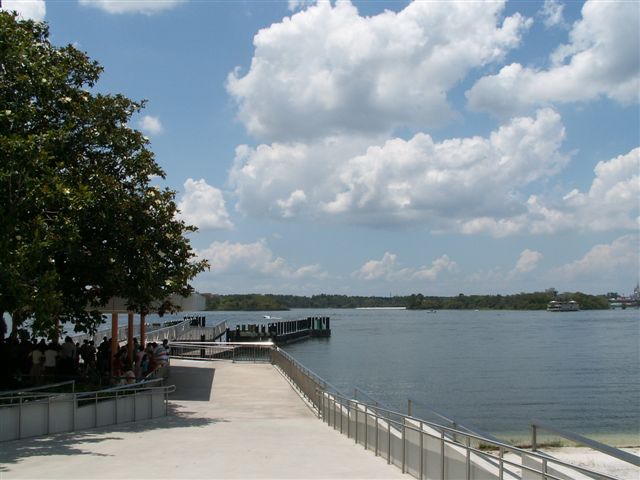 Above and Below: View of the Polynesian resort hotel from the ferry dock at the Ticket and Transportation center, sometimes one of the three ferries is docked in this spot making this a view you don't get all the time.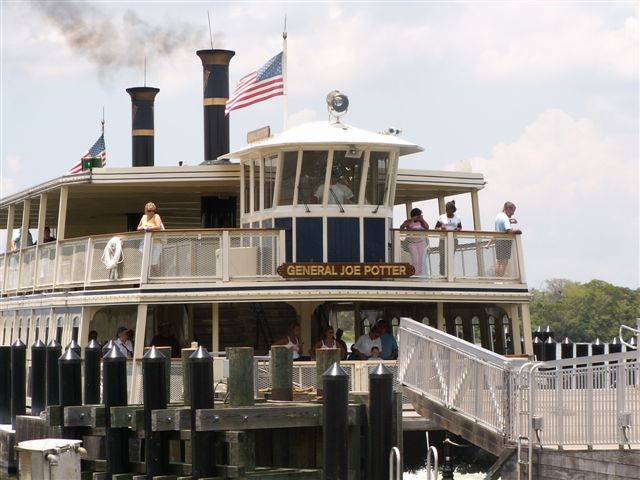 Above: A member of the Mighty Ducks eastern division?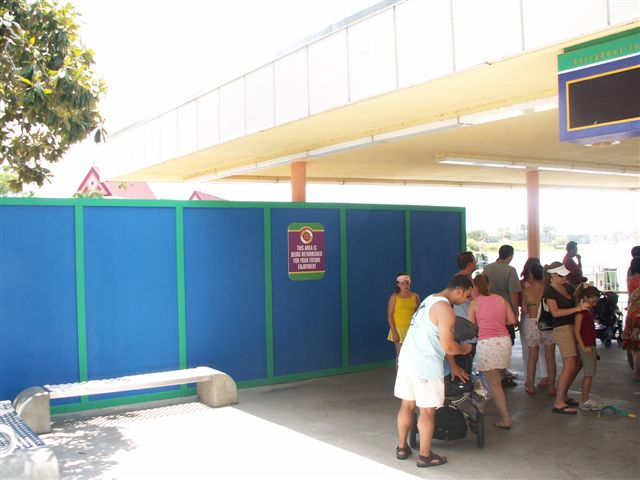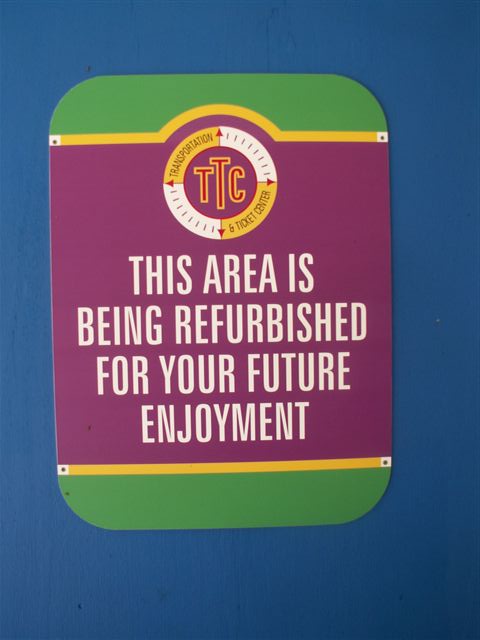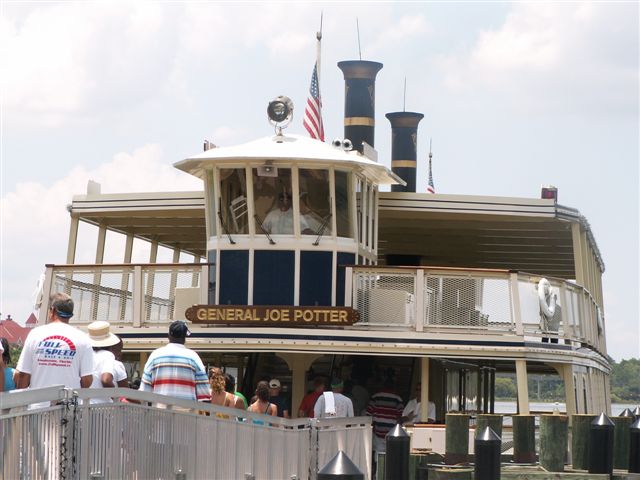 Above and Below: While the first rush of folks boards the ferry I hung back to get a wider view of the construction walls at the ferry docks.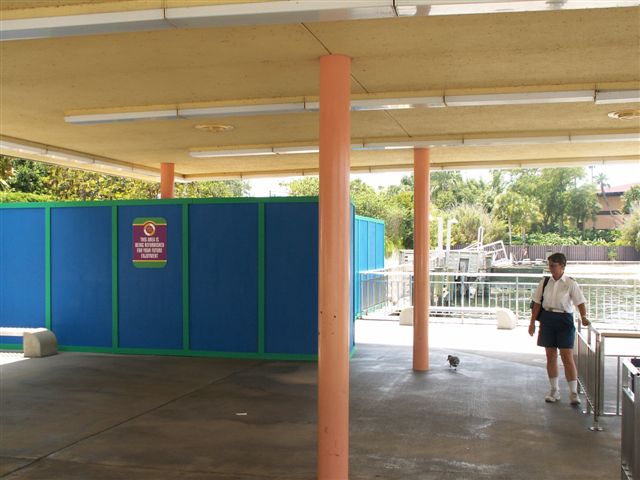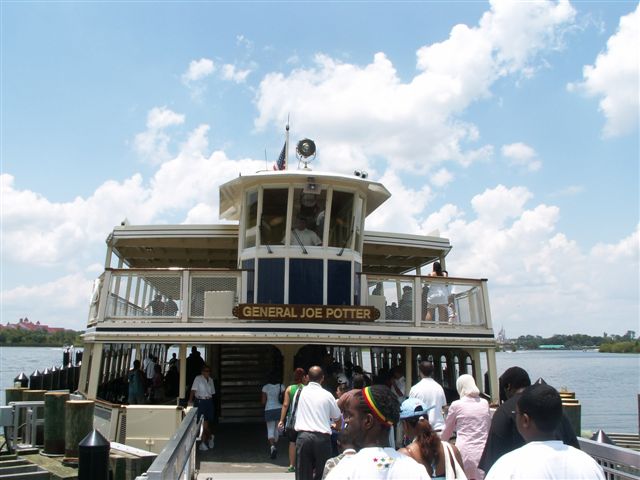 Above: First video of the trip just a nice little view of some of the ships on the Seven Seas Lagoon.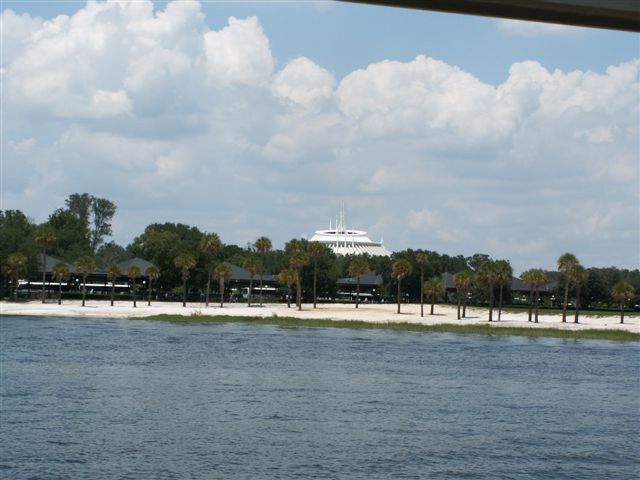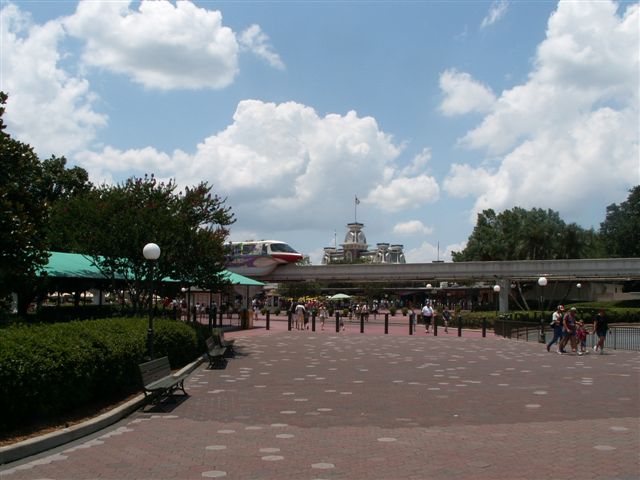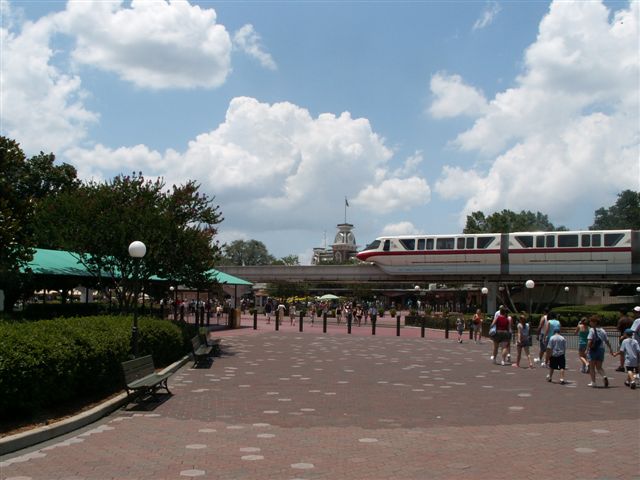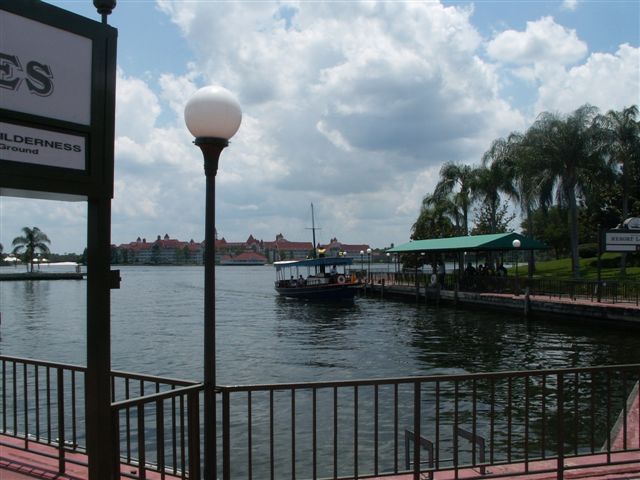 Above and Below: The name of this motor Launch is the Seafarer, in fact in the shot below you can see her name on the life preserver mounted on the front of the drivers control station, and also you can see the "s" on the red running light above the guests entrance, so if you know that the six motor launches are named Seafarer, Mariner, Voyager, (those three with blue hulls), Adventurer, Explorer, Navigator (those three with white Hulls) then you can tell which ship it is just from the letter on the running light ;-) . At the time of my visit this particular dock was being used for Motor Launches running the Grand Floridian, Polynesian, Magic Kingdom Route.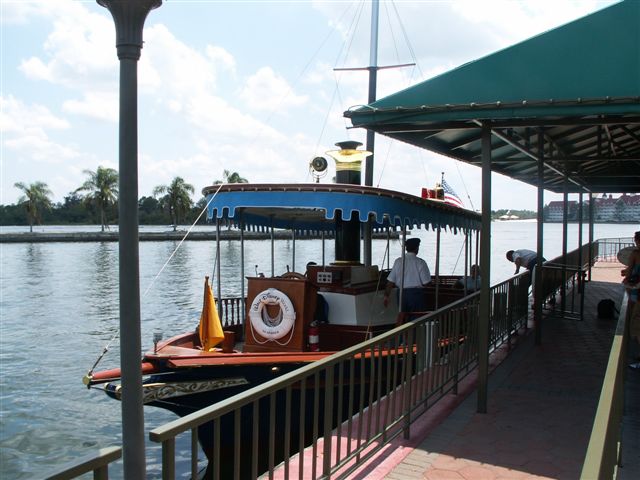 Next Page

E-mail the webmaster Brian Martsolf martsolf@mindspring.com

Trip Reports Index Page

Big Brian's Disney Page - Main index

last updated 19-Jul-2007 12:48 AM