August 2001 Walt Disney World trip report
Day Three continued: The Magic Kingdom
One thing I knew I did want to do this trip was catch the Diamond Horseshoe Revue, I had only seen it a few times before this trip but it was really growing on me, and this trip certainly seemed to make for the most memorable viewing of the show ever, as always I enjoyed the MC and the Singin Cowboy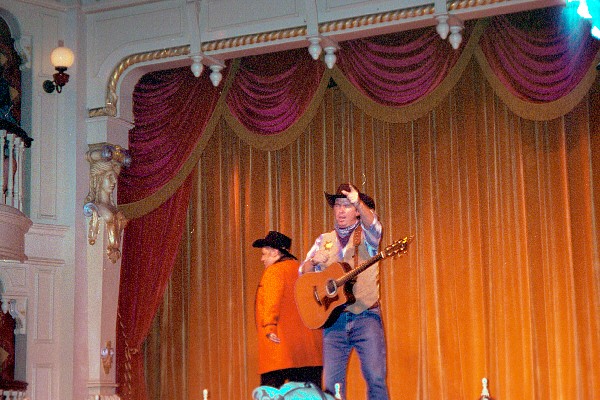 and this time around I thought I was a bit lucky to get picked for a little audience participation, little did I know when I got up there with the Cowboy that this wouldn't be the only bit I got picked for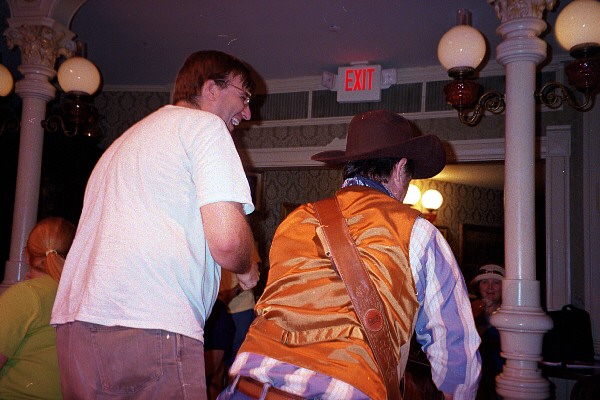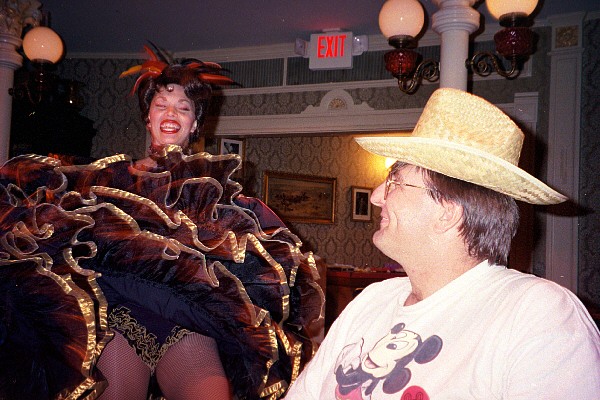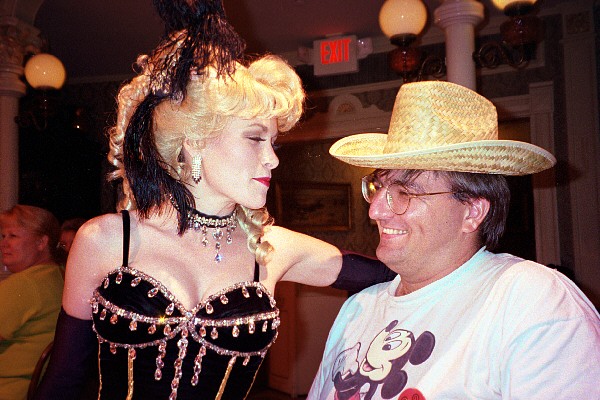 you know I think almost every time that I had seen the Horseshoe before they had always picked a bald guy for this bit or an older guy... I guess there's a benefit to getting older, but I was still surprised! A bit of explanation here for anyone who has never seen this skit that mark on my cheek was applied with a hand stamp, she tells the guy "close your eyes" ..."get Ready" , as she pulls out the stamper and ink pad for the audience to see, and makes a "mmmmwha" sound as she applies the stamp to his cheek. Oh and yes they let you keep the hat, a neat little souvenir.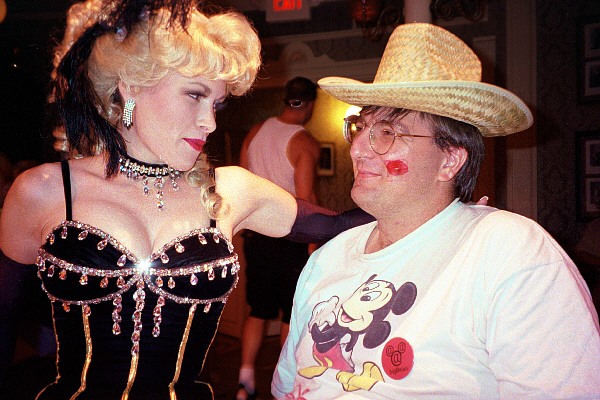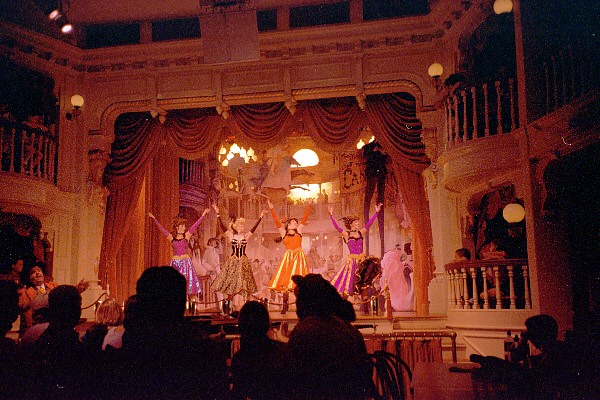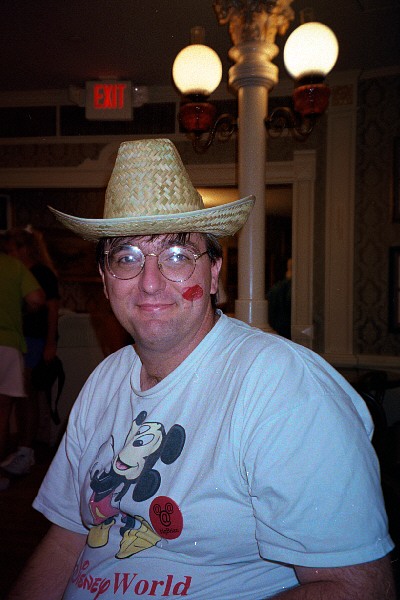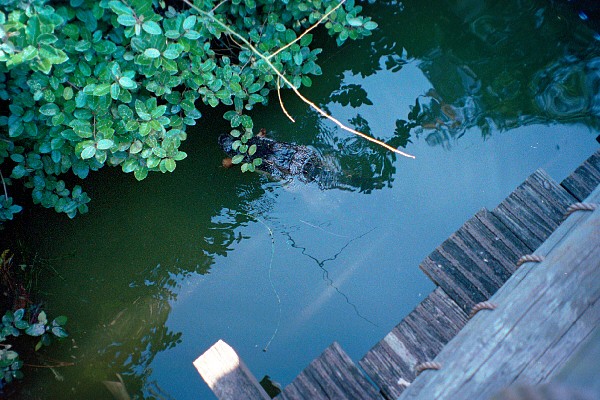 No that's not the Jungle Cruise...it's the Rivers of America, between the plank dock that allows you to bypass the parade route and the true bank of the river, and yes that looks like a turkey leg from the Frontierland Turkey Leg cart, and just in case anyone out there dose not know this already, it's a really BAD idea to feed Alligators.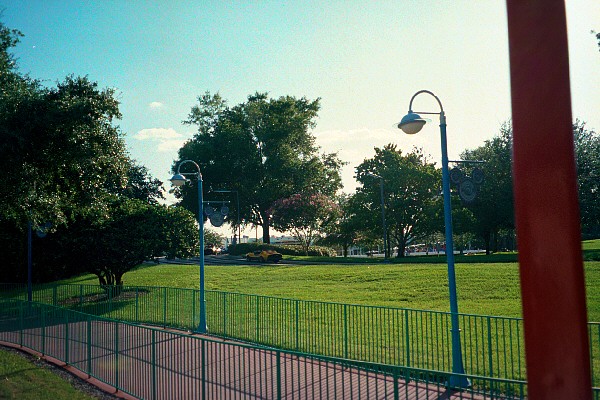 The glow of the evening Sun on the lawns of the Speedway... and the glow of a happy tourist in his Cowboy Hat (YEEE HAW! I've still got the hat)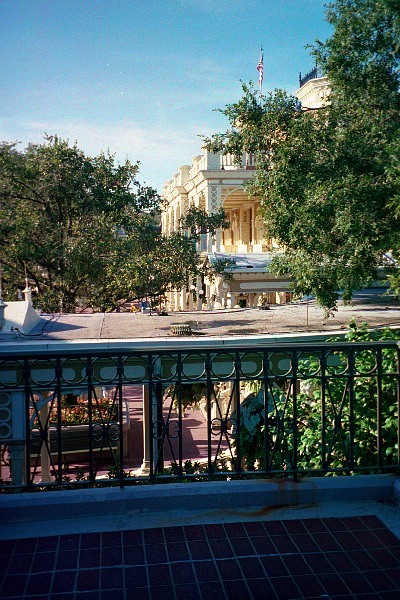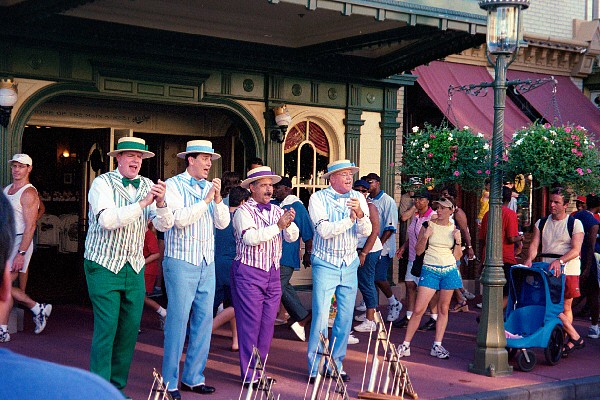 We talked a bit with the Dapper Dans, the one in the the dark Green is Chad in this photo, but since then almost always Chad has worn a light (or lime) green while the dark green is work nowadays by Aaron who is in the light blue next to Chad in this photo, Aaron graduated from Marshall University in Huntington WV (Where we went to HS). In the Purple is Steve, and though I've seen the fellow in the light blue and the glasses since then I don't have his name.